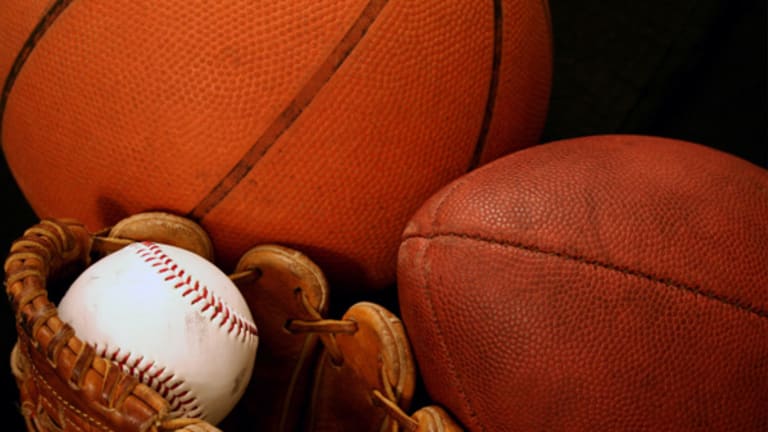 College Football Corner: Dateline Norman
No. 2 Texas Tech heads north to the No. 5 Sooners' house.
Get your back issues of College Football Corner on this page here.
After a ho-hum weekend during which every top-15 team in the Bowl Championship Series poll won, it's time again to disrupt the national title picture.
This week, the spotlight turns to the third site in college football's 2008 Bermuda Triangle after high-profile games earlier this year in Dallas and Lubbock, Texas. The second-ranked Texas Tech Red Raiders visit Norman, Okla., to take on No. 5 Oklahoma in a must-win for either team's championship hopes.
But that's just the start to the myriad combinations percolating as teams angle for a shot to play in the
FedEx
(FDX) - Get FedEx Corporation Report
BCS National Championship Game. Naturally, if No. 1 Alabama and No. 2 Texas Tech finish undefeated, it most likely will be them (provided the computers don't act up).
But Alabama will need to beat No. 4 Florida in the SEC title game, and the Gators will likely be favored in Atlanta. If Florida wins that game, the team should move up to at least No. 2.
But what if No. 5 Oklahoma prevails over Texas Tech on Saturday and No. 3 Texas moves up to No. 2? Would the Gators leapfrog the Longhorns? As long as Florida keeps winning, its title shot will take care of itself.
The consensus seems to be that the most deserving participants in the big game this year will be the winners of the Big 12 and SEC championship games. But here at the Corner we're intrigued with the prospects of a USC-Florida game, sort of a granddaddy of all Rose and Orange bowls that we think would pair the nation's top two teams.
But the No. 6 Trojans will need a lot of luck to move up that far this late. Its best chance would probably involve two major upsets -- a win in the season finale by Florida State over an unbeaten Florida (which would then still need to knock off Alabama), and a stumble by the Big 12 South champ in that conference's title game at the hands of No. 13 Missouri.
Here's a look at some key games this week.
Texas Tech lineman Rylan Reed (No. 74)
No. 2 Texas Tech (10-0) (+7) at No. 5 Oklahoma (9-1), 8 p.m. EST, ABC
: How many huge games does Texas Tech have to play? But the Red Raiders have taken on all comers. The Heisman-candidate duo of quarterback Graham Harrell and dynamic wide receiver Michael Crabtree has proven unstoppable. Oklahoma, led by smooth quarterback Sam Bradford, has torn up the opposition since the Sooners' only loss, a close one to Texas. A key in this game could be how long Texas Tech controls the ball, which it will try to do with a hulking and nasty offensive line that may be the nation's best: Rylan Reed (6-7, 314), Stephen Hamby (6-3, 287), Brandon Carter (6-7, 354) and Marlon Winn (6-6, 325).
Sooner Coach Bob Stoops is aware of that Tech line: "Their protection is good because they have good offensive linemen," Stoops said at his weekly press conference. "They are physical, move well, block well and run block well. They are just a solid offensive line."
If Texas Tech wins out, the Raiders can book their trip to Miami for the BCS title game. A win by Oklahoma throws the Big 12 South into a three-way tie. Wonder what hat Lee Corso will put on during ESPN's College Football GameDay.
Corner's choice: Texas Tech 33, Oklahoma 30
No. 19 Pittsburgh (7-2) (+5) at No. 20 Cincinnati (8-2), 7:15 p.m. EST, ESPN2
: This one has the feel of a good Pennsylvania-Ohio border war, with the Big East title also in the balance. Cincy is coming off a gutsy 28-20 win at Louisville and leads the Big East with a 4-1 record. Pitt and West Virginia are right behind at 3-2, while resurgent Rutgers has a 4-2 conference mark.
Pittsburgh running back LeSean McCoy
The Bearcats are led by 6-6 quarterback Tony Pike, who has excelled despite being banged up. The Panthers' go-to guy is LeSean McCoy, a fast back with superb cutting ability.
Cincinnati's quotable Coach Brian Kelly expects a big home crowd Saturday: "I will say this. There is no reason why this stadium shouldn't have the largest crowd in the history of Nippert Stadium right now. We don't want this to be the end of where we are relative to where we are in attendance. We see this thing growing. As our stadium increases and fan size increases, it is going to be a sellout. There is not a question that this will be full."
Corner's choice: Cincinnati 24, Pittsburgh 17
No. 15 Michigan State (9-2) (+14½) at No. 8 Penn State (10-1), 3:30 p.m. EST (ABC)
: Sure, a Big 10 championship is on the line in Happy Valley as the Nittany Lions can grab at least a share of the title for only the fourth time since the team joined the conference in 1993. But is that really more important than having all of us avoid a Rose Bowl rematch between USC and Ohio State? If the Spartans win here and the Buckeyes take care of Michigan (as they usually do), that's the likely lineup in Pasadena. Gooooo Lions! Michigan State, which still has an outside shot for its first conference championship since 1990, has climbed to 9-2 on some good fortune and the back of Javon Ringer, who has rushed for 1,548 yards and 20 touchdowns. Senior quarterback Brian Hoyer has regressed from his junior year, but the defense, while not spectacular, has been more stingy giving up points.
Penn State linebacker Navorro Bowman
Penn State seemed to work out its frustrations of a BCS-blowing loss to Iowa with a dismantling of Indiana last week. Most importantly, quarterback Daryll Clark looked solid again following his head injury three weeks earlier vs. Ohio State. The defense is the league's best, led by defensive end Aaron Maybin and linebacker Navorro Bowman. The Spartans' only other game against a ranked opponent was a 45-7 loss to Ohio State. It may be time for another reality check.
Corner's choice: Penn State 33, Michigan State 14
.
No. 14 BYU (10-1) at No. 7 Utah (11-0), 6 p.m. EST Saturday, Mountain West Sports Network
: An undefeated season for Utah and the inside track to a BCS bowl bid are on the line. While the bid may not be automatic, Utah can make a case for a bid with this win and wins during the season against Michigan on the road, Oregon State (which beat Southern Cal the week before) and TCU. In addition, a share of the Mountain West Conference and state bragging rights are on the line. "Our guys have got to treat it as if it was a normal week," said Utah head coach Kyle Whittingham. "We can't go crazy and lose our composure and poise. We have to prepare the same way we have for 11 straight weeks."
Utah held up its end of the hype by slamming San Diego State on the road 63-14 last Saturday, clinching a share of the Mountain West title, its fourth since the league began in 1999. In that game, quarterback Brian Johnson threw five touchdown passes, two to wide receiver David Reed. Deshawn Richard returned two interceptions for touchdowns on consecutive San Diego State drives.
For two-time defending Mountain West Champion BYU, the Cougars' blemish against TCU in October is the only reason for the game not having any more significance. However, BYU did its part beating Air Force 38-24 on the road last week. Quarterback Max Hall tossed two touchdown passes in the game, giving him 34 for the season. Receiver Austin Collie contributed with two second-half TD receptions to put Air Force away. A win gives BYU a case to claim a BCS bid due to two wins against Pac-10 teams (albeit against UCLA and winless Washington) and Utah.
Some stats to consider: With Bronco Mendenhall at the helm, BYU is 33-4 when leading at halftime and 32-1 when taking a lead into the fourth quarter. In addition, Max Hall had been sacked only twice in the first six games of the season, but 11 times in the last five games, including six against TCU. The last 12 meetings between these teams have been split, and the last 11 meetings have been decided by a touchdown or less. The possibilities for this game are not lost on Whittingham: "You can analyze 19,000 different angles on paper but you have to go play the game. The last three seasons, fans have gotten their money's worth." Last year, Utah appeared to have the game wrapped up late until Collie's 49-yard reception on fourth down set up a last-minute touchdown to win it for BYU in Provo.
Corner's choice: Utah 27, BYU 24
Air Force (8-3) (+19½) at No. 16 TCU (9-2), 3:30 p.m. EST (Versus)
: How soon do you think it will be before the Horned Frogs schedule back-to-back road games with five days' rest? The team can only wonder what might've been after losing a Thursday night game two weeks ago at Utah that cost it a shot at a BCS Bowl bid. Of course, there is no shame in a 10-2 season for any school after an 8-5 finish the season before, but in early November a Poinsettia Bowl bid wasn't in the plans. The defense has been the strength of the team -- the only school to score more than 14 points on the Frogs this year was Oklahoma.
Defensive end Jerry Hughes, with 14 sacks, has been the best defensive lineman in the Mountain West this year. The Falcons are also unkind to offenses, led by senior defensive end Jake Paulson. Second-year Coach Troy Calhoun, an Air Force alum, has a good thing going early in his tenure, as the Falcons will play in back-to-back bowls for the first time in 10 years.
Corner's choice: TCU 27, Air Force 10
.
Corner kicks
: No. 23
Miami
travels to
Georgia Tech
tonight in a tussle for first place in the ACC Coastal Division. Both teams are 7-3 overall but the Canes are 4-2 in in the division while Tech is 4-3. The curious thing about the ACC is that there isn't one team in either division that has less than two losses in conference. Saturday, No. 25
Maryland
hosts
Florida State
in the Atlantic Division, with the Terps having the exact record overall and in conference as Miami, while the 'Noles have the same record as Georgia overall and in league. ... Texas deleted perhaps the biggest name from the off-season new head-coach sweepstakes this week, naming Defensive Coordinator Will Muschamp as heir apparent to Head Coach Mack Brown, who is in his 11th season in Austin but is still just 57 years old. Longhorn brass isn't looking to push Brown out the door, but you know the whispering will start at the first 8-4 season. ...
Disney's
(DIS) - Get The Walt Disney Company Report
ESPN division has finalized a four-year agreement to begin broadcasting BCS bowl games, including the championship, starting in January 2011.
News Corp.'s
(NWS) - Get News Corporation Report
Fox unit, which broadcasts the games now except for the Rose Bowl, decided to not match the bidding of the World Wide Leader. Despite some success this season with its Saturday night broadcasts on ABC, the bowl games, including the title contest, will be shown on ESPN. ... Even with the recent series domination by
Ohio State
, it's hard to remember when the Buckeyes' season-ender vs.
Michigan
has meant so little. The Wolverines (3-8) are struggling to rebuild under first-year Coach Rich Rodriguez, but the fact that Ohio State is favored by three touchdowns, with Michigan an underdog for the fourth year in a row, only highlights the recent performance gap between these two ancient rivals. ... No. 14
Ball State
(11-0) held on for a thrilling, snowswept, 31-24 victory over MAC rival
Central Michigan
Wednesday night. Strong-armed Quarterback Nate Davis threw four TD passes and Miquale Lewis rushed for 169 yards.