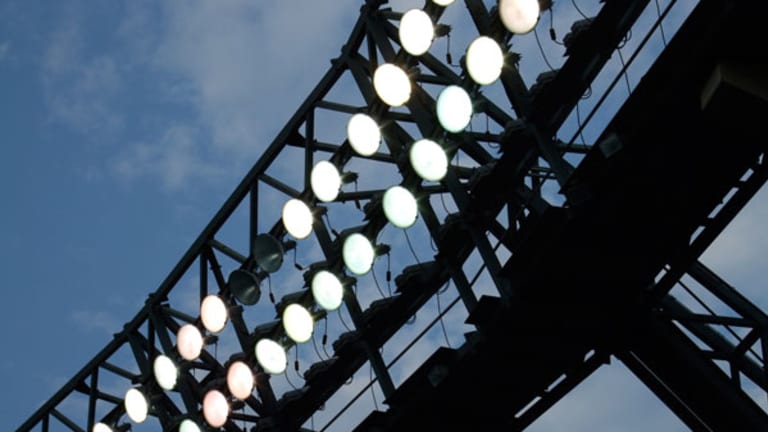 College Football Corner: Big Three
Two Heisman Trophy winners have a chance to win a second bauble this season, and they'll have strong competition from a third finalist.
NEW YORK (
) --It's the year of the Big Three.
No, it's not a conference; it's Tim Tebow of
Florida
, Sam Bradford of
Oklahoma
and Colt McCoy of
Texas
, three outstanding college football quarterbacks -- two of whom have won Heisman trophies -- who will return for their senior seasons.
All three will be vying to take their teams to the
Citi
(C) - Get Citigroup Inc. Report
BCS National Championship game
on Jan. 10 at the Rose Bowl in Pasadena, Calif.
We at
TheStreet.com's
College Football Corner are happy to be back to cover what promises to be an outstanding season of football.
The Florida Gators, the defending national champion, were the overwhelming pick as No. 1 in
The Associated Press
preseason college football poll, taking 58 of the 60 first-place votes. Texas got the other two votes.
What college football has taught us recently is that you don't have to go undefeated to win the whole thing. In fact, look at
Utah
. The Utes went 13-0 and dominated
Alabama
in the Sugar Bowl but ended up No. 2. The last BCS champ to go undefeated was Texas in 2005. Two seasons ago,
LSU
won it all with
two
losses.
Oklahoma's Sam Bradford (from left to right), Florida's Tim Tebow and Texas' Colt McCoy at the 2008 Heisman Trophy ceremony in New York.
So maybe all those teams that think they have to pay several hundred grand to fly in teams for expectedly easy victories early in the season should think twice.
Put at least one worthy nonconference opponent on your schedule. The fans and poll voters will respect your record more.
USC
is traveling to
Ohio State
this season, now that's a game.
The season kicks off next Thursday with eight games. Among the top 25 teams teeing it up are No. 16
Oregon
traveling to No. 14
Boise State
, and No. 19
Utah
hosting
Utah State
.
Below is our capsule look at the BCS conference schools. And don't worry, if you're good and you're not a BCS school, we will follow you and advocate your cause. At the Corner, we like to see the best teams in position to play for all the marbles, regardless of their conference.
Southeastern Conference
>Fans of teams in the Southeastern Conference are famous for many things. Rabidness, for one. Ribaldry, for another. And although we'd like to extend the alliteration, a "P" word springs to mind for the third and perhaps most famous conference-wide trait: provinciality.
The word is accurate not just because these programs dwell in the South. No, if you enter into football chatter with any
SEC
diehard, he or she will let you know that the SEC is the best, most illustrious, most marrow-curdling group of football powers ever to assemble under the banner of a conference since the invention of American football. SEC schedules are so difficult, the diehard will say, that the fourth-best SEC team in any given year would crush the winners of all other conferences. ("Except," the fan will qualify in a begrudging mumble, looking down at his shoes, "maybe
Southern Cal
.")
Despite the tendency for rank hyperbole (SEC teams did, after all, go just 6-9 against other BCS conference teams in 2008's regular season), the SEC fan is largely right -- and if 2009 turns out any different, it will shock us right down to our beer cozies here inside the
TheStreet.com
's college football bunker.
As Labor Day weekend approaches, it's clear that one SEC program in 2009 hovers above the rest. Down in Gainesville, Fla., the faithful have probably started sketching preliminary designs for their commemorative 2009 National Championship bicep tattoos (alligators, bikini girls), what with the Return of Tebow, and despite the Loss of Harvin, as in Percy, the game-altering wideout who turned pro before his last year of eligibility.
Aside from double-Heisman-contender Tebow, about whom everyone already knows too much, why are the Gators the sort of team that has drawn the most first-place votes in the history of preseason
AP
college-football rankings?
The conventional wisdom pegs the Gator defense as the true reason behind the consensus -- nay, unanimous -- projections among the sporting press for Florida's third national title under Urban Meyer. The defense returns, incredibly, all 11 starters from last year, led by a linebacking crew made up of veterans, including first-team All-American Brandon Spikes.
On offense, Tebow has a more-than-sufficient arsenal (Southern Cal transfer running back Emmanuel Moody, receivers Riley Cooper and Deonte Thompson), but it's the offensive line, led by the monstrous Pouncey twins, who will help the Gators reprise their role as one of the most potent in the country (10.2 yards per play last year and 43.6 points per game.)
But here's the real reason Florida will likely wind up in Pasadena: a relatively easy schedule (emphasis on relatively).
Three of those 12 games pit the Gators against
Troy
,
Florida International
and Division I-AA
Charleston Southern
. Nemesis
Ole Miss
(ranked No. 8 in the preseason
AP
) -- a team that Urban Meyer has, strangely, never beaten -- is off the schedule. The Gators catch
Florida State
(ranked No. 18, though a highly inconsistent squad here in the late-Bowden epoch), as well as conference foes
Tennessee
,
Arkansas
and
Vanderbilt
, at the Swamp.
Florida's toughest regular-season tests will come against
LSU
at Baton Rouge, before which Florida rests on a bye; against a Matt Stafford-less
Georgia
in the annual cocktail game; and against whichever team emerges in the SEC's West Division to play for the conference title.
As for who will emerge, all eyes are cast on Oxford, where Ole Miss and its head coach, the winningly named Houston Nutt, bring back 14 starters, including the nascent heir to the Mannings Eli and Archie -- quarterback Jevan Snead. Coming off six straight wins to end the 2008 season, including a 47-34 Cotton Bowl victory over last year's Cinderella,
Texas Tech
, Ole Miss has gathered confidence. But the Rebels must still overcome a weak streak on the defensive side, which ended the 2008 regular season as the SEC's worst against the pass.
The best of the rest include a dangerous Alabama squad (No. 5 in the
AP
) under third-year head man Nick Saban, always a worthy coaching adversary (at least in the college ranks, where he's never posted a losing season). The Crimson Tide brings back 12 starters -- including nose tackle Terrence Cody, a near lock for the NFL first round, who anchors one of the country's best defensive lines. Because of its DL alone, the Tide will likely be favored in every game it plays. Still, Saban needs to break in a first-year starter at quarterback, Greg McElroy, the back-up to John Parker Wilson in 2008.
If Florida has a relatively easy SEC slate, the Tigers of LSU (No. 11) have been cursed with one of the most difficult in the conference, if not
the
, drawing SEC contenders Alabama, Ole Miss and Georgia on the road (and Florida at home). LSU returns 13 starters to a team deep with exceptional athletes (Louisiana high-school football is an underrated talent pool nationally), especially on the DL and at running back, were 1,000-yard rusher Charles Scott hopes to reprise last year's breakout performance.
In the East,
Georgia
(No. 13) returns 13 returning starters. The story in Athens since spring training has been the emergence of career-backup Joe Cox as not only Stafford's replacement behind center, but as a true BMOC. Potential leadership mojo aside, Cox has only one start to his name. Instead, look for the Bulldogs to build their season around core strengths on the offensive line and in the linebacking crew.
Our vote for most intriguing squad in the SEC goes to the
Tennessee
Volunteers. New Head Coach Lane Kiffin got off to a weird, loose-cannon start in Knoxville this spring when he violated several minor recruiting rules and annoyed a few rival SEC coaches with some remarks. Still, Kiffin has assembled a top-notch coaching staff, led by his father, defensive mastermind Monte Kiffin, who signed on as a coordinator after a celebrated NFL career. As for players, Tennessee's defense is stocked with more talent than most realize (led by strong safety Eric Berry) and should cause headaches for opposing SEC offenses.
-- Scott Eden
Big Ten
There's always
Ohio State
. The Buckeyes will start the season ranked sixth nationally, coming off a heartbreaking loss to
Texas
in the Fiesta Bowl in which the Buckeyes represented Big Ten football well. Quarterback Terrelle Pryor has a year of experience under his belt, which bodes poorly for Big Ten rivals. Ohio State will find out soon enough where it stands when No. 4 USC visits Columbus on Sept. 12.
Terrelle Pryor, Ohio State's super sophomore
Penn State
, which returns quarterback Darryl Clark, running back Evan Royster and a trio of starting linebackers, as is expected at Linebacker U., is looking to build on an outstanding year that saw it flirt with BCS championship hopes. That dream ended in Iowa City with a late-season conference loss to
Iowa
. Speaking of Iowa, the Hawkeyes come in at No. 22 and have high conference hopes. And what about Michigan? The Wolverines are coming off a dreadful year in Coach Rich Rodriguez's first season. But they will have one year of experience in the system and should be much improved.
Big East
The Big East has had some trouble getting the respect it deserves, even though the conference outperforms in the bowl season. No Big East team is ranked in the preseason. Perennial Big East standard-bearer
West Virginia
has been depleted by graduation, specifically with the loss of quarterback Pat White, but the Moutaineers still have talent in the backfield. Quarterback Jarrett Brown is experienced, and running back Noel Devine is a breakaway threat.
Joe Martinek rumbles for Rutgers.
But maybe this is the year
Rutgers
finally captures its first conference crown. The Scarlet Knights return an experienced offensive line led by Anthony Davis, on the Outland Trophy watch list, and a rugged running back in Joe Martinek. The quarterback situation is still unsettled On the Banks, however, as fifth-year senior Dom Natale and true freshman Tom Savage vie for the job. Rutgers will get a test in its opener on Labor Day when conference rival
Cincinnati
visits a newly expanded Rutgers Stadium.
South Florida
is always dangerous and returns veteran quarterback Matt Grothe.
Big 12
Any discussion of Big 12 football begins and ends with the alpha and omega of the conference -- Oklahoma and Texas. Period.
Sure, certain teams are garnering more than a few headlines as potential dark horse picks in more than a few preseason guides.
Oklahoma State
returns a stacked offensive trio in running back Kendall Hunter, often overlooked duel-threat quarterback Zac Robinson and NFL-ready receiver Dez Bryant. Of course, offense has never really been the problem in Stillwater.
Playing Oklahoma and Texas in the same year is hard enough. But this year, Mike Gundy's group adds
Georgia
to the schedule mix. Oh, and to up the stakes, it's their first game of the season, putting their often-questioned defense to the test early.
A 26-21 win over
Clemson
in last year's Gator Bowl has
Nebraska
fans in a tizzy about year two in the Bo Pelini rebuilding project in Lincoln. Having a potential top-5 NFL pick at the defensive tackle position in Ndamukong Suh should help. But it's never good when a team has to break in a new starting quarterback with only two regulation passes under his belt.
Baylor
, which hasn't won a conference championship since the old Southwest Conference days, has garnered some chatter as quarterback Robert Griffin returns fresh off of a highlight reel-filled freshman campaign. The fact that the fleet-footed Big 12 Newcomer of the Year passed on track in the spring (he does own conference records in the 400 meters) has more than a few wondering what a football intensive off-season will mean.
Oklahoma gets the rare privilege of returning a Heisman Trophy-winner in Sam Bradford, who put up PlayStation-like numbers in passing for nearly 5,000 yards and 50 touchdowns last season. The Sooner defensive line will be anchored by all-world tackle Gerald McCoy, who's going to have more than enough opportunities to top his 6 1/2 sacks from last year.
So, why was Texas ranked just ahead of Oklahoma in the newly released
AP
and
USA Today
polls? It might have something to do with Oklahoma's O-line, which was decimated in the off-season. Four of last year's starting five, who each garnered all-conference salutes, are gone. The sole remaining member, Trent Williams, is shifting over from the right tackle spot to guard Bradford's blindside.
But improved hopes for Texas rest on the now-broad shoulders McCoy. Last season, he set the NCAA record for completion percentage in a season at an ungodly 77.6%, while also leading the team in rushing. Returning to help the senior is wide receiver Jordan Shipley, who received some All-American nods after last season's effort as well.
Defensive end/linebacker Sergio Kindle will look to replace the production lost from Lombardi and Nagurski winner Brian Orakpo's move to the Washington Redskins. Kindle, a high school All-American whose production over the first part of his career was slowed because of injuries and off-field trouble, had a breakout season last year with 10 sacks. Still, weakness at the defensive tackle position and a rash of tight end injuries during fall camp leaves Texas with a couple question marks.
But in the mind of voters, Texas has the motivation (remember last year's Texas Tech game, because Texas fans still do) and is the preseason darling meet Florida in Pasadena by season's end. Of course, the last time Texas went to the Rose Bowl, they won it all against a seemingly superior foe led by a Heisman trophy winning quarterback (and running back).
Just don't tell Oklahoma, which has just as good a shot to get its Rose Bowl parade tickets punched. As a result, Oct. 17 will be D-Day in the Big 12 -- and for the entire college football landscape -- when Texas and Oklahoma face off in what is promising to be the most hyped game of the year.
-- Sung Moss
Pac-10
Out where football is played in the Pacific time zone, fans and sporting press people are climbing all over themselves to predict a Pac-10 champion other than that school in Los Angeles not called
UCLA
.
Hopes for unseating the Trojans have settled on two programs:
Cal
(No. 12) and
Oregon
(No. 16).
Guess what, fans? Despite the boredom at
Southern Cal
's ownership of a perennially weak conference, expect more of the same in 2009.
Southern Cal (No. 4) returns 12 starters -- relatively few -- to a team that finished No. 5 after handily taking care of Penn State, 39-24, in the Rose Bowl. Pete Carroll's famed recruiting efforts have continued to stockpile talent three and four deep on the Trojans' roster, which means another reloaded year.
But West Coast observers see weakness in the Coliseum at quarterback, where a genuine controversy has developed in the wake of Mark Sanchez leaving school early for his NFL riches. Three highly recruited throwers have battled all spring and summer -- Aaron Corp, Mitch Mustain and true freshman Matt Barkley -- with the frosh emerging late as the probable starter. As usual, the Southern Cal defense, with safety Taylor Mays roaming the field, will dominate most games and keep pressure off whatever youngster stands behind center.
As for the rest of the conference, Cal's hopes rest with running back Jahvid Best, a Heisman dark horse. The Bears also return 15 starters and catch USC at home this year.
Oregon is too inexperienced to sniff the top spot in the Pac-10, returning just 10 starters from last year. But there is talent in Eugene, with Jeremiah Masoli, the bruising quarterback who will helm the Ducks' befuddling triple-option attack.
As for the Trojans' cross-town rival, a rejuvenated Bruins squad under second-year head coach Rick Neuheisel brings back 16 vets this season and hopes for serious improvement across the board after a season beset by injury.
-- Scott Eden
Atlantic Coast Conference
Most old timers remember the ACC as the stomping ground of perennial title winner
Florida State
. But that former juggernaut, along with rival
Miami
, just hasn't been the same. So, this ain't your daddy's ACC, and
Virginia Tech
Head Coach Frank Beamer would like to keep it that way.
In fact, does Beamer ever go out of style? Working with rebuilt units on both sides of the ball last year, Beamer and his staff pulled off a 10-win season and a BCS bowl win. It's almost becoming common place in Blacksburg that the Hokies will annually field a team with a puncher's chance to take the conference's BCS bid. But the question still remains -- can Beamer lead his guys to a national title?
Tyrod Taylor, Virginia Tech
That question will ultimately turn on the play of QB Tyrod Taylor. Though the junior was good enough for nearly 1,800 total yards and nine touchdowns last season, most believe his growth in the pocket and with his arm will decide the team's fate. Last year's two touchdowns through the air against seven interceptions is just not going to be enough this year, particularly with the Hokies' first date against Alabama looming.
But "Beamer Ball" has been defined by stout defense, forcing turnovers and special teams play. Though the latter took a dip in 2008, this year's defense will return defensive end Jason Worilds. If he can repeat anywhere close to the 18.5 tackles for loss, eight sacks and 21 quarterback hurries from his sophomore campaign, Bud Foster's defensive unit will be that much closer to recapturing the conference's "best defense" title.
If the Hokies slip, however, expect
Georgia Tech
to take the mantle from them. When Paul Johnson brought his throwback Flexbone rushing attack from Navy last season, who knew the results would place the Yellow Jackets running game in the top-5 in the country in his first year.
Though having a running virtuoso like ACC Offensive Player of the Year Jonathan Dwyer leading a stable of runners can make a lot of coaches look smart.
With Dwyer returning for a Heisman run and a schedule that brings Virginia Tech to their home turf, why shouldn't Georgia Tech be the conference front runner? Simple. For all of last season's success, the lasting memory most have of the Yellow Jackets is the shellacking Johnson's crew took from
LSU
in the Chick-Fil-A bowl. Georgia Tech couldn't manage more than a field goal the whole night, and gave up 35 points... by half time. Don't think conference foes weren't taking notes.
At this point, it might be appropriate to mention others, but is it even worth it? With the spotlight on them early last season, Clemson crumbled and underwhelmed. Both Florida State and Miami have ridiculous schedules, with some predicting that Miami may start the season 0-4. Plus, if Florida State actually makes it through their gauntlet, they will have earned passage to the ACC championship game, where a pummeling likely awaits them from either of the aforementioned Techs from the Coastal division.
North Carolina
is pushing a crop of new wide receivers into action this season. Meanwhile,
Wake Forest
has Riley Skinner back at quarterback (really, is this guy entering his 10th season by now?), but little other offensive firepower.
-- Sung Moss