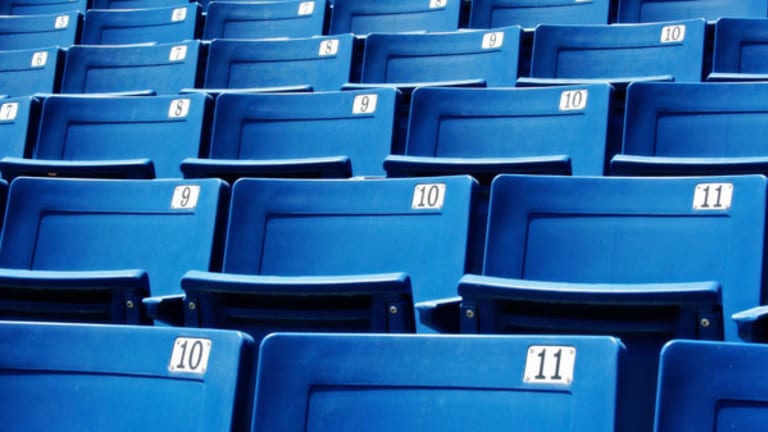 College Football Corner: Big Ten Preview
Will the third time be a charm for the Ohio State Buckeyes? How will Rich Rodriguez's spread offense fare at Michigan?
Updated from Aug. 28
Ohio State has a shot at winning it all in college football this year. No, seriously.
While we can hear the chuckles in Baton Rouge and Gainesville, whose LSU and Florida teams won the last two national titles at the Buckeyes' expense, Ohio State is loaded for 2008 and returns two of the best players in the country -- running back Chris Wells and linebacker James Laurinaitis.
And with their ancient rival Michigan having a new coach and a heavy graduation toll, the Buckeyes are favored to win a record third straight conference title.
Ohio State linebacker James Laurinaitis
As for the national title, well, there is a little obstacle sitting in sunny Los Angeles the third week of the season -- a game against the University of Southern California.
So here's a look at the upcoming season for the 11 (yes, 11) teams that make up the storied heartland conference.
(Big Ten fanatics also can catch games and team news through the Big Ten Network, if your cable provider carries it, and more are lately. The channel is a partnership between the conference and
News Corp.
(NWS) - Get News Corporation Class B Report
).
And here we go, in alphabetical order.
ILLINOIS
-- The Fighting Illini will look to build on a breakout season in 2007, when they went 9-4 overall, 6-2 in the conference, losing to USC in the Rose Bowl. The highlight of Illinois' season was an impressive victory over No. 1 Ohio State in Columbus. Juice Williams and receiver Aurelious Benn return, although Coach Ron Zook will have to replace running back Rashard Mendenhall, who left for the NFL after his junior year, and rebuild an offensive attack that rushed for 257 yards a game last year.
But Zook, known more for his recruiting skill than anything else, has another talented freshman class coming to Champaign-Urbana. Key players on defense are cornerback Vontae Davis and linebacker Martez Wilson.
Illinois gets Ohio State at home in a bid for a second straight upset, but the team faces tough conference road games at Penn State, Michigan and Wisconsin. Its opener this Saturday vs. No. 6 Missouri in St. Louis is no slouch, either.
INDIANA
-- There's reason for optimism in Bloomington. The Hoosiers are coming off their first bowl appearance since 1993 and return veteran players on both sides of the ball. The nation's sack leader, Greg Middleton, is back upfront (although he was suspended for undisclosed reasons for the home opener Saturday vs. Western Kentucky, along with three other players, for undisclosed breaking team rules. On offense, although IU lost 6-foot-7 record-setting receiver James Hardy to the NFL, the man who got him the ball, junior quarterback Kellen Lewis, is back. There is a wrinkle, though. Lewis, also the team's leading rusher last season, recently returned from a suspension for violating team rules. (Lewis later admitted that he had been partying too much and missing classes.) Coach Bill Lynch this week announced that Lewis, who reminds many of the mercurial Hoosier quarterback Antwaan Randle-El, will start. He had been sharing snaps with sophomore Ben Chappell.
Another piece of good news that IU received recently was that Jerimy Finch will be eligible this season. A 6-1, 215-pound safety, Finch played for the Florida Gators in three games last season before breaking his leg after returning an interception against Tennessee. The Indianapolis native, who in his senior year at Warren Central in 2006 was named the No. 1 recruit in the state, transferred to IU and successfully appealed to the NCAA for eligibility this season on undisclosed hardship grounds. He should bring some instant credibility to a Hoosier secondary that also lost Tracy Porter, now in the NFL. The Hoosiers will play eight home games this season at Memorial Stadium, which is being expanded. Their Big Ten schedule does not include Ohio State and Michigan, stirring expectations that IU can improve on last season's 7-5 regular season record and go bowling two years in a row.
IOWA
-- All's been mostly quiet this summer in Iowa City, and that's a good thing. A span of the past 17 months that saw 18 Hawkeye players arrested or cited on 23 charges, combined with a second-straight 6-6 finish, has raised the stakes on the nine-year tenure of Kirk Ferentz -- increasingly referred to as "the Big 10's highest-paid coach" (although an updated contract Friday for Ohio State's Jim Tressel will put him in the top spot next year).
While the temperature of Ferentz's seat is up for debate (this is, after all, a university that has employed two head coaches over 29 seasons), there's no question Ferentz needs to a) minimize the off-field embarrassments and b) return to consistently winning football. While this year's edition doesn't appear ready to remind fans of the 2002-05 era that posted a combined Big 10 mark of 25-7, Iowa does have reason to believe it should return to a bowl after a six-season streak of post-season appearances was snapped last year. The strength of recent Hawkeye squads has always been in the trenches, and both lines should be the team's strength.
Last year's offensive line was decimated by graduation and injuries, but that means solid depth returns for 2008. On defense, Mitch King and Matt Kroul anchor the interior line, while bookend sophomores Adrian Clayborn and Christian Ballard are drawing much praise in camp. Iowa also has a pretty manageable schedule: missing Ohio State and Michigan for the second straight year, while getting both Wisconsin and Penn State at home. A Sept. 20 trip to Pittsburgh, a preseason Top 25 team, should give Hawk fans a good measure of how high hopes should get.
MICHIGAN
-- It's a whole new ballgame at the Big House this year. Rich Rodriguez takes the reins in Ann Arbor from Lloyd Carr, who couldn't quite recover from a preposterous home-opening loss to Appalachian State last season. Not that the Mountaineers from Boone, N.C. (ironically the same mascot as Rodriguez's former team, West Virginia) weren't deserving that September day; it's that the Wolverines went into the game ranked fifth in the country, taking the field with quarterback Chad Henne, running back Mike Hart, wide receiver Mario Manningham and monstrous offensive tackle Jake Long -- all in the NFL now.
The Maize and Blue did put its season back together, going on to beat Florida and Heisman Trophy-winner Tim Tebow, 41-35, in a scintillating Capital One Bowl, one of the best bowl games last season. It also was something of a tonic for all that ribbing coming from the Southeastern Conference in recent years. That said, UM returns possibly the fewest lettermen of any big-time program in the country, particularly on offense. They'll also be running a new offense, the spread, which was fabulously successful for Rodriguez at West Virginia. Michigan's biggest question before the opener is who will start at quarterback. Sophomore Steve Threet, junior Nick Sheridan and freshman Justin Feagin are all in the running. The Wolverines open the season at home Saturday against Utah.
MICHIGAN STATE
-- Optimism abounds in head coach Mark Dantonio's second year in East Lansing. Not only did he guide the Spartans to their first bowl appearance in four years, Dantonio managed to avoid the late-season meltdowns that ultimately sealed the fate of predecessor John L. Smith. What's more, Michigan State didn't lose a game by more than seven points in 2007, including two overtime losses, suggesting the team was unluckier than most. This year's run-oriented offense returns the conference's best running back not named Beanie Wells: State's Javon Ringer rang up 1,447 yards last year, and the offensive line returns enough experience to exceed that total this year. Steady quarterback Brian Hoyer returns for his senior season, although he'll be without two of his top targets, WR Devin Thomas and TE Kellen Davis, both NFL draft picks.
Defense has been the Spartans' bane the past four seasons, including last year, when the team allowed the third-highest point total in conference games. While the unit's front seven has to replace some key starters, much experience returns, and the secondary should be one of the league's best. The Spartans' biggest hurdle looks to be a tough schedule: nonconference games at California and vs. Notre Dame and a league slate that includes every team that should be in the Big 10's top half, but unfortunately avoids an easier date vs. Minnesota.
MINNESOTA
-- Rome wasn't built in a day, and neither will the Gophers be in the Tim Brewster era in Minneapolis. The first-year head coach opened with a thud in 2007, going 1-11 (0-8 in the Big 10). But there are reasons for Minny fans to be optimistic this year -- beyond the fact that the team is only 12 months away from no longer playing games at the dank Hubert H. Humphrey Metrodome. Brewster made a name for himself recruiting for Mack Brown at Texas, and it appears he's starting a solid pipeline of his own. Most recruiting services saw Minnesota's entering freshman class as middle of the pack in the conference -- quite a feat considering success on the field has yet to materialize. On offense, sophomore quarterback Adam Weber should improve. He threw a league-tying 19 interceptions but also set the school's single-season passing mark. Assuming he starts four years, he'll easily become Minnesota's all-time leading passer.
Last year's defense gave up 229 rushing yards a game and allowed a 64% completion rate. With six returning starters, that side of the ball can only get better. Considering the Gophers dropped three overtime games last season (including one triple-OT affair), Brewster should start to total the wins a lot quicker. The four nonconference games all allow chances for victory, while hosting Indiana and Northwestern could give Brewster a shot at his first conference win.
NORTHWESTERN
-- The purple Wildcats return as many skill players as any team in the conference, which could have them thinking of red roses in Evanston. Back is quarterback C.J. Bacher, who threw a conference-leading 19 touchdown passes last year.
Tailback Tyrell Sutton, who has just under 3,000 career rushing yards, and receiver Eric Peterman also return. Nine starters return for Coach Pat Fitzgerald's defense, led by tackle John Gill and defensive end Corey Wootton. And that's a good thing for new defensive coordinator Mike Hankwitz: The defense gave up more than 400 yards a game last year and saw its final four opponents score at least 28 points apiece as the Wildcats skidded to losses in three of their last four games.
Northwestern starts with an easy nonconference slate but finishes with seven games that include six Big Ten teams who played in a bowl last year.
OHIO STATE
-- It's another year and another chance for SEC teams like Florida and Georgia to lick their chops in anticipation of meeting -- and beating -- the Buckeyes in the BCS championship game. Not so fast, my friends: This isn't the 2007 edition that ran roughshod over a mediocre league, only to be served up to LSU last January. This is that same team, a year wiser. Ohio State returns almost its entire lineup from last year, including stud linebacker Laurinaitis, cornerback Malcolm Jenkins and Wells, all of whom stand to hear their names among the first called at next year's pro draft.
Also in the mix is the country's No. 1 high school player last year, quarterback Terelle Pryor of Jeannette, Pa., who may spend a year mostly tutoring behind starter Todd Boeckman but whose 6-foot-6 frame and 4.4-second 40-yard dash time will command some playing time. With Michigan retooling under a new coach (and not having been victorious in that series since 2003), the Buckeyes' toughest conference test is at Wisconsin in Camp Randall Stadium. Even tougher will be an earlier trip to Los Angeles on Sept. 13 to take on USC. A win there would give the Buckeyes the inside track to a BCS championship game berth. A loss would force them to run the conference table to win back a chance at redemption. That could happen.
PENN STATE
-- The Nittany Lions are coming off a 9-4 campaign capped by a 24-17 victory over Texas A&M in the Alamo Bowl. But legendary Coach Joe Paterno had to answer more questions than usual in the off-season about how long he'd continue to coach -- and also about the number of his players who got into trouble with the law.
The Blue and White also have some questions on the field. Daryll Clark won the battle with Pat Devlin for the starting quarterback position, while Evan Royster and Stephfon Green will vie to make up the 1,300 yards gained last year by senior Rodney Kinlaw. The defense returns nine starters, including one of the nation's top defensive lines, but will be without All-American linebacking candidate Sean Lee, who ripped a knee ligament and is out for the year.
Penn State will get a test in week five against Illinois in Happy Valley and must face both Ohio State and Wisconsin on the road.
PURDUE
-- The Joe Tiller Farewell Tour begins Sept. 6 as the Boilermaker coach starts his 12th and final season as head coach following 122 wins and a 51-37 lifetime conference record (He'll be replaced next season by Eastern Kentucky's Danny Hope). Tiller's fate is one that's increasingly seen in the college game: a coach rebuilds a moribund program and ends up being undone by his own high bar. To wit: Tiller took the reins in West Lafayette in 1999 following a streak that saw one winning season in the previous 12. He immediately righted the ship, sending Purdue to its first bowl game in 13 years.
However, after posting 3-5 conference marks in two of the past three years, Tiller's welcome had apparently worn out. That "Win Just One More for Joe" theme should play heavily with this year's schedule, particularly vs. Notre Dame and in the season's last month. And that's a good thing: The Boilermakers return just 12 starters and lose 23 lettermen from a year earlier. As always with a Tiller squad, the pass-oriented offense should be sharp, and quarterback Curtis Painter, who threw for almost 4,000 yards last year, returns. However, only one of last year's top five receivers is back. An average-at-best defense has been no small part of Purdue's recent mediocrity. The unit should be as good as last year's but probably not special enough to send Tiller out with another upper-division finish.
WISCONSIN
-- Quality football hasn't skipped a beat in Madison. Despite the move upstairs to athletic director by its winningest coach, Barry Alvarez, his handpicked successor Bret Bielema has kept the Badgers' run intact after two years at the helm: Wisconsin is one of only three teams in the country to have played in a January bowl the last four years. The team must break in a new quarterback, but the run-happy offense returns star running back PJ Hill and an offensive line that is healthier, deeper and just as big as a year ago.
Last year's defense had some breakdowns against the league's top teams, but nine of the unit's top 10 tacklers return. Of course, Wisconsin's No. 1 weapon hasn't changed: Camp Randall Stadium, where the Badgers are 25-1 since 2004.
That's no small thing this season, as three of last year's top Big 10 teams -- Ohio State, Penn State and Illinois -- travel to Madison. A chance at putting a blemish on Ohio State's conference mark will provide plenty of motivation. Just as important, however, will be navigating four road games vs. conference opponents (Michigan, Iowa, Michigan State and Indiana) that have good reason to think they'll be part of the bowl mix.