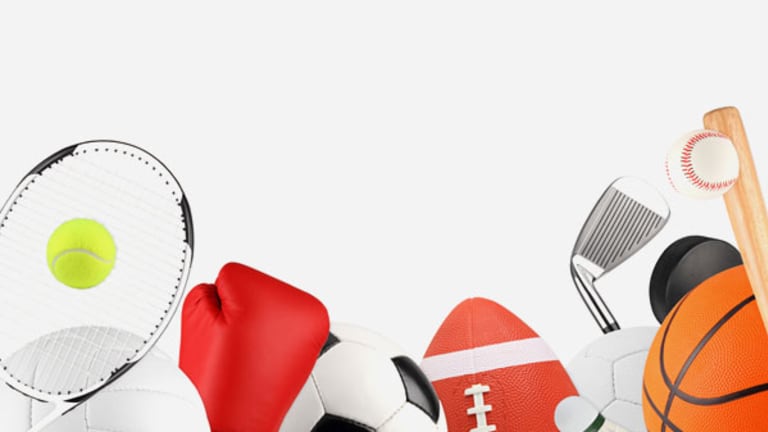 College Football Corner: BCS Faces Test
Two of the top three schools in the recently released BCS poll face Top 10 opponents Saturday.
Get your back issues of College Football Corner on this page here.
The first
BCS poll
of the season is out, and it will be put right to the test.
No. 1 Texas plays No. 6 Oklahoma State, while No. 3 Penn State faces a stern test in a road trip to No. 9 Ohio State.
Big man on campus: Texas DE Brian Orakpo
Texas was a shoo-in for the top spot following its thrashing of Missouri on Saturday night. Penn State, impressive in a come-from-behind dismantling of Michigan, will meet a vastly improved Buckeye juggernaut that wiped out Michigan State in East Lansing.
The BCS (Bowl Championship Series) poll can be a great equalizer for some teams. Northwestern (5-1), unranked in the other major polls, is 22nd in the BCS. Ohio State also did well by the BCS, as the Buckeyes debuted at No. 9 whereas they were 10th elsewhere.
Florida Coach Urban Meyer can't be too pleased, though. His Gators were ranked fifth in
The Associated Press
poll and seventh in the
USA Today
coaches poll. But in the BCS? No. 10. Ouch. Remember though that the Gators did manage to claw their way back up the poll ranks two years ago, ultimately making it to the championship game, where they dismantled Ohio State. (
at the BCS criteria and procedures. The
FedEx
(FDX) - Get Free Report
BCS National Championship Game will be played on Thursday, Jan. 9 at Dolphin Stadium in Miami.)
Oklahoma State's Dez Bryant
And how 'bout that Corner? off to a 4-1 start in its first try at picking games last week. On to this week's games.
No. 6 Oklahoma State (7-0) (+12) at No. 1 Texas (7-0), 3:30 p.m. EDT (ABC)
: Missouri was a recent common opponent for both teams, with the Longhorns whipping the Tigers by a bigger margin. But the Cowboys are loaded with talent and they could end up testing Texas more than even Oklahoma did. These two teams played a classic last season, with Texas prevailing, 38-35. This year's clubs feature some of the premier players in the nation.
"There are some games that never leave you," Oklahoma State coach Mike Gundy said of last year's contest. "Whatever side of your brain that records information and data, I'd like to be able to get some of it out. But it never goes away."
Oklahoma State Coach Mike Gundy
(right) and Assistant Curtis Luper
The Cowboys have two players with short first names but long stat sheets -- quarterback Zac Robinson -- third in the NCAA in passing efficiency, and Dez Bryant, the nation's second leading receiver -- who will attempt to challenge the Longhorns' menacing defense.
One obstacle Oklahoma State will be facing is Texas' housed defensive end Brian Orakpo, or "Osackpo," as his teammates call him. Orakpo, who benches 515 pounds, has notched eight sacks already this season. Meanwhile, Texas QB Colt McCoy solidified his Heisman Trophy credentials following a 29-for-32, 337-yard, two-TD passing performance and two scores running in the romp over Missouri. Texas seems unbeatable, so maybe it's time for a little upset.
Corner's choice: Oklahoma St. 34, Texas 31
Ohio State Coach Jim Tressel
No. 3 Penn State (8-0) (-2½) at No. 9 Ohio State (7-1), 8 p.m. EDT, ABC
: Ladies and gentlemen, we give you the Big Ten championship game. The victor here can likely punch its ticket for a BCS Bowl, and for Penn State, little would stand in its way of a BCS title game. The oddsmakers have chosen to ignore history for this one, since the Nittany Lions have never beaten the Buckeyes in Columbus as a member of the Big Ten. Of course, not many of those Joe Paterno squads came in with an offense scoring 45 points a game.
Penn State DE Aaron Maybin
The defense is no slouch, either, led by stud sophomore defensive end Aaron Maybin. The Buckeyes' saga is well known by now: the preseason No. 2 ranking, the "Beanie" Wells injury adding to the insult by USC in a 35-3 thrashing, the benching of the senior quarterback for the freshman phenom, and the subsequent righting of the ship.Ohio State Coach Jim Tressel has lost only five games at home in seven-and-a-half seasons. With a healthy Wells running the ball, it doesn't look like there's enough superior Penn State talent to make him suffer his sixth.
Corner's choice: Ohio State 23, Penn State 19
.
No. 5 USC (5-1) (-16½) at Arizona (5-2), 10:15 p.m. EDT, FSN
: Don't let that point spread fool you -- this is the first time Arizona has been anything
less
than a three-touchdown underdog against the Trojans since 2001. Wildcat Coach Mike Stoops finally has something going in Tucson after a 17-29 record in his first four seasons put him squarely on the griddle. Now, the Wildcats have an upper-division Pac-10 finish and their first bowl appearance in 10 years almost in their grasp.
Arizona QB Willie Tuitama
Arizona has improved on both sides of the ball this year and brings an even more balanced attack with sophomore running back Nic Grigsby sharing the load with senior quarterback Willie Tuitama, who carried the offense last year. The Wildcats have stumbled twice on the road, but are starting to make Arizona Stadium a tough place to play, as they've won six straight at home. For USC, another loss means the end of its BCS championship hopes for 2008. And now the team needs to focus to notch its seventh straight Pac-10 title. It's hard to think the Trojans won't do just that -- take out that 6-point loss to an Oregon State team that's won eight of its last nine games at home, and there'd be no doubt who is No. 1.
Corner's choice: USC 34, Arizona 20
.
No. 7 Georgia (6-1) (+1 1/2) at No. 13 LSU (5-1), 3:30 p.m. EDT
: The loser of this game will be dealt a major setback in its quest for a spot in the SEC and BCS championships, despite the fact that LSU won it last year with two losses. Georgia Coach Mark Richt insists he's not looking at a schedule that has his team on the road until Nov. 29. "Right now, we're concentrating on the LSU game, period," Richt said earlier this week. "We're trying to go to 7-1 and keep ourselves in shape in the Eastern Division."
LSU has five straight home games, including No. 2 Alabama before closing out the regular season with a revenge game at Arkansas. LSU bounced back from being Gator food at the Swamp two weeks ago with a road victory against South Carolina. Meanwhile, Georgia held off a feisty Vanderbilt team at home. These teams have split the last four meetings, with their last at the 2005 SEC championship, won by Georgia, 34-14. LSU coach Les Miles is ready. "I think our football team gets excited for big games," he said. "This is certainly one. ... I think our guys look forward to Georgia in our stadium. I think this will be a great week to prepare." One key will be how often Georgia running back Knowshon Moreno, one of the top 20 scorers in the nation with 11 touchdowns, can find the end zone. --
by Edison Sanon
Corner's choice: LSU 38, Georgia 31
No. 8 Texas Tech (7-0) (+1 1/2) at No. 23 Kansas (5-2), noon EDT (ESPN)
: This Big 12 North-South matchup likely will see a lot of footballs flying through the air. Texas Tech's senior QB Graham Harrell has entered the Heisman discussion and now has thrown for 2,761 yards and 23 touchdowns this season. Often on the other end of his spirals has been wide receiver Michael Crabtree, who has corralled 51 passes for 724 yards and 12 TDs. The Jayhawks are led by veteran quarterback Todd Reesing, who has thrown for 2,322 yards and 17 touchdowns. His two favorite targets are Dezmon Briscoe, who has 703 receiving yards, and Kerry Meier, who has caught 57 passes for 632 yards. Coach Mark Mangino's Kansas team has proven not to be an easy out, with both of its close losses -- to South Florida and Oklahoma -- to ranked teams. Texas Tech leads the series 9-1 and has taken the last two meetings: 30-17 in Lubbock in 2005 and 31-30 in Lawrence in 2004. The Red Raiders are two wins away from 500 all time since they started playing football in 1925.
Corner's choice: Texas Tech 31, Kansas 27
Corner kicks
: First place in the WAC is on the line as No. 12
Boise State
(7-0; 2-0) aims to keep its BCS hopes percolating in a trip to
San Jose State
(5-2; 3-0). ESPN2 will carry the game Friday at 9 p.m. EDT. ... Welcome to the mercurial coaching hot seat, Bret Bielema. The
Wisconsin
coach had one of the best debuts in recent memory, winning 17 of his first 18 games in Madison after replacing Barry Alvarez in 2006. Now after four straight losses this season, his 7-7 record going back to the middle of 2007 is starting to bring out the critics. ... Too many BCS-busters might spoil the broth. In all the jockeying by
Utah
, Boise State and
Tulsa
to make the BCS Top 12 and get an automatic at-large bowl berth, keep in mind only one such team can qualify. The rest will be out of the money, so to speak.