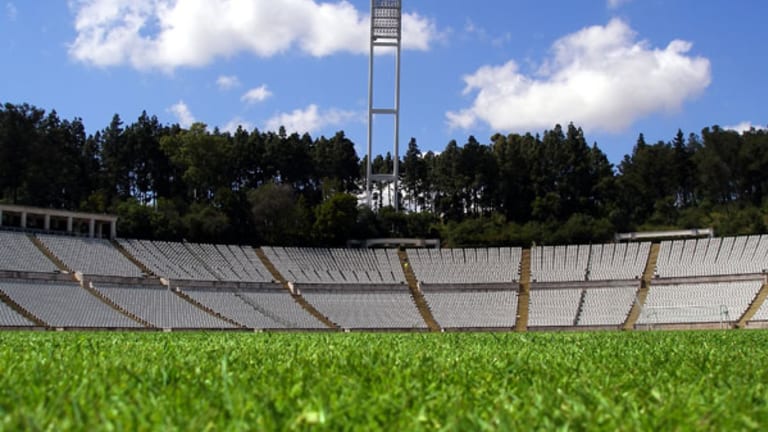 College Football Corner: BCS Ball
It's first week of the season that those three letters will begin to exert their hold on college football.
This is the first week that the Bowl Championship Series rankings will be on everyone's radar, and the timing was just right for No. 1 Florida. The Gators avoided an upset by Arkansas last week with a fourth-quarter rally, but voters in The Associated Press poll weren't impressed, and pushed the Alabama Crimson Tide to the top of the heap as No. 1.
But as we know, it's the BCS rankings that determine who plays in the national championship, so Florida is still in good stead. Both teams need to be wary this week, however, as 'Bama gets a feisty
Tennessee
Vol squad and Florida visits
Mississippi State
, a 3-4 team that put up a fierce fight in losses to
LSU
,
Georgia Tech
and
Houston
.
So without future ado, here are the Corner's featured games this week.
Tennessee (3-3) at No. 1 Alabama (7-0), 3:30 p.m. EDT, CBS
:Suddenly competitive Tennessee has become one of the more entertaining stories of the 2009 college football campaign. After deposing its longtime, title-winning Head Ccoach Phil Fulmer, the university replaced him with the youthful pedigreed firebrand Lane Kiffin, protege of Southern Cal's Pete Carroll and son of that NFL defensive ancient, Monte Kiffin, who now stalks the Volunteer sidelines calling in the coverages as defensive coordinator.
All in all, Kiffin the Younger looks to have rejuvenated (maybe; we still need further evidence) a program that had fallen far from its one-time status as a perennial SEC contender.
So far this year, Tennessee has sort of hung in there with No. 1 Florida, has lost to a close one to a
UCLA
squad on its own resurrection mission under Rick Neuheisel, and has blown out what was once believed to be a formidable
Georgia
team. Add in a strangely close affair with the Bobcats of
Ohio University
and a loss at home to
Auburn
, and you have a either a dangerous underdog or another no-problem Alabama victim.
Nick Saban has his Crimson Tide firing on all the proverbial cylinders: an old-school power running game led by Heisman-worthy back Mark Ingram; a cautious but efficient passing attack under newbie Greg McElroy; and a vicious lockdown defensive unit that has no apparent weaknesses. Both statistically speaking and as judged by pure common sense, Alabama's defense stands as the best in the country.
Jonathan Crompton, Tennessee
Facing off against that unit will be Tennessee quarterback Jonathan Crompton, who eviscerated Georgia last week in a career game, throwing for 310 yards and four TDs. Don't expect a reprise. Despite some less-than-healthy Alabama defensemen, including nose guard Josh Chapman who's fighting an abdominal strain, Crompton and talented running back Montario Hardesty will both need to play career football this Saturday to keep it close in Bryant-Denny Stadium.
If it is close, though, at least Tennessee won't have to deal with the now-suspended refs who botched last week's Florida-
Arkansas
game. But it won't be, though the Vols do appear to be rounding into form.
Corner's choice: Alabama 33, Tennessee 20
-- Scott Eden
No. 6 Iowa (7-0) at Michigan State (4-3), 7 p.m. EDT, Big Ten Network
: The Hawkeyes haven't won in East Lansing in five years, and the Spartans, although they have three losses, have won three games in a row and are in the hunt for the conference crown. Iowa has proven itself a rugged road team, with belt notches over Penn State and Wisconsin, two brutal venues for visitors. It's hard for any team to get through the Big Ten schedule undefeated, just ask Ohio State about the detour its season took last week in West Lafayette. But this Iowa team (I don't want to say team of destiny) has found ways to thrive in tough situations.
Blair White, Michigan State wide receiver
Michigan State will look to test Iowa's suffocating defense with senior wide receiver Blair White, who caught 12 passes for 186 yards and two TDs in the Spartans' victory over Northwestern last week. Duplicating that against a defense led by end Adrian Greenwood and safety Tyler Sash, who has five of the team's 15 interceptions, won't be easy. The Spartans will give Iowa a good go of it, but in the end, defense wins championships.
Corner's choice: Iowa 23, Michigan State 13
-- William Hennelly
Oregon State (4-2) at No. 4 Southern Cal (5-1), 8 p.m. EDT, ABC
: Coming off its near collapse to archrival
Notre Dame
in South Bend last Saturday, No. 4 Southern Cal must now gather itself for a team that has proved to be its true, if unlikely, season-wrecking nemesis in two out of the last three years: the Beavers of Oregon State.
Last season, the boys from Corvallis knocked off then top-ranked USC, 27-21. And two years earlier, in 2006, the Trojans' title hopes were derailed when the Beavers topped the boys from Hollywood, at the time ranked No. 3.
What do these two upsets have in common, other than the participants and the fact that they were, well, upsets? They both took place one state to the north of California, in Corvallis, Ore. Not so this year. At the Coliseum in balmy Los Angeles, USC has not lost to OSU since 1960.
Jacquizz Rodgers, Oregon State halfback
But Southern Cal had better come prepared this year for the running prowess of Jacquizz Rogers, who blew through the Trojans front seven for 186 yards during the 2008 meeting, all but icing the win. "For whatever reason," USC head coach Pete Carroll famously said after the game last year, "we just couldn't tackle him."
This time around, however, USC sports a fearsome defensive unit that, until a late rally in the fourth quarter last week, held the high-powered Irish offense in check. Defensive end Everson Griffin and linebacker Chris Gallippo anchor a unit ranked fourth in the nation against the run, surrendering just 68 yards a game.
This year, Rodgers has maintained his prolific ways, notching 116 yards on the ground per outing. Only one other back (Ricky Dobbs, of triple-option
Navy
) has scored more than his 13 touchdowns. Yet, despite Rodgers' legs, the Beavers possess only the 78th best rushing attack in the Football Bowl Subdivision.
The bottom line: After last week's scare, USC knows what's at stake. Take another loss, and the Trojans must wallow in another season out of the title race for a squad of players with more talent than any other outside Tuscaloosa and Gainesville. Oregon State remains a middling team. Look for the Trojans to be seriously keyed, and look for the final score to resemble every matchup between these two in L.A. for the last 40 years.
Corner's choice: USC 35, Oregon State 17
-- Scott Eden
No. 3 Texas (6-0) at Missouri (4-2), 8 p.m. EDT, ABC
: Instead of a high-octane, offensive affair on Saturday, somehow an SEC-style defensive brawl broke out between Texas and
Oklahoma
. Yes, the 'Horns emerged with the victory.
But the game left many with more questions than answers about Texas and its ability to challenge the Alabamas and Floridas of the world in a hypothetical BCS championship.
In Mack Brown's tenure in Austin, the Longhorns are 11-0 in the immediate aftermath against the Sooners. Therefore, at 0-2 in conference play, Missouri may appear to be a sacrificial lamb. Though the Tigers may also appear to be a trap, depending on your point of view.
Gone are the Tigers' record-setting cornerstones of recent years.Quarterback Chase Daniel, with over 12,500 yards passing and 100 touchdowns, along with versatile receiver Jeremy Maclin, have since graduated. Former offensive coordinator Dave Christensen took his play-calling exploits to
Wyoming
as the Cowboys' head coach.
What's left, however, is a spread offense that still manages over 400 yards a game. Quarterback Blaine Gabbert is looking to carry the load, but an ankle injury has limited his mobility and the effectiveness of the Tigers' zone read.
"Last week, my biggest concern would be that he would go backwards. And then we decide if this is going to be chronic, and I don't want that," head coach Gary Pinkel said. "I expect him to be better; hopefully he'll be 100% this week."
But his primary receiving target, Danario Alexander, is already on pace to break many of Maclin's single-season receiving marks.
As Longhorn quarterback Colt McCoy looks to regain his Heisman finalist form of a season ago, and offensive coordinator Greg Davis retools the starting lineup after last week's sluggish offensive output, look for the 'Horns to lean, again, on their defense. Defensive coordinator Will Muschamp's unit tops the nation against the run, and has minimized relinquished yardage, giving it a sixth place overall ranking.
Earl Thomas, Texas safety
Sophomore safety Earl Thomas, who places second on the team in tackles, has been a primary beneficiary of the Longhorn pass rush and resulting frenzied quarterback play, racking up five interceptions thus far. Against the Sooners, he clinched the 'Horns victory with a fourth-quarter interception and led the way with seven tackles, earning his second conference defensive player of the week honor of the season.
Corner's choice: Texas 31, Missouri 7
-- Sung Moss
South Florida (5-1) at No. 20 Pittsburgh (6-1), 12 p.m. EDT
: A victory for Pitt would give the Panthers their best start since 1982, when a curly haired phenom named Dan Marino was slinging the leather.
It's clear that senior quarterback Bill Stull, who is completing 66.7% of his passes and has 14 touchdowns this season vs. 57% and 10 touchdowns last season, is improving. Couple his improvement with an impressive performance from freshman tailback Dion Lewis -- who has 162 carries for 918 yards -- and it seems that extending a three-game winning streak and reaching that early '80s record is doable.
Then again, South Florida already has beaten No. 18 ranked
Florida State
(at that time No. 10) this season with redshirt freshman B.J. Daniels, who took over after senior quarter back Matt Grothe tore his ACL against
Charleston Southern
at the helm. The Bulls secured a win against
Syracuse
, briefly moving up to No. 21, before losing to current No. 5
Cincinnati
and will look to get back into the top 25 with a win this week. Coach Jim Leavitt's club has 11 sacks, six interceptions and six turnovers over the last three games, and a 3-0 record on the road.
Corner's choice: Pitt 35, South Florida 28
-- Elizabeth Trotta
--
Written by Scott Eden, Sung Moss, Elizabeth Trotta and William Hennelly in New York
.
Get all your back issues of the Corner by clicking here
.
This article was written by a staff member of TheStreet.com.