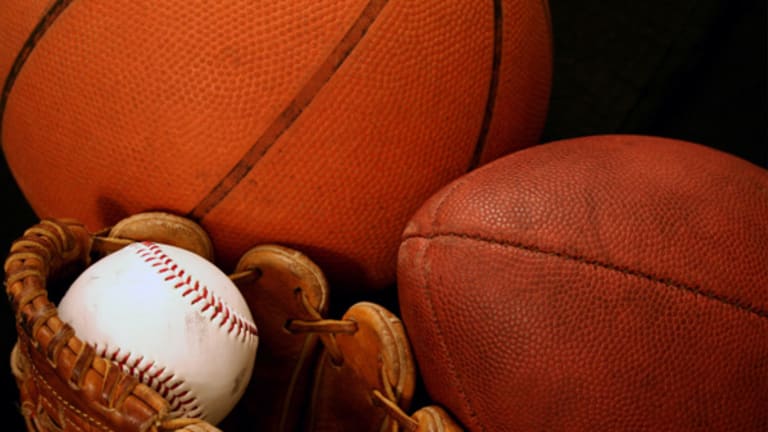 College Football 2011: The Great LSU
The question may not be whether LSU is No. 1, but rather is it one of the greatest college football teams of all seasons?
NEW YORK (TheStreet) -- If you listened to some of the top college football commentators last weekend, the consensus was that LSU, not Oklahoma, should be No. 1.
Both Kirk Herbstreit and Mark May of
ESPN
said the Tigers were the best team in the country.
Well, voters in the
The Associated Press
poll heeded that call and made LSU No. 1 by a wide margin this week, although the Tigers were tied at No. 2 in the
USA Today
coaches poll.
"We wake up to Sunday and Monday to be the No. 1 team in the nation," LSU Coach Les Miles said earlier this week. "I have to be honest, we take it as a compliment to the program and to this team. We don't feel that it is an extra burden or target on our back. Every time LSU comes to play, someone is going to try to beat you and they are going to give you their best effort."
Coach Les Miles and the LSU Tigers
But maybe the debate shouldn't be whether LSU is No. 1, but rather, is this one of the best college football teams of all time? The speed and force of this team is incredible, on both sides of the ball. Of LSU's four victories this season, three have come against Top 25 teams -- West Virginia, and before that Mississippi State and Oregon. And the 47-21 win over the Mountaineers last week, while close at one point, really wasn't in doubt as the game drifted into a rout. The at-times effortless victory came despite West Virginia passing for almost 500 yards.
But Louisiana State still has a few more obstacles in the SEC, actually quite a few. Did I mention that not only may they be one of the best teams ever, they probably have the toughest schedule of all time?
They host No. 12 Florida next weekend, then they travel to Knoxville, Tenn., to face a resurgent Tennessee squad. After that it's home to defending national champion Auburn and then a road trip to No. 2 Alabama. Whew. Western Kentucky follows, but the season concludes with Ole Miss and No. 18 Arkansas. Good luck.
What separates LSU from everyone else is that they can beat anyone in any year. Remember when they won the 2007 national championship with two losses?
LSU shouldn't be tested this week as they host 2-2 Kentucky. But there are some humdinger games this Saturday in the interim, while we wait to see whom LSU will beat for the national championship.
Up in Madison, Wisc., the No. 8 Nebraska Cornhuskers will make their Big Ten debut vs. the No. 7 Wisconsin Badgers. No. 2 Alabama heads east to Gainesville to take on the No. 12 Florida Gators. No. 15 Clemson heads north to face No. 10 Virginia Tech. So this should be another great weekend of college grid. Now, on to the games!
Florida flanker Chris Rainey
No. 2 Alabama (4-0) at No. 12 Florida (4-0), 8 p.m. ET (CBS)
: The
"Padawan" will meet his "Master" for the first time as a head coach on Saturday as Florida Gators coach Will Muschamp hosts Alabama Crimson Tide coach Nick Saban.
Muschamp was an assistant coach under Saban at Louisiana State and then with the Miami Dolphins until Saban bolted for Alabama in 2007.
Alabama flattened the Gators last year in Tuscaloosa, Ala., in a 31-6 rout that looked deceptively kind to Florida's poor performance. The Gators will likely put more points on the board this year with the improved efficiency of quarterback John Brantley, thanks to offensive coordinator Charlie Weis' pro-style offense and running back Chris Rainey's fun-n-run talent.
Expect the highlight reel from this game to showcase brutal defensive stands and creative running attacks. Just expect Alabama to do both better.
Alabama running backs Trent Richardson and Eddie Lacy are a dominant duo whose only match might be LSU's backfield. But the 806 combined yards of 'Bama's stars looked frighteningly good against Arkansas, which was especially obvious on Richardson's 61-yard scamper on a pass from A.J. McCarron.
Rainey and world-class speedster Jeffrey Demps of Florida could argue that they're as dynamic as any backfield in college football. Demps had an 84-yard run against Kentucky last week in which the Florida back effortlessly cruised past the secondary. Rainey has been a one-man wrecking crew for the Gators who likely reminds Florida fans of Percy Harvin.
But short of bringing back Harvin and the rest of the 2008 Gator team (Tim Tebow, Brandon Spikes, Brandon James, etc. etc.), Alabama should be able to handle their return to The Swamp with a win. The Tide's front four won't be intimidated by the slash and dash of the Gators. Florida's untested defense will probably contain McCarron, but they won't have much luck against Richardson and Lacy.
Corner's Choice: Alabama 35, Florida 21
--
Joe Deaux
Wisconsin quarterback Russell Wilson
No. 8 Nebraska (4-0) at No. 7 Wisconsin (4-0), 8 p.m. ET, ABC
: What a natural rivalry this is. Nebraska couldn't have picked a better game for its Big Ten debut.Two teams bedecked in red from big farm states, one that produces corn, another that cranks out cheese and beer. They also put some hosses out on the football field, too.
Wisconsin, which isn't hesitant to pile up the points on a defeated opponent (hey, points count in the BCS world), could have one of its best teams ever. The Badgers fell in the Rose Bowl to undefeated TCU last season, and they're aiming for a better ending than that this time. Wisconsin has given up only 34 points this season (third best in the nation), while averaging 48.5, good enough for sixth nationally.
Senior quarterback Russell Wilson has thrown for 1136 yards and 11 TDs already. Montee Ball leads the rushing attack, averaging 5.7 yards a carry. ESPN's College Football GameDay is on location for this barnburner.
Wisconsin Coach Bret Bielema isn't looking at Saturday's donnybrook at Camp Randall Stadium as "just another game."
"How many times can you as a player or a coach say that you're going to be involved with the start of league play in a new divisional alignment against an opponent the caliber of Nebraska and the tradition, the history, everything that they bring with themselves in addition to being just a really good football team this year," Bielema said at his weekly press conference.
But don't bring any of that hype talk to Nebraska's all-business Coach Bo Pelini.
"Like I said, the hoopla is all for you guys," Pelini said. "It is just the next game on the schedule for us. We will concentrate on getting better as a football team right now. We have a lot of things to improve upon. We are working day in and day out to become a better football team."
Nebraska relies on the running and throwing of sophomore quarterback Taylor Martinez, who has accounted for more than 1,000 yards on land and in the air this season. In a peculiar stat, Martinez has 421 yards rushing on 63 carries with seven TDs, while his teammate, running back Rex Burkhead, has 420 yards rushing with the same number of carries and TDs.
The Huskers' outstanding senior defensive tackle, Jared Crick (6-6, 285), whom Pelini said "got dinged up" last week, is expected to be in the lineup Saturday. Wisconsin will definitely face its sternest test, but Nebraska has shown a propensity to give up some points, and Wisconsin is certainly adept in the scoring area.
Corner's choice: Wisconsin 34, Nebraska 24
-- William Hennelly
Ohio State running back Carlos Hyde
No. 25 Michigan State (3-1) at Ohio State (3-1), 3:30 p.m. ET (ABC)
: Ohio State is coming off a sound beating of Colorado while the Spartans pasted Central Michigan 45-7 last week. Both of these teams came up flat in big games, with the Spartans dropping a 31-13 decision to longtime rival Notre Dame, and the Buckeyes faltering at Miami, 24-7. So it could be a matter of which team is improving faster. Defense is a strong suit for both clubs, with MSU allowing only 11 points a game and OSU giving up 15.8.
Ohio State has had to deal with offseason tumult, as Coach Jim Tressel was let go because he happened to be in charge during a player tattoo scandal. Quarterback Terrelle Pryor left the team for the NFL. The two teams' current quarterback situations couldn't be more different, with Michigan State led by fifth-year senior Kirk Cousins while Ohio State will go with freshman Braxton Miller. If Miller, who rushed for 83 yards and threw two TDs against Colorado needs to turn to his backfield, he has an able duo in Carlos Hyde and Jordan Hall, with Hall accounting for 231 all-purpose yards against the Buffaloes last week.
"Michigan State is probably as good up front as we've seen," said Ohio State Coach Luke Fickell said at his weekly press conference. "They're going to definitely get on your guys outside. They're going to put pressure on you, whether it's four, five, six men. I think we understand that. How we handle it will be the key."
One factor that can't be discounted for this game is that it will be played in Columbus, Ohio, where the Green and White haven't won since 1998.Michigan State Coach Mark D'Antonio, an Ohio native who once was the Buckeyes' defensive coordinator, knows that championship teams need to play well away from home.
"I know we can win in this (Spartan) stadium," D'Antonio said at his weekly press conference. "We've got to win on the road in order for this football season to be a success ultimately, total success, what everybody wants. We've got to go and win on the road. That's just a fact. This is the next one up, and we'll be motivated."
Corner's choice: Ohio State 24, Michigan State 16
-- William Hennelly
Clemson quarterback Tajh Boyd
No. 15 Clemson at No. 10 Virginia Tech, 6 p.m. ET (ESPN 2)
: The rage surrounding the Atlantic Coast Conference by October was supposed to be about the Florida State Seminoles and the Virginia Tech Hokies, but you'd be hard-pressed to skim ACC message boards without seeing Clemson at every corner.
Clemson freshman phenomenon Sammy Watkins has hauled in 28 catches for a 15.5-yard average and six TDs, which makes him first in the conference for touchdowns and second in receiving yards. Significant help has come from quarterback Tajh Boyd who has thrown for an ACC-best 1,255 yards and 13 TDs.
But the Hokies' defense is up to the task to shut down Clemson's explosive bunch.
"We've had some fast guys in the past and when we're fast coming off that edge, we're usually pretty good," Hokies coach Frank Beamer said about his defensive line. Ends James Gayle and J.R. Collins combined for four sacks and 12 tackles last week as Virginia Tech held Marshall to six rushing yards.
Clemson will encounter a tough crowd in Blacksburg, Va., on Saturday, but the Hokies are untested as they haven't faced a formidable opponent in 2011. Additional wins against East Carolina, Arkansas State and FCS Appalachian State likely explain why there's been little talk in the 2011 season about last year's ACC champion.
Clemson's defense has been shaky, which the Hokies could take advantage of. David Wilson's 516 yards and five TDs already rival his 2010 season totals, and senior Josh Oglesby has been a consistent short-yard back who also has put the ball in the end zone five times. The weakness for the Hokies could be first-year starting quarterback Logan Thomas who has thrown as many touchdowns as interceptions (four).
Clemson has a couple of solid victories against Auburn and Florida State, but the team is still young and at times have been prone to untimely mistakes. If the Hokies can ride hometown advantage and keep blunders low -- which is a strength of Beamer-coached squads (unless it's against FCS opponents) -- they should manage to notch their first ACC victory.
But if Clemson dashes to a quick lead, catch-up could be difficult for Virginia Tech.
Corner's choice: Virginia Tech 31, Clemson 28
--
Joe Deaux
Robert Griffin, Baylor quarterback
No. 16 Baylor (3-0) at Kansas State (3-0), 3:30 p.m. ET (ABC)
: It all begins and ends with Robert Griffin III, better known as RG3. There's not a whole lot of analysis here, folks. We can try to complicate this more, and plenty of writers will waste a lot of words talking about the myriad of match-ups and narratives in this game.
But it's really not too hard figure out. If Kansas State stops RG3, they'll win. If not, they'll lose. It's just that simple.
We're only a quarter of the way through the season, and Baylor is just hitting its conference schedule, but there is one undeniable truth we know about RG3. Right now, as it stands, he might be on pace to having one of the greatest statistical seasons a college quarterback has ever had.
Again, it's early, and those are big words. But consider this (from Baylor's own media department):
(1) The most mind-blowing statistic, and the one that bears repeating, is that he's thrown fewer incompletions (12) than he has touchdown passes (13).
(2) On the season, he's completed 70 passes out of 82 attempts, meaning he's hitting at an 85% completion percentage.
(3) His passing efficiency rating (236.23) leads the nation, but he's also on track to shatter Colt Brennan's 2006 NCAA record of 186.
(4) He hasn't given up an interception in 146 consecutive pass attempts. And this is after starting his career at Baylor going 209 straight without a turnover through the air. For his career, he's 54 touchdowns and only 11 interceptions.
(5) But the most striking aspect of this season is that he's done all of this in only 10 quarters of play. RG3 has played in the fourth quarter in only one game.
Kansas State is attempting to avenge last year's 47-42 loss, and the Wildcasts might have the defense to do it. They rank in the top 10 in the nation in total defense and scoring defense, while ranking in the top-15 in both pass defense and pass efficiency defense.
So can they stop RG3? Sure. But will they?
Corner's choice: Baylor 45, Kansas State 35
-- David Moss
Steele Jantz, Iowa State quarterback
No. 17 Texas (3-0) at Iowa State (3-0), 7 p.m. ET (FX)
: It's easy to call this a revenge game. For the 'Horns, the game against Iowa State could be seen as the turning point of the 2010 season, as things went from bad to horror show.
Actually, last year's matchup again Iowa State game was a program-defining loss for UT. Here's why:
Texas had just come off of a big win against Nebraska in Lincoln, which put an end to an odd two-game skid against Oklahoma (which was to be expected) and UCLA (which wasn't). Then the Cyclones hit Austin with the punch of, well, a cyclone, ending any notion that the two-game skid was an aberration. Instead, Iowa State ran for nearly 200 yards, racked up another 136 yards through the air, and forced quarterback Garrett Gilbert into three interceptions.
From there, the 'Horns proceeded to drop four or their next five games and miss out on a bowl game for the first time in Mack Brown's tenure. As the story goes, Brown used the offseason to look inward. Then, he replaced nearly half of his coaching staff with younger, hungrier, more progressive coaches who brought new ideas and schemes to Austin. Out went a staff that Brown had won a national championship with and appeared in another national title game with. In came fresh blood.
This season's win against UCLA was a culmination of that entire effort. Without a singular experienced starter at the QB spot and starting a true freshman at running back, the offense schemed its way to 49 points with a newly anointed play caller. Meanwhile, the 'Horns newly supplanted defensive coordinator held the Bruins to only half of their rushing totals from the year before.
So, an argument could be made the Iowa State loss last season changed the program. And now things have come full circle as the 'Horns travel to Ames. This year's Iowa State squad is being piloted by quarterback Steele Jantz (you gotta love that name), who is the prototypical spread quarterback.
On the one hand, Jantz has a remarkable ability to make mistakes at crucial moments, as his three interception performance against UConn illustrates. On the other hand, it's that very same trait - the incomparable belief that no game is out of reach and, therefore, any play can be made - that makes him so dangerous, again, exemplified in that same UConn game that Iowa State stormed back to win.
And it's his ability to extend plays by staying on his feet, keeping his eyes downfield to wide receivers who never quit on a play, that makes this team so incredibly difficult. Still, I think the Cyclones' slow starts this season and the Longhorns' steady ability to pressure the quarterback are better indicators of what to expect.
Corner's choice: Texas 42, Iowa State 17
-- David Moss
The Corner's record stands at 16-6 on the season
.