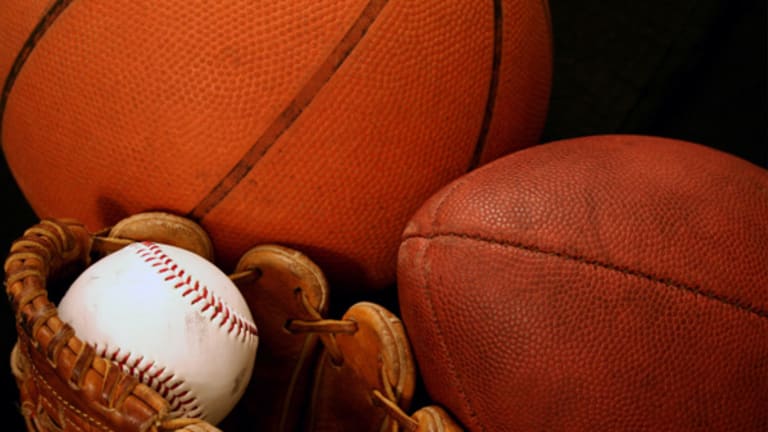 College Football 2011: Lessons on Looking Ahead
It's a 12-game regular season, and dreams of a BCS title game often can get derailed in conference play.
NEW YORK (TheStreet) -- The focus of college football fans lately has been the LSU-Alabama game Nov. 5 between the nations' two top-ranked teams.But as Oklahoma and Wisconsin can attest, looking ahead can be risky, as they both found out last weekend.
With the Sooners and Badgers likely out of the mix for the BCS title, college football fanatics can start sorting out other title-game scenarios, such as Andrew Luck's Stanford or Boise State in the BCS National Championship Game. Don't worry, Oklahoma State, we'll get to you in a moment.
Let's face it, Oklahoma wasn't supposed to lose to Texas Tech last week. Wisconsin had a defense that was ranked one position higher in the NCAA than Michigan State for points allowed, and yet gave up a Hail Mary as time expired -- the biggest no-no in defensive lore.
This is why college football fans are as pumped in the last week of October as they were at the beginning of September.
Six BCS conference teams remain unbeaten. Clemson should have lost two weeks ago after being down 38-24 to Maryland mid third quarter. Oklahoma State should have lost after a dysfunctional first half against Texas A&M -- but now it's the Cowboys who are in prime position to win the Big 12 and a BCS Championship berth.
You'd think that fans would have a week to recuperate from last week's mayhem to prepare for next week's BCS No. 1 vs. No. 2 clash, instead they get Andrew Luck playing at Southern Cal for one of Stanford's most important road games ever.
Fans also get the World's Largest Outdoor Cocktail Party (no longer the preferred description in academia) when the Florida Gators and No. 22 Georgia meet for the 88th time (89th if you're a Bulldog) in Jacksonville, Fla., which is one of the most
bizarre and rambunctious neutral-site games in college football (it's livelier than the Red River Rivalry, I've been to both -- sorry Longhorns/Sooners fans).
You get the point. The crisp, chilly air of October has finally arrived in much of the country, adding more flavor to one of America's greatest spectacles: college football. Strike up the band and click through for College Corner's picks. Speaking of the Corner, the season record stands at 24-13 after another subpar week.
Michigan State running back Le'Veon Bell
No. 9 Michigan State (6-1) at No. 13 Nebraska (6-1), noon ET (ESPN)
: The Spartans are emerging as one of the best stories of the 2011 season. Athletic, big and tough on both sides of the ball, they're playing with a high level of confidence.
They met all the comeback challenges by the Wisconsin Badgers last week, forcing quarterback Russell Wilson into some unpleasant choices, such as intentional grounding from the end zone. Then they won the game on a deflected Hail Mary pass as time expired.
That is all prologue, but this team showed it has something special and will challenge for the Big Ten title. Michigan State also had no problem running and throwing against a highly rated Wisconsin defense.
Michigan State Coach Mark D'Antonio summed up the Nebraska game pretty well at his weekly press conference.
"Big challenge ... great environment, great atmosphere, outstanding offense,
Rex Burkhead and then also with
Taylor Martinez, big-play guys, tight end, great receivers, well designed scheme of things, option football in a lot of respects.
"Defensively, great defense, Coach Pelini has put together a great program ... a lot of things difficult to deal with. And great opportunity for us as well. So a big game in the Big Ten Conference."
Nebraska Coach Bo Pelini is getting used to life in the Big Ten."We've put in some late hours," Pelini said. "You always do as a coach, but it's been a long go. It's part of the deal. Its different getting familiar with a team and then getting the intricacies of preparing for them, plus making adjustments according to your own personnel and that kind of thing. It's been a challenge, but it's been a good one."
The Cornhuskers are rugged at home with great fan support (they've sold out all their home games since 1962) and have quietly built a 6-1 record and top 15 ranking. But Michigan State seems to have something special this year and has come too far.
Corner's choice: Michigan State 35, Nebraska 24
-- William Hennelly
Ohio State quarterback Braxton Miller
No. 15 Wisconsin (6-1) at Ohio State (4-3), 8 p.m. ET (ESPN)
: Everyone is talking about a Wisconsin letdown after a last-play loss to Michigan State, and the Buckeyes are at the Horseshoe. Wisconsin, though, must keep its eye on a Big Ten title spot and another go at Michigan State.
For all the talk of Ohio State being depleted by scandal, the Buckeyes are still a pretty good football team. Ask Illinois. OSU slugged it out with Michigan State before bowing, 10-7, at home on Oct. 1. The key here though is whether Ohio State will be able to score enough. They have a sound defense, but Wisconsin can get the ball into the end zone against anyone.
Wisconsin Coach Brad Bielema has had to listen to some second-guessing after last week's loss and now he'll have to put it past him in time for Saturday's trip to Columbus. Here was his description of Ohio State earlier this week.
"They look more and more like the traditional Ohio State as they get further into the season, really settled in," Bielema said. "Their defense is playing extremely well, playing with that attitude, that swagger. Their kicking game has continued to get stronger, so, unfortunately, yes, I think Ohio State's getting better and better."
This one could shape up as quarterback battle. Wisconsin's Russell Wilson can throw on the run (he faced a lot of pressure in East Lansing) and can tuck it himself. Ohio State's Braxton Miller has a similar game. Still, Wisconsin brings the fifth-best offense and sixth-ranked defense into the game. The rushing game, featuring Montee Ball and James White, is the eighth best in the FBS.
Corner's choice: Wisconsin 31, Ohio State 17
-- William Hennelly
Kansas State running back John Hubert
No. 9 Oklahoma (6-1) at No. 8 Kansas State (7-0), 3:30 p.m. ET (ESPN)
: I can pinpoint the moment when Kansas State made a believer out of me. In the beginning of the month, the Wildcats slid past Baylor in an epic 36-35 win. The Bears were riding a lot of hype coming into the matchup, and most of the punditry saw the game as Baylor quarterback Robert Griffin's national coming-out party. Most, too, will remember RG3's killer fourth-quarter interception (his first of the year) that all but killed the team's chances.
So, the narrative left from that game is this -- Baylor squandered an opportunity.
But few realize that Kansas State actually had to win it. And the way the Cats did says more about this team than anything else, and points to why OU should be worried this weekend.
Before that fateful interception near the end of the fourth quarter and trailing 35-26, the Wildcats took the ball in the fourth quarter and went on a 13-play drive (including eight runs) that ended with a touchdown, burning up over five minutes of clock in the process. Baylor got the ball back and gave up the interception with four seconds of possession time. Then, K-State burned up nearly 2 1/2 minutes in four plays (three rushes) that ended with the go-ahead field goal.
Their secret sauce is slow, grinding, methodical drives.
In other words, the Wildcats nullified one of the Big 12's most explosive offenses by dominating time of possession with their run game. Their best defense was to simply keep Baylor's offense off the field. It ain't flashy (they rank dead last in the conference in total offense), but it gets the job done. Then, they did it against pass-happy Texas Tech in a 41-34 win. And don't forget the same formula worked in a 24-17 win over Missouri. That's three of the top-12 most high-octane offenses in the country that they've beaten by essentially playing molasses ball.
In an era of big-armed quarterbacks, spread concepts and regular 400-yard passing outings, Kansas State has managed to stay undefeated and relevant by doing the exact opposite -- run the ball (John Hubert gets 5.2 yards a carry) and keep those opposing big-armed quarterbacks on the bench (it also helps to have the conference's best defense, too).
Now KSU faces an Oklahoma squad that's bringing its own quick-strike offense. And the Sooners are still stinging from a heartbreaking defeat at home to the Red Raiders that's quelled any national title talk for now. Not to mention, Bob Stoops hasn't lost two straight regular season matchups in ... well ... let's just say it's been a long while.
So, while I'm sure most see the Sooners as a favorite, it's important to realize the main ingredient in the Wildcats' undefeated season thus far has been a major weapon that has buttoned down teams like OU. And it's hard to argue with the results.
Corner's choice: Kansas State 24, Oklahoma 21
-- David Moss
Stanford quarterback Andrew Luck
No. 6 Stanford (7-0) at USC (6-1), 8 p.m. ET (ABC)
: Yes, Stanford quarterback Andrew Luck is as good as advertised. Yes, he probably will be the No. 1 pick in the next NFL draft.
But here's the thing. USC has a pretty good quarterback, too. Matt Barkley is quietly ranked near the top of the Pac-12 in passing. He's led his team to a 6-1 record. He's accounted for over 2,000 yards through the air already. In any other year, we'd probably be talking about him as a potential first pick in the NFL draft.
So, I suppose much of the narrative of this game, then, revolves around the two quarterbacks and their potential post-season accolades. But while both teams have very high-profile leaders behind center, that's not where the similarities end.
They each have strong running games. USC racked up 219 yards on the ground against Notre Dame last week. Stanford topped them in the Cardinal's win against Washington, pulling off a stunning 446-yard effort on the ground. They each have strong defenses, with Stanford and USC giving up nearly 13 and 23 points, respectively, per contest.
Similarities? Yes, though Stanford still pulls slightly ahead of their L.A.-based foes.
Does any of this matter this weekend? For all of the platitudes being tossed Stanford's way, I still have difficulty understanding who this team is. San Jose State, Duke, Arizona, UCLA, Colorado, Washington State and Washington.
That's some murderers' row the Cardinals have faced. They're ranked in the top 10 for that? Really?
USC has plenty of faults, but it also has talent on top of talent, the likes of which Stanford hasn't faced yet this season. There's also the stinging need for retribution after the Trojans fell last year to the Cardinal.
Stanford will still gut out the win, but it won't be pretty. In the process, I anticipate we'll learn Stanford has many more flaws, and USC has much more pride than first thought.
Corner's choice: Stanford 37, USC 28
-- David Moss
Clemson quarterback Tajh Boyd
No. 5 Clemson (8-0) at Georgia Tech (6-2), 8 p.m. ET (ABC)
: If you said at the beginning of 2011 that Clemson would be the best team in the ACC through two-thirds of the season, you'd sound silly. If you said Clemson-Georgia Tech would be a pivotal conference meeting, well, you get my point.
Clemson quarterback Tajh Boyd has connected with freshman wide receiver Sammy Watkins for nine TDs and they have become one of the most explosive tandems in the NCAA. The debate in the ACC is whether it's Boyd or Watkins who should be named offensive player of the year. Boyd leads all ACC quarterbacks with more than 2,300 yards and 24 TDs.
When Clemson takes the field at Bobby Dodd Stadium on Saturday, the Tigers will face a team reeling from two consecutive losses. Georgia Tech allowed only 28 points in losses to Virginia and Miami, but their schedule hasn't been difficult.
Saturday under the lights will be the Yellow Jackets' first chance to take on a premier opponent.
"Clemson is probably the most talented team we've played since I've been here at Georgia Tech at least in this stadium," Tech coach Paul Johnson said at a press conference. "They have the freshmen receiver
Watkins who is really good. ... We've just got to try to do what we can do."
The Tigers' perfect record and outstanding offensive statistics won't conceal the fact that their defense is suspect. They give up an average of 25 points a game, but have allowed 83 in the past two games. Clemson did hold Virginia Tech to three points on Oct. 1, but they also gave up 27 points to FCS school Wofford.
Tech needs quarterback Tevin Washington to shake his slump if he expects to lead the Ramblin' Wreck past Clemson. In the last two games, he has completed only eight passes for 87 total yards -- though he did rush for 151 yards and three scores. The good news for Washington is that Clemson allows an average of 169 rushing yards a game.
Clemson head coach Dabo Swinney said he's convinced his defense will produce in Atlanta.
"I'm confident that our defense is on track to finish strong, and they are a big reason why we are 8-0 right now," Swinney said. "Our defense actually played pretty doggone good this last week
against North Carolina. Our first group gave up 17 points, and then we just, like I say, we got up so much and we played a ton of subs in the second half."
The confidence sounds good, but lip service is entirely different from results. If Clemson expects to remain undefeated against a struggling Georgia Tech team, it must force turnovers and hope that its offense continues to dazzle.
Corner's choice: Clemson 34, Georgia Tech 28
--
Joe Deaux