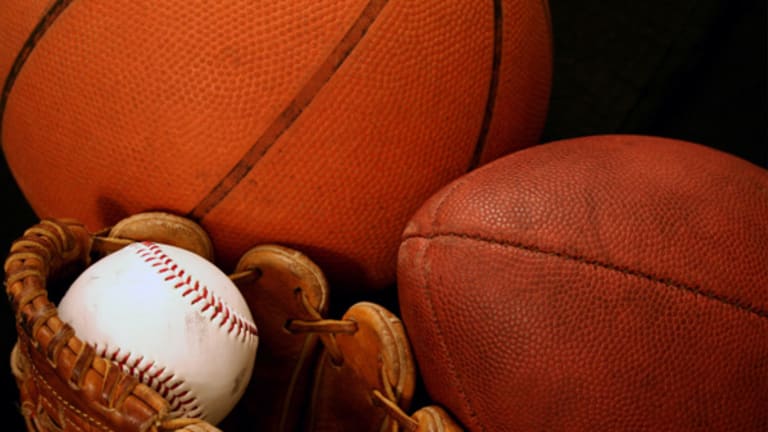 College Football 2011: Conference Chaos
There are some pretty good football games this weekend despite the fact that teams are scrambling all over the country to align with newly defined conferences.
NEW YORK (TheStreet) -- There may be all sorts of conference swapping going on this week, but there also will be some Top 25 shake-ups on the field.
In what is easily the most enticing weekend of college football this season, four games will be played in which both teams are ranked.
There's No. 3 LSU at No. 16 West Virginia. Then there's No. 12 Arkansas at No. 2 Alabama; No. 6 Oklahoma State at No. 8 Texas A&M and No. 14 Florida State vs. No. 22 Clemson. (The Corner goes by the
USA Today
Coaches Poll rankings, because those are eventually used to determine the BCS standings.)
Back to the conference hopping for a second. Pitt and Syracuse are already heading to the ACC, and with Boston College already there, it's like a Big East subset. Speaking of the Big East, it looks like it's more headed west. TCU is scheduled to join next football season, and there was talk of Air Force coming in. Being the conference already has Cincinnati and Louisville, where's the East?
I see the whole thing shaking out into four super conferences -- the ACC, the Big Ten, the SEC and the Pac-12, with all of those leagues eventually expanding to 16 teams or so. Maybe there'll be an "Independent Conference," too, because geography no longer seems to be a factor in the scramble for TV money. That is to say, it's a factor in that a super conference needs major media markets. The ACC, once derided for its football prowess, in the long run could emerge a power. Think about it, the Atlantic coast already goes from Maine to Florida. That's a lot of states, but now having Pittsburgh come in, the conference stretches to the Alleghenies.
The Big East has vowed to fight on, but it could be tough. Rutgers is in talks with the ACC and Big Ten, but the Big East could lose its BCS bowl bid if one more name school bolts, and those automatic-qualifier bids are crucial in wooing five-star recruits to campus.
The Big 12 is in disarray and forced out its commissioner on Thursday. Member Texas A&M says it will look to join the SEC in 2012. Oklahoma mulled bolting for the Pac-12, but that conference says it won't expand for now. A sticking point for the Big 12 is how much Texas is able to call the shots. The university already says it won't share any of the $300 million it will receive from a 20-year pact with ESPN for the Longhorn Network. Now let's take a look at some games.
Geno Smith, West Virginia quarterback
No. 3 LSU (3-0) at No. 16 West Virginia (3-0), 8 p.m. ET (ABC)
: How good is LSU's defense? Let's run down some of the startling stats:
(1) They're top 10 in the country in a slew of major defensive statistics, including rushing defense (3), tackles for loss (3) and total defense (6). They rank in the top 20 in the nation in pass efficiency defense (12), scoring defense (15), turnover margin (15) and pass defense (19). That may not seem like much through three games, but it's made all the more impressive because one of those opponents appeared in last year's national championship game and another was a ranked SEC foe with the conference's most dominant rushing attack.
(2)
ESPN
notes that so far this season, LSU's defense hasn't let its opponents complete more than two passes for more than 15 yards combined. Mull that one over for a bit.
(3) Think about No. 2 some more. Let it marinate. That's an astounding fact.
(4) They've allowed 143 rushing yards ... not in a game, but in all three ... combined.
(5) The Tigers defense is holding opponents to under 35% on third-down conversions. While that's great, here's the kicker -- those same opponents are converting only 10% of third downs in the all-important third quarter.
(6) LSU has been on 36 defensive series and racked up three-and-outs on 19 of them, according to Rivals.com.
(7)
ESPN
also notes that LSU is keeping offenses from making any positive yardage on 46% of their rushing plays.
I can keep going, but I think you get the picture. LSU's defense, even according to historical SEC standards, is good, real good. There's talk that this group could be one of the best to come through the Bayou. Mississippi State coach Dan Mullen joked to the press that this LSU squad could probably compete and win the NFL's NFC East. But was it really a joke?
Yet in order for that talk to be become a full out chorus, the Tigers need to go to Morgantown and beat a West Virginia team that is every bit as impressive on offense. To understand their offense, look no further then new head coach Dana Holgorsen. More importantly, you have to understand a man by the name of Hal Mumme.
A Texan who's legend is firmly established in coaching circles, Mumme revolutionized the passing offense throughout the '80s and '90s, building a reputation for taking little-known programs and making them into passing powerhouses. His genius was to take some of what BYU's passing offenses did in those days and make it better.
In essence, he used short passing routes to set up a natural rhythm in his offense, in the same way pro-style teams use the running game. He helped pioneer the idea of wide splits in his offensive lines, which in turn created wider lanes for running and passing (and had the side benefit of eallowing him to recruit smaller, more athletic offensive linemen who might come to his smaller programs, as opposed to the big hogs everyone wanted).
Oh, and his offensive line coach around this time was a guy by the name of Mike Leach, who also became his offensive coordinator at Valdosta State and Kentucky. Leach took the principles of the "Air Raid" playbook and created record-setting offenses at Kentucky, Oklahoma and, finally, Texas Tech. And Leach's offensive coordinator at Tech was Holgorsen, who's now using the same Mumme system, but with his own tweaks.
And Holgorsen's track record is indisputable. No. 2, No. 3, No. 1 and No. 1. Those are the final national rankings of his offenses over the past four years at three separate institutions. West Virginia, through its first three games, is already ranked seventh in the country in passing.
Quarterback Geno Smith is the biggest beneficiary of the Mumme-Leach-Holgorsen tree at the moment, having already amassed more than 1,000 yards of total offense this season (he totaled a shade under 3,000 yards for all of last season).
Before you think otherwise, then, just know that this game is going to be a straight-up battle between LSU's prodigious defense and West Virginia's similarly prodigious offense. Yes, there will be talk of Russell Shepherd's return to the LSU offense, and he should provide a spark. But this game really comes down to whether LSU can stop (or at least slow down) the Mountaineers. While Smith threw for a career record of almost 400 yards against Maryland last week, the team's troubling inability to close out that game may be a better indication of what's to come.
Corner's choice: LSU 23, West Virginia 17
-- David Moss
Trent Richardson, Alabama running back
No. 12 Arkansas (3-0) at No. 2 Alabama (3-0), 3:30 p.m. ET Saturday (CBS)
: Alabama welcomes Arkansas to Tuscaloosa, Ala., on Saturday as the SEC West rivals look to pound their ways to 1-0 conference starts.
The Crimson Tide have already proven that they can perform satisfactorily in a hostile stadium and produce respectable numbers to boot, but this will be the first true road test for Arkansas and first-year starting quarterback Tyler Wilson.
Wilson will look to notch his first marquee win after three tune-ups against Missouri State, New Mexico and Troy. Wilson threw for 303 yards and a TD against Troy, but the Trojans stormed back from a 31-7 hole to get within 10 points before the Razorbacks put the game away on a 56-yard Wilson touchdown pass.
Arkansas' defensive strength has been against the rush, which it will have to replicate against Alabama's dual threat of running backs Trent Richardson and Eddie Lacy. The two 'Bama backs have combined for 619 yards rushing on 11 TDs, and two weekends ago left Penn State's defense ragged in their matchup.
Alabama's defense swarms to the ball on lightning speed. With the exception of the LSU Tigers, 'Bama might have the strongest defensive unit in the country. Though two of the Tide's games were against North Texas and Kent State, Alabama has limited Penn State and the others to 344 total passing yards.
This could be a rough game for Wilson, who doesn't have the strongest backfield to keep a stout defense like the Crimson Tide's guessing. Razorback rusher Ronnie Wingo Jr. didn't gain more than 100 yards until last week against Troy, and every other Arkansas running back has fewer than 70 yards on the season. Arkansas' receiving corps is solid, with three players racking up more than 150 yards on the year.
Alabama quarterback A.J. McCarron has minimized mistakes on offense, which suits the team's powerful rushing attack and smothering defensive approach.
Corner's choice: Alabama: 31, Arkansas 14
--
Joe Deaux
USC receiver Robert Woods
USC (3-0) at Arizona State (2-1), 10:15 p.m. ET (ESPN)
: The Trojans are ineligible for a postseason appearances because of NCAA violations, but they're still a good team and could win the Pac-12's South Division (and not play for the conference championship).
Junior quarterback Matt Barkley, once the most highly recruited player in the country, is living up to the hype. Barkley has completed 80 of 116 passes for 892 yards and three TDs already. His favorite receiver, Robert Woods, has hauled in 33 passes so far, four for scores. The Trojans had a couple of close victories to start the season, over Minnesota and Utah before thumping Syracuse last week.
USC will be facing one of the best and most feared defensive players in the country -- 6'3, 252-pound linebacker
, who is on the Butkus Award watch list and just about ever other post season honors list.
USC Coach Lane Kiffin said "everything is coming together" for Barkley. Southern Cal also is getting help from its younger players.
"So many freshmen are doing big things," Kiffin said. Freshmen scored three of the five TDs vs. Syracuse and were the two leading tacklers for the Trojans last week.
Arizona State Coach Dennis Erickson knows of those two tacklers. "The impact from the two freshmen linebackers Dion Bailey and Hayes Pullard have really made a big difference," he said. "We tried to recruit both of them. ... They've
the Trojans got all kinds of talent. They are what they are."
Going into Tempe, Kiffin wants to capitalize on any Sun Devil mistakes. "Get some turnovers, create some momentum in a hostile environment
that really helps your chances to win."
The Sun Devils will look to recover from a 17-14 road loss to Illinois last week. Quarterback Brock Osweiler had a decent game (25-45, 256 yards) but threw two interceptions.
Corner's choice: USC 27, Arizona State 20
-- William Hennelly
Arizona State linebacker Vontaze Burfict
Ryan Broyles, Oklahoma receiver
Missouri (2-1) at No. 1 Oklahoma (2-0), 8 p.m. (FX)
: The Sooners couldn't savor their victory over Florida State too long last weekend, knowing they get a chance for to make amends with a Missouri, a longtime rival that derailed Oklahoma's national championship aspirations last year with a dramatic comeback victory.
"They
Missouri got great balance on offense, run and pass," Oklahoma Coach Bob Stoops said at his weekly press conference, noting that Missouri knocked the Sooners from their No. 1 ranking last season. "Their defense, they mix it up coming after you. Good players all around. ... First conference game, it's just another major challenge."
Oklahoma is led by the prolific passing of Landry Jones, who has completed nearly 72% of his passes this season. Senior wide receiver Ryan Broyles has caught 21 of those passes.
"They are very impressive on both sides of the football, and are playing very well," Missouri Coach Gary Pinkel said earlier this week. "When you look at Landry Jones, you see the development over the last few years. He's a really great player, and he has great players around him. When you talk about Oklahoma, I think it starts up front on their offensive and defensive lines."
Missouri will count on sophomore quarterback James Franklin, who has completed 61 of 93 passes for 694 years and six TDs. Sophomore running back Henry Josey has run for 400 yards, averaging almost 14 yards a carry.
Corner's choice: Oklahoma 35, Missouri 21
-- William Hennelly
South Carolina football Coach Steve Spurrier
Vanderbilt (3-0) at No. 10 South Carolina (3-0), 7 p.m. ET (ESPN 2)
: Never underestimate the Head Ball Coach's threshold for anger at his South Carolina Gamecocks football team.
Steve Spurrier's crew slipped past Navy 24-21 last week after the Midshipmen launched a blistering ground attack with three runners who gained more than 50 yards apiece. You can bet that the Vanderbilt Commodores will welcome South Carolina's suspect defense with a grin.
Though Vanderbilt doesn't have an offensive star, it has mustered three fairly respectable offensive performances with 45, 24 and 30 points against Elon, Connecticut and SEC rival Ole Miss, respectively.
Vanderbilt will look to running backs Zac Stacy and Jerron Seymour to vex the Gamecocks' defensive line. The Commodore offensive line's biggest trouble has been allowing sacks. If the offensive line protects quarterback Larry Smith and opens holes for Stacy and Seymour, an upset could be brewing late Saturday in Columbia, S.C.
But Vanderbilt will have to contain sophomore running back Marcus Lattimore. Lattimore rushed for 256 yards and three TDs against Navy and boosted his season numbers to 534 yards rushing and seven 7 TDs. If this guy gets loose all game, Vanderbilt will have a headache.
The good news for the Commodores is that senior Gamecocks quarterback Stephen Garcia has had a dismal season and has thrown for fewer yards than Lattimore has rushed for. Also promising for the "Harvard of the South" is that Vandy leads the nation with 10 interceptions, three of which have been returned for touchdowns.
If Garcia rights the ship and Lattimore continues his Heisman quest, South Carolina could leave with an inspiring 2-0 start to SEC play. But if South Carolina is tied or trailing late in the game, the Commodores could force Garcia into some errant throws that could make for happiness in Nashville.
Corner's choice: South Carolina 28, Vanderbilt 24
--
Joe Deaux
The Corner went 6-0 on picks last week, raising the season record to 12-5
.