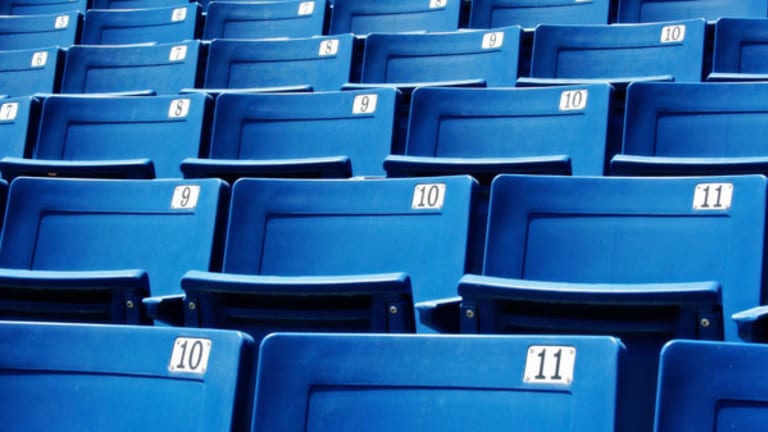 College Football 2010 Picks: Week 12
Notre Dame and Army will look to wake up the echoes at Yankee Stadium, but at least we know we won't see a 0-0 tie, the result of the Game of the Century (20th) in 1946.
A play from the 1949 Army-Notre Dame game at old Yankee Stadium.
NEW YORK (
) -- Outlined against an unseasonably warm November Bronx sky, Notre Dame and Army will play football again in New York.
With apologies to Grantland Rice, who wrote majestically of a 1924 battle between the Irish and the Cadets (at the Polo Grounds), the College Football Corner is thrilled to see college football return to Yankee Stadium.
In the 1940s, Notre Dame and Army
were
college football, with either team having a share in six national championships that decade. They staged some classic battles at The House That Ruth Built, with the 1946 tilt, a 0-0 tie, dubbed the
. (The two teams did meet one other time at the Stadium after the 1940s, for the 100th anniversary of college football in 1969, with Notre Dame winning 45-0.) Fast forward to 2010, and Yankee Stadium will see its first college football game since the third incarnation of the Stadium debuted in 2009. It also happens to be the 50th game between the storied programs.
Army Coach Rich Ellerson reveres the tradition imbued in this game.
"There are ... three elements coming together on one evening and I'm going to use it," he said at his weekly press conference Tuesday. "I'm going to use the fact that it is Yankee Stadium, that it is Notre Dame, that it is Army, and that's something, unless you've been under a rock, that sounds like America. These individuals that right now represent Army football have a chance to be the guys that represent us in that venue on that evening and that implies some responsibility.
"It's a tremendous opportunity and honor, but a lot of responsibility that goes along with it. Leverage that during the preparation. When you get to the game, play the game. Nobody is coming to watch us be a tourist or be impressed, they're coming to watch us play and represent the institution, and that's what we need to make sure we do."
Click through for more on this game and the rest of the Corner's lineup this week.
Yankee Stadium is ready for football Saturday evening.
Notre Dame (5-5) vs. Army (6-4), 7 p.m. ET (NBC)
: The Subway Alumni can see their team live -- in green jerseys -- Saturday as the Fighting Irish aim to build on an upset of Utah last week and achieve bowl eligibility.
Notre Dame was pummeled in its prior game this season with a service academy running a triple-option offense at a neutral site, 35-17, by Navy. But Notre Dame Coach Brian Kelly sees that as an aberration.
"We just didn't defend it," Kelly said at his press conference Tuesday. "We couldn't get to the areas that we needed to get to. We're not going to be talking about it as much as we're going to practice and execute. The guys know what to expect from it this time around."
Kelly has been emphasizing hard-nosed football for his team. "Again, physical and mental toughness, controlling the line of scrimmage, those are all the things that I'm sure you've all heard that you've heard a football coach talk to the media
about," he said. "We have to do the same things we did against Utah, and we have to do it against an offense and a defense we don't see very much."
Army will look to move the ball on the ground with Jared Hassin, a 6-3, 235-pound sophomore fullback who has rushed for 858 yards this season. He'll likely have some run-ins with Notre Dame inside linebacker Prince Shembo.
One thing Army won't be is awed, says Coach Rich Ellerson. After all, this is Army.
"When we get to the game, we'll focus on the game," Ellerson said. "I'll be surprised if we're overawed. We might get overathleted and overplayed, but we won't be overawed. We'll come out and be ourselves and we'll play the next snap and we'll play together and we'll do what we do and we'll find out how that measures up.
"We announced these games last year," he said. "I was down there for a couple press conferences, and I said if I did another press conference at Yankee Stadium, I want someone to ask me about the batting order."
Corner's choice: Notre Dame 24, Army 21
Dan Herron, Ohio State
No. 9 Ohio State (9-1) at No. 20 Iowa (7-3), 3:30 p.m. (ABC)
: The balanced Buckeyes roll into Kinnick Stadium with the fifth-best defense and sixth-best offense, in points allowed and scored, respectively. Junior running back Dan Herron had a breakout game for the Buckeyes last week, rushing for 190 yards in a 38-14 victory over Penn State.
Iowa Coach Kirk Ferentz always has a level-headed view of his current opponent.
"It's us against Ohio State, I know that," he said earlier this week. "We better be bunkered in there or we're going to get blown up. Staying on the war analogies there, these guys are the varsity. They're very good, very tough."
Despite the Hawkeyes' enviable home record, the Buckeyes have more to play for here, especially after Iowa's deflating loss at Northwestern last week.
Corner's choice: Ohio State 28, Iowa 17
Patrick Peterson, LSU
Mississippi (4-6) at No. 5 LSU (9-1), 3:30 p.m. ET (CBS)
: The Tigers, winners of 10 straight in Baton Rouge, have been playing some solid football lately, so don't count them out of the national picture. They've won the whole thing before with
two
losses, although that will be more difficult with No. 3 TCU and No. 4 Boise State staying unbeaten. LSU's rugged defense, led by cornerback Patrick Peterson, gives up a little more than 14 points a game. The offense, led by quarterback Jordan Jefferson, has improved.
LSU Coach Les Miles, not surprisingly, figures that the highest-ranked team in the SEC at the end of the season should get a berth in the BCS national championship game. But LSU won't be in the SEC title game, which will feature No. 2 Auburn vs. South Carolina on Dec. 4. Auburn also will have to face Alabama in their traditional game next week, the day after Thanksgiving.
"The highest ranked team to come out of this conference should well have an opportunity to play in the national championship game," Miles said earlier this week. ... I don't know if there is a finer, more competitive conference in America."
Ole Miss is coming of a 52-14 drubbing by Tennessee, the second time the Rebels allowed more than 50 in a game this season (Auburn was the other). Starting quarterback Jeremiah Masoli, the Oregon transfer, was pulled late in the last game for Nathan Stanley but is expected to start Saturday.
Corner's choice: LSU 35, Mississippi 17
Andrew Luck, Stanford
No. 6 Stanford (9-1) at California (5-5), 3:30 p.m. ET (FSN)
: Stanford hasn't won at Cal since 2000, and the Golden Bears are coming off a near upset of No. 1 Oregon. Even though Stanford is second to the Ducks in the Pac-10, because the Cardinal's only loss was to Oregon, it would need the Ducks to lose two conference games if it were to have a chance at the conference crown and Rose Bowl bid.
This is the 113th Big Game, the rivarly that included
when Cal scored on the last play of the game in 1982 on a hook and lateral sequence, with the Stanford band on the field. It was Stanford uarterback John Elway's last college game. Stanford leads the all-time series, 55-46-11, but Cal has won seven of the last eight.
Stanford's junior quarterback Andrew Luck is a Heisman Trophy candidate with these passing stats: a 69.6% completion rate, 2,511 passing yards and 22 touchdowns.
Corner's choice: Stanford 31, California 20
Montee Hall, Wisconsin
No. 7 Wisconsin (9-1) at Michigan (7-3), noon ET, (ESPN)
: The Badgers probably won't put up 83 points again like they did last week against the unfortunate Indiana Hoosiers, but Michigan is allowing 32 points a game.
The Badgers, in scoring the most points by a team in a Big Ten game since 1950, got 167 yards rushing and three touchdowns from Montee Ball while their leading rusher John Clay was out with an injury.
I can't say why I like the Wolverines here, but maybe it's time for Michigan quarterback Denard Robinson to turn in another unstoppable performance. Robinson needs only 78 yards to set the NCAA record for rushing yards by a quarterback. Big Blue also is in the Big House and could spoil the Badgers' Big Ten hopes -- Wisconsin hasn't won in Ann Arbor since 1994, and Michigan leads the series 49-13-1.
Corner's choice: Michigan 31, Wisconsin 28
Corner kicks
: Notre Dame-Army isn't the only game that will be played at a storied baseball stadium this weekend.
Illinois and Northwestern will tee it up in Chicago's Wrigley Field
. But both offenses will point toward the west end zone because of the field configuration and safety concerns. ...
Harvard
banned vuvuzelas for its 127th battle with
Yale
this weekend. So the signature horn of the World Cup won't be heard. Is that in keeping with the frivolity of an Ivy League game?
This end zone at Wrigley Field is too close for
comfort for the Illini and Wildcats. (
AP photo
)