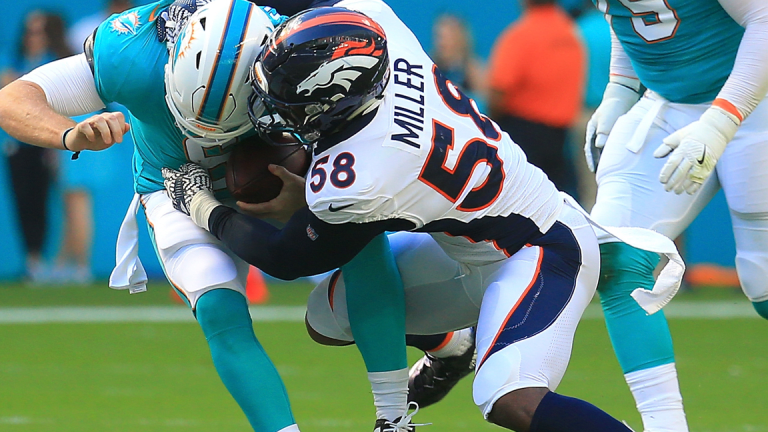 The 10 Best-Paid NFL Players - Besides Quarterbacks
You don't have to be a star quarterback to pull down the big bucks in the NFL. Some of the league's best paid players are defensive specialists like the Broncos' Von Miller and the Texans' J.J. Watt.
Quarterbacks not only hog the limelight, they also rule the roost when it comes to raking in the millions in the NFL.
Tom Brady, Drew Brees, Matt Ryan and other famous gunslingers account for 20 of the top 25 best-paid players in the NFL, with packages totaling several hundred million dollars, according to Spotrac, which tracks team and player contracts.
The most famous, like Brady, have also cashed in with millions more in various ad and endorsement deals.
While some quarterbacks are undoubtedly invaluable to their teams, there are others who arguably aren't even the best players when their teams take the field, even if they hold the key position.
But skilled defenders and highly talented offensive players, while most often not household names like the Packers' Aaron Rodgers, can score big when it comes to securing handsome paychecks, even making it into the top 25.
Some pros, including the Denver Broncos' Von Miller and the Pittsburgh Steelers Antonio Brown, are certainly well-known, but most aren't.
Most are defenders - eight out of the top 10 best paid players beyond quarterback play on defense. Four are defensive ends and three are outside linebackers. A pair of wide receivers was the only two offensive players to make the top 10, non-quarterback list.
Here are the NFL's top 10 best-paid non quarterbacks:
Von Miller, Outside Linebacker, Denver Broncos
Miller led the Broncos to victory in Super Bowl 50 back in 2015, stifling the Carolina Panthers vaunted offense and earning an MVP. Miller is in the midst of a six-year, $114 million contract with the Broncos that included a $17 million signing bonus. Miller, who has 83.5 career sacks, will earn $18.9 million in 2018, plus an extra $500,000 "workout bonus."
Ezekiel Ansah, Defensive End, Detroit Lions
Ansah, who has 44 sacks and 207 combined tackles in five years in the league, will earn $17.1 million during the 2018 season. His three sacks in last season's 35-11 win over the Packers netted him NFC Defensive Player of the Week.
DeMarcus Lawrence, Defensive End, Dallas Cowboys
In his fifth year, Lawrence had a breakout year in 2017, terrorizing opposing offenses with 14.5 sacks, second in the league. He'll make $17.1 million this year after the Cowboys placed a franchise tag on him, with an even bigger payday ahead when Lawrence hammers out a long-term contract.
Fletcher Cox, Defensive Tackle, Philadelphia Eagles
Cox signed a six-year, $102 million contract with Eagles in 2016, including a whopping $26 million signing bonus. Cox, who will earn $17.9 million this year with the reigning Super Bowl champs, has 34 career sacks and 281 combined tackles.
Oliver Vernon, Defensive End, New York Giants
Vernon is set to earn $17 million this season, including a $4 million signing bonus and a $250,000 workout bonus, as the Giants look to rebound from a disappointing 3-13 season in 2017. Vernon, who has 44.5 career sacks and 297 combined tackles, signed a five-year, $85 million deal with the Giants in 2016.
Antonio Brown, Wide Receiver, Pittsburgh Steelers
The superstar receiver, who has caught 733 passes for nearly 10,000 yards in his career, earns an average of $17 million a year. Brown last year inked a four-year, $68 million contract extension that included a $19 million signing bonus.
Justin Houston, Outside Linebacker, Kansas City Chiefs
Houston will pull down a hefty $20.6 million this year as he looks to help the team's struggling defense improve after a promising but ultimately frustrating 10-6 season in 2017. Houston signed a $101 million deal with the Chiefs in 2015, including a $20.5 million signing bonus.
J.J.Watt, Defensive End, Houston Texans
The heart of the Texas defense, Watt inked a six-year, $100 million deal in 2014, including $10 million for signing. Watt, who has 394 combined tackles, 76 sacks and 15 forced fumbles, will pull down $15 million this year.
Mike Evans, Wide Receiver, Tampa Bay Buccaneers
Evans this spring signed a five-year deal with the Bucs for $82.5 million. Evans, who caught 309 passes for 4,579 yards over four years, will make more than $18.2 million this year alone.
Chandler Jones, Outside Linebacker, Arizona Cardinals
Jones last year inked a five-year, $82.5 million contract that included a $15 million signing bonus. Jones, who has 319 combined tackles, 64 sacks and 16 forced fumbles in seven years in the league, will earn $15.5 million this season, including a $3 million signing bonus.