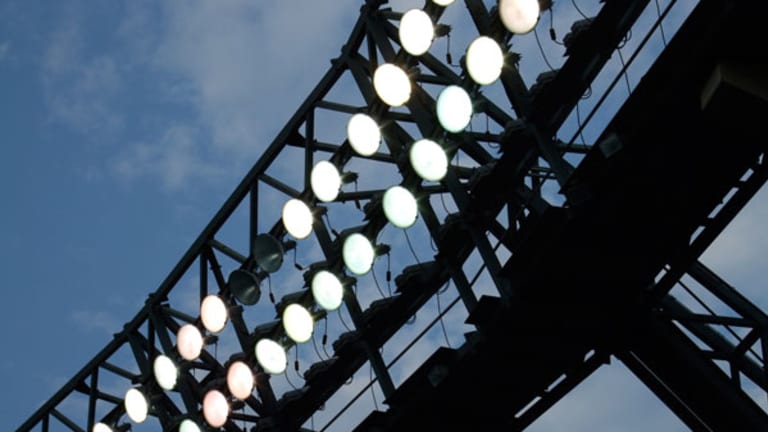 Auburn Supplants Oregon as BCS No. 1
The Auburn Tigers move ahead of the Oregon Ducks by decimal points.
NEW YORK (TheStreet) -- The Auburn Tigers, fresh off their stirring comeback victory over defending champion Alabama, overtook the Oregon Ducks by two-thousandths of a point atop the Bowl Championship Series college football poll released Sunday evening.
The poll flip-flop still has the two teams on a course to meet in the BCS national championship game in January, provided they both survive their next tests Saturday.
Who's No. 1?
: Auburn is, with .9779 points to Oregon's .9777 in the latest BCS poll. (
AP photo
)
No. 1 Auburn (12-0) will meet No. 19 South Carolina in the Southeastern Conference championship game in Atlanta. No. 2 Oregon (11-0) will play in-state rival Oregon State in "The Civil War" in the teams' Pac-10 finale Saturday. If the Tigers and Ducks win, it's fairly certain they will meet in the BCS title game in Glendale, Ariz., on Jan. 10.
Texas Christian (12-0) remained No. 3, while Stanford (11-1) moved up to No. 4 after Boise State's dramatic overtime loss to Nevada in a game that ended at 2 a.m. ET Saturday morning. The loss dropped previous No. 4 Boise (10-1) to No. 11, while Nevada (11-1) moved up to No. 17.
Wisconsin (11-1) rose to No. 5, and Ohio State (11-1), Arkansas (10-2), Michigan State (11-1), Oklahoma (10-2) and LSU (10-2) rounded out the top 10.
There are five BCS bowls with a total of 10 spots available. However, all the bids aren't determined by the BCS rankings but by conference commitments and other critiera.
For instance, the Big East champion is guaranteed a spot in a BCS game, but the Big East has only one ranked team currently, No. 24 West Virginia. The Mountaineers are one of three Big East schools that still have a shot at the conference title.