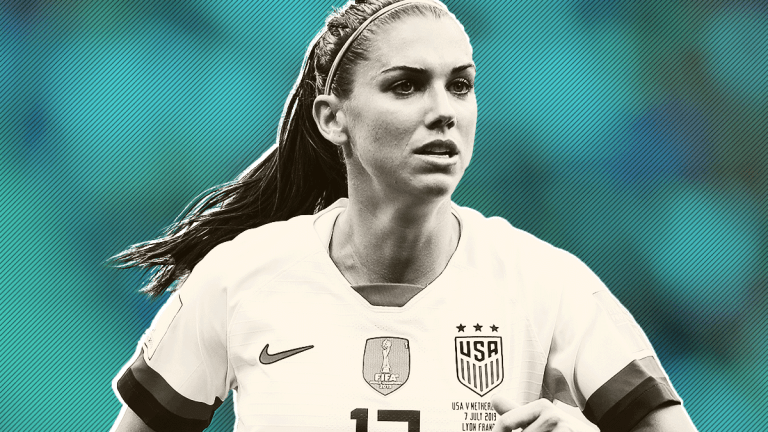 What Is Alex Morgan's Net Worth?
Alex Morgan is a highly talented, and some say underpaid, global soccer superstar.
Alex Morgan, the captain of the U.S. Women's National Soccer Team that won the 2019 FIFA World Cup in France this summer, is one of the most famous women athletes in the world. Her net worth is estimated at $3.2 million.
Her net worth relative to, say, a male soccer star like Harry Kane, Lionel Messi and Cristiano Ronaldo (the latter two earn more than $100 million annually and Kane isn't far behind) is much lower, as female soccer players earn a significantly lower income than men playing the popular global sport.
Yet Alex Morgan's net income is in the millions and it's worth taking a look as women's soccer ascends, and as marquee players like Morgan step into the spotlight and earn more money than women soccer players have earned before.
What Is Alex Morgan's Salary?
Alex Morgan earns $56,000 annually playing soccer for the Orlando Pride of the National Women's Soccer League - that's small potatoes for a professional sports star.
Fair or unfair, there are several reasons for that.
Demand for women's professional soccer is relatively low compared to men's professional-level soccer, where major television contracts for the major leagues like the English Premier League (EPL) and the U.S.-based Major League Soccer (MSL).
With ticket sales low and T.V. contracts weaker relative to the major men's professional soccer leagues, even high-profile women's soccer supernovas like Alex Morgan have less earning power - for now, anyway - and thus earn incomes smaller than major-league male soccer stars.
One variation in that theory comes from the U.S. Women's World Cup, where the U.S has been dominant over the years. Of the past eight world cups, which take place in a different country every four years, the U.S. women's team has won four titles, well above the next contending team (Germany, with two titles.)
With success comes higher pay, as all the players on the title-winning U.S. women's team splitting a reported $4 million from its FIFA championship win over Netherlands in the World Cup finals (Morgan reportedly received a salary of $450,000 in 2017 and 2018, while 2019's salary should be higher.) That $4 million seems like a big number, but in contrast, the victorious French national men's team split $38 million for winning the 2018 Men's World Cup.
Pay for the U.S. Women's National team has improved over the years, but still doesn't compare to what the men's team gets, and with no World Cup championships to show for it. At the 2019 World Cup, each U.S. women's team member player was paid out as follows:
$37,500 - Qualifying bonus
$37,500 - Roster bonus
$110,000 - Victory bonus
$61,869 - Victory Tour
Total = $245,869
Female stars like Morgan strongly believe that the pay gap between men's and women's soccer salaries - especially in World Cup competitions - must narrow, and the sooner the better.
A groundswell of support has risen in support in major media channels, given the U.S. women's soccer team's strong public profile, high T.V. ratings, and astounding success on the global stage.
Alex Morgan's Career
Nicknamed "Baby Horse" for her energetic pace of play on the pitch, Alex Morgan was born July 2, 1989 to parents Michael and Pamela Morgan who lived in San Dimas, Calif. Morgan was also raised in San Dimas, and had two older sisters, Jeni and Jeri.
At Diamond Bar High School, just outside of Los Angeles, Morgan started separating herself from the pack as an athlete and as a soccer player. By then, Morgan had already played club soccer at age 14 with Cypress Elite, which emerged victorious in the Coast Soccer League under-16 title and almost won again (finishing third) when she was 19.
At Diamond Bar High, Morgan was named an all-league player three times and earned All-American honors her senior year. Morgan was also tapped to play in U.S. women's 20-and-under team but suffered a serious knee injury, which kept her off the soccer pitch for almost two years.
On the mend, Alex Morgan went up the coast to the University of California at Berkeley and played for the Golden Bears from 2007 to 2010. There, she led the team in scoring throughout her collegiate career and finished her collegiate career with 45 goals and 106 overall points in her four years on campus.
Now Morgan had her sights set on a professional soccer career and on a berth for the U.S. National Women's team.
She crossed both items off her checklist early on, landing a contract with Western New York Flash professional soccer team and, at age 22, played on the 2011 U.S. FIFA World Cup squad that garnered a silver medal.
Morgan kept it going at the 2012 Summer Olympics in London, scoring a clutch last-minute goal against Canada in the semi-finals and was named the U.S Soccer Female Athlete of the Year. Morgan then led the U.S. Women's Soccer Team to World Cup titles in 2015 and, earlier this year, in 2019, winning the highly-coveted Silver Boot in the 2019 competition.
Her professional career kept pace on a parallel track. In 2013, Morgan joined the National Women's Soccer League playing for the Portland Thorns FC and remain there through 2015 (the team won a league title in 2013, as well.) In 2017, Morgan was traded to the Orlando Pride, where she still plays today. For a short spell in 2017, Morgan played on loan with Lyon, in France, helping the team win the UEFA Women's Championship the same year.
Alex Morgan's Endorsements
Of Morgan's reported $3.2 million in net worth, a big chunk of it ($1 million by most estimates) has been earned through commercial endorsements.
Her commercial attraction to advertisers has taken Morgan to new heights. In 2015, Morgan was named as Time's highest-paid women's soccer player in the U.S. She also became one of the first women soccer players to grace the cover of the FIFA soccer video games in 2015, and did it again in 2016, appearing with Messi on the 2016 FIFA video games.
Past that, Alex Morgan has significant endorsement deals with Coca-Cola (KO) , Panasonic (PCRFY) , Nike (NKE) , Bank of America (BAC) , Chapstick, Chobani, McDonald's (MCD) , and AT&T (T) .
Thanks to her millions of followers on Instagram, Morgan is a highly desirable social media influencer for companies, as well In fact, between her Instagram, Facebook (FB) and Twitter  (TWTR) accounts, Morgan has 13.6 followers as of early 2019, making her a natural target for companies looking to pay big money to tout their products and services in cyberspace.
Alex Morgan's Home 
Married in 2014 to Servando Carrascoon, a Mexican professional soccer player, Alex Morgan. The two purchased a house together in Winter Park, Fla, close to their respective professional soccer teams.
That scenario didn't last long, as Carrascoon's contract with the Orlando MLS soccer franchise was bought by the LA Galaxy, forcing him to move 2,500 miles west to California, to a home of his own in Manhattan Beach.
The couple has said publicly that professional soccer isn't forever, so living a continent apart is a temporary condition until one or the other retires from the sport ("in five or six years" as Carrascoon recently said) and they can both live under the same roof once again.
How Alex Morgan Spends Her Money
Alex Morgan travels so much and is so devoted to her soccer career there isn't much time to spend much of her hard-earned money.
She loves to spend her mornings in quiet meditation and keeping fit, something she especially enjoys doing with her husband when they do find time together. She also has a motorcycle license, loves to go to the movies and read books, and is a big fan of Mexican food. She's also known to be a generous donor to favored charities.
For now, Morgan is keeping her cash and her long-term financial intentions to herself, until her playing days are over and she has more time to choose to do with the rest of her life.
It's never too late - or too early - to plan and invest for the retirement you deserve. Get more information and a free trial subscription toTheStreet's Retirement Dailyto learn more about saving for and living in retirement. Got questions about money, retirement and/or investments? EmailRobert.Powell@TheStreet.com.