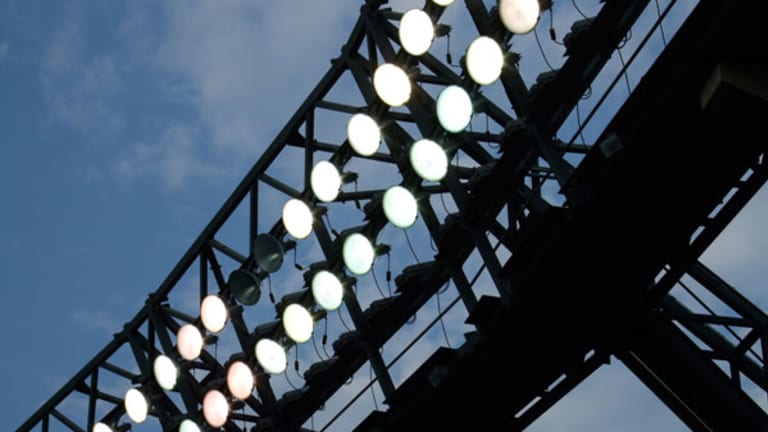 Against the Spread: 2011 NFL Picks: Week 4
It's Week 4 of the 2011 NFL season, and <I>TheStreet</I> offers picks against the spread for five games.
BOSTON (TheStreet) -- It feels good to finally win. My NFL picks against the spread notched a first winning week this season, so at least I know I have a chance at avoiding a complete collapse. Too bad we can't say the same about the Red Sox.
My picks against the spread went 3-2 last week, with tough losses on the
Detroit Lions
and the
Atlanta Falcons
. I'm now 5-10 on the season, which is still a terrible record, but at least it's moving in the right direction. There are lots of positive signs out there, actually. For instance, Tom Brady finally cut off his ridiculous hair! He's like Samson in reverse. Now that he's getting down to business with football, so should I. Here's hoping I book another winning week.
New England Patriots quarterback Tom Brady
The lesson through three weeks of the NFL season is to be wary of laying a lot of points on the road. Road favorites were 2-5-1 in Week 3 and are now 6-11-2 overall. For example, it was wise to select the
Buffalo Bills
last week as they were getting around nine points in their home game against the Patriots. The
Indianapolis Colts
nearly pulled off a win against the
Pittsburgh Steelers
, who were 10-point favorites on the road. By my count, there are seven home underdogs this week, so there may be a lot of value at looking at some of those teams.
"The most difficult thing is figuring out what is real and not real. This is the week where we can start to stabilize our opinion," says Paul Bessire, the general manager and creator of the Web site
. His Prediction Machine is a quantitative way to break down NFL games as it simulates each contest 50,000 times to come up with a
.
"There are a lot of fluke performances that throw off the numbers a little, but once you get four or five weeks under your belt, then things get well set," Bessire says. "This is an identifying weekend for nearly all NFL teams. A lot of teams could really go in any direction, and this is the weekend when people should start feeling more comfortable once we see the results."
With that, let's get on to the
picks for Week 4 of the NFL season
. As I'll remind you through the entire season, these are for entertainment purposes only. Once again, I have enlisted the help of
Paul Bessire, who offers analysis of the data his model provides for the games I've picked this week.
I have also collected commentary from Bryan Leonard, a professional sports handicapper with
, is part of the Tuesday Group, a collection of professional bettors in Las Vegas who get together to handicap the games each week.
Leonard's analysis focuses on the spread movement by Vegas oddsmakers to determine where the public and professional money is moving on each game. These trends prove to be critical for bettors who are on the hunt for inefficiencies and value.
Click on to read the first game preview, the
Minnesota Vikings
against the
Kansas City Chiefs
. And as always, I encourage you to leave comments below with your favorite
this week.
Minnesota Vikings at Kansas City Chiefs (+1.5)
A battle of two 0-3 teams may not be compelling for your average, run-of-the-mill Sunday football fan, but there looks to be quite a lot of value thanks to the minuscule line in this game.
After the fuss I made about watching out for home dogs, this is the one game where I'm more than happy to back the road favorite. The Vikings are not laying a touchdown in this game or even a field goal; picking one side or another against the spread is essentially a bet on who will probably win this game.
To be sure, neither team has been that impressive through three weeks. Even though the public wants to blame Vikings quarterback Donovan McNabb for the winless record, he's not the real problem for the Vikings. Minnesota plays well in the first half and falls apart in the second half, and the reasons are crystal clear.
Take the second half of last week's game against the Lions. After building a 20-point lead against Detroit, the Vikings produced five drives of five plays or fewer, with nearly all resulting in a punt. The only other drive in the second half went for nine plays and resulted in a field goal. Adrian Peterson carried the ball twice in the third quarter and three times in the fourth quarter. For a team with a 20-point lead after two quarters, shouldn't it be handing the ball off to someone who's arguably the league's best running back? Couple that with the vanishing pass rush for the Viking defense, and you've got a recipe for how to blow a huge lead.
On the other side of the ball, Chiefs fans can't be psyched about the prospect of watching Matt Cassel trying to throw the ball in the second half to catch up to the Vikings should Kansas City fall behind early. Minnesota has blown three straight games when leading at halftime, but they've allowed proficient quarterbacks like Philip Rivers, Josh Freeman and Matthew Stafford to throw against them in the second half. Cassel, though, is without star running back Jamaal Charles and tight end Tony Moeaki. Cassell has more interceptions (5) than touchdowns (3) and has fumbled twice this year. Minnesota's defense probably can't wait to get on the field Sunday.
According to
Vegas Insider
, the Las Vegas Hilton opened this game on Sept. 25 as a pick. The line moved to Vikings -1, back down to pick, and now is Vikings -1.5. In other words, there hasn't been a big point spread move, perhaps reflecting uncertainty over which 0-3 team will finally get a win. Vegas is down on the Chiefs, but it's a little puzzling why isn't this line isn't a little higher.
Pregame.com's Leonard sees quite a bit of value in this game. "I think Minnesota is the best bet on the board," he says. "The Vikings are the superior unit. McNabb knows how to manage the game, and Adrian Peterson will be by far the most superior player on the field this week. The Chiefs cannot sustain enough offense to keep
their battered defense off the field. If Minnesota does score first, Kansas City will be forced to play from behind once again, and I don't think they can come back to win."
The Pick: Vikings -1.5
. Adrian Peterson this week openly questioned why he hasn't gotten the ball more. If the Vikings take the lead, I expect them to have better clock management, as this is really a do-or-die situation against a much worse team. The Vikings score early, they keep the momentum up, and they walk out of Arrowhead Stadium with an 8-point victory.
New Orleans Saints at Jacksonville Jaguars (+7)
This is another case in which the road team is laying points, but it still looks like a better choice than the home dog, no matter what I said before about the outperformance of home underdogs against the spread. Famous last words, right?
There's no other way to say this: Jacksonville really stinks. If not for the cheap touchdown before halftime during last week's monsoon in Carolina, the Jaguars would have done two straight weeks scoring only three points in each game. At first blush, the numbers show that the Jags' defense is pretty good against the pass. But I feel as though we have to throw out last week's number against the Panthers. Cam Newton, who had thrown for more than 400 yards in the first two games of the season, had only 158 passing yards in Week 3. Was that because Jacksonville was really good on defense rushing the passer, or because they were playing the game during torrential downpours?
The Saints aren't that spectacular on defense either, and I'm quite surprised they hung on and defeated the Texans last week. New Orleans allowed an average of 372 total yards through the first three games of the season and have only two turnovers. The difference between the Saints and Jags will be how the offenses perform. Blaine Gabbert is a rookie quarterback making his second start and first at home, having thrown for only 129 yards in Week 3. Drew Brees, on the other hand, is coming off a game in which he threw the ball for 354 yards. While the Jaguars have had trouble putting points on the board, the Saints have scored 30 or more points each week.
According to
Vegas Insider
, the Las Vegas Hilton opened with New Orleans as 7-point favorites late Sunday, and the line almost immediately went up to 7.5 points before coming back to the original line; for a very brief time, New Orleans was favored by 6.5 points at the Hilton, although the Super Book (and virtually every other Vegas book) has the Saints laying 7 points now.
"We're all over New Orleans on this one, as I'm sure the public will be," PredictionMachine.com's Bessire says. "I'm surprised to see the Saints aren't giving more than a touchdown against Jacksonville. This is one of the top three teams in the league definitively against a team that will struggle to get even four wins this year. New Orleans is putting up big points this years against defenses that all rank in our top five efficiency rankings."
Pregame.com's Leonard doesn't expect the Saints to be up for the Jags, coming off games against Green Bay, Chicago and Houston. "Division games against Carolina and Tampa Bay are on deck," he says. "This is also the first of three straight games on the road. New Orleans offense has been excellent as expected, but the defense is allowing nearly 30 points per game. We don't like those numbers when laying seven points on the road."
The Pick: Saints -7
. One stat that really jumped off the page at me: The Saints defense allowed the Packers and Bears to score every time the offense moved the ball into the red zone. The Jaguars, though, have had zero success in the red zone this year. During Week 3, Jacksonville didn't even get the ball into the red zone. That's one reason why I'm OK with laying a touchdown on a road favorite against a home dog with no red zone success. I think the Saints win this game by two scores, and Jacksonville can't stage a late-game comeback.
Atlanta Falcons at Seattle Seahawks (+4.5)
This game pits a terrible road team against a team that is just plain terrible. So why am I picking this game for the column?
My editor questioned me this week when I told him I was dropping the Patriots/Raiders game from the column for this game. He said people want to read about more interesting games, and I countered with I'm more interested in finding value. This game has a lot of value to me, as I think the public is going to overreact to that embarrassing Falcons loss to Tampa Bay last week and the Seahawks' victory at home against the Cardinals.
It's well-established now that the Falcons were overachievers last year, winning 13 games when they probably should have won 10 or 11 games. We've seen a lackluster team this year that lost on the road in Chicago, nearly blew a game against a bumbling Eagles team, and then lost on the road to the Buccaneers by first failing to score a late-game touchdown and then watching the defense get conned into jumping offside on a critical fourth down and one.
The advantage Atlanta has in this game against the Seahawks is clear. The offense has turned the ball over eight times in three games against pretty tough defenses. The Seahawks do not have the type of defense that can push the Falcons around. However, it is concerning that quarterback Matt Ryan has trouble throwing the ball on the road. In the team's one victory this season, which came at home, Ryan threw the ball only 28 times and yet had four TD passes. On the road, he's far worse with 47 attempts in each game with one touchdown and two interceptions.
The Seahawks are a far better home team historically, with CenturyLink Field considered to be the best home-field advantage for any team in the NFL. Perhaps the 12th man is enough to rattle Matt Ryan, or perhaps the Seahawks defense can put up another good game at home. After failing to score at all against Pittsburgh in Week 2, the Seahawks returned home and eked out a 13-10 victory of the Cardinals. The difference for Seattle in that game over the previous two was two forced turnovers on defense. Given that Matt Ryan throws more interceptions than touchdowns on the road, this should be a no-brainer, right?
According to
Vegas Insider
, the Las Vegas Hilton opened with Atlanta as 4.5-point favorites late Sunday, and that line has not budged an inch. At the Wynn, the Falcons have moved to 5-point favorites, as it seems that book wants more bets to come in on Seattle. A few other sports books have Atlanta laying 4 points, so there could be a good opportunity to hedge this bet and find a middle.
PredictionMachine.com's Bessire is leaning toward Seattle, though. "Atlanta is going on the road without a dominant team," he says. "Atlanta never had a dominant team last year despite a 13-3 record. It's going to be hard to cover a 4.5-point line without explosive players. We want a team that can be expected week in and week out to put another team away."
"Normally, I would jump on the home dogs," says Pregame.com's Leonard. "But I pay a lot of attention to the first half, and Seattle has played three games and scored a total of 3 points in the first half. If you're getting beat that bad, you're not very good. Seattle is normally one of my favorite teams to play at home, and I'm not a huge believer in Atlanta, but Seattle is
so bad
. And yet, the line keeps going up early in the week. The smart guys are still willing to bet Atlanta."
The Pick: Falcons -4.5
. Nine short months ago, the Falcons traveled to Seattle and beat the Seahawks 34-18 as 6-point favorites, so winning on the road and covering the spread in CenturyLink Field isn't an issue for Atlanta. The Falcons return with the same team mostly intact, while Tavaris Jackson is now under center for Seattle. I don't expect the score to be quite so wide this time around, but I think Atlanta wins by a margin of 6 or 7 points.
Indianapolis Colts at Tampa Bay Buccaneers (-10)
A double-digit line favoring a home team coming off a crazy win against a division rival? This one looks like trouble for the favorite.
Forgive me for not getting more psyched about the Buccaneers. I actually very much like the team, their quarterback and their coach, but I'm not getting roped in emotionally. The Bucs were one team last year where I constantly picked them wrong against the spread, and I'm already 0-2 with them this season after picking them against the Lions in Week 1 and picking against them in the Atlanta game last week.
This double-digit line is scary, though. The Bucs' three games this season have been decided by a touchdown or less, and 10 games last season were also decided by 7 points or fewer. Tampa Bay won only four games last season by double-digit margins against the Carolina Panthers, San Francisco 49ers and Seattle Seahawks. The Indianapolis Colts are really, really bad this year due to the loss of quarterback Peyton Manning, but it's hard to believe that the Bucs could beat the Colts by more than 10 points.
Sure, Indy got off to a terrible start on the road in Houston, allowing 34 points to a high-powered Texans offense while scoring only one touchdown on offense. Since then, the Colts haven't been all that terrible. They hung with a weaker-than-expected Browns team and nearly upset the heavily favored Steelers last week. Taking the Colts on the road isn't the best proposition, but then again, they're up against a team that really has trouble putting other teams away.
According to
Vegas Insider
, the Las Vegas Hilton opened with Tampa Bay as 9.5-point favorites late Sunday, and the line went up almost immediately to 10 points. Nearly every Vegas sports book now has the Bucs laying 10 points, and it doesn't look to be moving much.
PredictionMachine.com's Bessire is also unimpressed with the Buccaneers' average margin of victory. "That's the way this team plays. They have a conservative style and they don't blow anyone else out," he says. "Tampa's greatest strength is that they don't really have a big weakness. That's commendable, but they haven't been a double-digit favorite this year or last year. Indy is an 0-3 team, but the defense has talent, and the offense has enough talent to keep this close."
"I'm leaning with Indy," says Pregame.com's Leonard. "My only concern, going back to first-half numbers, is that the Colts have played two of three games at home and they're still being outscored by 12 points per game and out-yarded by more than 100 yards per game in the first half. I hate that this is a Monday night game. Indy looked good last week, but Pittsburgh was due for a letdown. Tampa Bay is playing at home on a Monday night to a national audience, so they could surprise us with something."
The Pick: Colts +10
. I still can't believe my eyes: Indianapolis as double-digit underdogs. I don't believe Indianapolis has a good chance to win this game, but they should be able to keep it close. Tampa Bay wins this game, but it's closer to a 4-point victory than a 10-point one.
Buffalo Bills at Cincinnati Bengals (+3)
Yikes. I'm really eschewing my advice on page one about taking road favorites and laying points. I'm sure that's going to come back and bite me, especially considering I'm picking America's new favorite team in this game.
Yes, after an awesome 3-0 start with tough games against the Raiders and Patriots, the Buffalo Bills are undefeated through three weeks. I can't say I'm shocked, since I was on the Ryan Fitzpatrick bandwagon last season, but I'm really surprised by the success of the offense. The Bills have rallied back in two straight games to win, but what's been really amazing is that the team has a 78% success rate in the red zone this season, third behind the Giants and Raiders. The Bills can score when they need to, and that's been an awesome development to witness.
On the other hand, I feel as though I almost got duped into believing in the Bengals after Week 1. Remember, the team was able to beat the Browns in Cleveland with a rookie quarterback. With Cam Newton outperforming that week as well, it made me start to wonder whether rookie quarterbacks can indeed win often in the NFL. Since then, the wheels have come off the Bengals bandwagon. In Week 2, Cincinnati lost its second straight road game by only two points, although I still cannot figure out for the life of me why Denver won that game. In Week 3, Dalton and the Bengals offense had three turnovers in a miserable game at home against the 49ers.
In other words, this looks like it could be one of those classic "trap" games. A 3-0 team that has an outstanding offense traveling on the road against a team coming off a home loss where they had trouble throwing and running. What could possibly go wrong?
According to
Vegas Insider
, the Las Vegas Hilton opened with the Bills as 3-point favorites late Sunday and that line hasn't moved. However, you have to lay down $120 (rather than $110) to win $100. On the other hand, taking Cincinnati and the points has gone from -110 to +100, meaning you get even odds for taking the underdog at home. In other words, Vegas oddsmakers really don't to move off of the key number of 3 points, so instead they're enticing bettors into picking Cincinnati because of the lower amount you have to put up to win.
"We've got Buffalo winning by 7 points," says PredictionMachine.com's Bessire. "Cincinnati has a good defense, and that's definitely notable. That said, Buffalo's defense will be better, especially against the pass. The Bills have thrived on that pass defense for three seasons now. The reason we like Buffalo isn't because Fitzpatrick will throw for touchdowns; facing Dalton and Cedric Benson is easier than facing that Patriots offense."
Pregame.com's Leonard notes that the look-ahead lines at one Vegas book had this game as Buffalo -1.5, but he couldn't bring himself to play Cincinnati as the underdog. "After last week's game, the line has gone up 1.5 points, but I still can't play Cincinnati," he says. "I just don't think the Bengals are that good. That said, I don't want to lay more than a field goal. The letdown spot is huge after a huge, emotional game."
The Pick: Bills -3
. I feel like a square picking this game, but I feel like the worst-case scenario is a push and I get my money back. The public is really going to jump on Buffalo, and yet the line is still only 3 points at -120. My views are only for entertainment, so keep that in mind when I say I would like to hop on Bills -3 before this line moves up by a half-point as we get closer to the weekend. Buffalo knows how important it will be to get a 4-0 start considering the tough division they're in. Yes, they're coming off a high after beating New England for the first time in more than a dozen tries, but I think they can win and cover this game.
-- Written by Robert Holmes in Boston
.
>To contact the writer of this article, click here:
Robert Holmes
.
>To follow Robert Holmes on Twitter, go to
http://twitter.com/RobTheStreet
.
>To submit a news tip, send an email to:
.
Disclosure: TheStreet's editorial policy prohibits staff editors, reporters and analysts from holding positions in any individual stocks.