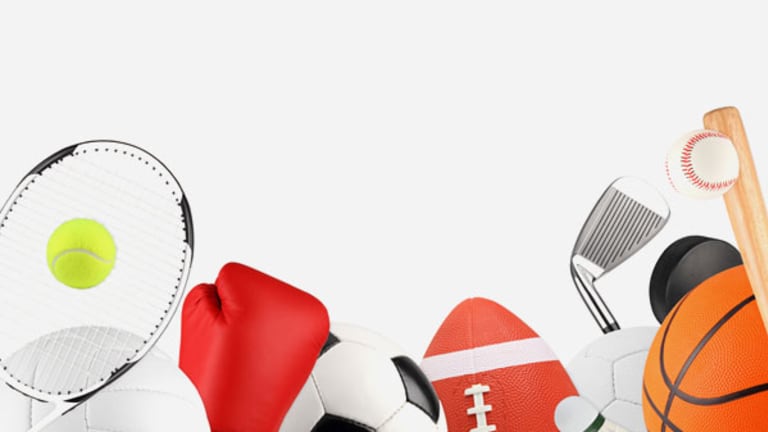 Against the Spread: 2011 NFL Picks: Week 12
<I>TheStreet</I> picks five NFL games against the spread for Week 12 of the 2011 football season.
BOSTON (TheStreet) -- It's Thanksgiving week, so that means you're almost guaranteed at least 50 Thanksgiving-related puns from the NFL morning shows on Thursday and Sunday. Here's mine: I hope my picks against the spread this week don't end up being turkeys.
After going 3-2 in Week 11, my record currently stands at 19-29 with two ties, good for a miserable winning percentage of 38% in the 40 games I've picked so far. I ended up with two very bad beats last weekend. The first came when the
Jacksonville Jaguars
were unable to score against the
Cleveland Browns
on first and goal from the 2-yard line with about 45 seconds to go. The second was after
Minnesota Vikings
running back Adrian Peterson was injured early in the team's game against the
Oakland Raiders
, a key loss that sank the Vikings in a fairly close game.
Jay Cutler, Chicago Bears
Peterson is just one of several key wounded starters over the past two weeks, and now the futures of some possible playoff teams are in doubt. The first and most obvious is the
Chicago Bears
, who lost quarterback Jay Cutler to a thumb injury as they fight to secure at least one of the two Wild Card spots in the NFC. Over in the AFC, the
Houston Texans
now have to look in the rearview mirror at the
Tennessee Titans
after quarterback Matt Schaub injured his foot.
Turning the game over to Matt Leinart isn't a great proposition for Texan fans who know of his weak resume, but bettors should be licking their chops at the opportunity to play on the public's overreaction to some of these key injuries and the backup players stepping into starting roles.
"I found that the most value this week, and the games I look forward to most, are when Vegas drastically over or under values replacement players in critical situations," says Paul Bessire, the general manager and creator of the Web site
. His model is a quantitative way to break down NFL games as it simulates each contest 50,000 times to come up with a
.
"It's a high-risk, high-reward situation," Bessire says about picking games where Leinart, Caleb Hanie and Toby Gerhart are set to start in their respective games. "There is more opportunity for error, but I'm more comfortable with how we approach it versus how the public will account for it. In those situations, we have strong opinions. We're going to do a better job at analyzing that situation."
With that, it's on to the
picks for Week 12 of the NFL season
, including the three games to be played on Thanksgiving. As I'll remind you through the entire season, these are for
entertainment purposes only
. As always, I have enlisted the help of
Paul Bessire, who offers analysis of the data his model provides for the games I've picked this week.
I have also collected commentary from Bryan Leonard, a professional sports handicapper with
who is also part of the Tuesday Group, a collection of professional bettors in Las Vegas who get together to handicap the games each week. His analysis focuses on the spread movement by Vegas oddsmakers to determine where the public and professional money is moving on each game. These trends prove to be critical for bettors who are on the hunt for inefficiencies and value.
Read on for the first game pick for tomorrow's game, where the
Oakland Raiders
travel to play the
San Diego Chargers
. And as always, I encourage you to leave comments below with your favorite
this week.
Miami Dolphins at Dallas Cowboys (-7)
I babbled on and on about key injuries on the first page of this column, and here I go picking a game where injuries won't play a huge factor. I promise, we'll get to the games where we have new starters, but I wanted to get this Turkey Day game out of the way first.
Just when you though coach Tony Sparano was on the chopping block like a Thanksgiving turkey, the Dolphins look to have turned things around. After blowing a big lead to the Tim Tebow-led Denver Broncos, the Dolphins then played a tough Giants team very close in a loss and then ran off three straight victories. In those three straight wins, the Dolphins did not allow their opponent to score more than 10 points.
Of course, the Dolphins did that against the Redskins, Bills and Chiefs, none of which have a team ranked higher than 20th by Defense-adjusted Value Over Average (DVOA) system, a proprietary statistic developed by
Football Outsiders
. The Dolphins are ranked 17th in DVOA overall, ahead of all three of its previous opponents. That changes this week, though, as Miami travels on short rest to play Dallas on Thanksgiving.
The Cowboys are ranked 12th in overall DVOA, with a top 10-ranked offense that is deadly passing the ball. Despite the emergence of rookie running back DeMarco Murray, the Cowboys' running game is still among the worst in the league. On defense, Dallas is very strong against the pass and is mediocre against stopping the run, which matches up well against Miami's 18th ranked offense.
According to
Vegas Insider
, the Las Vegas Hilton posted the line on this game with Dallas as 7.5-point favorites before quickly moving the line to 7 points. Since then, the line has slipped down to 6.5 points and has climbed as high as 8 points on a few occasions. A majority of sportsbooks in Vegas are using the line of -7 as of this writing, so that's what I am going with.
When I told Prediction Machine's Bessire that I was leaning toward Miami after their recent winning streak, he did his best to set me straight.
"Miami has been playing really well. We've swung and missed on two games in a row now involving Miami," Bessire says. "But our pick of Dallas isn't that we're undervaluing Miami. We really like how Dallas is playing. They should be win by 9 or 10 points on average, based on our prediction. You should see a pretty strong performance on offense and defense by Dallas."
Pregame.com's Leonard was also originally was leaning Miami, but the other wiseguys he has spoken to like Dallas. "The numbers are trending down, so we may see a 6.5 point game soon," he says. "It's tough for teams on the road on a short week, so you need a good reason to play the road teams. Dallas has done well in these games."
The Pick: Cowboys -7
. I'm comfortable enough laying the points on a home favorite like Dallas. I certainly like the way Miami has been playing, but they're running into a Dallas Cowboys team that knows they need to win these home games against weaker opponents if they hope to take the NFC East title. I'm hoping for a two score win by the Cowboys, so I'll be happy to push with a touchdown difference, making this a low risk pick.
San Francisco 49ers at Baltimore Ravens (-3.5)
I can't remember ever watching a great slate of Thanksgiving NFL games, and here we are being treated to three good games, this one probably being the best. When two elite teams collide, the headlines will certainly all be about the Battle of the Harbaugh Brothers, but that's missing the point of how great these two teams are.
Well, let me rephrase that. The 49ers, despite my initial doubts, are one of the NFL's elite teams this season. San Francisco has a 9-1 record with some fairly impressive wins along the way. The Ravens, on the other hand, are 7-3 and also have some impressive victories. However, the Ravens have also lost against weaker teams like the Seattle Seahawks and Jacksonville Jaguars along the way.
Some bettors may be quick to dismiss the Ravens as the worst team in this game. While they may be correct in saying that the 49ers are better, there are some situational forces in play. For one, the 49ers have to travel from the West Coast to the East Coast on short rest. San Francisco has already shown they can overcome the three-hour time change in wins over the Eagles and the Redskins. But it remains to be seen how these frequent trips east will affect the team. It's not out of the realm of possibility that the 49ers get worn down the same way the Chargers were in seasons past.
And while the Ravens have lost three head-scratching games, it should be noted that all three of those games were on the road one week after big wins against tough AFC opponents. This is the first time this season the Ravens have played consecutive home games without a week off in between. If all the traveling takes a toll on the 49ers during the holiday game, the Ravens could take advantage.
According to
Vegas Insider
, the Las Vegas Hilton posted the Ravens as 4-point favorites last Sunday. Since then, the line has slowly drifted to -3, with occasional jumps to -4. Most Vegas sportsbooks have the line between 3 and 3.5 points currently. Still, that line implies that the Ravens are equal or better to the 49ers on a neutral field, a point most sharp bettors don't agree with.
"I think the 49ers are the better team," says Pregame.com's Bryan Leonard. "But it's a short week and they have to travel all the way to the East Coast. This line was just 4.5 points last week, so it's hard to take 3 when I could've gotten 4.5 last week. The situation is bad for San Francisco."
Prediction Machine's Bessire, on the other hand, is staying away from this game based on his model. "If it was not on short rest during a normal week, this is a 50-50 game in our projections," he says. "There's just not a very strong opinion against the 3-point line. In our power rankings, this is number 2 versus number 8. San Francisco's offense looks more efficient, but it can't really be explosive. Nothing stands out but home-field advantage."
The Pick: Ravens -3.5
. This should be an awesome game because of how good the defenses are for these two teams. Baltimore is rated as the best defense by DVOA and is going up against San Francisco's 19th ranked offense. The problem is that the 49ers have the third best defense, according to DVOA. Points will be hard to come by in this game, which makes me nervous about laying more than a field goal. That said, the 49ers remind me a little of the Jets, who the Ravens trounced at home by a score of 34-17 in Week 3.
Green Bay Packers at Detroit Lions (+6.5)
Several weeks ago, when the Detroit Lions and Green Bay Packers were stomping on hapless opponents each on the way to 5-0 starts, I circled this game on the calendar in excitement. Could we actually get a Thanksgiving game that involved the Lions AND had playoff implications? This was too good to be true.
Alas, it was too good to be true. Since Week 5, the Packers have continued to steamroll other teams, scoring no fewer than 24 points since then. The Lions, meanwhile, stumbled somewhat against the 49ers, Falcons and Bears, but still have an impressive 7-3 record. The question for bettors, though, is if it is worth it stepping in front of the Green Bay freight train in an important divisional game like this one.
Why pick against the Packers? In the team's 10 games this season, only one has been decided by less than a touchdown. But last season, during Green Bay's Super Bowl run, the Packers split the two season games against the Lions. In the win, the Packers outscored the Lions by only 2 points. In the other, Aaron Rodgers was injured and the Lions won 7-3.
Sure, both teams are very much different from a year ago. The Packers are over their lingering injury issues for the most part, while the Detroit Lions have stayed (mostly) healthy. However, this is a tough matchup for the Packers, probably their most difficult all season. Detroit's offense is only ranked 17th by DVOA (Green Bay is first), although the Lions defense is ranked 4th by DVOA. When you look at how the Lions defend against the pass, they're even better with a ranking of 3 out of 32.
The Packers, believe it or not, rank 27th on defense by DVOA. And with both Ryan Grant and James Starks battling knee injuries, this game may quickly turn into a shootout where Aaron Rodgers throws the ball more than 40 times. Even if they take the lead, it's hard to see the Packers successfully running down the clock without Grant and Starks running effectively.
According to
Vegas Insider
, the Las Vegas Hilton posted the line on this game with the Packers as 6-point favorites before quickly moving the line to 6.5 points, where it has stayed since. Whereas the public had previously forced oddsmakers to keep increasing the line in Green Bay games, this is an anomaly where the line has held steady. Prediction Machine's Bessire understands why.
"With a very good pass offense and pass defense, I think the Lions can hang with the Packers," Bessire says. "We saw Tampa could move the ball on Green Bay, and I think it could become a similar game. The more likely situation is a close and entertaining. Detroit covers about 57% of the time, according to our model."
Pregame.com's Leonard isn't sure he wants to step in front of Green Bay again this season. "The Packers seems to be a popular choice here for the wiseguys, but I'm leaning the other way," he says. "History has shown me that if people think GB is going to lose, they'll be more prepared. They know it's a tough one. I think Detroit can score on anyone, but I'm concerned about the defense. I'm not sure they can slow down Green Bay enough. I don't like the situation of GB on the short week."
The Pick: Lions +6.5
. There's little else I can say about this game. The Lions lost their way for a while before erupting for points last week in a come-from-behind win over Carolina. To be sure, Green Bay is much better than Carolina, although their defenses both stink. Detroit can score points on Green Bay, I think, and I expect the Lions to keep this close. It might be too much to be expecting the Lions to actually win on Thanksgiving, though.
Houston Texans at Jacksonville Jaguars (+3.5)
Here's the first of two games I'll be picking where injuries are the major focus.
The Houston Texans have their best shot at making the playoffs for the first time ever this season, so it makes sense that they'd be completely riddled with injuries. First it was wide receiver Andre Johnson, then defensive superstar Mario Williams goes down for the season. Now, the Texans must find a way to win without quarterback Matt Schaub, who was just added to Houston's injured reserve list, officially ending his season.
I won't lie: I don't like depending on Matt Leinart, perennial backup, to lead a team to victory. That proposition alone almost had me on the Jaguars in this game getting more than a field goal at home. According to
Vegas Insider
, the Las Vegas Hilton posted the line on this game with the Texans as 3-point favorites. Since then, the line has moved to Houston -3.5.
That seems counterintuitive. When a team already battling injuries loses its star quarterback, you would expect the line to come down in order to get more money on that team. So far, the opposite has happened as the line has moved higher. Vegas, it seems, doesn't see much of a difference between the two Matts in this game against the lowly Jaguars.
"This was never Matt Schaub's team this season," says Prediction Machine's Bessire. "Without Andre Johnson and Mario Williams, this has been a defense-led team this season. Plus, they've been able to mold a great offensive line this season. If anything, this is actually
defensive coordinator Wade Phillips' team."
Pregame.com's Leonard doesn't have a pick on this game, but says that "the guys I know who are doing well in Vegas think that Houston is the right side. It's probably going to be a low scoring game, so I like the under of 37.5."
The Pick: Houston -3.5
. I hate the idea of laying points on the road, especially having to depend on a backup quarterback going against a good defense. That said, looking back at the previous Houston/Jacksonville game this season, where the Texans won 24-14, Schaub only threw for 225 yards and one touchdown. Leinart really doesn't have to do much to win this game by more than a field goal.
Chicago Bears at Oakland Raiders (-5)
My fifth pick this week might actually be my favorite, as I love jumping on overreactions to injuries.
Honestly, I've never liked Jay Cutler. Something about him has always made him come off as smug and arrogant and whiny. But after Chicago fixed their offensive line problems, I actually found myself enjoying Bears games. It's great to watch Cutler throw the ball well when he's not sacked five times a game. Of course, as soon as I come around to Cutler, he injures his thumb and may now be out for the remainder of the regular season.
With Oakland sitting atop the AFC West and riding a two-game win streak, I can see the reasons why the public would like Oakland at home giving less than a touchdown. The Raiders found ways to beat the Chargers and Vikings without star running back Darren McFadden. While he may be back this week, Michael Bush should probably continue to see the majority of touches.
What the public may fail to realize, as everyone worries over how Chicago will perform with Caleb Hanie under center, is that Chicago has one of the most dominant defenses this season. According to DVOA, Chicago's defense is ranked 5th against the pass and 3rd against the run. You have to go down to the 20th spot on the list to find Oakland. When broken down by rush and pass defense, Oakland is a woeful 27th against the run.
So what does that mean? Oakland will have to figure out a way to stop Matt Forte, who has been tearing it up this year. That's good news for Caleb Hanie, who last played a game in the 2010 postseason, completing 13 of his 20 passes for 153 yards and a touchdown. It also helps that Chicago has changed its style on offense. Rather than going pass-crazy under Mike Martz, the team has slowly started to run the ball more.
According to
Vegas Insider
, the Las Vegas Hilton posted the line on this game as a pick 'em. When word of Cutler's injury came out, the line quickly moved to Oakland -3.5 and has moved to Oakland -5 or -4.5 in most spots. To many smart bettors, this line doesn't make sense at all.
"Last week, Chicago was a 1.5 point road favorite, now they're 5 point underdogs," says Pregame.com's Leonard. "Cutler is quality, but the backup isn't bad. There is an overreaction here and the line keeps going up. I hope it goes up 6 points."
Prediction Machine's Bessire also likes Chicago to keep it close. "Oakland is going to get way too much credit for being Minnesota last week after Adrian Peterson got injured," he says. "This is a good matchup for the Bears because Forte should be able to rush on this bad defense. Chicago's defense should be able to contain Oakland's offense whether McFadden plays or not. It surprises me that this line isn't 3.5. It's an overreaction to the Cutler injury."
The Pick: Bears +5
. I don't know that I want to predict an upset here, but the Bears definitely keep this game close. My fear is that Oakland somehow jumps out to an early lead, which forces Chicago to abandon the run. But given how good Chicago is on defense -- especially against the run -- that seems like a remote possibility.
Although I've given my five picks against the spread for Week 12, I thought I'd also add in my selections for the other games this week. I won't include these in my overall record, but instead I'm just merely adding them as a bonus. Again, please leave your comments below with your picks this week and why. Have a great weekend.
Home team in all caps
ST. LOUIS -3 over Arizona
NEW YORK JETS -9 over Buffalo
CINCINNATI -7 over Cleveland
Carolina -3 over INDIANAPOLIS
TENNESSEE -3 over Tampa Bay
ATLANTA -9.5 over Minnesota
SEATTLE -3.5 over Washington
New England -3 over PHILADELPHIA
Denver +6 over SAN DIEGO
Pittsburgh +10.5 over KANSAS CITY
NEW ORLEANS -7 over New York Giants
Prediction Machine's Bessire says his model's highest confidence is on Atlanta this week. As opposed to where the public is overreacting negatively to backup quarterbacks like Matt Leinart and Caleb Hanie, Bessire argues the betting crowd is underestimating the drop off from Adrian Peterson to Toby Gerhart.
Meanwhile, Bessire says that while this may be the best chance for the Colts to win a game this season, Carolina puts up an awful lot of points. "Carolina's defense is about the worst you can get against the pass, but Indianapolis is even worse. As balanced as Carolina's offsense, should carry them," he says.
Pregame.com's Leonard agrees. "The only thing going for Indy is that they're still in it for
college quarterback Andrew Luck if they win. I like the over here because Indy went into the break scoring a lot and now they get a terrible defense. To be honest, in a high scoring game, you want the better offense, which is Carolina."
-- Written by Robert Holmes in Boston
.
>To contact the writer of this article, click here:
Robert Holmes
.
>To follow Robert Holmes on Twitter, go to
http://twitter.com/RobTheStreet
.
>To submit a news tip, send an email to:
.
Disclosure: TheStreet's editorial policy prohibits staff editors, reporters and analysts from holding positions in any individual stocks.