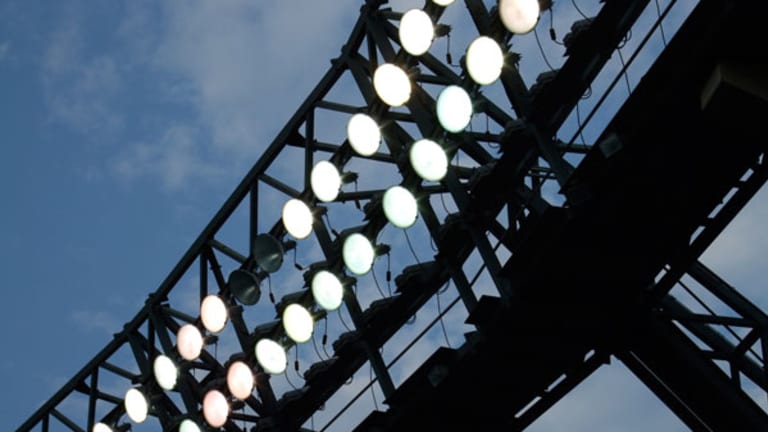 Against the Spread: 2010 NFL Picks: Week 12
<I>TheStreet</I> picks five NFL games against the spread in Week 12.
BOSTON (TheStreet) -- Thanksgiving is here, but it looks like I was a week early. That's because my NFL picks against the spread were a certifiable turkey last week.
Overall, my record with against-the-spread picks is 28-26 with one tie. I lost on incorrect picks of Seattle, Detroit and Cleveland. My pick of the
Indianapolis Colts
pushed, although if you were able to secure a Patriots -3.5 line, that would've been a winner for you.
Vince Young (Tennessee Titans)
There was one lone win for me in Week 11. This entire season I've miscalculated the
San Diego Chargers
, so it wasn't comforting going into Monday's night's game needing a blowout win. The
Denver Broncos
got off to a great start and a 7-0 lead, which made me feel even worse. But the Chargers flexed their muscles and saved me from a goose egg in Week 11.
Week 12 is wide open, but it's still tough for me to shake how badly my picks did last week. With 28 correct picks out of 55 so far this season, my success rate is 51%. If last week's push is factored as a win, I'm just shy of 53%.
By comparison, the leaders in the
Las Vegas Hilton's Supercontest
, where sharp bettors put up $1,500 in order to win $200,000, have a 65% winning percentage.
If you are a professional bettor, you typically need to win 53% of your bets in order to profit. That's based on the idea that typically, you have to wager $110 in order to win $100. I'm not there yet, but I'm not about to pull a Vince Young and throw my shoulder pads and jersey into the crowd and start a newsroom fight with my editor. I'm in it to win it.
To look at Week 12 from a fresh perspective and help get my winning percentage above that 53% threshold, I asked Paul Bessire, the general manager and creator of the Web site
, to talk about what he's been observing lately.
"There are a couple of teams that are changing quarterbacks this week," Bessire says. His Prediction Machine is a quantitative way to break down NFL games as it simulates each contest 50,000 times to come up with a pick against the spread.
"When that happens this late in the season, with guys who do or don't have a great amount of professional experience, that always introduces more risk," Bessire says. "When a Rusty Smith comes in for a Vince Young and you only have a quarter of data to go on, obviously there are concerns with those games. There's almost an extra layer of concern."
Translated into Wall Street terms, it's almost like installing a new CEO and expecting the same quarterly earnings and revenue numbers. When something like this occurs, the smart investors know to stay away if the value proposition isn't there.
Without further ado, it's on to my picks for the slate of games in Week 12. Once again, these are for entertainment purposes only. And as always, I've enlisted the help of
Paul Bessire.
I typically collect commentary on each game from
Bookmaker.com CEO Mickey Richardson
, but the short week made it hard to connect. If and when I get his analysis on line movements, I'll be sure to update this story.
Read on for the first game preview, the Thanksgiving meeting between the
New Orleans Saints
and the
Dallas Cowboys
.
New Orleans Saints at Dallas Cowboys (+4)
The Saints appear to have turned the ship around, but they're still a hard team to figure out. Injuries have played a role in a difficult start for New Orleans. The team lost by double-digit margins to the Browns and Cardinals, which aren't the elite teams of the NFL. But the champs have taken care of business against the Steelers, Seahawks and the lowly Panthers. My concern with the Saints is that their 7-3 record should be much better considering the relatively easy schedule the team has played.
Dallas, on the other hand, has endured a pretty difficult schedule and is playing the first game in its new stadium as an underdog. This comes after two convincing wins against the Lions and Giants under new head coach Jason Garrett. At 3-7, Dallas knows it needs to win every game through the end of the season to even have a shot at the playoffs. The Cowboys are 1-4 straight up and against the spread at home, which doesn't inspire much confidence.
Here's what bothers me: The Cowboys gave up 20 points to the Giants and 19 points to the Lions over the last two weeks. The Giants offense has been miserable recently and the Lions are without starting quarterback Matthew Stafford. Even with injuries to key players like Reggie Bush and Pierre Thomas, the Saints have such a high-powered offense, it's hard to believe Dallas can limit them to less than three touchdowns.
Bessire's Take
: "We actually like the Cowboys to keep this game close throughout, only predicting the Saints to win by about a point on average. Home-field advantage on Thanksgiving and the recent surge of the Cowboys under Jason Garrett obviously plays a role in our numbers, but this is more indicative of the narrow talent gap between these two teams. The defending Super Bowl champion New Orleans Saints have played the easiest schedule in the NFL to-date, yet have only won four games by more than five points and even lost to Arizona and Cleveland by double-digits. Among the important strength-of-schedule-adjusted efficiency metrics that we review for each team, New Orleans only ranks in the top 20 in one category: pass defense. Dallas' greatest strength is its pass offense, even with Jon Kitna at quarterback. When strength takes on strength, I like to look elsewhere for a more critical advantage. In this case, New Orleans is generally slightly better, but not enough to trump home-field advantage and be more than a field goal favorite."
The Pick: Saints -4
. I cheated and searched the Web ahead of this pick and I see a lot of pro pickers, like Bessire, taking Dallas and the points. I just don't get it. The Saints are by far the better team. I can't see them losing at all against Dallas, even on the road. New Orleans should win by a touchdown, at the least.
Tampa Bay Buccaneers at Baltimore Ravens (-7.5)
I feel like I've picked Bucs games every week this year, so I had to go back and look at my picks through 11 weeks. In this column, I've picked five games involving Tampa Bay, and they're usually a winning pick for me. Against the spread this year, the Bucs are 7-3, matching the team's overall record.
I am shy about picking Tampa Bay this week for a number of reasons. This is the team's second road game in as many weeks, coming off a 21-0 victory on the West Coast against the Niners. In Week 9, the Bucs lost in Atlanta after coming off a victory in Arizona the prior week. It's also not very encouraging to see that the Buccaneers have losses against good teams like the Falcons, Saints and Steelers. Tampa, it seems, only wins against weak NFL teams like the Panthers, Cardinals and Bengals.
The Ravens are in the same class as the teams Tampa has lost to this season. But Baltimore will be going up against a particularly good Bucs defense, which forces an average of two turnovers per game. Ravens quarterback Joe Flacco and wide receiver Derrick Mason had to be separated during a heated argument on the sideline last week, which doesn't give the impression that the offense is clicking the way it should. That said, the Ravens are even better on defense, and they should be able to limit the Bucs running game.
Bessire's Take
: "Personally, I love watching and listening to Raheem Morris and Josh Freeman, the head coach and starting quarterback of the Tampa Bay Buccaneers, respectively. Yet that doesn't mean that the numbers love them. Tampa Bay currently ranks 14th in our Power Rankings despite having a 7-3 record. In the three games that the Buccaneers have played against above .500 teams, they are 0-3 and have been outscored by an average score of 32-13. Expect more of the same when they head into Baltimore and face another team that is above .500. Baltimore should win by closer to ten points than the current 7.5- or 8-point spread."
The Pick: Bucs +7.5
. I have a feeling this will be a low-scoring game. The over/under of the game is 41 points, which is one of the lowest in Week 12. The Ravens score an average of 23 points per game, which means they would have to limit Tampa Bay to 15 points in order to cover the spread. I don't see that happening. Baltimore may win, but I don't expect them to win by more than a touchdown.
San Diego Chargers at Indianapolis Colts (-3)
As I referenced before, the Chargers haven't been a winning pick for me often this season. In a survivor pool I was in with friends this year, San Diego knocked me out earlier this season. Yes, I'm still bitter.
I can't give up on these Chargers. I should've known they get off to a slow start every season, so that's my fault. But San Diego has been a winning pick for me recently in games against the Broncos and Titans. The offense has been spectacular, although I still have concerns about what has to be the worst special teams unit I've ever seen. In addition, the Chargers have a turnover margin of -9. Mistakes will kill any team that plays Indianapolis.
Speaking of mistakes, the Colts are looking to put two late-game interceptions by quarterback Peyton Manning against the Eagles and Patriots in the rearview mirror. Indy is banged up, though, and playing the Chargers at home doesn't help. Manning stinks against the Chargers. According to
ESPN
, Manning's quarterback rating of 77.5 against the Chargers is the lowest vs. any team he's played more than three times.
Bessire's Take
: "Those who have followed our take on the Chargers throughout the season shouldn't be surprised that we like the Chargers to win straight-up more often than not at Indianapolis this Sunday. The Chargers have an offense and defense capable of being dominant. Philip Rivers is putting up some of the most efficient passing numbers that we have ever seen, and the offense should be getting even better with the returns of Vincent Jackson and Antonio Gates. Peyton Manning has had a strong season as well, but his offense is heading in the opposite direction with injuries continuing to pile up (on both sides of the ball for the Colts). As of right now, we are favoring the Chargers to win all of their remaining games to ultimately win the AFC West. Of course, with the flawed Jaguars and quarterback issues in Tennessee, the Colts should still win the AFC South as well."
The Pick: Chargers +3
. The Chargers have averaged more than 30 points per game over the last few weeks, which means the Colts will need to score more than 33 points in this game. Indy has only scored more than 30 points once this season. The Chargers are not just a good pick against the spread, but bettors should consider San Diego as a straight-up upset pick.
Miami Dolphins at Oakland Raiders (-3)
I haven't had much luck in picking Raiders games against the spread. Last week in
TheStreet's
pick 'em league on Yahoo!, I did correctly pick the Steelers against the spread over Oakland, so I hope my luck is turning when it comes to the black and silver.
This week, I really like the Raiders at home against a depleted Miami team. The Raiders' rushing game has been pretty great, except for last week's performance against a stellar Pittsburgh defense. Turnovers, though, have been a concern. The offense has coughed up the ball three times in each of the team's last two games.
The Dolphins aren't sure which quarterback will be under center Sunday. One thing is for sure: Tyler Thigpen is only 1-11 as a starter in the NFL. With Chad Pennington out for the season, Miami has no other choice but to start Thigpen if Chad Henne can't play. It's also unclear whether wide receiver Brandon Marshall will be able to play through a hamstring injury. With the running game ineffective for Miami, the team's offense could be completely MIA when they travel to the Bay.
Bessire's Take
: "To us, this pick has everything to do with the quarterback in Miami. As of right now, we are projecting Chad Henne, who has been practicing fully this week, to start and lead his team to a moderate cover. If it's Tyler Thigpen who gets the start for Miami, don't expect the same outcome. Fortunately, we have the ability to take one guy out and plug a new guy in to see what it does to the numbers, so I'd probably wait to see what happens. The Oakland QB situation doesn't make nearly as much of a difference. The Raiders are a decent team, but they should struggle against this Dolphins' squad that has a very good defense. I expect the general public to remember that the Raiders have been better than expected this year and that the Dolphins couldn't move the ball at all on Thursday night against the Bears. What they should note is that the team that takes the field for the Raiders will be much closer to what it was when it just lost 34-3 at Pittsburgh than the Dolphins team will be to their most recent game."
The Pick: Raiders -3
. As I mentioned earlier in this column, it is wise to bet on games with a quarterback change only if value is to be had. This is one of those cases, if Thigpen starts for the Dolphins. Miami scored no points last week at home against the Bears. I don't see how they're going to improve much on that on the road against a good Raiders defense. Rain is in the forecast for Oakland this weekend, which will force both teams to run the ball more. That favors the Raiders, who average more than 150 yards rushing per game already.
Jacksonville Jaguars at New York Giants (-7)
This may be the easiest game of Week 12 to pick against the spread. So why am I having so many second thoughts with my pick? The explanation is simple. The Giants have had no luck, while the Jaguars are probably the luckiest team in the NFL.
Let's take the Giants first. New York lost big against the Dallas Cowboys playing in the new Meadowlands, having been favored by two touchdowns. The Giants followed that up with a loss at Philadelphia. The final score of 27-17 hides how truly bad New York played in that game against the Eagles, as the offense turned over the ball five times to Vick and Philly.
Meanwhile, the Jaguars won in Week 10 against the Texans on a last minute Hail Mary play. Jacksonville followed that up by turning over the ball six times to the Cleveland Browns but still came out victorious.
Bessire's Take
: "The Jaguars have been exceptionally lucky at home, yet still look like one of the worst teams in the league by the numbers across all their games, let alone on the road. In this game, the numbers overwhelmingly favor the Giants to the point that a blowout is likely. First of all, many note that the Giants have struggled with turnovers this season. That's valid. However, even though Eli Manning has the most interceptions on the season, Jacksonville actually leads the NFL in interceptions-per-pass. And while the Giants are facing a defense that gives up 8.8 yards-per-attempt, Jacksonville gets a New York defense that allows two yards less (per attempt) than that. New York has the clear advantage in
everything else
as well, not to mention home-field advantage. This should be a game where the Giants get right after two tough losses and the Jaguars are exposed after two lucky wins."
The Pick: Giants -7
. Coming into the season, I felt I knew Jacksonville the least out of all the NFL teams, and that hasn't changed. They have a great running back in Maurice Jones-Drew but I can't get behind quarterback David Garrard (pictured above). Garrard has a bad habit of throwing interceptions against good defenses, like the Chargers and Browns. How am I supposed to believe he'll thrive against the Giants defense?
-- Written by Robert Holmes in Boston
.
>To contact the writer of this article, click here:
Robert Holmes
.
>To follow Robert Holmes on Twitter, go to
http://twitter.com/RobTheStreet
.
>To submit a news tip, send an email to:
.
Disclosure: TheStreet's editorial policy prohibits staff editors, reporters and analysts from holding positions in any individual stocks.