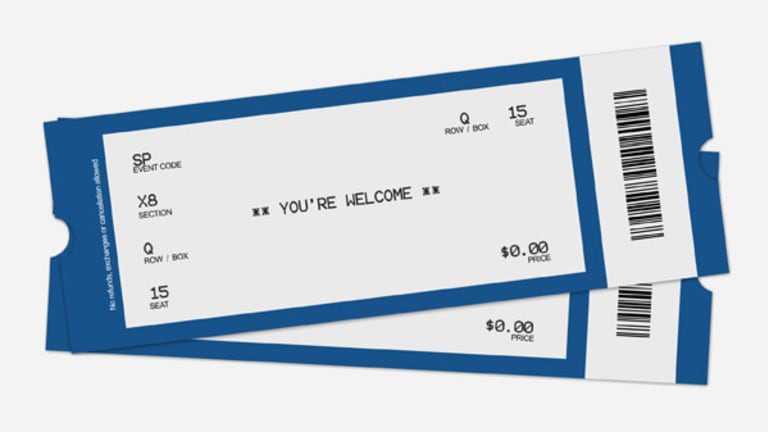 7 Extravagant Super Bowl Buys
Why settle for a Super Bowl party at home when you could watch a $2.3 million TV in Joe Montana's house?
DALLAS (TheStreet) -- Think a killer Super Bowl spread and a 55-inch HD screen are big enough splurges for the big game? That's arena-league compared with superfans' Super Bowl swag.
The average consumer is set to spend an average of $59.33 on Super Bowl-related stuff such as snacks and apparel this year, according to the National Retail Federation. That's up from $52.63 last year, but still an infinitesimally small fraction of what well-heeled, big-spending fans will part with for tickets, TVs and other Super Bowl toys this year.
TheStreet
found seven expensive game-day indulgences designed with the moneyed sports fan in mind. You don't need to be on the payroll of the Pittsburgh Steelers or Green Bay Packers to enjoy these high-priced pleasures, but even a punter's salary wouldn't hurt:
Super Bowl rings
Athletes train from boyhood, suffer breaks and bruises and go the rest of their lives without certain bodily functions in pursuit of these rings. Non-athletic fans, however, just wait until they've amassed enough nostalgia and disposable income to pick one up when one of their battered owners parts with it.
Replicas of various Super Bowl rings can be found on eBay for $400 or less -- with rings from the Steelers' and Packers' previous title years blitzing that site's listings since the conference championships -- and samples from merchants such asBalfour and Josten's can fetch up to $5,000.
The real deal, however, will cost fans a bit more, as even a
cubit-zirconia-laden ring
worn by a member of the Dallas Cowboys' staff after their 1992 Super Bowl win starts at nearly $6,000. A Tiffany-designed gem-free ring owned by a
Tampa Bay Buccaneers
staffer after that team's 2002 Super Bowl win fetches $9,000, but a 10-karat gold, two-carat diamond
1967 Packers Super Bowl ring
sold by a Green Bay family through an estate sale warrants a $10,000 investment.
Fans looking for a real, player-worn diamond Super Bowl ring, however, pay the steepest price of all. A Jostens-made Super Bowl ring being sold by an anonymous member of the 1997 Green Bay Packers comes with the original wooden box and free shipping for the tidy sum of $40,000. It's steep, but it has to be less expensive than years of training camps, equipment costs and medical bills.
Super Bowl auctions
If you're going to spend thousands on the Super Bowl, you may as well put it to good use. Dallas-based Heritage Auctions has three Super Bowl packages that will not only get you and a few of your friends to the game, but will help out some local charities along the way.
A season ticketholder for the Cowboys and the NBA's Dallas Mavericks teamed up with Mavericks players Dirk Nowitzki and Jason Terry for the
Big Brothers Big Sisters Super Bowl XLV Double Suite Charity Auction
, which includes 37 tickets to a field-level suite for the Super Bowl, free food, beer and wine and four parking passes. Bidding was up to $75,000 by Thursday, but ends this coming Wednesday at 10 p.m. CST.
The Emmit Smith Experience package
, meanwhile, offers fans two lower-level Super Bowl tickets, a meet-and-greet with the former Cowboys running back and tickets to the Super Bowl Gospel Celebration on Feb. 4. Bidding is already up to $5,500, but is open only until Monday at 10 p.m. CST.
The most savory offering, however, may be the
Taste of the NFL Super Bowl XLV Charity Auction
, which raises money to fight hunger. The winning bidder gets two tickets to the big game, a four-night stay at the Omni Fort Worth Hotel and admission to the Taste of the NFL Party With A Purpose on Feb. 4 featuring country singer Martina McBride and chefs Tom Collichio and Todd English. Bidding's up to $6,000, but ends Sunday at 10 p.m. CST.
Tricked-out TVs
Let the neighbors and co-workers prattle on about the new HD/3-D/LCD/OLED/insert-acronym-here TV they'll be watching the big game on this year: Even paupers need their playthings. If you're a real fan and long for the days of prerecession excess and an inflated sense of self-worth based solely on stuff, then, boy, does British designer Stuart Hughes have some tony TVs for you.
The man who brought the world the
gold-plated Nintendo (NTDOY.PK) Wii and gilded Apple (AAPL) - Get Apple Inc. (AAPL) Report iPad
has
two 55-inch Metz HD televisions
that each cost more than a long-snapper signed to a short-term contract.
The first, the Premium HD Supreme Edition, has a 22-carat gold base and frame laden with 48 diamonds and filled out with aventurine and topaz. The screen itself is matted alligator skin, which only adds to the $1.6 million asking price.
That's the discount model.
The PrestigeHD Supreme Rose Edition encases the television in 28 kilograms of 18-carat rose gold, 72 round-cut 1-carat diamonds, sunstone-and-amethyst filler and alligator-skin lining. That rosy tint doesn't come cheap. Those watching Super Bowl commercials on the Supreme Rose Edition's screen do so on the most expensive television in the world -- valued at $2.3 million.
That may seem like an exorbitant amount that only a pompous, self-involved misanthrope would spend on a television, but if you're not watching the Super Bowl framed by precious metals, six dozen engagement-ring toppers and dead animal skin, you're not watching football.
Pre-Super Bowl parties
OK, so maybe Diddy and Pam Anderson would be the upper right and center squares, respectively, if
Hollywood Squares
still aired today, but they know how to party.
The former
Baywatch
starlet,
Barb Wire
thespian and meat-shunning PETA spokeswoman Anderson will host the
on Feb. 4 at the Fashion Industry Gallery in Dallas' art district. Feel free to admire the artwork if you wish, but we get the feeling folks paying $250 to $750 per ticket are more likely doing so to get a peek at Anderson's celebrity guests, including
Playboy
's Amber Campisi, Jessica Hall and Brandi Moses. If you need a table and some bottles for the entourage, however, that'll run you $6,000 to $8,000. If said entourage wants to be in the entire party's peripheral view as it takes in Anderson and her
Playboy
pals, 10-person tables on either side of her elevated dais cost $15,000 apiece.
Diddy, meanwhile, has produced mixed results musically over the past decade -- remember Dream and Da Band? -- but his Diddy-Dirty Money Euro-dance outfit is doing well, and his Gatsby-style soirees are still spectacles worth witnessing. His "fantasy" party Feb. 5 at Dallas' Tower Building looks to be no exception, with
starting at $500 and topping out at $25,000 for a 20-ticket cabana next to the stage, five champagne bottles, 10 premium liquors, open bar, an event hostess, appetizers, dessert, a VIP entrance next to the red carpet and VIP valet parking.
The die-hards who think the Super Bowl should be more about the game and less about the glamour can get a little of both for $200 at the
Moves Magazine Players Suite
party Wednesday at Dallas' Zouk nightclub. With nothing better to do since the Steelers eliminated his team from the playoffs, Baltimore Ravens linebacker Ray Lewis will host more than 400 players from the NFL, Major League Baseball, the NBA and the NHL. Not to be outdone, Lewis' former Ravens teammate, former Cowboys cornerback and current NFL Network analyst Deion Sanders hosts
his own pregame party
Feb. 5 featuring Snoop Dogg and a populist pricing format that starts at $75. It skyrockets to $17,000, however, for a seat at the table with Deion and former St. Louis Rams running back and fellow NFL Network analyst Marshall Faulk.
Super Bowl tickets
You can get them if you want them, but check your account balance first. As of Thursday, there were fewer than 3,000 Super Bowl tickets on ticket resale site StubHub, with the cheapest seats going for $2,050 apiece. A seat in the club section near the 50-yard line is selling for more than $22,200. Face value -- perhaps the biggest joke of the Super Bowl -- puts those same tickets at $600 to $1,200.
If your company wants to woo clients with spots in a suite, however, be prepared to dip liberally into petty cash. The least-expensive Ring of Honor suite in a far corner of Cowboys Stadium fetches nearly $78,000 per ticket for its 15-person catered room, and guests
still
have to pay for parking. That's $1.2 million so your valued client and their friends and family can thumb it to the stadium.
Companies playing for keeps may want to consider StubHub's most costly offering: A $391,600-per-ticket 23-person Owners' Club suite with full catering and (for $70 extra per ticket) four parking spaces. That more-than-$9 million price tag may exceed smaller firms' budgets, but if you're a corporate giant and not a Super Bowl sponsor, it's still a cheaper way of sliding into the event than a multiyear, multimillion-dollar sponsorship deal.
Just file that expense report before the next budget meeting.
Team-color couture
Want to support the Steelers or Packers but still look good in clothes slightly more grown-up than a jersey? Chicago-based men's shopping service
Trunk Club
may be the answer. Founded on the premise that poor, hapless men recoil like frightened turtles when they shop for clothes and don't know how to dress themselves without adult supervision, Trunk Club partners customers with a consultant, sends them a trunkload of clothes and lets them keep what they want and return the rest -- with the customer paying for only the clothes he holds on to.
For the Super Bowl, however, the Trunk Club is offering a package for Packers fans that includes a cream slub long-sleeve, yellow polo shirt and green track jacket with a pair of white denim jeans. Steelers fans look a little less colorful in a black Kings Road hoodie from Life/After/Denim with a white V-neck sweater that can be matched with a polo or Oxford shirt and paired with sueded five-pocket chinos from Adriano Goldschmied. Collective sighs and chuckles just went up from guys already laying out their Don Majkowski and Merrill Hoge jerseys for the big day, but wearing the team colors doesn't always have to involve the same mesh-and-paint monstrosity you've owned since junior high.
It does, however, mean shelling out a few hundred dollars for clothes that aren't "NFL Authentic." Trunk Club freely admits it isn't "the right service for guys who are looking for discount brands," as shirts range from $70 to $200, jeans go for $150 to $200 and sweaters sway between $80 and $350.
Football players' houses
Having watched Joe Montana play in a Super Bowl makes you old. Watching a Super Bowl in Joe Montana's house, however, shows the solvency and savvy that comes with that age.
Joe Montana's house, Villa Montana, on the border of California's Napa and Sonoma counties, is for sale for $49 million. Its 500 acres will host a heck of a Super Bowl party.
It's been 21 years since the Hall of Famer, a former San Francisco 49ers quarterback, won his last Super Bowl, but the chance to live in the home of a man who won four of them and was named the game's most valuable player three times hasn't passed. His 500-acre
estate on the border of California's Napa and Sonoma counties (and once home to his Montagia Vineyard) has been up for grabs since 2009. The 9,700-square-foot Tuscan-style house with its bell tower, family crest painted over the main marble, 16th-century iron gates and crane-lifted marble bathtub fireplace by a French artist may seem a bit much for football fans, but this place could host one sweet Super Bowl party.
Before the game, guests could fish in the 45-foot-deep pond stocked with bass, take aim at the skeet-shooting range or work out in the gym housed in a separate building. Once the game kicks off, the multiple hidden flat-screen televisions will come out, the pizza oven starts cooking and the beer tap starts flowing. So how much does one pay for the home of the greatest 49er? A fitting $49 million.
If that's too steep, perhaps you should consider the home of Montana's favorite target, and the only other man to be named MVP of a Super Bowl in which Montana played: Hall of Fame wide receiver Jerry Rice, who took MVP honors in Super Bowl XXIII. The sprawling
16,000-square-foot Atherton, Calif., estate
has three levels, with an elevator, six bedrooms, a family room with a wet bar, a game room with a bar, a wine room, a full gym with bathroom and $2 million in electronics, including a security system, smart-home features and a home theater. The 1.2-acre estate also houses a pool, spa and underground seven-car garage and has been discounted from $22 million in 2007 to $13.9 million today.
RELATED STORIES:
>>NFL Causing Its Own Blackouts
>>Fox Lands Obama For Super Bowl Sunday Interview
>>NFL Blackouts A Black Eye as Season Ends
Follow TheStreet.com on
and become a fan on
Jason Notte is a reporter for TheStreet.com. His writing has appeared in The New York Times, The Huffington Post, Esquire.com, Time Out New York, the Boston Herald, The Boston Phoenix, Metro newspaper and the Colorado Springs Independent.