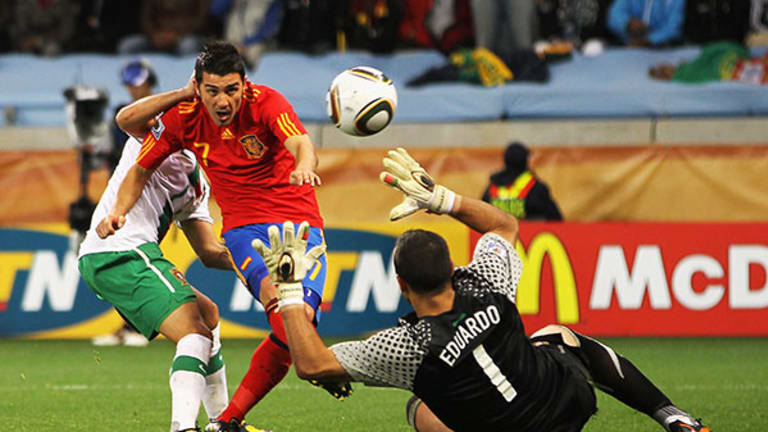 5 Sporting Events Bigger Than The Super Bowl in 2014
The NFL's big game is a huge deal, but it might not be the biggest sporting event in the U.S. this year. On a global level, it isn't even close to the big time.
PORTLAND, Ore. (TheStreet) -- Around this time of year, U.S. sports fans develop a Ptolemy complex that places the Super Bowl at the center of the universe and forces everything else to rotate around it.
Unfortunately for them, this year is going to put a Galileo- and Copernicus-style beatdown on their little pigskin-centric worldview.
Super Bowl XLVIII between the Seattle Seahawks and Denver Broncos at MetLife Stadium in East Rutherford, N.J., is sold out. The secondary market for tickets made 12,000 seats available after the conference championships last week, though. More made their way onto sites such as eBay's StubHub each day.
On the Monday after the AFC and NFC championships, the average resale price of those tickets was $3,935, as reported by Forbes. It dropped to $3,721 by Monday and to $3,676 by Tuesday. That was still well above the face value of $500 to $2,600, and no ticket had sold for less than $2,000 yet. The suckers were really shelling out.
As a result, the average asking price quoted by TiqIQ -- which tracks various ticket resale sites -- increased from $4,015 on Monday to $4,525 on Wednesday, but dropped to little more than $3,900 by Friday. That $2,000 rock-bottom price dropped in a hurry, too. Resale website aggregator SeatGeek found dozens of seats on StubHub, Razorgator, TN Direct and elsewhere for less than that, The cheapest seats hovered around $1,500.
Super Bowl ticket prices plunge this way ever year. In 2013, for example, fans from San Francisco and Baltimore bought tickets for an average of $3,445 immediately after the conference championship games, but saw the average price drop to $1,551 by game day. A spokesman from TiqIQ suggested early last week that the price of upper-level seats should hit $1,500 just a week before the Super Bowl.
Also see: Super Bowl Becoming a Buyer's Market>>
That should drop average prices not only below the $3,950 fans paid to see the Pittsburgh Steelers take on the Green Bay Packers in Super Bowl XLV in 2011, but might drive it closer to the $2,200 average paid for tickets to last year's big game.
That's still respectable, but almost laughable considering what lies ahead in 2014. With the Winter Olympics in Sochi, Russia, and the World Cup in Brazil taking place this year, the NFL's biggest event could turn into a little party for a niche American sport by comparison.
After glancing at this year's sports calendar, we found five events that should not only give the Super Bowl's ticket prices some competition, but set the bar for sports spending and corporate hospitality:
5. Wrestlemania 30
Date: April 6
Location: New Orleans
It's a bit of a stretch, but the 30th anniversary of the WWE's premier event has the potential to draw huge interest as the matchups are set and fans realize it's taking place in one of the biggest party cities in the country.
But why such high expectations for an event where the average ticket is going for "only" $290 according to TiqIQ and the cheapest seats are still available for $42? Because it's early and the best seats are already selling for ridiculous sums. SeatGeek's most expensive ringside seat is going for $11,000. The next step down is $6,500 a seat for either of two pairs. The price doesn't drop below $1,000 until you get off the field and floor levels, and then you're looking at a ring in the middle of the Mercedes-Benz Superdome's field from far-flung football seats.
That's still a steep markup from the $2,075 original price for VIP ringside seats, $850 regular ringside seats and $270 to $500 floor and riser seats and it comes with only a vague idea of who'll be involved. The Undertaker vs. somebody is just about the only sure thing. From there, it's a blend of John Cena, C.M. Punk, Brock Lesnar, Mark Henry, Randy Orton and others. Basically, prices are only going to rise as the matchups are announced, but could fall Super Bowl-style as more seats hit the market closer to the event.
That 82,000-seat venue provides a whole lot of supply, but the demand of WWE fans has filled more seats than that. It may not be a sport in the purest sense of the term, but it's filling a huge sporting venue with a Super Bowl-sized following.

4. The Masters Tournament
Date: April 7-13
Location: Augusta, Ga.
Last year, Yahoo Sports named The Masters the most expensive event in all of sports based on the $4,486 price of its four-day pass.
In a year the average Super Bowl ticket price was $2,200, The Masters may have been able to back up that claim. This year's Winter Olympics and World Cup are going to make that a bit more difficult, though. Besides, that lofty figure applies only if you're in it for all four days.
According to TiqIQ, the average price of tickets to all four days of The Masters is $4,882. At its lowest, the package will cost $4,246, but there are ways to cheat it: You could take the most frugal route and check in for practice rounds on Monday, which would set you back a minimum of $464; you could skip to the end and catch the final round on Sunday for an average of $1,669.
But that's the equivalent of paying for a Super Bowl by the quarter. You don't get to take in the entire event that way -- which is already hard enough to do when picking your galleries and looking at the leader boards -- and you're basically using Augusta National as a food court with a high cover charge. Yes, the $3 beers and $1.50 pimento cheese sandwiches are lovely and Augusta National is hallowed golfing ground, but a $500 practice session is still a steep point of entry.
4. Abu Dhabi Grand Prix
Dates: Nov. 23
Location: Abu Dhabi, United Arab Emirates
What, you thought we'd put the Monaco Grand Prix here instead? Nothing against Monte Carlo, the royal family or the view of the Mediterranean obscured by a navy-sized fleet of superyachts, but even Monaco looks like Naperville compared with Abu Dhabi.
Held on the Yas Marina Circuit on Abu Dhabi's Yas Island flanked by enormous yachts, a sprawling 18-hole golf course and the Ferrari World theme park, the Abu Dhabi Grand Prix is the final event of the Formula 1 season and has been an F1 staple since 2009.
Also see: NFL Sponsorship Is a Thankless Trap>>
While the U.S. was going through its recession hangover, Abu Dhabi was watching Red Bull's dominant Sebastian Vettel walk away with three of its five races. Want to see this year's installment? Good luck.
Unlike Monaco, where spectators pay a downright plebeian $45 for a ticket, Abu Dhabi charges a F1-highest $513 to view its race. And unless you live on Yas Island or scored a sweet place in nearby Dubai, it's not exactly going to be easy to reach. A nearly 20-hour flight on Gulf Air from New York with connections starts at $1,100, while a direct flight on American Airlines bottoms out at $2,800.

2. Winter Olympics Men's Ice Hockey Gold Medal Game
Date: Feb. 23
Location: Sochi, Russia
This doesn't tend to be a cheap event under any circumstance, but a perfect convergence of events drove the price of the Winter Olympics' premier draw through the roof in Vancouver in 2010.
Host Canada made the final and took on the U.S. in a border battle that went into overtime. Sidney Crosby took a pass from Jarome Iginla and put it home to give Canada the gold and deliver a satisfying end to the games for the host nation. To offer just some small idea of how much this game meant, it was watched by nearly 28 million people in the U.S. -- the biggest U.S. audience for a hockey game since the Miracle on Ice game during the 1980 Olympics. Roughly 26.5 million Canadians watched some portion of the game, which is incredibly impressive considering there were only about 33.5 million Canadians total at game time.
That put a bit of a squeeze on the roughly 18,000-seat Canada Hockey Place host venue, which drove ticket prices to a high of $3,250. Does that guarantee a similar result in Sochi this year? No, but Russia is as hockey-mad as Canada, to the point that its Kontinental Hockey League competes directly with the National Hockey League for the world's top talent. It may be a schlep for U.S. and Canadian fans, but Russian, Eastern European and Scandinavian faithful will be in high supply in Sochi.
1. FIFA World Cup Final
Date: July 13
Location: Rio de Janeiro
Let's put this in terms that even the most soccer-hating U.S. sports fan can understand: This is the world's Super Bowl.
"But soccer has ties!" So does the NFL, as the Green Bay Packers and Minnesota Vikings showed this season. "But there's no scoring!" The Seattle Seahawks, a Super Bowl team, put up 12 points in a win against the Carolina Panthers (who scored 7) to start the season. Reduce that to single scores and you have a 2-1 game. That's about in line with the average of 1.56 goals per game scored by each team in the 2010 World Cup.
"But it's soccer!" Cram it, rube. Friendlies between international club teams here in the states fill football stadiums, and their outcomes mean nothing. When the best players are placed on national teams and pride is on the line, imagine how many people would want to get into the building then.
Honestly, you shouldn't have to put that much effort into envisioning that scenario. The U.S. hosted the World Cup just 20 years ago and saw the results for itself. This year, in Brazil, SeatGeek already has the cheapest tickets for the final staked out at nearly $4,300. That's for the worst seat in the building: Category 3, behind the goals with a lousy view of anything. Move to a side-view seat at midfield and the price jumps to $6,600 per ticket.
Keep in mind, it's still January. There aren't going to be a whole lot more seats dropped onto the market between now and July, and you're competing with the entire qualified planet for a coveted spot. There's a Super Bowl every year, but there's exactly one World Cup final every four years for global bragging rights. This is as big as sporting events get, and the tickets don't get pricier.
-- Written by Jason Notte in Portland, Ore.
>To contact the writer of this article, click here: Jason Notte.
>To follow the writer on Twitter, go to http://twitter.com/notteham.
>To submit a news tip, send an email to: tips@thestreet.com.
RELATED STORIES:
>>5 Craft Beer Brewers Who Need A Super Bowl Ad
>>1NFL Sponsorship Is A Thankless Trap
>>Super Bowl Home Rental Is A Tempting Gamble

Jason Notte is a reporter for TheStreet. His writing has appeared in The New York Times, The Huffington Post, Esquire.com, Time Out New York, the Boston Herald, the Boston Phoenix, the Metro newspaper and the Colorado Springs Independent. He previously served as the political and global affairs editor for Metro U.S., layout editor for Boston Now, assistant news editor for the Herald News of West Paterson, N.J., editor of Go Out! Magazine in Hoboken, N.J., and copy editor and lifestyle editor at the Jersey Journal in Jersey City, N.J.