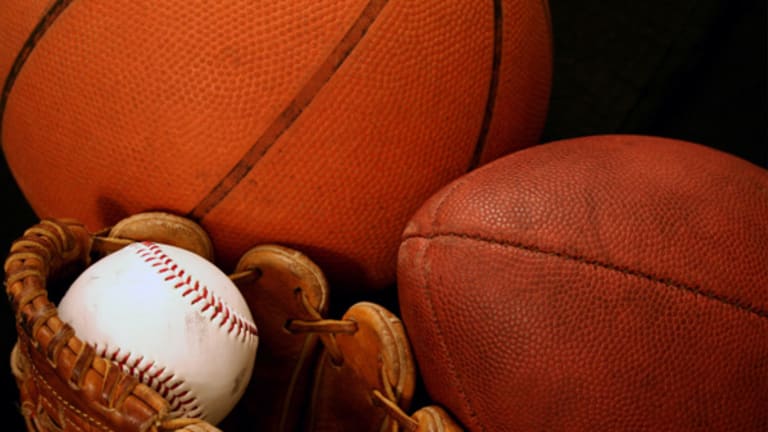 5 Opening Day Baseball Cities That Freeze Fans
Opening Day comes early for Major League Baseball this year, which means some fans will be left out in the cold.
Opening Day comes early for Major League Baseball this year, which means some fans will be left out in the cold.
NEW YORK (TheStreet) -- If baseball's Opening Day is supposed to end fans' winter hibernation, why is it so cold for fans in northern climates?
Major League Baseball made a deal with fans last year that was applauded by purists, but left a lot of fans in the cold: The 2011 season would start in March so it could end in October. The reasoning was that November was just too late to be playing baseball -- even if it is the World Series -- and that it was unfair to ask players and playoff attendees to dress warmly in that crisp fall air.
Unfortunately, instead of asking just two franchises' fan bases to suck it up and dress in layers, baseball's now asking all 30 of its teams to get a cold start to the season. According to the Elias Sports Bureau, this year's March 31 start is the fifth-earliest Opening Day in history and the earliest since the New York Yankees and Tampa Bay Rays opened the 2008 season on March 25 in Japan.
In fairness to such MLB broadcast partners as
Fox
(NEWS)
and
ESPN
(DIS) - Get Report
and sponsors including
Bank of America
(BAC) - Get Report
,
General Motors
(GM) - Get Report
,
MasterCard
(MA) - Get Report
,
Nike
(NKE) - Get Report
and
Pepsi
(PEP) - Get Report
, there's just a lot more on the line later in the year. Opening Day is lovely and all, but it doesn't bring in the $191.2 million in ad revenue that the World Series did last year and doesn't come close to the $223.6 million spent when the Yankees beat the Philadelphia Phillies in 2009.
Besides, how cold can a March 31 opening day possibly get? According to John Labombarda from Elias Sports Bureau, Opening Day was cold enough in some cities
before
the switch. Here are the five teams most likely to freeze their fans during the home opener:
Milwaukee Brewers
Home stadium:
Miller
(TAP) - Get Report
Park
Average March 31 temperature:
40 degrees
Sure, the Brewers have a retractable-roof stadium and a heating system. That doesn't exactly help when Wisconsin's state pastime is tailgating.
Miller Park's roof closes and its heating system can crank temperatures up to 30 degrees warmer than than the bitter chill outside. That was little help on April 10, 2000, however, when the mercury dropped to 34 degrees and gave Milwaukee the second-coldest Opening Day in the past 10 years, according to Elias. At the time, the Brewers were playing in open-air Milwaukee County Stadium and weren't above kicking off the season with a little Wisconsin snow and sleet.
By the time Milwaukee tied its own record for cold openers with another 34-degree Opening Day on April 5, 2002, Milwaukee had learned its lesson and put the team in fans in much cozier confines. The Brewers dodge a March home opener this year by playing on the road in temperate Cincinnati before coming home April 4. What if it's freezing then? At least the beer will be cold. Besides, fans still have sausage and a Green Bay Packers Super Bowl win to keep them warm.
Cleveland Indians
Home stadium:
Progressive
(PGR) - Get Report
Field
Average March 31 temperature:
40 degrees
Indians fans must have loved hearing Texas Rangers third baseman Michael Young tell
USA Today
last year that he's glad the 2011 season's starting early because "watching the playoffs last year, you saw guys freezing out there in New York." What does New York know from freezing?
Back in 1997 -- you know, that year in the late 1990s when the Yankees
weren't
in the World Series -- the Indians played in the coldest World Series game ever against the Florida Marlins. It was in Cleveland, it was on Oct. 22 and it was a blistering 38 degrees.
Now, because Derek Jeter can't find his neck warmer, the Indians have to play their home opener during a time of year that's equally frigid and just off of Lake Erie. The Indians open Progressive Field on April 1, but you could spot them an extra week and their fans would still be spotting ice floes on the Cuyahoga River. In fact, Cleveland joined Milwaukee in a two-way tie for the second-coldest Opening Day in the past decade when the game-time temperature plummeted to 34 degrees. Unlike those softies in Wisconsin, however, Clevelanders couldn't just close the roof and crank up the heat. Clevelanders learned this firsthand in 2007, when it had a four-game series snowed out and cold weather forced it to move another three-game series -- to Milwaukee.
We just can't believe the MLB would do this to Cleveland after fans watched Cy Young Award-winning pitchers Cliff Lee and C.C. Sabathia and All-Star catcher Victor Martinez leave and endured yet another playoff-free season from the Browns. We won't even mention the woeful Cavaliers or that guy they had the big poster of who left for warmer climates. That would be just too cold.
New York Yankees
Home stadium:
Yankee Stadium
Average March 31 temperature:
48 degrees
Just think, the whole reason these games are being moved back in the first place is because the MLB saw Derek Jeter, Mariano Rivera, Jorge Posada and Andy Pettitte celebrating their 2009 World Series win in hooded sweatshirts. And you say the rest of the baseball world thinks the Yankees are a coddled, overfed bunch of crybabies out to ruin the game?
Perhaps an early Opening Day is the best way to thank the Yankees for inspiring this little tweak in the baseball calendar. After all, maybe the team just needs a little reminder that just eight years ago, they played in the third-coldest home opener in the past decade against the Minnesota Twins. On April 8, 2003, it was a brisk 35 degrees while the Yanks and Twins were on the field, which is as cold or colder than any game-time temperature the poor Yankees had to suffer through during the 2009 World Series.
Besides, we don't know how the Yankees stay so cold when they have a league's worth of hate to keep them warm.
Minnesota Twins
Home stadium:
Target
(TGT) - Get Report
Field
Average March 31 temperature:
41 degrees
Laugh at the Yankees' woes if you must, Minnesotans, but they weren't the sheltered little indoor turf team playing out in the cold, cruel world on that chilly day in 2003.
After nearly three decades sealed within the warm baggie of the Hubert H. Humphrey Metrodome, the Twins moved outdoors to Target Field last year. Temperatures were gorgeous and in the 70s, but even the Twins knew what could have been when they inserted an empty "Weather Protection Day" into the schedule a few days later just in case they were rained or snowed out.
Some Twins fans have gotten fairly defensive about the issue, wondering why Target Field is held to a higher standard than ballfields in Cleveland, Detroit, Pittsburgh or Chicago, where it's just as likely to be cold or snowy. Maybe it's because newly elected baseball Hall-of-Famer Bert Blyleven told ESPN he still remembers pitching in snow flurries on Opening Day at the old Metropolitan Stadium. Maybe it's because, back in 2008, one of former Sen. Norm Coleman's platform issues was that he'd brought NHL hockey back to the state. Maybe it's because -- on the weekend before Major League Baseball's Opening Day -- the forecast still calls for high temperatures below freezing and lows of 11 to 15 degrees.
Want to convince everyone it's not too cold to have an outdoor stadium in Minnesota, Twins fans? Tell the team to stop ducking the weather and scheduling road games for the entire first week of the season ... again. Tell them to make their home opener a March 31 night game instead of an April 8 day game (with yet another "Weather Protection Day" built in on April 11). Why not? The Yankees are doing it.
Chicago Cubs
Home stadium:
Wrigley Field
Average March 31 temperature:
43 degrees
"Aw, Chicago's just cold because it's windy!" Yes, and Opening Day is often delayed in New York and Boston by deluges of apples and beans, respectively.
Chicago is cold because, like the majority of the cities mentioned in this article before it, it's near the Great Lakes. Anyone who's lived near the Great Lakes knows that they just act as a giant freezer unit and ice maker for seven to eight months out of the year. It also produces something called "lake-effect snow," which locals will talk about as casually as they'll mention a passing shower but dumps more snow than storms other states consider blizzards.
Park a major city right next to a Great Lake, put fans of the city's baseball team in a drafty old stadium and hold the opener in March and you'll see why even the ivy on the outfield wall begs for a blanket on Opening Day. The Cubbies don't open Wrigley until April 1, but their coldest opening day of the past few years -- and the coldest Opening Day in the major leagues in the past decade -- took place a full week later. When the Cubs hosted the then-Montreal Expos on April 8, 2003, the temperature dropped to 32-degrees, which should give fanboys who praised this year's schedule change pause the next time they complain "but it's
freezing
in March."
Considering what happened to the Cubs later that year -- the whole five-outs from the World Series, Steve Bartman ball, eight-run eighth inning, blown Game 7 and lots of tears and talk of billy goats -- teams may want to take great pains to avoid freezing home openers in the future.
-- Written by Jason Notte in Boston.
>To contact the writer of this article, click here:
Jason Notte
.
>To follow the writer on Twitter, go to
.
>To submit a news tip, send an email to:
.
RELATED STORIES:
>>5 Biggest Bargains In Baseball
>>Savvy Fans Get Spring Training Victories
>>NFL Faces Year Without A Super Bowl
Jason Notte is a reporter for TheStreet.com. His writing has appeared in The New York Times, The Huffington Post, Esquire.com, Time Out New York, the Boston Herald, The Boston Phoenix, Metro newspaper and the Colorado Springs Independent.