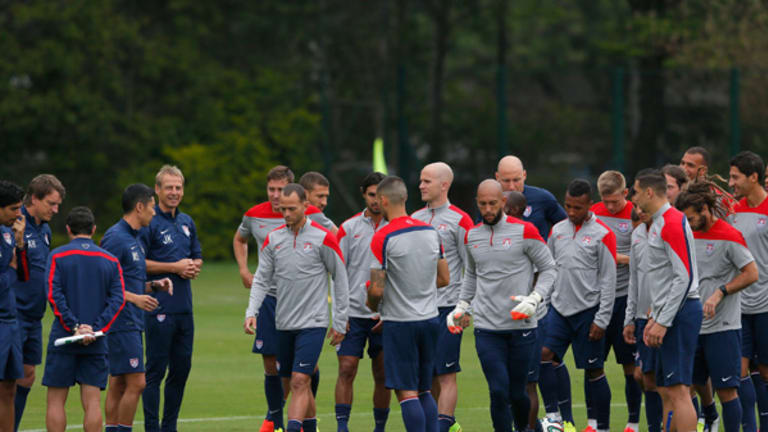 5 Most-Watched World Cup Matches in U.S. History
The FIFA World Cup has drawn viewers in the United States for 20 years, regardless of whether the U.S. team or men are playing.
PORTLAND, Ore. (TheStreet) -- It's still a fairly new occurrence in the United States, but a whole lot of sports fans here watch the World Cup.
ESPN and ABC had some idea people would watch when they paid $100 million for the English-language broadcast rights to the 2010 World Cup in South Africa and this year's installment in Brazil. Fox was far more aware of the World Cup's potential by 2011, when it paid $400 million for those same English-language U.S. rights for the 2018 and 2002 World Cup.
It's about to get a whole lot more lucrative, too. According to Nielsen's 2013 Year In Sports Media report, 40% of the scant television audience for Major League Soccer consisted of viewers 35 and younger. That's a younger following than that of the National Football League (which has 29% that young), college football and basketball (26% and 29% respectively) or Major League Baseball (24%, with a whopping 50% of its audience aged 55 or over).
Also, when it comes to drawing viewers from the growing Hispanic population in the U.S., nothing comes close to MLS. A solid 34% of its viewers are Hispanic, compared with 9% for Major League Baseball, 8% for football and a scant 4% each for March Madness and college bowl games.
World Cup viewership here just keeps climbing as well. The ratings share never got larget than the 9.5% who watched the U.S.-hosted World Cup in 1994, but the 18.1 million who watched then were a cozy little collective compared with the average of 24.3 million U.S. viewers who watched the matches from South Africa in 2010.
That's what ESPN and Fox are paying for: The untapped potential of that growing audience and the pool of ad dollars from World Cup partners such as Coca-Cola, Sony and Visa and U.S. Men's National Team backers including Nike, AT&T and General Motors. Are there any actual numbers to back up that hope? You bet. The following are the Top 5 most-watched World Cup matches in U.S. history. All took place within the past 20 years and all show just what's possible when you don't vastly underestimate your audience:
U.S. vs. England
2010 World Cup
Opening round
U.S. viewing audience: 17.1 million viewers (ABC)
After going 0-3 in 2006, the U.S. Men's National Team started the 2010 World Cup on shaky footing.
The team drew what was supposed to be its strongest foe, England, in the first match and got a taste of just how rough a road it was going to be when England's captain David Gerrard scored in just the fourth minute. Then things got weird.
After clamping down on defense and holding England scoreless for 40 minutes, the U.S. showed young soccer players everywhere just what could come of simply putting a shot on goal. Clint Dempsey put what seemed to a lifeless shot right into the hands of England goalkeeper Robert Green. Sadly for Green, it proved just a bit more slippery than he'd imagined.
The goal that became knowns across the pond as the "Hand Of Clod" held up as U.S. goalkeeper Tim Howard shut down a big scoring opportunity by England supersub Emile Heskey to preserve the draw. Both teams would end up advancing to the next round, but a draw against England that could have been a win if striker Jozy Altidore capitalized on a few of his open looks at the net was a huge boost for the U.S.
Also see: The 10 Richest World Cup Athletes>>
The match itself, meanwhile, was the third highest-rated in U.S. Men's National Team history with a 7.3 share. It was also the first step to the single most-watched match in the history of U.S. soccer.
U.S. vs. China
1999 Women's World Cup
Final
U.S. viewing audience: 18 million viewers (ABC)
It was the third edition of the women's World Cup and would be the second title won by the U.S. team, but this was the event that built U.S. women's soccer.
Looking back at that U.S. roster is like looking at an All-Star team. Mia Hamm, Briana Scurry, Michelle Akers, Brandi Chastain, Kristine Lilly, Joy Fawcett, Julie Foudy, Carla Overbeck, Tiffeny Millbrett -- that's the bedrock of modern U.S. women's soccer, and the nation got a really good look at them during a final against China that required a shootout to resolve.
With 90,185 in the stands of the Rose Bowl in Pasadena, Calif., China and the U.S. team ended regulation time in a 0-0 draw and took their spots for penalty kicks. Fawcett and Overbeck scored on their first shots, but so did China's first two shooters. It took a save by Scurry on China's third shot and three consecutive goals by Lilly, Hamm and Chastain -- the iconic reaction to the last one good enough for the cover of Sports Illustrated -- to clinch it.
The effect was enormous. Forget the giant crowd, the J-Lo pregame number, the ratings and the ensuing ESPN documentary. A year before that Women's World Cup, boys outnumbered girls in youth soccer 55% to 45% and the number of women participating in college sports was fewer than 133,500. Last year, boys and girls participated in youth soccer in roughly the same numbers, while the number of women in collegiate athletics rose to nearly 201,000 -- the first time it's exceeded the 200,000 mark. Meanwhile, the number of collegiate women playing soccer for their schools rose from 17,503 during the year of the World Cup to 26,100 last year as the NCAA added more than 230 women's soccer programs.
Brazil vs. Italy
1994 World Cup
Final
U.S. viewing audience: 18.1 million viewers (ABC)
This was it: The end of the first and only World Cup the U.S. had ever hosted. What was supposed to be a $4 billion boon turned into a $9.5 billion cost, but this was the tournament that planted the seed for Major League Soccer and brought an entire generation that never watched Pele, George Best, Beckenbauer or Chingalia in the North American Soccer League under soccer's spell.
Also see: 5 World Cup Sponsors Outplayed By Rivals>>
It just wouldn't do it with any help from the U.S. team. Fortunate winners in the early offings against Colombia -- thanks to an own goal that ended up costing a Colombian player his life -- a draw against Switzerland and a loss to Romania gave the U.S. a second-round matchup against eventual champion Brazil. On the Fourth of July in front of 13.7 million viewers , good enough for a 9.3 rating that's still the highest in national team history, the U.S. hung with Brazil until Bebeto's game-winning goal in the 72nd minute.
Two weeks later, at the Rose Bowl, roughly 4 million more viewers watched Brazil and Italy finish regulation scoreless and line up for the World Cup's first shootout. Each side missed their first penalty kicks, but traded goals for two rounds. Unfortunately for Italy, Brazil's Dunga kept the scoring streak alive while Italian strikers Danielle Massaro and Roberto Baggio both had trouble finding the net.
For U.S. soccer fans -- especially ones in major markets -- names such as Romario, Bebeto, Cafu, Paolo Maldini and Roberto Donadoni were their first stars of the international game. When MLS brought Donadoni to New York to play for the MetroStars from 1996 to 1997, it gave the team instant recognition (if not success). It also game MLS its footing, if not a future.
U.S. vs. Ghana
2010 World Cup
Round of 16
U.S. viewing audience: 19.4 million viewers (ABC)
When the U.S. team has left the World Cup in each of its past two appearances, the Black Stars of Ghana have been holding the door for them on the way out. A 2-1 win in the 2006 opening round sent the U.S. home early, while a 2-1 win thanks to a goal in the 93rd minute by Asamoah Gyan kicked the U.S. out of the Round of 16 in 2010.
That last match was certainly worthy of the nation's attention. After a gorgeous shot by Kevin-Price Boateng beat U.S. goalkeeper Tim Howard on his right side in the fifth minute, Landon Donovan tied it with a penalty kick off the right goalpost in the 62nd to give the U.S. a shot. Despite a strong opportunity for U.S. striker Michael Bradley late in the match, the U.S. just couldn't get back on the board, nor could it stop a breakaway by Gyan.
Though U.S. fans didn't get the result they were looking for, the 19.1 million viewers who watched the men's national team's second-round match against Ghana constituted the largest USMNT television audience of all time. It was a bigger audience than all but Game 7 of that year's NBA Finals on ABC and outdrew the U.S./Canada men's hockey gold medal game on NBC (18.3 million).
The Netherlands vs. Spain
2010 World Cup
Final
U.S. viewing audience: 24 million viewers (ABC)
It's the most-watched soccer match in the history of U.S. television and it revealed exactly one thing: Iker Casillas is an absolute beast.
Spain's goalkeeper allowed one goal in an opening-match loss to the Swiss, another in a 2-1 third-match win over Chile and absolutely zilch in his five other matches of the tournament. Nothing. In four matches from the Round of 16 onward, Spain defeated Portugal, Germany, Paraguay and The Netherlands by a combined score of 4-0.
Yes, two goals from David Villa in the early rounds had a bit to do with it, but absolutely shutting down the best teams the world throws at you just isn't that easy. The Netherlands scored seven goals en route to the final and still managed to give up four in those three matches before Spain.
For U.S. soccer fans, it was a lesson in patience. We'd love to say that the final was a beautiful match that showcased all the best aspects of the international game, but this was an ugly contest that featured 14 yellow cards -- more than double the highest number doled out in a World Cup final. Though the Netherlands had a player sent off for picking up two yellow cards, it nearly broke through when striker Wesley Sneijder had a breakaway opportunity in the 60th minute against Casillas. The Spanish goalkeeper legged it away and the world waited.
After 90 minutes of regulation, and roughly 26 minutes of extra time, Spain's Cesc Fabregas finally found Andres Iniesta for the winner. It was sloppy, but it didn't lack for drama.
It also managed to keep the U.S. audience watching. The 24.3 million who watched Spain defeat the Netherlands in the World Cup Final on ABC was a larger audience than that network drew for an Ohio State/Oregon Rose Bowl (24.04 million) that year. It also outdrew the 2010 men's college basketball national championship game between Duke and Butler (23.99 million) on CBS, the Winter Olympics closing ceremony on NBC (21.4 million) and a whole lot of prime-time Winter Olympics coverage.
-- Written by Jason Notte in Portland, Ore.
>To contact the writer of this article, click here: Jason Notte.
>To follow the writer on Twitter, go to http://twitter.com/notteham.
>To submit a news tip, send an email to: tips@thestreet.com.
RELATED STORIES:
>>U.S. Soccer Is Way Bigger Than You Think
>>5 World Cup Sponsors Outplayed By Rivals
>>Cutting Landon Donovan Lost Sponsors For World Cup
Jason Notte is a reporter for TheStreet. His writing has appeared in The New York Times, The Huffington Post, Esquire.com, Time Out New York, the Boston Herald, the Boston Phoenix, the Metro newspaper and the Colorado Springs Independent. He previously served as the political and global affairs editor for Metro U.S., layout editor for Boston Now, assistant news editor for the Herald News of West Paterson, N.J., editor of Go Out! Magazine in Hoboken, N.J., and copy editor and lifestyle editor at the Jersey Journal in Jersey City, N.J.