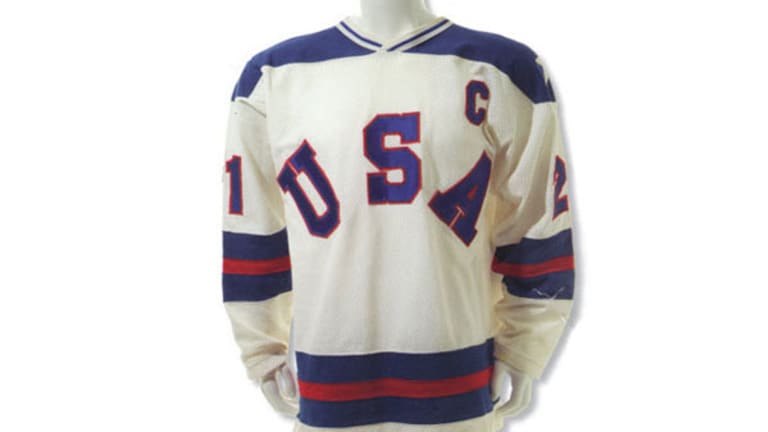 5 Most Valuable Bits of Olympics Memorabilia Ever
The 2014 Winter Olympics in Sochi, Russia, is already producing some history, but pieces from previous games are selling for upwards of seven figures.
PORTLAND, Ore. (TheStreet) -- No matter how the 2014 Winter Olympics in Sochi, Russia, turn out, there's going to be someone who wants a piece of them.
The Olympic Games are a memorabilia factory that turns ephemera from dozens of events into collectibles and museum pieces overnight.
It's a small but vital part of a $12 billion licensed sports merchandise business and a $1.5 billion autograph market, according to SportsMemorabilia.com. Consider, for a moment, that a bidder in Far East Russia already blew $232,000 on a commemorative gold coin from these Sochi Games with a face value of $785.
Want a bit of meaningful gold for yourself, U.S. collector? Mark Wells from the 1980 "Miracle On Ice" U.S. Men's Hockey Team sold his gold medal for more than $300,000 four years ago. Just make sure you know what you are getting into. The memorabilia market can be a dicey proposition for buyers who not only have to deal with a market that's volatile under the best of circumstances, but with shady dealers facing federal investigation for rigging auctions, bidding up their own items and tampering with collectibles without disclosing changes.
A combination of nostalgia, a growing buyer base, those bidders increasing expendable income, national pride and a little market chicanery is driving prices for the most sought-after items into the millions, though, with even slightly lesser pieces regularly fetching six figures. If you think the stakes are high when the games are being played, just wait about 40 years or so until the fans in the stands run companies and think nothing of throwing a few million at a medal, hockey stick or curling broom.
To give you just an idea how much cash items from this $50 billion Olympics can generate, we've found five that set the bar for what fans will pay for a piece of Olympic glory:

1952 Helsinki Olympic Torch
Selling price: $360,000
Just about any Olympic torch is a big deal, but one of the 20 or so remaining from these Olympic games is a precious commodity.
Helsinki's Summer Olympics were only the second after World War II and the first the Soviet Union saw fit to participate in. It was still dealing with a whole lot of issues of its own under Stalinist rule when London hosted the Summer Olympics in 1948, but became a sporting superpower immediately in Finland. Its 71 medals were second only to the 76 won by the U.S.
It was also the first appearance by the relatively new state of Israel, which was fighting its War Of Independence in 1948. Israel had boycotted Adolph Hitler's Berlin games -- for reasons that should be patently obvious -- in 1936, when the nation was known as the Palestinian Mandate.
Just as importantly, it would be the first time the world laid eyes on an athletic contingent from the People's Republic of China, which just came into being as well. It was a messy bit of business, as Taiwan outright withdrew from the games in protest, and it didn't really take. The People's Republic of China wouldn't show up at the Olympics again until 1984, when the Soviet Union and its Eastern Bloc friends decided to boycott.
All that history, plus the torch's lovely silver bowl and birch handle, made it pretty easy for sellers Vassy-Jalenques SARL of Paris to unload it in April 2011. Memo to the thrifty: Pick a more mundane Olympics if you really want to get your hands on a torch.

Mike Eruzione's "Miracle On Ice" uniform from the 1980 Winter Olympics
Selling price: $657,000
There's an entire generation of U.S. hockey fans that knows that game largely because of the U.S. team's "Miracle On Ice" win over the Soviet Union in Lake Placid, N.Y., during the 1980 Winter Olympics. It wasn't the gold medal game, which the U.S. still had to play against a tough Finnish team, but it's without question the most culturally important hockey game in U.S. history.
That generation is getting older and the gravity of the "Miracle On Ice" is getting a whole lot tougher to explain to its children. It's basically like speaking through a gramophone horn in turn-of-the-century newsreel speak.
You spend a lot of time explaining that the Soviets sent the equivalent of professional hockey players to the Olympics while the United States sent college kids. If the kid is somewhat sports-savvy, you get the inevitable questions about why everybody sends pros to the Olympics now. Then you have to explain that no, beating the Soviet Union didn't give the U.S. the gold medal -- they still had to play Finland in the final game of the round-robin medal round. Then you have to explain why they had a round-robin format.
If you're lucky, that kid is enough of a hockey fan to give you a pass or is at least old enough to remember the 1980 Team USA lighting the Olympic torch in Salt Lake City back in 2002 or that Kurt Russell movie from 2004. If not, you just go back to YouTube and watch Eruzione's game-winning goal, listen to Al Michaels' Do You Believe In Miracles call again and remember that those fading memories. Just know that the continued loss of context is the reason that a hockey uniform sold in New York last February for a price almost five times greater than the average price of an existing home in this country.
Breal's Silver Cup
Selling price: $861,129
The Olympics didn't always hand out gold medals. When Greek marathon runner Spyridon Louis won the first marathon race at Athens 1896, the first Olympic Games of the modern era, he was given a silver cup made by French designer Michel Breal -- who suggested to modern Olympics founder Pierre de Coubertin that the marathon be part of the games. The cup had previously handed down by Louis' heirs until it was sold at an Olympics-themed auction by Christie's in April 2012 just before the London Games.
Its long journey doesn't end in London, however. The cup was bought by the Stavros Niarchos Foundation with the intention of returning it to a recession-ravaged Greece. It had been on display the Acropolis Museum in Athens until September of last year, until it was placed in storage. It now awaits the completion of a cultural center to be built by the Niarchos Foundation in Athens that is scheduled to open next year. Only then does this cup's long Olympic journey end.
Wladimir Klitschko's 1996 gold medal
Selling price: $1 million
For much of the past decade, Wladimir Klitschko and his brother, Vitali, have been cleaning out boxing's heavyweight division and making every contender short of Lennox Lewis look like a sack of potatoes with legs.
There's only one thing that matters more to the Klitschko brothers than their craft, and that's the future of their native Ukraine. Vitali put down the boxing gloves to pursue a political career back home, where the streets of the capital city of Kiev have been marred by violent protests of the sitting government.
Wladimir, meanwhile, decided to sell off the gold medal he won in Atlanta -- Ukraine's first games as an independent nation -- to fund the Klitschko Brothers Foundation he and his brothers established to give young Ukranian children an education and provide them some exposure to sports.
"If they have knowledge they can succeed with that in their adult life and sport gives them the rules -- how to respect your opponent, how to respect the rules," Wladimir told CNN two years ago. "It is always in life like that, you go down but you have to get up, and sport gives you this great lesson."
Jesse Owens' 1936 Olympic Gold Medal
Selling price: $1.47 million
One of the biggest criticisms of the U.S. reaction to the Sochi games and Russia's oppression of its LGBT citizens is that it isn't exactly taking care of its own LGBT citizens, either.
That double standard has been applied before, but Jesse Owens used it to embarrass Adolph Hitler at the 1936 Berlin Olympics and give Hitler's Nazi regime its first public rebuke. At age 23, Owens won four gold medals, in the 100- and 200-meter dash, the long jump and as a member of the 4x100 meter relay team. He defeated Hitler's Aryan supermen and ridiculed his notion of white supremacy.
But Owens' performance in those games didn't put an end to anything. Hitler touched off World War II, ground up millions of lives in fighting it and erased millions more in wholesale genocide while pursuing racial purity. In 1945, he killed himself with a single gunshot to the head in a Berlin bunker as Russian forces prepared to capture the city. His remains were crushed, burned and thrown into a river years later.
Owens, meanwhile, came home and had his amateur status revoked by U.S. officials for having the gall to take money for commercials. He briefly owned a Negro League baseball team in Portland, Ore., called the Rosebuds. He would race against horses and local sprinters for cash. He was criticized for all of it, to which he responded: "People say that it was degrading for an Olympic champion to run against a horse, but what was I supposed to do? I had four gold medals, but you can't eat four gold medals."
He was reduced to pumping gas, bankrupted, prosecuted for tax evasion and eventually used by the U.S. Olympic Committee as a pitchman. He lived in a nation where blacks were, at best, prevented from living in the same neighborhoods or using the same facilities as whites and, at worst, just outright killed because of the color of their skin. By the 1970s, he'd not only reversed his stance and supported the Black Power salute used by sprinters Tommie Smith and John Carlos on the podium at the 1968 Summer Olympics in Mexico City, but he stood against President Jimmy Carter's decision to boycott the 1980 Moscow Olympics.
Owens is a sports icon who was seldom treated as such during his time. His medal -- which was sold by the estate of Elaine Plaines-Robinson, the wife of entertainer and Owens confidant Bill "Bojangles" Robinson -- may finally tell his more complete story when buyer and Pittsburgh Penguins co-owner Ron Burkle incorporates it into his plans for an educational tour of various artifacts. These Olympics, meanwhile, may make a statement by awarding a U.S. LGBT athlete a medal in Sochi, but will only prove a symbolic victory if nothing changes for LGBT citizens in the U.S. and Russia afterward.
-- Written by Jason Notte in Portland, Ore.
>To contact the writer of this article, click here: Jason Notte.
>To follow the writer on Twitter, go to http://twitter.com/notteham.
>To submit a news tip, send an email to: tips@thestreet.com.
RELATED STORIES:
>>C9 Completely Worthless Collectibles
>>10 Completely Worthwhile Collectibles
>>10 Crazy Prices Paid For Sports Memorabilia
Jason Notte is a reporter for TheStreet. His writing has appeared in The New York Times, The Huffington Post, Esquire.com, Time Out New York, the Boston Herald, the Boston Phoenix, the Metro newspaper and the Colorado Springs Independent. He previously served as the political and global affairs editor for Metro U.S., layout editor for Boston Now, assistant news editor for the Herald News of West Paterson, N.J., editor of Go Out! Magazine in Hoboken, N.J., and copy editor and lifestyle editor at the Jersey Journal in Jersey City, N.J.