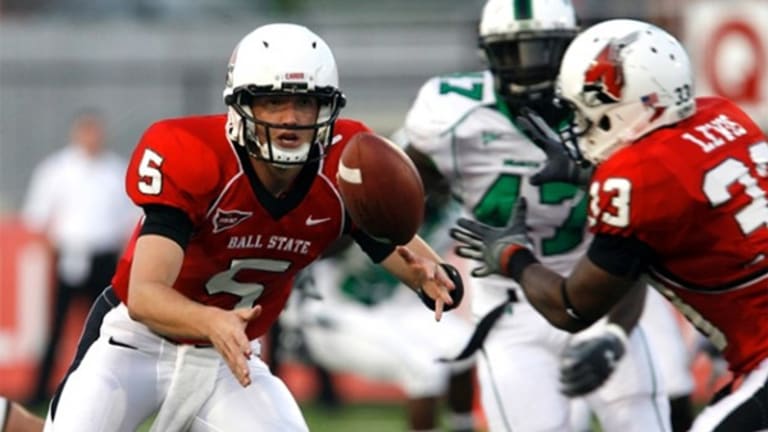 5 More Cities Abandoned By Professional Sports
The NBA, NFL and Major League Baseball have each left vacancies throughout the country, but don't rule out the American Basketball Association's effect on Louisville, Norfolk and elsewhere.
PORTLAND, Ore. (TheStreet) -- For every town in the U.S. seeking a professional sports franchise to make it "world class," there are cities that pro sports left on history's scrap heap.
We've already shared the stories of Quebec City, Hartford, Conn., and Hamilton, Ont., after the National Hockey League left. We also highlighted what became of Portsmouth, Ohio, after its National Football League franchise fled to Detroit and what became of Syracuse, N.Y., after the shot clock ran out on its time with the National Basketball Association. But major leagues consistently looking for bigger sources of revenue are never above turning thriving markets into sports ghost towns if there's more money to be had elsewhere. The NFL's flirtation with Toronto and London continue to get that message across, while the NBA and NHL's pre-season test drives of arenas in Kansas City, St. Louis and elsewhere are a reminder to their home cities that there's a price to pay if you want to stay in the game.
Since 2000, six franchises from Major League Baseball, the National Basketball Association and the National Hockey League have pulled up stakes and switched towns. While baseball's Montreal Expos jumped to Washington in 2005 and the NHL's Atlanta Thrashers left for Winnipeg in 2011, the NBA has seen the Vancouver Grizzlies flee to Memphis in 2001, the Charlotte Hornets break for New Orleans in 2002, the Seattle Supersonics slip off to Oklahoma City in 2008 and the New Jersey Nets pay a few tolls on the way to Brooklyn in 2011. Even the Atlanta Braves and San Francisco 49ers made it clear that they're willing to represent those cities in name only if Cobb Country, Georgia, or Santa Clara, Calif., makes a better offer.
Meanwhile, for every town that has a faltering franchise, there's another with an empty or somewhat-empty building waiting to steal a pro team away. What well-funded investors in Seattle made very clear during their pursuit of the Sacramento Kings, meanwhile, is that fans in Salt Lake City, New Orleans, Milwaukee, Minneapolis, Phoenix, Ariz., and Portland, Ore., shouldn't take their professional teams for granted.
It hasn't only happened before, but it's happened to more U.S. cities than any league cares to mention. Here are five more that bid farewell to big-time sports forever:

Rochester, N.Y.
Rochester is not a bad place to be a sports fan. You're not altogether that far from Buffalo and the NHL's Sabres and NFL's Bills, you're not too far removed from Division 1 college sports in Syracuse and your minor-league teams -- the Minnesota Twins' Triple-A Red Wings and the Sabres' AHL Amerks -- are pretty decent. Even their women's soccer team, the Western New York Flash, has a title under its belt and national team standouts in Abby Wambach and Carli Lloyd.
But this town used to have so much more. From 1920 to 1925, it was home to the Rochester Jeffersons of the National Football League. They looked more like a glorified pickup game than a professional team and, thus, were fairly terrible. They won exactly two games against NFL opponents and were winless from 1922 to 1925. When they failed to sign superstar Red Grange, who went to the Chicago Bears instead, they folded.
Also see: 5 Cities Abandoned By Professional Sports
Also see: 5 Cities Abandoned By Professional Sports>>
Rochester fared slightly better as a basketball town when it was home to the NBA's Rochester Royals. From 1948 to 1957, the NBA made a home in Rochester and spent much of its time there running up debt and watching the Royals get batted around by the Minneapolis Lakers and dominant center George Mikan. In 1951, however, the Royals broke through by beating the Lakers in the division finals and defeating the New York Knicks in a hard-fought seven-game series. That was the last championship the franchise would win. Even after moving to Cincinnati in 1957, then to Kansas City in 1972 and finally to Sacramento in 1985 (though they almost went to Seattle last year), the Royals/Kings never found the success they had in Rochester.
Even soccer hasn't treated the city all that kindly. The Rochester Lancers of the American Soccer League joined the huge North American Soccer League in 1970 and won the league championship in their first year. Granted, it was with about 4,500 fans in the stands and without Pele, George Best and Franz Beckenbauer on opposing teams, but it helped build the city's rich soccer heritage.
Their run only lasted until 1980, but the Lancers brought international talent such as Brazilian striker Carlos Metidieri and English defender Peter Short into town and gave the NASL its only international competitor when the Lancers played in the 1971 CONCACAF Club Cup. Rochester has had great soccer moments since -- the Flash won a title and the USL Pro Raging Rhinos were the only non-MLS team to win the U.S. Open Cup tournament since 1995 -- but it never again reached the level of excellence the Lancers established.

Fort Wayne, Ind.
What is now a great minor-league town and home to baseball's Class A TinCaps, the East Coast Hockey League's Komets and the NBA's Developmental League Mad Ants was once vital to professional sports as we know them.
Fort Wayne's first moment in the sun came May 4, 1871, when the Fort Wayne Kekiongas and Cleveland Forest Citys played the first-ever professional baseball game. That matchup was rained out in the top of the ninth inning, with the Kekiongas ahead 2-0. Its next brush with infamy came June 2, 1883, when the Kekiongas hosted the Quincy Professionals for one of the first lighted baseball games.
This is still primarily a basketball town, though, and is considered the cradle of the modern NBA. The Fort Wayne Zollner Pistons, came into the National Basketball league bearing the name of a foundry that made pistons for car, truck and locomotive engines. The Zollner Pistons took the NBL championship in 1944 and 1945 but, in 1948, dropped the Zollner from their name and moved to the competing Basketball Association of America. When team owner Fred Zollner and coach Carl Bennett helped merge the NBL with the BAA in 1949, the NBA was born.
While that was great for basketball fans, it didn't help the Pistons in the least. The team generated so little money that it's widely speculated that players threw the 1955 NBA Championship against the Syracuse Nationals just to earn a little extra cash. Ownership decided to move the team to a more lucrative market in Detroit in 1957, marking the end of major league sports in Fort Wayne. The NBA was born here, but it sure got out of its hometown in a hurry.

Norfolk, Va.
Norfolk has the Baltimore Orioles' Triple-A team in the Tides and the Anaheim Duck's minor league hockey affiliate in the Admirals, but none of that trumps Dr. J.
Norfolk had exactly one moment when it was a big, bad sports town: When the American Basketball Association dribbled its red, white and blue ball into town in 1970 and set up shop until 1974. The Virginia Squires came to Norfolk only after failing as the Oakland Oaks after a championship season in 1969 and floundering as the Washington Caps in 1970.
Even then, it wasn't such a great deal. Norfolk had to split hosting duties with Roanoke, Hampton and Richmond. Star Rick Barry absolutely hated Virginia and riled the locals by saying he didn't want his kids growing up saying "y'all" before being traded for financial reasons. The squires drafted Julius Erving in 1971 -- before he blew up as Dr. J -- but couldn't make a decent playoff run despite having a roster that included him and future NBA great George Gervin. Erving became a star in the 1971-72 season, but was sold to the New York Nets for cash a little more than a year later. Gervin followed him out the door in 1974, which only infuriated fans further.
Also see: A Faceless Liberty Media Drags Atlanta Braves to Suburbs
Also see: A Faceless Liberty Media Drags Atlanta Braves to Suburbs>>
The team won only 15 games between 1974 and 1976 and started bouncing player checks. The NBA wanted no part of the regional Squires in a merger and the Squires' finances could scarcely support an ABA team as it was. In 1976, the team closed shop for good. Dr. J remains its greatest contribution to the game, but he was also Norfolk's last, fleeting brush with fame. Irving's Squires jerseys, meanwhile, now sell for upward of $190,000.


Louisville, Ky.
It's tough to call a town that hosts the Kentucky Derby, has watched the PGA Championship and Ryder Cup come through Valhalla Golf club and just won an NCAA men's basketball championship in 2013 "abandoned" by sports.
To refuse to do so, however, would ignore an incredible professional sports history worth delving into. The home of Louisville Slugger bats was, at various points, a home to Major League Baseball. The Louisville Grays, charter members of the National League, were founded in 1877, but folded in 1878 after it was revealed that players intentionally lost games for money. Four players were banned from baseball for life, and Louisville wouldn't get another crack at the National League for more than a decade.
When the Louisville Colonels finally entered the league in 1892, they did little of note other than produce Hall of Fame shortstop Honus Wagner. When owner Barney Dreyfuss took control of the Pittsburgh Pirates in 1900, he took Wagner and 13 other players with him and folded the Colonels.
The National Football League didn't treat this town much better. The Louisville Brecks survived here from 1921 through 1923, despite having a home stadium burn to the ground in 1922, but was bounced out of the league for the 1924 season and folded shortly thereafter. The NFL brought in the Louisville Colonels in 1926, but they were a traveling team based out of Chicago and lasted for only one season.
The city's best luck with the pros came with the American Basketball Association's Kentucky Colonels, who made camp here from 1967 to 1976. Splitting time between Freedom Hall and the Louisville Convention Center, the Colonels made the playoffs each year of their existence and had only one losing season. Behind talent such as Louie Dampier, Dan Issel and Artis Gilmore, they made three appearances in the ABA Finals before finally beating the Indiana Pacers for the title in 1975. Afterward, owner John Brown offered the NBA Champion Golden State Warriors $1 million to play in a World Title Game, an invitation the NBA and Warriors declined.
A year later, the NBA-ABA merger would take place and Brown would take $3 million to fold the Colonels. With that cash, he bought the Buffalo Braves, which are better known now as the Los Angeles Clippers. Louisville has since tried to woo the Charlotte Hornets, Vancouver Grizzlies and Houston Rockets to town, but all passed. Maybe the major leagues didn't so much abandon Louisville as they politely declined to come back.

Muncie, Ind.
Portsmouth, Ohio's football team eventually became the Detroit Lions. Decatur, Ill.'s squad is now the Chicago Bears. Muncie doesn't even have a legacy left from its days in the NFL.
The early, small-town days of the NFL were a hardscrapple, blue-collar affair, and Muncie was one of the 14 towns fortunate enough to field a team. It wouldn't last long. After going 4-1-1 in a smaller league in 1919, the Muncie Flyers made the jump to the NFL -- then known as the American Professional Football Association -- in 1920. It was an absolute mess. Their first game ended in a 45-0 loss. The next week, Decatur just outright canceled a game. Another game was rained out. Frustrated players dispersed to other local teams.
The next year, Muncie was beaten soundly by both NFL teams it faced. It was so bad that the Green Bay Packers just canceled a game with them rather than play it. Realizing they were awful against NFL teams but great against the non-NFL competitors they were allowed to play at the time, Muncie dropped out of the NFL entirely after 1921. Then, seriously, that's it. Muncie had a minor-league hockey team for one season in the late 1940s but has since relied heavily on NCAA Division I school Ball State for its sports action.
The pros never came back, but this city of 70,000 never seemed to care. It's become just a little bit of trivia in city folklore that's choked up to the small, quirky nature of the early NFL.
-- Written by Jason Notte in Portland, Ore.
>To contact the writer of this article, click here: Jason Notte.
>To follow the writer on Twitter, go to http://twitter.com/notteham.
>To submit a news tip, send an email to: tips@thestreet.com.
RELATED STORIES:
>>5 Major League Soccer Teams That Outdraw Baseball
>>5 Great Stadiums Making Up For Bad Baseball Teams
>>5 Ways The All-Star Game Is Baseball's Super Bowl
Jason Notte is a reporter for TheStreet. His writing has appeared in The New York Times, The Huffington Post, Esquire.com, Time Out New York, the Boston Herald, the Boston Phoenix, the Metro newspaper and the Colorado Springs Independent. He previously served as the political and global affairs editor for Metro U.S., layout editor for Boston Now, assistant news editor for the Herald News of West Paterson, N.J., editor of Go Out! Magazine in Hoboken, N.J., and copy editor and lifestyle editor at the Jersey Journal in Jersey City, N.J.