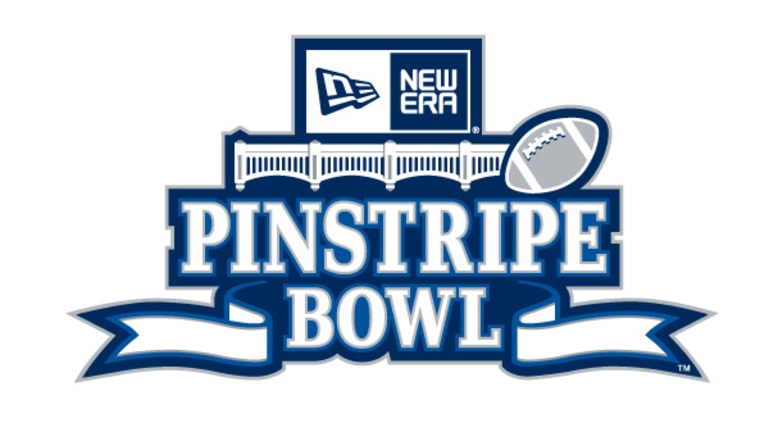 5 Bowls College Football Really Hopes You'll Watch
Next year's switch from the BCS to a championship playoff changes the college bowl pecking order. Those furthest down the list need to start luring viewers and sponsors now.
PORTLAND, Ore. (TheStreet) -- The Bowl Championship Series already establishes a strict hierarchy among college bowl games. Next year's switch to a playoff system will only compound it.
The Allstate (ALL) - Get Allstate Corporation Report Sugar Bowl in New Orleans, the Vizio Rose Bowl in Pasadena, Calif., and Discover (DFS) - Get Discover Financial Services Report Orange Bowl in Miami all keep their places at the top of the pile leading into the championship game. The playoff deal also dictates that PepsiCo's PEP Tostitos Fiesta Bowl in Glendale, Ariz., the AT&T (T) - Get AT&T Inc. Report Cotton Bowl in Arlington, Texas, and the Chick-fil-A Bowl in Atlanta, slated will be host bowls featuring conference champions and at-large teams that aren't part of the playoff picture.
That creates a trickle-down effect that has an impact on every event from the upper-middle-tier Capital One (COF) - Get Capital One Financial Corporation Report in Orlando, Fla., to the back-of-the-pack New Orleans Bowl with its $500,000 prize and Ohio shipping company sponsor. The talent pool thins, the bowl-eligible leftovers get less recognizable and a slate of bowls that's already bloated at roughly 35 gets even more unwieldy when upwards of four more bowls schedule their debuts for the 2014-15 season.
That leaves a whole lot of other bowls scrambling for both viewers' attention and sponsor dollars. The following are just five of the bowls facing that struggle this season. They, college football and ESPN (DIS) - Get Walt Disney Company Report really want you to tune in, but even die-hard fans have their limits:
New Mexico Bowl
Dec. 21
Sponsor:Gildan  (GIL) - Get Gildan Activewear Inc. Report
Location: Albuquerque, N.M.
Matchup: Washington State vs. Colorado State
Payout: $456,250

Hey, we don't begrudge New Mexico its bowl. If anything, we agree with college football and ESPN on this one: You really should be watching this bowl.
It's the only nationally televised sporting event in New Mexico and it has lined up a great sports-centric sponsor in apparel-maker Gildan. It sponsors a charity run each year, its trophy is a piece of Zia Pueblo pottery that puts just about every other bowl trophy to shame -- including that crystal football that looks like grandma's holiday candy dish that they hand to the top team in the country.
So what are the downsides? For starters, it's saddled with an impossibly early Dec. 21 date that's only modestly favorable because the NFL refuses to use its December window for Saturday games. Secondly, it features Pac-12 and Mountain West Conference teams already suffering from a heavy dose of East Coast bias. Yes, we get it, Uncle Carl in Poughkeepsie, the time difference means the game is on later and cuts into your post-dinner stupor.
That's too bad, since those conferences and this game in particular regularly put on one of the best shows in the college bowl schedule. Last year's Arizona-New Mexico matchup ended in a 49-48 Arizona win thanks to two touchdowns in the last minute. Fresno State lost to Colorado State 40-35 in the Rams' last New Mexico Bowl appearance and returned in 2009 to have a double-overtime thriller turn into a crushing 35-28 loss. In 2010, BYU put up 52 points on UTEP on the way to a 52-24 win.
We don't know what's going on at the Albuquerque airport baggage claim, but college teams' entire defenses seem to get lost in the handling process.
It shouldn't be much different this year. Washington State (6-6) and Colorado State (7-6) are better teams than their records indicate and will likely be playing in much bigger bowls in the coming years. This bowl has seen attendance drop from 34,000 for its inaugural event in 2006 to just under 25,000 last year, but it tends to be tougher in years when New Mexico doesn't make the lineup. The fact is folks who didn't show up last year missed one of the most entertaining games of the college postseason. They shouldn't miss out again.
Texas Bowl
Dec. 27
Sponsor: None
Location: Houston
Matchup: Minnesota vs. Syracuse
Payout: $1.7 million
Listen, we're sure Texas could host every bowl that college football's bowl season has to offer if it had to. The state loves football with a religious fervor that outsiders can't begin to comprehend, but even that love is a tough sell when you're trying to fill 71,000 seats with two middling teams from cold-weather states.
Maybe "middling" is a bit of a harsh assessment for a Golden Gophers team that went 8-4 in a tough Big 10 this year, but finishing out the season with big losses to Michigan State and Wisconsin didn't help its cause. Syracuse, meanwhile, went 6-6 in its first season after head coach Doug Marrone left for the top coaching job with the Buffalo Bills. In any other sport, that's terrible, but in Division I college football, that's bowl-worthy.
None of this means particularly great things for the Texas Bowl, which couldn't convince sponsors including ExxonMobil and Advocare to put their names on this event. Bowl organizers and college football itself seem to be hoping that enough fans will check in this year and soften the blow this event will take in 2013 before landing Big 12 and SEC teams in 2014. Yes, competitive teams that may even have regional interest!
We're sure this will at least be a nice getaway for teams from frosty Minneapolis and Syracuse, but it's not exactly the break this bowl was looking for. It's already gone through incarnations as the Houston Bowl, the Meineke Car Care Bowl and the galleryoffurniture.com Bowl. It needs some stability, but it's still a long year away.
The Military Bowl
Dec. 27
Sponsor:Northrop Grumman (NOC) - Get Northrop Grumman Corporation Report
Location: Annapolis, Md.
Matchup: Marshall vs. Maryland
Payout: $1 million
So there are two military-themed bowls sponsored by military contractors. One is in Fort Worth, Texas, pays out a scant $600,000 and was known as the Fort Worth Bowl and Wireless Bowl. The other is the Military Bowl, played right in Naval Academy country in Annapolis, right near the nation's capital.
With the Armed Forces Bowl dating back to 2003, why should you care equally about a bowl established five years later? After all, wasn't the Military Bowl the EagleBank Bowl and Congressional Bowl until just recently?
Well, not scoring either Army or Navy, especially when Navy was bowl-eligible, doesn't do much for this bowl's argument. It's also been kicked down the venue chain a few times: Never making the cut for Washington's FedEx field, but getting the boot from its RFK Stadium to Annapolis just this year. The D.C. area hasn't been kind, which is kind of a shame when you consider what this bowl is supposed to be about.
Getting Maryland involved was a coup, but until the so-called Military Bowl actually gets a military school involved -- like perhaps the one in its hometown -- it's just another low-tier also-ran giving out Sony (SNE) - Get Sony Corp. Report
The Heart of Dallas Bowl
Jan. 1
Sponsor:PlainsCapital Bank
Location: Dallas
Matchup: UNLV vs. North Texas
Payout: $1.1 million
Listen, we understand the economics of this. The Cotton Bowl needs to fill dates, the civic groups like the tourism, seniors on college football teams dig bowl games and ESPN doesn't mind having another bowl to schedule.
Great. For everybody else, the Heart of Dallas Bowl is to Dallas what the New Orleans Bowl is to New Orleans, what the Russell Athletic Bowl is to Orlando, Fla., and what the Poinsettia Bowl is to San Diego -- second best. The Sugar Bowl, CapitalOne Bowl and Holiday Bowl really weren't looking for company, but they got undercards anyway.
That's just what Heart of Dallas is -- the undercard to the Cotton Bowl. It's the runty little sibling that isn't old enough to host the big matchups, but its just the right size to play in the hand-me-down Cotton Bowl building after the actual Cotton Bowl vacated in favor of Cowboys owner Jerry Jones' dream stadium in 2009.
The Heart of Dallas bowl is still valuable for all of the reasons listed above -- plus it's New Year's Day date -- but with the Cotton Bowl only taking on bigger responsibilities thanks to college football's switch to a playoff system, the Heart of Dallas bowl only feels like more of an also-ran. If this year's matchup makes some noise, it could have a ripple effect for second-tier bowls across the country. Dallas will be watching, even if few others do.
Pinstripe Bowl
Dec. 28
Sponsor:New Era
Location: New York City
Matchup: Notre Dame vs. Rutgers
Payout: $1.8 million
The 4-year-old "Syracuse/Rutgers University vs. Team X" bowl finally has the matchup it's always wanted. Notre Dame's subway alumni in New York are a long-standing and scarcely tolerated lot that often considers this team from South Bend a local favorite.
Rutgers, meanwhile, continues its flirtation with national relevance without builder and former coach Greg Schiano -- who left to become the reviled head of the Tampa Bay Buccaneers and make Tampa fans wish team still blacked out home games. Rutgers is in its last year with the American Conference -- best known as the picked-over corpse of the former Big East conference -- before heading to the Big 10 and is getting a head start on one of that conference's grandest traditions: Playing Notre Dame, developing a healthy hatred for that school and then dealing with the impotent rage that results from its refusal to join your conference.
College football really needs this game to pay some dividends, as the New York metro area is a giant vacuum of college football filled only occasionally by alumni groups from Penn State, Notre Dame, Syracuse, Boston College and more far-flung athletic conferences. As any SEC grad who's ever watched a game at a Brother Jimmy's location in Manhattan well knows, there's just about nobody fighting you for the remote when your alma mater's game is on.
The Pinstripe Bowl has been a grand effort to change that perception and make New York to college football what the Big East Championship and National Invitational Tournament made it to college basketball. Unless Connecticut, Villanova, Temple or especially Rutgers steps it up soon, NYC and the Pinstripe Bowl will remain weigh stations in college football's no-man's land.
-- Written by Jason Notte in Portland, Ore.
>To contact the writer of this article, click here: Jason Notte.
>To follow the writer on Twitter, go to http://twitter.com/notteham.
>To submit a news tip, send an email to: tips@thestreet.com.
RELATED STORIES:
>>10 Small Web Sites For Big Holiday Shopping
>>5 Odd College Football Game Sponsors
>>What Is The New Deadline For Christmas Delivery?
Jason Notte is a reporter for TheStreet. His writing has appeared in The New York Times, The Huffington Post, Esquire.com, Time Out New York, the Boston Herald, the Boston Phoenix, the Metro newspaper and the Colorado Springs Independent. He previously served as the political and global affairs editor for Metro U.S., layout editor for Boston Now, assistant news editor for the Herald News of West Paterson, N.J., editor of Go Out! Magazine in Hoboken, N.J., and copy editor and lifestyle editor at the Jersey Journal in Jersey City, N.J.