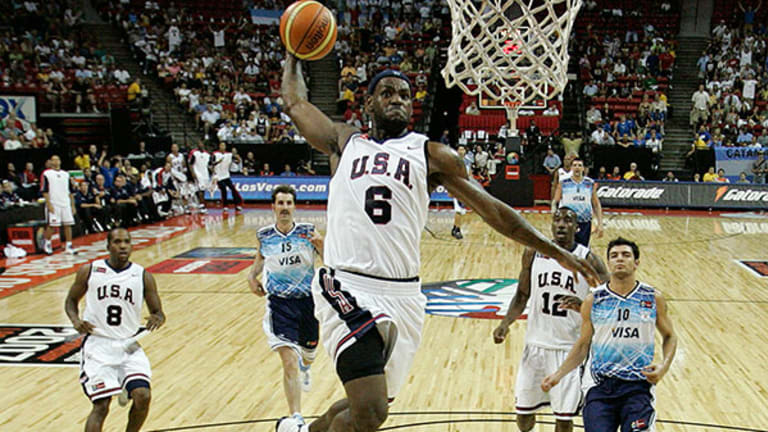 5 Big Global Sports for Your Winter Olympics Hangover
With the 2014 Winter Olympics in Sochi over, it's worth remembering that is is a Ryder Cup, World Cup and even basketball World Cup year.
PORTLAND, Ore. (TheStreet) -- Well, it's over.
After weeks of wall-to-wall coverage on every television station with a peacock logo and nights spent gazing at skicross, slopestyle, curling and cringeworthy injuries, we bid farewell to the Winter Olympics from Sochi, Russia. As mentioned at the beginning of the games, the "TV Everywhere" approach to coverage is finally taking hold -- even if it costs extra to see it all.
For sports fans wired from weeks of ubiquitous coverage, however, watching games or events one at a time is going to turn into its own form of withdrawal. Where are all the live feeds? Where are the multiple angles and endless visual aids and analysis? Where's the rest of the world?
Granted, half of American sports fans will ride that emptiness into college basketball conference tournament time and March Madness before checking out of the world again and getting nice and snug in their cozy little cocoon of isolationist ambivalence. To them we say: Good luck finding that early round game on TruTV.
To the rest of you looking for something a bit broader and more consuming, we're here to tell you that you're in luck. This Olympic year not only contains some perennial global favorites, but also features some events that come up only every few years or so.
We took a look at the sports calendar and found five events that not only keep up the Olympic spirit, but keep the cross-continental rivalries heated:

5. Men's World Ice Hockey Championships
Date: May 9-25
Location: Minsk, Belarus
If it seems like we've been rough on the NHL's involvement in the Winter Olympics, it's only because the league routinely handles international play better during the World Ice Hockey Championships.
Each year, it frees up its players at the end of the season to go play for their respective national teams. As teams are eliminated from the NHL playoffs, players from those squads join as well. Not only does it not interfere with the NHL schedule -- NHL owners hate that aspect of the Winter Olympics -- but it showcases the world's best talent in a far better format.
Where the Olympic men's ice hockey tournament featured a scant 12 teams, the World Ice Hockey Championships feature a field of 16 teams in the top echelon alone: The U.S., Canada, Russia, Belarus, Slovakia, Czech Republic, Latvia, Kazakhstan, Sweden, Finland, Norway, Denmark, Italy, France, Switzerland and Germany. That's only the top tier.
There are three other tiers of teams that play their respective championships in different cities on different dates. Nations can work their way up based on their performance in each year's tournament, and all four levels are a great way to determine how hockey is growing throughout the world. Japan and South Korea have growing hockey cultures and inhabit the second tier of the World Ice Hockey Championship structure. Israel and South Africa, meanwhile, just became third-tier teams.
Who does that leave in the entry level, you ask? Hong Kong, North Korea and the United Arab Emirates, just to name a few. This is the kind of international event that the NHL -- and event partners such as Coca-Cola, McDonald's and Mondelez -- should be promoting, but the fact that it falls during the NHL playoffs means that the league usually keeps its mouth shut, lest a viewer change the channel.
It has no problem parking the games on its own NHL Network every so often while no one is looking, though. Otherwise, the world championships go largely uncovered here in North America.
It isn't clear that they'll be covered here this year, but there are numerous online options for getting feeds from Minsk. Many are of questionable legality, but they'll provide multiple games and a whole lot of analysis.
NHL owners aren't big fans of the world championships during Olympic years and some North American players even grouse about having to play in them. The NHL already has a terse relationship with the event's organizers, the same International Ice Hockey Federation that oversees Olympic ice hockey. Meanwhile, North American hockey's worst cynics will note that Canada hasn't won a gold medal in the event in a decade, while the U.S. hasn't come out on top since 1960.
That's too bad. The NHL hasn't come up with a decent option for international play since the Canada Cup and the World Cup of Hockey -- which hasn't been played in a decade. It would be nice for fans here to see what a functional, all-inclusive international tournament looks like and for, oh, maybe an upstart sports ecosystem such the one Fox Sports is building to pick it up just to fill time, but for now fans are going to have to hope that the NHL Network decides to dedicate even moderate space to it this year.

4. The Ryder Cup
Date: Sept. 26-28
Location:Edinburgh, Scotland
On paper, this is supposed to be a biennial meeting of the best U.S. and European golfers the world has to offer engaging in a fine display of skill and sportsmanship. It's also the event that made Sam Snead snarl at Jack Nicklaus for being too nice to the Euros in 1969, had Paul Azinger and Seve Ballesteros trading barbs in 1989 like Downton Abbey inhabitants and featured a whole lot of growling and crying during the "War At The Shore" in South Carolina in 1991.
We're assured things have calmed down since, but the U.S. team celebrating Justin Leonard's victory putt in 1999 like they were Diddy at the beginning of the Mo' Money, Mo Problems video still doesn't sit well with the Europeans. The fact that the European side still holds the Ryder Cup after the U.S. coughed up a four-point lead on the last day of the 2012 in Medinah, Ill., salves the wound a bit.
This year, the Ryder Cup heads back to Gleneagles in Scotland -- where the event began as an informal British/U.S. contest in 1921 -- for its 40th installment. Olympic host network NBC has its claws in the Ryder Cup, too, with its flagship network, NBC Sports Network and Golf Channel in on the coverage. That means a whole lot more of NBC's "TV Anywhere" approach to viewing and streaming, but it doesn't mean NBC has exclusive rights.
For the past couple of Ryder Cup events, NBC has split duties with ESPN, which typically covers the opening rounds. That's not a bad deal for golf fans, who get access to the event through ESPN and its Watch ESPN app, but it's not great for NBC, which just signed a 15-year contract extension with the Ryder Cup. If Francesco Molinari decides to curse out Tiger Woods on hallowed ground during this year's event, NBC's hoping he can wait until the final rounds.

3. FIBA Basketball World Cup
Date: Aug. 30-Sept. 14
Location: Spain
The concept of the World Championship is almost completely lost on the U.S. sports viewer, which is a real shame where basketball's big event is concerned. U.S. coach Mike Krzyzewski takes it quite seriously and takes time out from coaching the Duke Blue Devils to work out a squad of All-Stars including Dwight Howard, Kevin Durant, LaMarcus Aldridge, Stephen Curry, Kyrie Irving, Russel Westbrook and James Harden (LeBron and Carmelo don't show until the Olympics). There's a reason for this.
While not a terribly accurate predictor of the Olympics that follow two years later, they've been a great means for taking the temperature of Team USA in the interim. The U.S. has developed an almost Soviet obsession with the Olympic gold in basketball, to the point where a bronze-medal finish in Athens in 2004 was deemed tantamount to national disgrace.
Two years earlier, despite having home-court advantage in Indianapolis, Team USA failed to make the podium at the World Championships for the first time since 1978. It was discouraging, but also a reminder that, after 1978, the 1980 U.S. Olympic basketball team failed to earn a medal in the sport for the first and only time in the nation's history.
This year's matchup in Spain is going to be a similar test, but one that takes place on the home courts of its biggest international rival. After winning the World Championships in 2006, Spain made it to the Olympic gold-medal game against the U.S. in 2008 and 2012. It lost by 11 and 7 points, respectively, but gave the U.S. its slimmest margin of victory in the Olympics since its 19-8 win over Canada at the Berlin games in 1936. With core players including Marc Gasol and Ricky Rubio returning this year, home-team Spain will be looking to make a statement.
So where can you see the world's Top 24 teams square off? Well, two years ago, ESPN signed a deal with FIBA that gave it exclusive rights to the the FIBA Americas Championships and EuroBaskets matchups last year and to this year's World Cup. All games will be available on Overall, ESPN, ESPN2, ESPN3 and ESPN Deportes while Team USA and Gold Medal Games will air live on ESPN or ESPN2 and ESPN Deportes. That means anyone with an Internet service provider will get access to at least some of the events through the Watch ESPN app, but ESPN subscribers will get unfettered access to the whole thing.
It's a coup for ESPN, but it's great news for basketball fans who get access to international competition that their hockey counterparts just don't.

2. Tour de France
Date: July 5-27
Location:England and France
That's right, we said England. Occasionally, the Tour kicks off in other nearby countries before heading back into France. This year, the first stages take a route from Leeds to London via the Yorkshire countryside.
Just picture the backdrop of Downton Abbey with a lot more spandex and cycles zipping through it.
It's only fitting, since the past two tour winners (Bradley Wiggins and Chris Froome) were Brits and joined Australian Cadel Evans and Spaniard Carlos Sastre in cleaning up the mess of the Tour's doped-up '90s and 2000s. It's been eight years since Floyd Landis took the last of eight-straight tainted U.S. Tour titles and four years since Alberto Contador gave the Tour its last doping-diminished champion in 2010.
The Brits helped restore some faith in the Tour when there was none and served as squeaky clean bookends to the stripping of Lance Armstrong's seven sullied Tour titles in October 2012. Fans could once again bask in the sweeping, pastoral images of the European countryside without wondering if the cyclists riding through it had been injecting EPO and testosterone behind the hedgerows the night before.
The Tour's newfound, fragile integrity is also great news for NBC, which has made the Tour one of the cornerstone events on its NBC Sports Network. During its prior incarnation as the Outdoor Life Network, the channel picked up the Tour in 1999 and rode the combination of Armstrong's emotionally charged lie, the Tour's photogenic nature and commentator Bob Roll's animated insight into the U.S. sports subconscious. The Tour took hold here in small, but committed niches and became a favorite midsummer distraction for those either bored by baseball or seeking to supplement it.
The niche audience for the Tour and NBC Sports Network's early incarnations as OLN and Versus allowed the channel to give the event the on-air real estate it needed and, eventually, to build an ecosystem of apps and streaming content to complement it. Today, the Tour is now a sprawling offering of streaming video, photography, interactive maps and constantly updating times and stats.
It's been a tough road for the Tour, but one that's only helped NBC hone its cycling coverage and create one of the best multimedia sporting events on the calendar.

1. FIFA World Cup Final
Date: July 13
Location: Brazil
Other than the Olympics, this is the global event worth getting geeked up about.
It's taking place in soccer-mad Brazil, which will then have to turn around and host the Summer Olympics two years from now. Its stars -- including Argentina's Lionel Messi and Portugal's Cristiano Ronaldo -- are among the biggest celebrities on the planet. Songs are sung, bars fill, the colors go on.
Other than the Olympics, it's the one sporting event that even folks who aren't generally into sports can get behind. In the earliest rounds, when everyone still has a remote chance and there are bunches of matches each day, it's the World Cup at its best.
Here in the U.S., it's going to take a minor miracle for the national team to make it past that stage. It's in a group with Germany (a perennial power), Ghana (which seems to have the U.S.' number each time they meet) and Portugal (the "pushover" featuring arguably the greatest player in the world). So what do you do? Watch as much as you can early and hope for the best.
Back in 2005, Disney and Univision paid a combined $425 million to broadcast the FIFA World Cup, soccer's biggest event, in 2010 and 2014. That's $100 million for the ABC/ESPN English-language rights and $325 for Univision's Spanish-language rights. ESPN pushed coverage onto its ESPN2 secondary channel, its ESPN3 broadband site and its Watch ESPN mobile streaming service, but the final gets the ABC treatment. That's also for fans, who'll have access to the World Cup via their antenna, mobile devices and cable or satellite services.
But that's not a certainty from here on out. When it came time to bid for the 2018 and 2022 World Cup in 2011, Fox won out with a $400 million offer that nearly beat the 2005 total for the entire U.S. market combined. Comcast-owned Telemundo, meanwhile, forked over $600 million for the Spanish-language rights. Fox is still building its sports ecosystem and is ironing out its cable and satellite sports channels, as well as its mobile and streaming offerings.
What will it look like four years from now? Maybe a lot like ESPN's, maybe nothing like it. Maybe like a pay-per-view service that no longer provides streaming or even full event coverage for free. We don't know. What we do know is that fans will have a whole lot of access this year. The U.S. first-round rules once again apply: Watch as much as you can this year and hope for the best later.
-- Written by Jason Notte in Portland, Ore.
>To contact the writer of this article, click here: Jason Notte.
>To follow the writer on Twitter, go to http://twitter.com/notteham.
>To submit a news tip, send an email to: tips@thestreet.com.
RELATED STORIES:
>>Is The NHL Really Still The No. 4 Sport
>>5 Reasons This Is The Year To Watch The NHL
>>The Winter Classic Was The Bumbling NHL's Best Idea
Jason Notte is a reporter for TheStreet. His writing has appeared in The New York Times, The Huffington Post, Esquire.com, Time Out New York, the Boston Herald, the Boston Phoenix, the Metro newspaper and the Colorado Springs Independent. He previously served as the political and global affairs editor for Metro U.S., layout editor for Boston Now, assistant news editor for the Herald News of West Paterson, N.J., editor of Go Out! Magazine in Hoboken, N.J., and copy editor and lifestyle editor at the Jersey Journal in Jersey City, N.J.