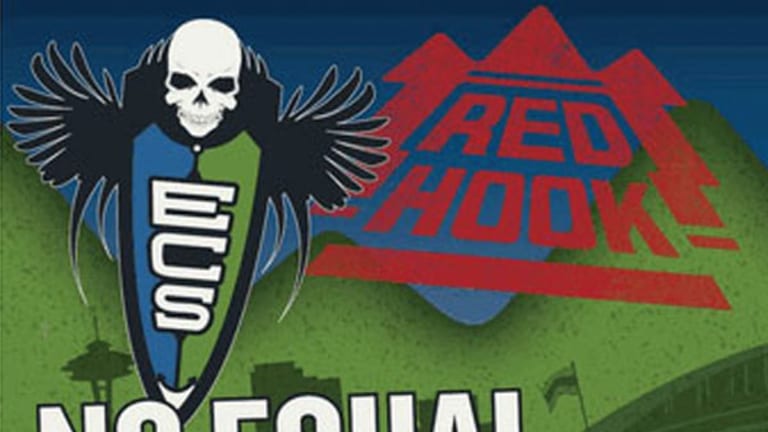 PORTLAND, Ore. (TheStreet) -- It's almost a given that when fans attend a major sporting event, either Budweiser, Coors or Miller will be in the stands with them.
After all, either Anheuser-Busch InBev or SAB Miller/MolsonCoors joint venture Miller Coors are the official beers of Major League Baseball, the National Football League, the National Basketball Association, NASCAR and Major League Soccer and have a huge billboard and concessions presence in each league's facilities. That sponsorship, however, doesn't buy them complete control.
Back in 2012, the Kansas City Royals made local craft beer brewery Boulevard Brewing an official beer sponsor and plastered its huge billboards throughout Kauffman Stadium while pouring its beers out of backpack kegs in the stands. When Oskar Blues Brewing founder Dale Katechis expanded his Lyons, Colo.-based brand to a brewing facility in Brevard, N.C., he coaxed Darlington Motor Speedway into making his brewery the facility's first official craft beer sponsor. Cans of Dale's Pale Ale and Mama's Little Yella Pils are now sold during the Coca-Cola 600 and the Bank of America 500.
By buying into niches and snapping up sponsorships when the price is right, small brewers have made an outsized impression on professional sports. Nowhere is this more true than in Major League Soccer, where the league's $10 million sponsorship deal with A-B InBev's Budweiser brand runs through 2015, but doesn't include local beer rights. Thus, when the Portland Timbers came into the league in 2011, they were able to retain Budweiser as a domestic beer sponsor and the Craft Brew Alliance's Portland-based Widmer Brothers as its craft beer sponsor. Not only does the Widmer logo hang from the rafters at the Timbers' Providence Park, Widmer Brothers founders Kurt and Rob Widmer led a toast to the Timbers Army supporters group before the team's first match with the rival Seattle Sounders earlier this month.
Since then, various other teams have followed the example the Timbers set with Widmer. Sporting Kansas City signed a five-year deal with Boulevard last year to serve as the team's official craft beer sponsor. The brewery has its name splashed across Sporting Park's members club and markets its beers with help from the team, though it stops just short of brewing a Sporting-specific beer. Houston-based Saint Arnold brewery, meanwhile, is now the official beer sponsor of the Houston Dynamo's Texian Army supporters group, though it doesn't have a similar relationship with the team itself.
When fans and teams are lucky, all this craft beer synergy results in a beer that they can call their own. We consulted with the good folks at the Free Beer Movement -- a great soccer site dedicated to converting and educating new fans for the sport in exchange for a free beer every now and then -- and came across five MLS-themed beers worth trying this season:

The Tradition
Style: Golden ale
Brewer: DC Brau
MLS Team: D.C. United
It's a huge step when a local brewer can partner with an MLS team itself and come up with a beer that not only connects the two, but gives craft beer a position it doesn't tend to hold in other professional sports.
Last June, D.C. United and DC Brau Brewing announced that the brewery would produce a D.C. United-themed beer that would be available at the team's nearly 40 partner bars. D.C. United's First Team players ended up picking Donald Wine II's winning submission, which fit in well with DC Brau's existing beers including The Public pale ale and The Corruption IPA. The Tradition, meanwhile, is a 6% ABV American pale ale that's just hoppy enough to mesh with DC Brau's other offerings, but light enough to withstand a full 90 minutes of play.
The beer earned DC Brau not only some recognition from the city's MLS franchise, but also some love in the form of tap room at RFK Stadium for August. This year, DC Brau went ahead and canned the beer just in time for the new MLS season and included a 12-ounce pour of The Tradition in the price of a game ticket earlier this season.

Green and Gold
Style: Kolsch
Brewer: Widmer Brothers
MLS Team: Portland Timbers
RCTID: Rose City 'Til I Die. That's the overarching sentiment behind the Timbers Army supporters group and the mantra that tends to infect any local entity them come into contact with.
For Kurt and Rob Widmer, who are celebrating their 30th year of brewing in Portland, it just happened to be true before MLS decided to grace Portland with its presence. With the Widmers already putting their beer behind the Timbers Army for their team's first matchup with the Flounders -- err, Sounders -- it seemed only right that they'd continue pouring this light, refreshing, 5.2% ABV Kolsch this season as well.
Originally brewed by timbers army homebrewer Abram Goldman-Armstrong and introduced last season, Green and Gold was just one of two beers Widmer released during the Timbers' first MLS playoff campaign. The second, its Big Hearts and Brass Balls Caleb Porter, named for the Timbers' head coach, stayed behind in 2013.
In a town with only two major sports teams -- including the NBA's TrailBlazers just down the street from Widmer's Portland brewpub -- passions among the sports savvy can run pretty high. As Green and Gold suggests, Portland's ties to the Timbers are a bit more intense than the play on the pitch.

ECS No Equal
Style: Amber Lager, Blonde
Brewer: Redhook
MLS Team: Seattle Sounders
Portland can make all the Flounders jokes it wants, but only one team in the MLS has the fan support to draw more than 44,000 per game.
Just as a point of comparison -- albeit one that discounts the number of games in each sport's season -- Major League Baseball's Seattle Mariners haven't averaged more than 40,000 per game since 2003. The Sounders are a team with multiple, huge supporters groups and, as a result, get a whole lot of beer thrown their way.
Woodinville, Wash.-based Redhook got back to its roots last year by returning to the city where it first set up shop in 1981 and giving the Emerald City Supporters group a beer of its own in ECS No Equal Amber Lager. A mild, easy drinking match-day beer, ECS No Equal's lager version was a great beer for the full 90 minutes and really well suited to the Sounders' soggier contests.
This year's entry, a wheaty, citrusy blonde ale balanced with Cascade and Willamette hops, is built around the sunnier portions of the schedule when the ferries make their way to the peninsula and islands and the tourists cram the waterfront and Pike Place Market in lines leading to just about every local food offering imaginable. At 5.2% ABV, it's still benign enough to make it through a long match day, but its citrusy flavor is enough to remind you that when the mountains are out and the Sounders are at home, there are few better places to be than in Seattle's fleeting sun.

Civ's White IPA and Dick's Golden Gorilla FC
Styles: IPA and Golden Ale
Brewers: Big Al Brewing and Dick's Brewing
MLS Team: Seattle Sounders
So we mentioned that Seattle had a few supporters' groups. Gorilla FC is one of the louder, prouder and most proactive in the league.
Last year, the group partnered with Big Al and Dick's to create these two beers and funnel the proceeds to several of the charitable organizations that the group supports. The group's core members are activists and, occasionally, they like to share the wealth with organizations including Doctors Without Borders.
Centralia, Wash.-based Dick's helped that effort by putting together a golden ale brewed with American Two Row, Malted Wheat and Magnum hops. That same ale is then dry hopped with Saaz, Mt. Hood and Tettnanger that give it a lovely aroma and hop flavor that doesn't completely overpower the malt. At 5.5% ABV, it's a fine middle-of-the-road beer for a long match day.
Seattle's own Big Al, meanwhile, kicked in a white IPA backed with light malts and heavily hopped with Nugget and Cascade hops. Though a touch less potent that standard IPAs at 6% ABV, Civ's White IPA is a far more balanced beer that tastes a bit like a wheat beer -- as white IPA should -- while maintaining just enough hop balance to level its more Belgian characteristics.

Rimando's Wit
Style: Witbier
Brewer: Unsacred Brewing
MLS Team: Real Salt Lake
Real Salt Lake goalkeeper Nick Rimando has been a defensive mainstay in MLS since being drafted by the now-defunct Miami Fusion in 2000.
At 34 years old, he's one of the league's elder statesmen, but is still vital to Real Salt Lake's fortunes. He allowed only four regulation-time goals during last year's MLS playoffs and earned Real Salt Lake a spot in the MLS Cup title game -- falling only when the penalty kicks portion of the championship went to sudden death.
He's also one of the league's most fun goalkeepers to watch, largely because of his unorthodox style -- which makes him a great fit for this unorthodox beer. Utah knocked down its laws barring full-strength beers outright, but the stuff poured on tap and sold in supermarkets still has to be 4% ABV or less.
That's exactly what you're getting with Rimando's wit: A whole lot of unfiltered wheat, citrus flavor and coriander spice in a less potent 4% ABV package. That's well below Blue Moon's 5.4% ABV for its Belgian White and even lower than Allagash's 5% ABV white. It's a mild style, but it's far more sessionable than usual for Real Salt Lake fans.
Still, it's nice to be acknowledged, but even nicer to know that Utah's draconian beer laws won't prohibit more collaborations in the future. In fact, Utah's Squatters Pubs and Wasatch Brewing are creating a "Snap Down Header" beer in a yet-unknown style in collaboration with Real Salt Lake's color commentator (and former MLS player) Brian Dunseth this year.
-- Written by Jason Notte in Portland, Ore.
>To contact the writer of this article, click here: Jason Notte.
>To follow the writer on Twitter, go to http://twitter.com/notteham.
>To submit a news tip, send an email to: tips@thestreet.com.
RELATED STORIES:
>>Shed Hell: Nine Inch Nails and Soundgarden Are The New Styx and REO Speedwagon
>>Rock and Roll Hall of Fame Rewrites KISS, Nirvana History
>>NFL Stance On Gay Rights, Slurs Is Good Business
Jason Notte is a reporter for TheStreet. His writing has appeared in The New York Times, The Huffington Post, Esquire.com, Time Out New York, the Boston Herald, the Boston Phoenix, the Metro newspaper and the Colorado Springs Independent. He previously served as the political and global affairs editor for Metro U.S., layout editor for Boston Now, assistant news editor for the Herald News of West Paterson, N.J., editor of Go Out! Magazine in Hoboken, N.J., and copy editor and lifestyle editor at the Jersey Journal in Jersey City, N.J.