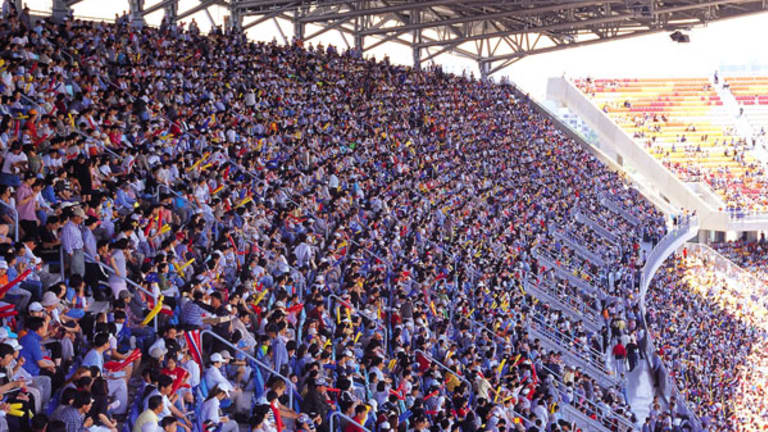 2010 College Football Picks, Week 4: Hogs to Test Tide
Can No. 1 Alabama handle the Arkansas aerial attack and 6-7 quarterback Ryan Mallett?
NEW YORK -- (TheStreet) Maybe this is Boise State's coming-out party Saturday in its home opener vs. Oregon State. No, it's not that the third-ranked Broncos don't have national cachet and rankings or major bowl titles, but this could be the weekend that there are no more doubts or reservations about them being a potential BCS national champion -- all the marbles.
After all, ESPN College GameDay is coming around the Idaho mountains with its stamp of national legitimacy. There still will be some people in Tuscaloosa, Ala., and Columbus, Ohio, who would say now hold on a second.
>>Against the Spread: 2010 NFL Picks: Week 3
But let's face it, the top-ranked Crimson Tide (who face a legitimate test this weekend in the form of the No. 10 Arkansas Razorbacks) has to get through the SEC unscathed, and now it looks like the No. 2 Buckeyes have some legitimate concerns about Michigan this season because of Big Blue's phenom quarterback Denard Robinson. They also have Iowa, Wisconsin and Penn State on tap.
All it takes is one slip-up by either of those clubs and a running of the table by Boise, and the blue-field men get in the big game. And it doesn't matter if they go in as No. 2.
We have a decent slate at the College Football Corner this weekend, so let's get to it.
Arkansas receiver Joe Adams (left)
No. 1 Alabama (3-0) at No. 10 Arkansas (3-0), 3:30 p.m. ET, CBS
: By time Arkansas' Greg Childs took a sideline pass and slashedinto the end zone with 15 seconds left on the clock, solidifying theHogs' win over Georgia last weekend, you could almost hear the faintsounds of "Heisman" and "No. 1 Draft Choice" wafting down from on highand onto the sturdy frame of Razorback quarterback Ryan Mallett.Before this season, the 6-7 signal-caller was known more as a Michigantransfer with a rocket arm. But with an under-pressure, last-secondroad win under his belt, and after starting his first three gamespassing for over 1,000 yards and nine touchdowns, Mallett is quicklybecoming the toast of the SEC.
Or maybe he'll just become toast. This is the SEC after all. Nobetter way to find out just how far Mallett can climb than to matchhis Razorbacks against Alabama and their No. 1 ranking. And whilemost would agree that Nick Saban's crew has all but locked down thetop spot through the first three weeks of the season, 'Bama has yet toface a quarterback like Mallett.
The game, then, will likely come down to just how well the CrimsonTide's secondary -- a unit that's had to drastically rebuild its baseand nickel packages with a host of new starters -- handles the likes ofMallett, Childs and leading receiver Joe Adams. With the game beingplayed in Fayetteville, expect coach Bobby Petrino's group to makeits biggest statement yet on Saturday.
Corner's choice: Arkansas 35, Alabama 31
-- Sung Moss
Oregon State's Jacquizz Rodgers
No. 24 Oregon State (1-1) at No. 3 Boise (2-0), 8 p.m. ET (ABC)
: Boise State hasn't lost a home game since 2001, and Oregon State, looking for any edge, painted one of its practice fields blue to simulate conditions at Broncos Stadium. This, Boise's first home game, has been designated as the Tri-Color Home Opener. Fans were asked to wear blue, orange or white depending on where they sit in the stadium.
The orange-and-black-clad Beavers, who have had a knack for the big upset in recent years (ask USC), will depend on the game-breaking Jacquizz Rodgers, who rushed for 132 yards and two TDs in a victory over Louisville last week. Coach Mike Riley, in traditional coach form, looks at this as just a football game.
"I wouldn't say I fear anything," Riley said at his weekly press conference. "They're a good team. Kellen Moore and all those weapons on offense ... they're really good. But once the game starts, and we get out there, it's football. We've been doing it every week and I've done it since I was 6. It's all the same game. We're going to get prepared and figure out what kind of schemes we want to run. They have a good offense, and I think we have good athletes and a good coach who is going to get us ready."
It could come down to whether Rodgers can bust loose on the Boise defense, which is No. 2 in the nation against the run.
Corner's choice: Boise State 34, Oregon State 24
Oregon quarterback Darron Thomas
No. 5 Oregon at Arizona State, 10:30 p.m. ET (FSN)
: The mighty Ducks, who lead the nation in scoring and total offense as they head into their Pac- 10 opener, haven't really been tested, other than a mild scare early in Knoxville, Tenn. The Ducks' sophomore quarterback Darron Thomas has already thrown for eight touchdowns, including four in a 69-0 trouncing of Portland State last week. But could another Arizona team pull a big upset the way the Wildcats knocked off Iowa last week?
"They finished almost first or second in any defensive category in our conference last year," Oregon Coach Chip Kelly said of the Sun Devils, at his weekly press conference.
Arizona State Coach Dennis Erickson also is respectful of his opponent: "To me, they may be the best football team in the country," he said earlier this week. "They have extremely good athletes.
Spencer Paysinger is an outstanding linebacker, they got all those guys back from the last couple of years.
Casey Matthews is returning so, they're an extremely good defensive football team and they've scored points in the kicking game, also punt returns and kickoff returns. They are about as balanced of a football team as I've seen in a long time. Like I said, they are so explosive offensively. Take the Tennessee game for example."
This game could be a big-play bonanza when it comes to kick returns. The Sun Devils are No. 2 in the country in kickoff returns, led by Kyle Middlebrooks, who has returned five for an average of 39 yards. Oregon's Cliff Harris is second in the nation in punt reutrns and has taken two back to the house.
Corner's choice: Oregon 38, Arizona State 24
-- William Hennelly
Auburn quarterback Cam Newton
South Carolina (3-0) at Auburn (3-0), 7:45 p.m. ET, ESPN
: Year two of coach Gene Chizik's reclamation project at Auburn hasa familiar ring to it. In 2009, the Tigers started out 5-0 beforehitting the meat of their SEC schedule and finishing 8-5 on the year.Just like last year, Auburn is hitting week four of the 2010 campaignundefeated.
But this season's charges are being led by 6-6, 250-poundquarterback Cam Newton, starting for the first time for the Tigersafter going the JUCO route following a stint as Tim Tebow's understudyat Florida. Newton has already put his own stamp on offensivecoordinator Gus Malzahn's zone-read/spread attack this season -passing for 525 yards
and
rushing for another 309 yards throughthe first three games -- while also beginning to meet lofty prep schoolexpectations when he was rated one of the top dual-threat QBs in the country.
So with the Auburn offense humming and leading the SEC inrushing thus far, it's only appropriate that they'll be facing theNo. 1 rush defense in the conference in South Carolina. TheGamecocks have held opponents to a combined 179 yards rushing intheir first three contests. And with freshman running back MarcusLattimore leading the way -- racking up 4.8 yards per clip, and bustingout for a 182-yard performance against Georgia in Week 2 -- many believe this could be Coach Steve Spurrier's finest in his six seasons inColumbia.
But South Carolina has to answer for a staleperformance last week against Furman (that would be Furman of FCSfame) that left many watchers scratching their heads about just whatto expect out of the Gamecocks this season.
Auburn 21, SouthCarolina 17
-- Sung Moss