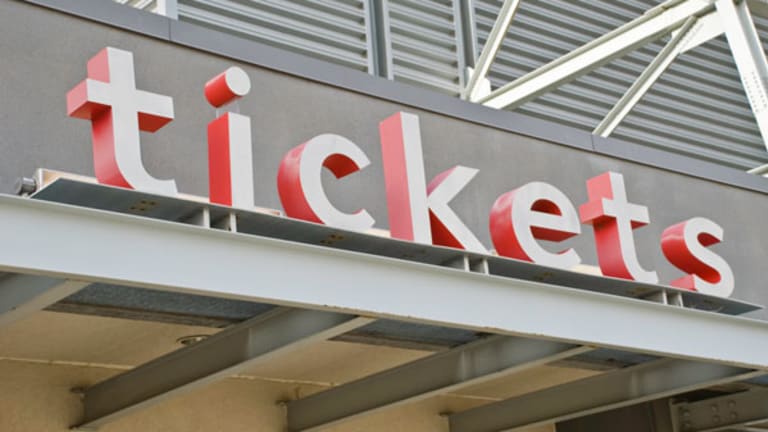 2010 College Football Picks: Week 11
Penn State travels to Ohio State, while Georgia looks for an upset at Auburn.
NEW YORK (TheStreet) -- A lot of the focus recently on the BCS top 25 has been on who would play Oregon, if the No. 1 Ducks presumably finish the regular season 12-0.
There are No. 2 Auburn, No. 3 TCU and perennial BCS title game bridesmaid Boise State, ranked fourth. Auburn, though, has to get by Alabama in the last game of the season. And the Tigers now have plenty of distractions because of recruiting allegations surrouding their quarterback, Cam Newton, the consensus Heisman Trophy favorite.
As for TCU and Boise, the voters seem to think, eh, not the right conferences, let's play carrot and stick and then match them up against each other in a bowl game. Is it fair? Of course not.
But what about No. 6 Stanford and No. 5 LSU? Stanford has only the loss to Oregon and that was a game in which it led by two touchdowns. Andrew Luck is an outstanding quarterback, and the Cardinal are a physical, dominating team.
LSU looked like it took a step up against the Crimson Tide last week, finding its pace on offense. Time to look at the games.
Matt McGloin, Penn State
Penn State (6-3) at No. 9 Ohio State (8-1), 3:30 p.m. ET (ABC, ESPN)
: The Buckeyes are probably wondering why they're not a little higher than No. 9, and now they face a resurgent Nittany Lion team that's coming off Joe Paterno's 400th victory. Paterno's counterpart tomorrow, Jim Tressel, happens to be the second winningest active coach in the FBS with 237 victories. And he's also had a good run against Joe Pa, having won six of the teams' last eight. Furthermore, Penn State has won only once in Columbus, in a classic in 2008, since its first season in the Big Ten (1993).
Paterno praised the Buckeye defense at his weekly press conference: "They're very well disciplined. They're very well coached. They have four or five kids that can play for anybody, four or five guys that could go right into pro football. Very good athletes. They have a couple linebackers. Don't ask me their names. ... But just looking at them, they run well to the ball. They play with a lot of pride. They line up properly."
One of those linebackers, Ross Homan, will return from an injury. He'll aim to stop the hot hand of Penn State quarterback Matt McGloin, who passed for 225 yards and four touchdowns in last week's comeback win over Northwestern. Why not an upset at the Horseshoe?
Corner's choice: Penn State 28, Ohio State 27
Michael Dyer, Auburn
Georgia (5-5) at No. 2 Auburn (10-0), 3:30 p.m. ET (CBS)
: Auburn has been walking on eggshells after the bombshell accusations that agents for Cam Newton sought as much as a $200,000 payment in exchange for the star quarterback's enrollment at Mississippi State. Newton's family and Coach Gene Chizik have denied the allegations, and college football obervers have wondered what impact the situation will have on team morale and on Newton's Heisman candidacy.
The Dawgs can make something out of their year here with an upset. Georgia will look to exploit a questionable Auburn secondary, and that will be more of a possibility now that junior wide receiver A.J. Green is back after a four-game suspension for selling a bowl jersey.
If Newton is looking for a breather from all his rushing and scrambling, he can hand off to Michael Dyer, who rushed for 76 yards on just four carries in last week's rout of Tennessee-Chattanooga. The thinking here is that Auburn can put aside its off-the-field concerns for another week.
Corner's choice: Auburn 38, Georgia 27
Shane Vereen, California
No. 1 Oregon (9-0) at California (5-4), 7:30 p.m. ET (Versus)
: This is the first of three possible banana peels for the Ducks in the last quarter of the season. But before Cal, and subsequently Arizona and Oregon State entertain such notions, they should look at this stat. Oregon averages 54.7 points a game while allowing 17.7. So even if you manage to put a couple on the board, you still have a lot of catching up to do against the nation's No. 1 offense.
Cal is no scoring slouch, having three victories in which it scored at least 50 points. (It also has a game in which it gave up a nickel, 52-17, to Nevada in September.) The Golden Bears also are 4-0 at home.
Cal is hoping for progress from junior quarterback Brock Mansion, who got his first start last week in place of Kevin Riley, out for the season with a knee injury. Junior running back Shane Vereen rushed for 112 yards and two TDs in Cal's victory over Washington State last week.Ultimately, there will be too much LaMichael James and Darron Thomas for the home team.
Corner's choice: Oregon 42, California 24
Josh Boyce, TCU
San Diego State (7-2) at No. 3 TCU (9-0), 4 p.m. ET (Versus)
: With its 47-7 overwhelming of then No. 4 Utah last week, the Horned Frogs served notice that they merit consideration for the BCS title game at this point. Quarterback Andy Dalton, who is approaching 10,000 career passing yards, threw for three scores to wide receiver Josh Boyce in last week's usurping of the Utes.
San Diego State, which has won four in a row, has lost only two games, by a combined six points. Freshman running back Ronnie Hillman went over 1,000 yards for the season last week for the Aztecs, with 151 yards rushing in a 24-19 win over Colorado State. San Diego State also has a stellar quarterback in Ryan Lindley, a 6-4 junior with 55 career touchdown passes.
The Corner is always looking for upset possibilities (it just makes the games more fun). But TCU seems locked in and will be playing its last game at the 80-year-old Amon G. Carter Stadium in Fort Worth, where they have won 19 straight.
Corner's choice: TCU 37, San Diego State 17
Brandon Weeden, Oklahoma State
No. 12 Oklahoma State (8-1) at Texas (4-5), 3:30 p.m. ET (ABC)
: The high-scoring Cowboys have put up 65 points in two games and at least 50 in two others. Quarterback Brandon Weeden passed for 435 yards and three TDs in a romp over Baylor last week. Weeden has 26 TD passes and needs only 18 more passing yards to hit 3,000 this season.
The Cowboys will be facing a Longhorn squad that is in
last
place in the Big 12 South. Texas? Last place. That said, the Longhorns can get to .500 with a win in Austin.
The last time Texas was a home underdog was in 1999, according to ESPN.com. Although Oklahoma State has lost 12 in a row to Texas, the No. 3-scoring offense in the country has too much firepower for the burnt orange.
Corner's choice: Oklahoma State 41, Texas 24