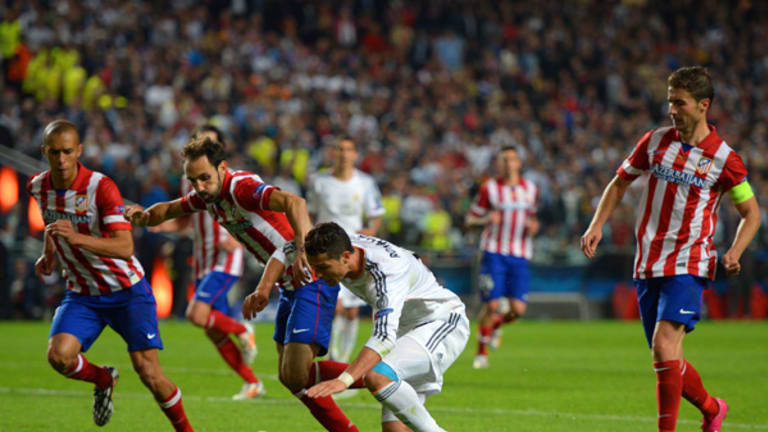 The 10 Richest World Cup Athletes
FIFA gets the most money out of its World Cup by far, but some of the tournament's biggest names are pulling in high eight figures for doing their day jobs.
PORTLAND, Ore. (TheStreet) -- No matter how the World Cup ends, there's already one guaranteed winner: FIFA.
The global soccer governing body is expected to pocket $4 billion in marketing rights alone from this year's World Cup in Brazil. It's pulling in $100 million apiece from partners including Sony, Coca-Cola, Visa and Adidas and $20 million each from sponsors including McDonald's, Budweiser and Johnson & Johnson. It gets the overwhelming majority of the revenue from the sale of official World Cup merchandise, which totaled roughly $2.7 billion in 2010, and absorbs none of the costs when an event runs over budget -- such as the 2010 World Cup did when costs jumped from an estimated $450 million to a cool $6 billion.
Just remember the scale of that revenue the next time someone knocks a soccer player for making millions playing the game. We're not going to say that soccer is a pauper's sport -- unless you're a non-designated player in Major League Soccer who gets paid like a receptionist -- but in the grand scheme of things it's also not nearly as rich as English Premier Leage, La Liga and Bundesliga payrolls may suggest.
When Forbes compiled its list of the 100 Richest Athletes in the world last year, a soccer star didn't appear until No. 8. His name is David Beckham and the 39-year-old hasn't played a minute of meaningful soccer since retiring with Paris Saint Germain last year. He hasn't played for England since 2009 and hasn't scored a goal since the Los Angles Galaxy loaned him to A.C. Milan that same year. Still, that brief time with PSG, his lifetime contract with Adidas and his continued work with H+M paid him $47.2 million last year -- with just $5.2 million coming from actually playing soccer.
We dug into that Forbes list and found the well-paid players who made their nations' World Cup rosters this year. Many aren't household names in the U.S., but they're making more than U.S. athletes who are:

10. Samuel Eto'o
Nation: Cameroon
2013 income: $16.4 million
Salary: $13.4 million
Endorsements: $3 million
Eto'o has been Cameroon's rock since he was 16.
Putting in his first appearance in 1997, Eto'o went on to become the most prolific player and scorer in the Indomitable Lions' history. He's played for his national team 112 times, scored 55 goals and appeared in three World Cups.
In the last decade, however, he's belonged to the world. He scored 108 goals during his time with Barcelona from 2004-09 and pushed Barca to multiple La Liga and UEFA Champions League titles during his tenure. When he was transfered to Inter Milan in 2009, he just kept going: Scoring 33 goals in three seasons and helping Inter to a Serie A and UEFA Champions League title in his first year.
He made more than $20 million a year in Russia afterward before resurfacing in Chelsea this past season. Despite scoring 9 goals for the Blues, he turned up on a list of players being released -- along with England mainstays Ashley Cole and Frank Lampard. Still, there's a chance he could be re-signed and, at 34, even nagging injuries haven't taken the life out of his game.

9. Steven Gerrard
Nation: England
2013 income: $17.2 million
Salary: $12.7 million
Endorsements: $4.5 million
The Liverpool and England captain is the anchor of English football, even if some fellow in Manchester insists on being its face.
Playing his entire career in Liverpool (where he began his career in Liverpool F.C.'s system at age 8), Gerrard has led the Reds to two FA Cup titles and a UEFA Champions League title in 2004-2005. He spent much of last season setting up striker Luis Suarez as Liverpool racked up 101 goals and missed an English Premier League championship by just two points thanks to a loss to Chelsea on the last day of the season.
Still, on the Kop in Liverpool, Gerrard is to the Reds what Derek Jeter is to the Yankees, and that comes with a few perks. Gerrard counts Adidas, Jaguar and Microsoft's Xbox One among his endorsements and had a commemorative shoe stitched up to mark his 100th appearance with England in 2012. He's played 110 matches with England overall and has scored 21 goals for the Three Lions during that span: Including England's lone goal vs. the U.S. in the 2010 World Cup.
There's a strong chance that, at age 34, this will be Gerrard's last World Cup. Even if that's the case, his former teammate Beckham has shown that a player's brand can live on long after his playing career.

8. Didier Drogba
Nation: Ivory Coast
2013 income: $20.8 million 
Salary: $15.8 million 
Endorsements: $5 million
It's difficult to believe that Drogba's been around this long. He scored the Ivory Coast's first World Cup goal in 2006, but that was well after his stint with Marseille and his debut with Chelsea.
Between 2004 and 2012, Drogba scored 100 goals for Chelsea, scored the only goal in their FA Cup final win in 2010 and scored both the late-match tying goal and winning penalty shot to give Chelsea the 2012 Champions League title. In all, Drogba pushed Chelsea to three Premier League titles, four FA Cup wins and a Champions League title while winning two Golden Boots as the Premier League's top goal scorer in 2007 and 2010.
He's since kicked around around China before landing with Turkish powerhouse Galatasary in 2013. Though perhaps past his club team prime, the 36-year-old is still invaluable to Ivory Coast both on the field and off. Yes, he's put in 101 international appearances and 65 goals, but the man's pleas got his country to pause a five-year civil war for the 2006 World Cup. His continuing efforts to bring peace to his strife-torn country not only got him a gig as a United Nations Goodwill Ambassador and a spot on Time Magazine's list of the 100 most influential people of 2010, but built a hospital in his hometown of Adibijan after he donated his $3 million signing bonus from a Pepsi endorsement to the cause.
Also see: The World Cup Built a Better ESPN>>
So great is Drogba's influence in both the Ivory Coast and his second home in France that his amateur club in the latter country named a new stadium after him. Drogba made his mark on the World Cup just by getting the Ivory Coast to it. It's his mark on the world around him that's proving far more indelible.

7. Yaya Toure
Nation: Ivory Coast
2013 income: $21 million
Salary: $18 million
Endorsements: $3 million
Happy birthday, Yaya.
It was on May 13, but Puma spokesman Toure tends to get a bit sensitive about such things -- even when his Manchester City squad is on its way to its second English Premier League Championship in three years. Toure didn't like the fact that City dawdled before giving him a new deal in 2013 and has said he could leave the team over slights including no one from the club wishing him a happy birthday, but he's putting off an explanation until after the World Cup.
Fine. We'll offer a belated toast and note that the Elephants of Ivory Coast aren't to be trifled with, and Yaya Toure is a big reason why. The midfielder has made 86 appearances with Ivory Coast since its first World Cup appearance in 2006. In that time, he's score 16 goals, including one in Ivory Coast's 2010 World Cup win over North Korea and four to help them qualify for a trip to Brazil.
It's also worth mentioning that Toure has played with some of the world's most prestigious clubs -- Olympiacos in Greece, Monaco in France, Barcelona and Manchester City -- and basically willed City to an FA Cup title in 2011 by scoring its only goals in the semifinals and finals. Sure, he can get a bit touchy, but there are few people more valuable to their nation's World Cup hopes than Toure and Drogba.

6. Sergio Aguero
Nation: Argentina
2013 income: $21 million 
Salary: $17 million 
Endorsements: $4 million
Will he stay with Manchester City through the 2017 extension the team gave him? Will he transfer to Barcelona to play with his countryman Messi?
Each scenario is of less concern to Argentina than what Aguero can do to get La Albiceleste its first World Cup win since 1986. They all know what he can do for City. His 94th-minute goal against the Queens Park Rangers in 2012 to give City its first Premier League title in 44 years is still stuff of legend. His 13 goals in international competition with City is a mark that team hasn't seen in nearly 40 years. It was enough to make him Puma's highest paid soccer endorser and to get Pepsi and Gillette to chip in a bit as well.
Though injury has kept him from the 34 appearances and 23 goals he amassed in 2012, his 17 goals this season were a vital part of City's march to a second title. They're also about five goals off of the mark for his entire eight-year international career with Argentina. Though he scored three goals to help Argentina qualify for the World Cup in 2010, he went 0-for-the-tournament afterward. Expectations are a bit higher this year after he put up a whopping five goals during Argentina's World Cup qualification, but the pressure on Argentina is even greater now that it has the chance to show up Brazil in its own backyard.

5. Wayne Rooney
Nation: England
2013 income: $22 million 
Salary: $18 million 
Endorsements: $4 million
Rooney is only 28 years old, but he's been the crux of the English national team for far longer than his years suggest. That hasn't always worked out so well for England.
Making his debut for Everton in 2002 at age 16 and transferring over to an all-powerful Manchester United team at age 18, Rooney is the youngest portion of England's golden era of soccer. He made his international debut for England at age 17, which seemed to coincide with one of the most miserable stretches of misfortune the English side has suffered. In Euro 2004, he scored four goals in four games, but was injured against Portugal and carted off -- only to watch England lose on penalty kicks. In 2006, Rooney not only couldn't find the net, but stomped on the groin of Portugal defender Richard Carvalho during the quarterfinals right in front of a referee. When Manchester United teammate Cristiano Ronaldo called him on it, Rooney shoved him and was sent off with a red card. Again, England would be eliminated on penalty kicks.
Four years later, after scoring 9 goals in the World Cup qualifiers, Rooney spent much of the 2010 World Cup silent as England tied Algeria and the U.S. before managing a one-goal victory over Slovenia. They were pounded 4-1 by Germany in the Round of 16 and sent home. Rooney was banned for three matches during Euro 2012 and knocked out in the quarterfinals by Italy, which led England coach Fabio Capello to say what anyone who'd watched Rooney's career was already thinking: Rooney only plays well in Manchester.
Rooney is now England's best all-time international goal scorer with 39, but never have that many goals looked so meager. Compared to a career with Manchester United that's seen him score 232 goals in 517 appearances while racking up five Premier League titles and a UEFA Champions League title, Rooney's contributions for England look almost suspect. Still, it's that career with United that's scored him endorsements with Nike, Samsung and HarperCollins -- which has published three books about his life. Meanwhile, in February, United gave him 4-year contract extension worth up to $104 million. It could be worse: The world could have been subjected to three seasons of his reality show Wayne Rooney Street Striker as unfortunate fans in the U.K. were.

4. Radamel Falcao
Nation: Colombia
2013 income: $26 million 
Salary: $23 million 
Endorsements: $3 million
Last season, Falcao was tearing up La Liga by scoring 34 goals in 41 appearances for Athletico Madrid -- helping the team upset Real Madrid for its first Copa del Rey title in 14 years . Apparently that deserved a vacation.
The 28-year-old striker known as El Tigre signed a 5-year deal with AS Monaco that not only double his salary, bu put him in the deep pockets of Russian billionaire Dmitry Rybolovlev. Falcao says he's playing there because his idol Thierry Henry played there, but that didn't exactly send him sprinting for Harrison, N.J., and a locker next to Henry's in Major League Soccer. The problem is that he wants to be like Henry five, maybe 10 years ago: Signing on with Gillette, being the company's spokesman in Colombia and getting Samsung and Puma to pick up some of the other bills.
Also see: The World Cup Is an Absolute Money Pit>>
But Colombia doesn't care about which yacht along the Mediterranean is Falcao's or what kind of view he has for the Gran Prix. The nation is far more interested in the nine goals he scored during the World Cup qualifiers and how they'll translate to wins against Greece, Japan or Ivory Coast. If Falcao is as great as he was in La Liga -- where former Barcelona coach Pep Guardiola compared him to Messi and Cristiano Ronaldo -- he'll have earned his spot by the sea.

3. Neymar
Nation: Brazil
2013 income: $28 million 
Salary: $12 million 
Endorsements: $16 million
Imagine having an entire nation's hopes on your shoulders at age 22.
That's basically Neymar's 2014 World Cup, but it's about the least Neymar has to deal with. Brazilian greats Ronaldo and Ronaldinho have tabbed him to become the greatest player in the world. His Barcelona teammate Xavi has said the same, which is no small compliment when they both play beside a four-time player of the year in Lionel Messi.
Neymar basically lit up Brazil's Brasilerao league, scoring 136 goals in 225 appearances during his five years with Santos -- which is best known as Pele's old club team. When he jumped on with Messi, Xavi and company in Barcelona this season, he scored 15 goals including a hat trick against Celtic in the early goings of the UEFA Champions League tournament.
This is his first World Cup with Brazil and, naturally, expectations are a bit high -- and not just from his fellow Brazlians. Nike was so impressed with Neymar that it signed him to an 11 year contract when he was just 19. Panasonic, Volkswagen, Unilever and BP have all jumped on as well, leaving him with sponsorships that could total as much as $20 million by year's end.
Last year, Time magazine dubbed him the next Pele, while Brazilian Vogue placed him on its cover alongside Gisele. He's already considered more marketable than Messi and Cristiano Ronaldo, which should help bump up his position on lists like this for years to come.
He made his presence felt internationally with three goals at the 2012 Summer Olympics in London and got the striker's No. 10 and player of the tournament honors in Brazil's 2013 Confederations Cup win. Now Brazil and the rest of the world wait to see what he can do on the sports' biggest stage. So far, Neymar's been up for it.

2. Lionel Messi
Nation: Argentina
2013 income: $65 million 
Salary: $42 million 
Endorsements: $23 million
This is what Neymar's up against: Ballon d'Or and Player Of The Year nominations by age 21, winning both by age 22, Barcelona's top scorer of all time by 24, 200 goals in La Liga by 25. Messi is only 26 and he's won six La Liga titles, three UEFA Champions League titles and a host of other hardware for Barcelona.
He's scored multiple hat tricks in El Clasico against Barca's hated rival, Real Madrid. He has scored more than 360 goals in his club career. Last season's 41 goals were the fewest he's scored since 2010 and he was still in the running World Soccer Player of the Year, placing second to Cristiano Ronaldo.
He's the global brand ambassador for Turkish Airlines and has Kobe Bryant playing second fiddle to him in commercials. He's featured in World Cup ads for Adidas, Samsung and Pepsi. He's one of the last athletes Gillette actively employs as a sponsor. He's so valuable that his next contract extension with Barcelona should put him atop this list.
Yet he still manages to catch flak for his international performance. He was all of 19 during his first World Cup in 2006 -- and was left on the bench during a 4-1 elimination loss to Germany. Though he was on the gold medal Argentine squad at the 2008 Olympics, he got the playmaker's No. 10 for the 2010 World Cup and scored four goals during qualifiers en route to pushing Argentina though to the quarterfinals, where it was flattened by Germany.
Messi's 37 goals are the most ever scored for Argentina in international play and are three more than Diego Maradona's tally. If anything shy of a World Cup win is failure, then Argentina's likely found the only way to make Lionel Messi fail.

1. Cristiano Ronaldo
Nation: Portugal
2013 income: $73 million
Salary: $49 million
Endorsements: $24 million
Though a pre-World Cup injury has Portugal worried about Ronaldo, a healthy Ronaldo is the best chance Portugal has of getting by Germany, Ghana and even the U.S.
After all, this is the same player who just scored 69 goals in 59 appearances for both Real Madrid and Portugal last season. He won the Ballon d'Or and a five-year, $206 million contract for his efforts and has become a NASCAR-type vehicle for just about any brand that wants to attach itself to him.  He's under contract with Nike, Herbalife, Emirates, Tag Heuer and Samsung and singlehandedly launched Nike's guerilla World Cup marketing effort with a single tweet.
More importantly, he's a monster for Portugal in international play. He's scored 49 goals in 110 appearances. He scored seven goals to help Portugal qualify for the World Cup in 2006 and scored the second goal in the team's 2-0 win over Iran en route to the semifinals. He scored a whopping eight goals to get Portugal to Brazil, including three in a 4-2 win over Northern Ireland and all four goals in Portugal's 1-0 and 3-2 wins over Sweden. He's basically willed Portugal this far and -- in his country's eyes -- is worth every penny anyone pays him.
If he's well, he makes Portugal a contender.
-- Written by Jason Notte in Portland, Ore.
>To contact the writer of this article, click here: Jason Notte.
>To follow the writer on Twitter, go to http://twitter.com/notteham.
>To submit a news tip, send an email to: tips@thestreet.com.
RELATED STORIES:
>>The World Cup Is An Absolute Money Pit
>>Cutting Landon Donovan Lost Sponsors For World Cup
>>How O.J. Simpson Created A Wider World Of Sports
Jason Notte is a reporter for TheStreet. His writing has appeared in The New York Times, The Huffington Post, Esquire.com, Time Out New York, the Boston Herald, the Boston Phoenix, the Metro newspaper and the Colorado Springs Independent. He previously served as the political and global affairs editor for Metro U.S., layout editor for Boston Now, assistant news editor for the Herald News of West Paterson, N.J., editor of Go Out! Magazine in Hoboken, N.J., and copy editor and lifestyle editor at the Jersey Journal in Jersey City, N.J.