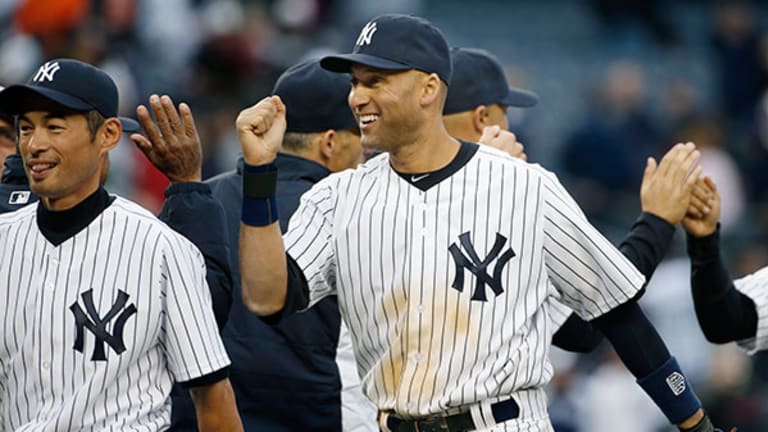 10 Most Expensive Tickets In Major League Baseball in 2014
Baseball tickets are the least costly in major league sports, but aren't such a great deal in markets where success and loyal fans keep the money flowing all season long.
PORLAND, Ore. (TheStreet) -- Major League Baseball may be still be one of the best values in the land, but try telling that to fans in cities where team owners charge basketball and football prices for the national pastime.
Baseball hasn't had a strike since its World Series-canceling work stoppage in 1994 through 1995 and hasn't locked out players since 1990. The National Basketball Association (which locked out players in 1995, 1996, 1998-99 and 2011) and the NFL (which locked out players in 2011 and referees in 2012) can't say the same. The National Hockey League has lost more than 2,300 games to lockouts and strikes in the past 20 years. Baseball fans, meanwhile, have been rewarded with ticket prices that average $27.93, according to Team Marketing Report.
That's a little more than half the price of an average NBA ticket ($52.50), slightly less than half the cost of a ticket to an NHL game ($61.82) and well below the price you'd spend on any given Sunday in the NFL ($81.54). That doesn't mean MLB is an all-around discount, but it's still a great deal for folks outside of its larger markets. It is, however, 2% higher following a season in which overall attendance and television ratings dropped.
We took a look around the league and found 10 cities where the average Major League Baseball ticket price borders on myth and looked into what each gives fans for their money:

10. Detroit Tigers
Average ticket price: $28.22
Change from 2013: 7.1%
How do you get away with hiking prices in Detroit? Simple: Make the ALCS three years straight and in four of the past eight years and go to the World Series twice during that span. Granted, the Tigers have only won one World Series game in that time, but this is a fan base that saw its team lose 119 games as recently as last year, which followed a 106-loss season the year before. Having a pitching rotation stuffed with aces such as Justin Verlander, Max Scherzer and Anibal Sanchez and employing arguably the best hitter in the league and reigning American League Most Valuable Player in Miguel Cabrera goes a long way in justifying a price hike. After all, a payroll nearing $150 million doesn't pay for itself.

9. Seattle Mariners
Average ticket price: $28.45
Change from 2013: None
In fairness to the Mariners, they're here largely because awful teams including the Houston Astros had to drop prices. Still, considering that the Mariners haven't made the playoffs since 2001, have had three winning seasons in the past decade and are outdrawn consistently by Major League Soccer's Seattle Sounders, we're genuinely surprised the ticket price stays this high. If the Sonics came back tomorrow, the Mariners would be the fourth most-popular team in the city -- though even the WNBA's Seattle Storm has won a title in the past five years. Last year, they drew fewer than 22,000 fans per game and considered it an improvement. At least the food and beer is decent, otherwise big-ticket free agent pickup Robinson Cano might feel awfully lonely in Safeco Field.

8. San Francisco Giants
Average ticket price: $31.63
Change from 2012: +5.1%
It's a gutsy move to hike ticket prices a year after you miss the playoffs, but that's the kind of good will that years of success buy you. What justifies more than $30? Well, this team has won two World Series in the past four years, still has a solid pitching core and has something to prove after seeing the rival Los Angeles Dodgers in the National League Championship Series last year. Plus, AT&T Park is gorgeous and stocked with crab sandwiches, garlic fries and great local beer. It's also a tech marvel, which makes it easy to keep yourself busy on a mobile device when the game gets a little bland.

7. Minnesota Twins
Average ticket price: $32.59
Change from 2013: 0%
Man, what happened to this franchise? The Twins have finished at or near the bottom of the American League Central Division for the past three years after being a perennial playoff contender. Their relatively new home at Target Field has known little else but misery since the team was swept out of the only playoff series the building hosted during its inaugural season in 2010. Now fans spend the early portions of the Twins' lethargic campaigns freezing in the outdoor facility or getting snowed out, while the Twins' two World Series titles fade further into memory. The Metrodome was bleak, but it wasn't this bad.

6. St. Louis Cardinals
Average ticket price: $33.84
Change from 2013: +2.2%
So maybe they lost the battle of fanbase smugness to the Boston Red Sox after losing the World Series last year. It doesn't matter. Sustained excellence is as much of a driver for price increases as titles are. If the folks keep coming out and the playoff appearances keep happening, the tickets won't get any cheaper. Until the team slacks off for any length of time, however, success comes at a price. Tony LaRussa and Albert Pujols are long gone, but the Cardinals remain among baseball's elite.

5. Washington Nationals
Average ticket price: $35.24
Change from 2013: 0%
The Nats stayed on the right side of .500 last year, but it's tough to repeat that 2013 feat of jacking up ticket prices by 15% and charging $9 for beer when you're a year removed from your first-ever playoff appearance. That said, the Nats are definitely getting the hang of this whole major-market thing and squeezing revenue wherever they can find it. With young stars such as Bryce Harper and Stephen Strasburg, owner Ted Lerner has plenty of opportunity to boost revenue. Teams with two winning season in nine years usually don't get to name their price, though.

4. Philadelphia Phillies
Average ticket price: $37.42
Change from 2013: None
It's getting ugly in Philly. Last year's sub-.500 season continued a sharp slide that put the Phillies' 2008 World Series win even further behind the franchise. Chase Utley, Ryan Howard and Jimmy Rollins are showing their age. The Phillies' once-vaunted rotation full of aces has watched its core either retire or deplete. More importantly, the balance of power in the NL East had shifted south to D.C. and Atlanta. This is the second-straight year the Phillies have stood pat on prices, though early outings indicate it won't be the last.

3. Chicago Cubs
Average ticket price: $44.16
Change from 2013: -0.5%
Hey, a price cut. That's great, since the cost of this year's ticket is basically going toward feeding the team's new pantsless mascot, kicking Old Style beer out of the ballpark, clipping the ivy on the outfield wall and curating what's become the Wrigley Field Baseball Museum and Exhibition Center. General Manager Theo Epstien continues to run a team that's the shame of the NL Central now that the Astros have fled to the American League. The Cubs seem more concerned with turning Wrigleyville into even more of a drunken baseball Disneyland that in seeing more "W" banners on Clark Street. If that means modernizing Wrigley into something unrecognizable and angering just about every neighbor with a roof deck in doing so, that seems just fine to all involved.


2. New York Yankees
Average ticket price: $51.55
Change from 2013: None
So the team still has a payroll of more than $200 million, an ancient roster and a season between it and its last playoff appearance. So what? In the Yankees' eyes, letting you into the building to see Derek Jeter's final season, watch Masahiro Tanaka pitch and soak in the tranquillity of Alex Rodriguez's absence provides enough justification for that price. Oh, and the fact that the team hasn't had a losing season since 1992, has missed the playoffs only twice since 1994 and has made it to the American League Championship Series in three of the past five years. Scoff all you'd like, but those prices aren't falling in the near future.

1. Boston Red Sox
Average ticket price: $52.32
Change from 2013: 4.8%
This is what three World Series and a beloved, historic home ballpark can do. It can make $7.75 for a 12-ounce beer seem reasonable. It can make hiking up the highest-priced ticket in baseball seem like a great idea. It can make Wally the Green Monster, Sweet Caroline and pink hats all seem bearable. It can cure a lot of ills and heal a lot of wounds. That's great for the team and the city, but not so fantastic for a fan's wallet.
-- Written by Jason Notte in Portland, Ore.
>To contact the writer of this article, click here: Jason Notte.
>To follow the writer on Twitter, go to http://twitter.com/notteham.
>To submit a news tip, send an email to: tips@thestreet.com.
RELATED STORIES:
>>10 Highest Beer Prices In Major League Baseball
>>Centerplate Lets Major League Baseball Forget Peanuts and Cracker Jack
>>Budweiser's Baseball Opening Day Holiday Plan Is Brilliant
Jason Notte is a reporter for TheStreet. His writing has appeared in The New York Times, The Huffington Post, Esquire.com, Time Out New York, the Boston Herald, the Boston Phoenix, the Metro newspaper and the Colorado Springs Independent. He previously served as the political and global affairs editor for Metro U.S., layout editor for Boston Now, assistant news editor for the Herald News of West Paterson, N.J., editor of Go Out! Magazine in Hoboken, N.J., and copy editor and lifestyle editor at the Jersey Journal in Jersey City, N.J.