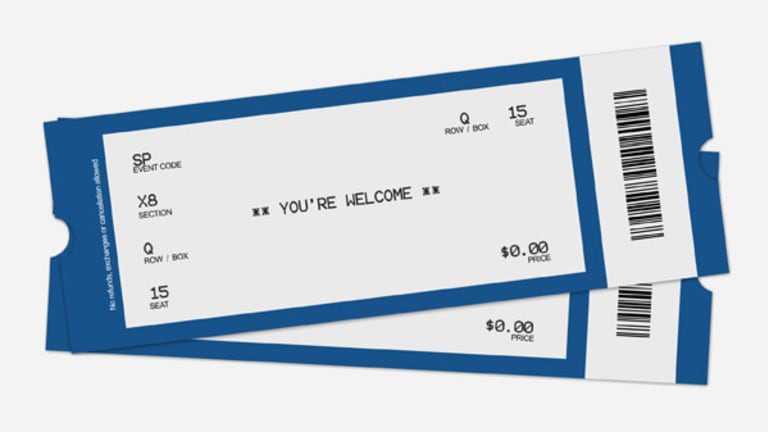 Publish date:
10 London Summer Olympics Brands You Can't Escape
The Olympics aren't cheap, and that makes giant business partnerships necessary and branding ubiquitous.
The Olympics aren't cheap, and that makes giant business partnerships necessary and branding ubiquitous.
NEW YORK (MainStreet) -- Companies don't care if you watch the 2012 London Olympics this summer: They're going to market them to you all the same.
The Olympics aren't cheap. Early estimates put the cost of this summer's games in London between $15 billion and $18 billion. The security budget alone doubled to $900 million from $450 million since initial tallies were made. Those kinds of costs require partnerships with some of the biggest corporations the world has to offer and lots of cash from those businesses in exchange for their names and logos plastered all over the event.
This means lots of Olympic-themed commercials, lots of air time and lots of awkward parallels drawn between athletes and the products their images are pitching. We took a look at the London 2012 partner roster and found 10 companies whose commercials and images you won't be able to escape until the closing ceremonies:
Procter & Gamble
(PG) - Get Report
The consumer products giant wasted no time getting its Olympic ads out there and was airing its heartstring-tugging
tribute to soccer and gymnastics moms
by Mother's Day. That was bolstered with online profiles of Olympic parents including U.S. gymnast
mother and U.S. swimmer
mom. If you're wondering when they're going to start selling you product, just check out Olympic gold medalist Michael Phelps' attempt to swim Americans clear of dandruff in the video above.
Acer
You won't see
Apple
(AAPL) - Get Report
and the iPad on the podium this Olympics, nor will you see
Microsoft's
(MSFT) - Get Report
Surface anywhere near the medals ceremony. Nope, that kind of honor is reserved for a company best known for making netbooks. You know, like laptops but smaller? Yeah, nobody else got it either, which is why Acer will be
for its A510 Olympic Games Edition Tablet as it supplies all of the computing equipment for this year's games. Will it get average consumers to stop using "iPad" as a genericized tablet trademark or critics to stop using it as the reference point for every new tablet that comes along? Let's just say the athletes aren't the only ones dreaming big at these games.
Visa
(V) - Get Report
? Thousands of screaming fans? Morgan Freeman narrating it all? Yep, that's about par for Visa, which has been an Olympic sponsor for a quarter-century and has some idea of how this game is played. Go big, go global and go remind everyone that your credit card is accepted in all sorts of exciting and dramatic places around the world.
Panasonic
( PC)
Yet another longtime Olympic sponsor with a flair for the dramatic, Panasonic is trying to drag Olympics watchers off the edge of their seats with its ads because it has no other choice. The visuals have to look crisp and colorful, their Viera sets have to look bigger than life and all of the above needs to convince you to run out and get one. Why? Because the 20-year Olympic partner is throwing around a whole lot of cash to work with NBC and present the Olympics in 3-D this year. We're not quite sure how that's going to work, as NPD Group says 3-D televisions are only about 10% of the whole HDTV market -- and two-thirds of the 3-D TVs out there still require costly shuttered glasses. At least the ads look pretty.
British Airways
OK, BA, you're the official airline of London 2012 and have British identity written all over your brand. How are you going to hold the public's attention for minutes at a time for days filled with hundreds of events? With an ad featuring a race between pieces of luggage, you say? Listen, folks in the states love this kind of stuff. We race subway trains, sausages, pierogies and team mascots all in the name of entertaining sports fans. But we only do it between innings and most people are in what you know as "the loo" for much of that time. Your ad may run for a solid hour during the Olympic weeks and it's already tough to get folks to sit still long enough to see a beach volleyball game end. Your baggage race may the only thing viewers watch for less time than the modern pentathlon.
Samsung
Sure, Samsung wants you to buy 3-D televisions too, but the electronics company has far bigger medals to chase during this year's games. Samsung is the Games' official "wireless communication equipment" sponsor, and its Galaxy line of phones and tablets is in a deathmatch with Apple and its products that a nasty legal battle between the companies hasn't helped. If David Beckham can help the cause by playing
Ode To Joy
with soccer balls and smartphone owners can get on board with Samsung's Olympic Genome Project app that finds ties between
Facebook
(FB) - Get Report
users and Olympic athletes,
could become its best weapon against its Cupertino-based competitors.
McDonald's
(MCD) - Get Report
McDonald's has been an Olympic sponsor for more than 35 years, but the Brits are taking this year's sponsorship with a big side of hate. They're already uncomfortable with commercials airing there featuring Olympic happy meals that give kids mini pedometers under the guise of "helping" Olympic mascots get to the games. There's no word if the British children's route to the Olympic venues includes a quick stop at the drive-thru window for a sack of burgers and a flagon of milkshake, but British doctors are already calling the supersized McDonald's proposed for the athlete's village
McDonald's Olympic ads have yet to air in the U.S. -- where there's a much higher tolerance for the pairing of high-impact athletics with high-fat foods -- but so far London isn't down with the clown.
Omega
In case you were wondering, they're still making watches. Yes, the ones with the hands. You know who knows this? Boomers, who've seemingly never stopped wearing them and will leave watches to their heirs in the same volumes that the World War II generation left behind Hummel figurines. It's that generation that's going to love
featuring well-toned athletes, precision watches and the ultimate Boomer sports anthem: The Rolling Stones'
Start Me Up
off their 1981 album
Tattoo You
. Mick is still cool enough to shrug off
Moves Like Jagger
and play with Arcade Fire and Foo Fighters, but his songs have been reduced to selling timepieces that are far less functional than they were when they first started timing Olympic events 80 years ago.
BP
(BP) - Get Report
This has to be a better sponsorship outing for BP than its 2010 World Cup spin. That summer, BP had to spend its time in South Africa hiding behind its Castrol brand as millions of gallons of its fuel spewed into the Gulf of Mexico. There's some real estate between the company and the Deepwater Horizon disaster, but apparently not enough for it to mention oil in Olympic ads featuring athletes sprinting through the company's pitch about reducing its carbon footprint and using "energy grasses." There will be gymnastics floor routines that don't feature as many awkward contortions as BP makes in its ad.
Coca-Cola
(KO) - Get Report
No, you don't see relay runners or cyclists grabbing for a Cherry Coke along their route or belching their way across the finish line. You know that, we know that, everybody knows that. Maybe Coke's presence at the games is just as much a reminder of obesity as McDonald's Golden Arches, but Mark Ronson's not hearing any of that. The DJ and engineering phenom behind Amy Winehouse, Lily Allen, Wale and others decided to set London to a beat and Coca-Cola's giving you plebes the privilege of listening to it. What's the problem? London's
moving
to that beat, so it's working off that two-liter of Coke it just downed. In the meantime, you get the beats, athletes and orchestrated crowd responses Coke thinks you love. You're welcome.
-- Written by Jason Notte in Boston.
>To contact the writer of this article, click here:
Jason Notte
.
>To follow the writer on Twitter, go to
.
>To submit a news tip, send an email to:
.
RELATED STORIES:
>>10 Summer Beers That Won't Break Your Budget
>>10 Best Vacation Cities For Beer Lovers
>>The World's 10 Drunkest Countries
Jason Notte is a reporter for TheStreet. His writing has appeared in The New York Times, The Huffington Post, Esquire.com, Time Out New York, the Boston Herald, the Boston Phoenix, the Metro newspaper and the Colorado Springs Independent. He previously served as the political and global affairs editor for Metro U.S., layout editor for Boston Now, assistant news editor for the Herald News of West Paterson, N.J., editor of Go Out! Magazine in Hoboken, N.J., and copy editor and lifestyle editor at the Jersey Journal in Jersey City, N.J.