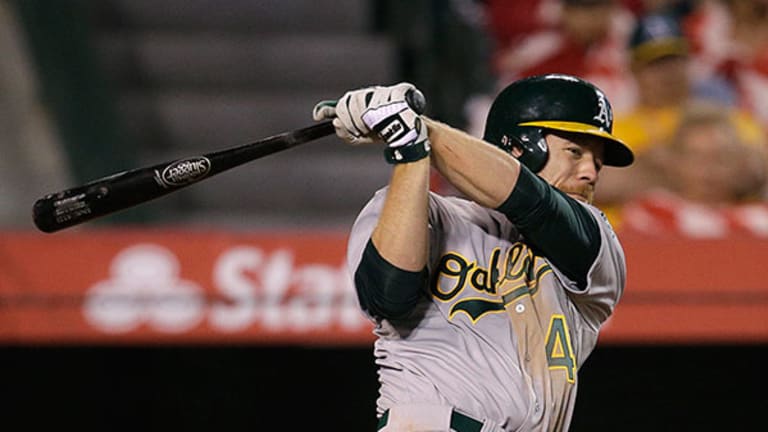 10 Cheapest Major League Baseball Tickets In 2014
Baseball is a bargain compared with other sports, but fans in San Diego, Arizona and Pittsburgh get some of the best deals in the league.
PORTLAND, Ore. (TheStreet) -- Major League Baseball is the most cost-effective sports ticket money can buy, but there are deeper discounts for some markets than for others.
MLB ticket prices average $27.93 this year, according to Team Marketing Report. It's the lower side of that average that concerns us: The one where a ticket to the ballgame costs as little as the price of two beers in some of the league's more expensive parks. At worst, Major League Baseball's top-money tickets can fetch an average of $50 or more. That's before you get into the ballpark, where the smallest size of the cheapest beer in the place goes for what you'd pay for a six-pack of IPA anywhere outside the stadium.
An average MLB ticket goes formore than half the price of an average NBA ticket ($52.50), slightly less than half the cost of a ticket to an NHL game ($61.82) and well below the price you'd spend on any given Sunday in the NFL ($81.54). That doesn't mean MLB is an all-around discount, but it's still a great deal for folks outside of its larger markets. So what if it's also 2% higher than it was last year? There are still 15 teams in the league with average ticket prices less than $25.
We scanned the league and found 10 cities where the average Major League Baseball ticket price is not only cheap but, in four cities, will get you some change back if you hand the folks at the ticket booth a $20 bill:

10. Texas Rangers
Average ticket price: $23.54
Change from 2013: 4.4%
The trips to the World Series ended and stars such as Josh Hamilton are gone, but the Rangers are still a better team than this price suggests.
This team put together 91 wins last year, got a ridiculously effective season out of pitcher Yu Darvish and saw huge production from sluggers Adrian Beltre, Elvis Adrus and Nelson Cruz. They also saw Cruz and pitchers Matt Garza and Joe Nathan -- among others -- walk out the door, but brought in heavy hitter Prince Fielder in the offseason.
The Rangers have been a contender since 2009, have made the postseason in three out of the past five years and weren't eliminated until a tie-breaking 163rd game last year. Rangers fans, you are absolutely stealing tickets at this price. Enjoy them while you can.

9. Oakland Athletics
Average ticket price: $22.84
Change from 2013: +3.3%
The frugal A's took the big-spending Detroit Tigers to the fifth and final game of their American League Division Series last year, but did so in a stadium where the raw sewage flows through the locker rooms like Gatorade. The team has also ridden its moneyball approach to two winning seasons and playoff appearances in the past seven years. Manager Bob Melvin has the A's looking like a contender, but nothing like the Giants across the bay with their two World Series titles in the past four years. Yes, A's tickets are about $8 less on average than what fans are paying at AT&T Park, but the Bay Area's big baseball market doesn't distribute evenly. An offer from a businessman in the Portland, Ore.-suburbs to turn a Single A, short-season team's 4,500-capacity ballpark into a temporary home has been met with silence, as the A's seek another 10 years in their dreary Coliseum.

8. Toronto Blue Jays
Average ticket price: $22.78
Change from 2013: 0%
Evan after buying the better parts of the Miami Marlins' roster and some pitching help from the Mets a year ago, the Blue Jays lost 88 games and finished dead last in the American League East. Thus, after years of price increases at Rogers Center, the Jays have held the line on their ticket pricing. It hasn't been a great time for Toronto, which just saw its Maple Leafs bumble their way out of an NHL playoff berth, its mayor make a global laughingstock out of himself, its ne'er-do-well teen pop icon arrested and its currency soften against the U.S. dollar. Combine that with the decreasing support for public entities such as the CBC and unrealized expectations of a Major League Baseball franchise that hasn't made the playoffs since winning the World Series in 1993, and there's plenty of reason for discontent in the normally pleasant north.

7. Cincinnati Reds
Average ticket price: $22.03
Change from 2013: +3.2%
What price does Cincinnati pay for losing the National League Wild Card game to the once-lowly Pittsburgh Pirates? A 3.2% hike in ticket costs and a small beer that wouldn't even be much of a value at 16 ounces. The Reds have taken the National League Central twice since 2010, though, and its nucleus of Joey Votto, Brandon Phillips and Jay Bruce is still intact. Reds fans are still getting a great deal for a contender, but we just hope management doesn't figure that out anytime soon -- or before the Pirates take their place as the division's feel-good story.

6. Tampa Bay Rays
Average ticket price: $21.01
Change from 2013: +3%
Yet nobody comes to these games. Tampa is no easy place to be a sports fan. The economy has drained jobs and left homeowners and their mortgages underwater. The NFL's Buccaneers, until last year, blacked out home games routinely on local television thanks to slumping attendance and shrinking expendable income. Even with three playoff appearances in the past five years and an always-formidable pitching staff, it gets tough to go out to remote Tropicana Field on a regular basis. In fairness to the Rays, they've kept the average ticket price hovering around $20 territory and have kept the team competitive enough for fans to enjoy when they finally do have enough cash to splurge on a ticket. Still, they've had the worst or next-to-worst attendance in the American League for 10 out of the past 13 years and have drawn fewer than 20,000 fans per game for 11 of the last 15 seasons.

5. Cleveland Indians
Average ticket price: $21.31
Change from 2013:+3%
The sellout streak at Jacobs Field ended 13 years ago, but Cleveland fans have reason for optimism for the first time in that time as well.
Manager Terry Francona's old team won the World Series last year, but he turned a scrappy bunch of role players into an American League Wild Card team and helped it to the postseason for the first time since C.C. Sabathia, Cliff Lee and a plague of flies decimated the New York Yankees back in 2007. Not only does Cleveland have one of the lowest average ticket prices in the league at $21 and one of its cheapest beers, but fans at Progressive Field are getting one of the best values in baseball.

4. Atlanta Braves
Average ticket price: $18.53
Change from 2013: +3.8%
Keep in mind, this is for a team that made the playoffs last year. The Braves still have the second-lowest ticket price of any of last year's postseason contenders and are perennially far better than their cost of entry suggests. So why are prices this low? Because that's what it takes to draw Braves fans. Not the unbroken stretch of playoff appearances from 1995 to 2005. Not the two playoff appearances in the past three years. Nope, there are those who'd rather dwell on the relative lack of World Series titles (a complaint Cleveland fans still wouldn't mind strangling your whole city over), the two losing seasons in 2006 and 2008 and the fact that they can't drive their big, honkin' SUV out of the suburbs to Turner Field in any decent amount of time or take the MARTA to it.
Well, the whiners have won. The Braves finalized plans to leave Atlanta proper for the northern suburbs in Cobb County once the team's lease at Turner Field expires in 2016. That's basically an about-face on decades of ballpark development that situated fields in downtown areas rather than vacant suburban tracts, but this is a town where the cars and suburbs rule and where city government is already giving in to the $1 billion ransom demand issued by the National Football League's Atlanta Falcons, who got no less than NFL Commissioner Roger Goodell to help them threaten to move if they didn't get a new stadium to replace the 22-year-old Georgia Dome. Now the Braves are leaving Atlanta city proper and probably leaving that ticket price behind as well. Have fun with the sprawling parking, strip malls and lots and lots of nothing, Braves fans.

3. Pittsburgh Pirates
Average ticket price: $18.32
Change from 2013: +6.5%
The Pirates just capped their first winning season since 1992 with a win over their division rival Reds in the NL Wild Card game and moved on to a division series against the Cardinals that went the full five games. PNC Park now has something to see besides its gorgeous view of the city and something to occupy fans' time other than Primanti Brothers sandwiches and pierogi races.
While Pirates fans know that this could have come much sooner if the Pirates didn't keep suffering midseason swoons and didn't have management selling off the team's best players, it's still fantastic to know that you can go up to the ticket window at a playoff team's ballpark, hand the teller a $20 bill for your ticket and get change back. We don't know how long this will last now that the team's had a taste of success, but Pittsburgh should enjoy its moment.

2. Arizona Diamondbacks
Average ticket price: $17.98
Change from 2013: +6.4%
It's been a tough go since the World Series win in 2001. Playoff disappointments in 2002, 2007 and 2011, two .500 seasons in the past two years, the Dodgers celebrating their National League West title last year by taking a dip in Chase Field's pool.
But fans can get a ticket, a hot dog and a beer for $20 and see a team that makes a decent run at the NL West title every few years or so. The also have a big air-conditioned building in Chase Field, $4 beers, Alice Cooper's restaurant right outside and a team that's occasionally playoff caliber. Yep, that's a pretty strong argument for Phoenix-area residents to leave their houses during the hottest part of the year.

1. San Diego Padres
Average ticket price: $16.37
Change from 2013: +2.4%
The city is beautiful, the beer is arguably the best in the country and the fish tacos at Petco Field are a great signature dish. In prior years, it would all be a cover for management that let prime talent such as Cy Young winner Jake Peavy, slugger Adrian Gonzalez and 2010 rookie of the year Heath Bell walk out the door without so much as a wave. Even after former owners John Moores and Jeff Moorad took a $200 million portion of the Padres' new TV deal out the door with them, fans still seem a whole lot happier with the new regime and optimistic about the Padres' direction. After all, when you have a place this lovely to watch baseball at this price, the wins are a bonus.
-- Written by Jason Notte in Portland, Ore.
>To contact the writer of this article, click here: Jason Notte.
>To follow the writer on Twitter, go to http://twitter.com/notteham.
>To submit a news tip, send an email to: tips@thestreet.com.
RELATED STORIES:
>>10 Highest Beer Prices In Major League Baseball
>>Centerplate Lets Major League Baseball Forget Peanuts and Cracker Jack
>>Budweiser's Baseball Opening Day Holiday Plan Is Brilliant
Jason Notte is a reporter for TheStreet. His writing has appeared in The New York Times, The Huffington Post, Esquire.com, Time Out New York, the Boston Herald, the Boston Phoenix, the Metro newspaper and the Colorado Springs Independent. He previously served as the political and global affairs editor for Metro U.S., layout editor for Boston Now, assistant news editor for the Herald News of West Paterson, N.J., editor of Go Out! Magazine in Hoboken, N.J., and copy editor and lifestyle editor at the Jersey Journal in Jersey City, N.J.