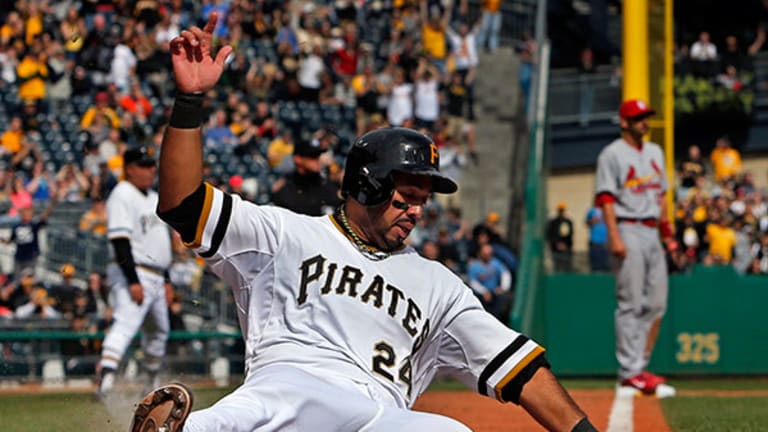 10 Cheapest Beers in Major League Baseball
They may not be 'cheap' in the grand sense, but these beer prices are the least expensive you'll see in baseball this season.
PORLAND, Ore. (TheStreet) -- Major League Baseball is not built to save you money.
According to sports research firm Team Marketing Report, the average price of a ticket rose 2% from last year, to nearly $28. The price of taking driving a family of four to the game, parking and getting them tickets, food, drinks and souvenirs rose to more than $212 since the 2013 season.
It's still the most cost-effective live sporting event money can buy, but that doesn't exactly make it cheap. Its premium tickets cost $93 on average, while the average $6 price of a 16-ounce beer works out to a nearly $29 six-pack.
Keep in mind that this is a league that's increased revenue from $1.4 billion in 1995 to more than $8 billion last season. It may rival the National Football League's $9.5 billion in revenue when television contracts with Fox and Turner are renewed this year.
It isn't designed with your budget in mind -- as the sellers of its most expensive beers make clear -- but every so often it shows some mercy. We went through this season's Team Marketing Report numbers and found the seven least-expensive beers in the league. They're not exactly dirt cheap, but they're the best deals you're going to get from this sport:

7. Philadelphia Phillies, Milwaukee Brewers, Colorado Rockies, Minnesota Twins
Price of a small draft beer: $7.75 for 21 ounces (Philadelphia), $7.50 for 20 ounces (Minnesota), $6 for 16 ounces (Milwaukee and Colorado)
Price per ounce: 37 cents
Fewer than half of the league's teams average 40 cents an ounce or less for beer. In the case of the Phillies and Twins, their buy-in prices are among the highest in the league, volume notwithstanding. That $7.75 at Citizens Bank Ballpark is equal to what the Boston Red Sox charge for their smallest offering -- though the Sox's scant 12-ounce cups make their small beers the most expensive in the league.
We'll note that there wasn't a playoff team or even a winning team among these four back in 2013 and that all of them have been in some steep and ugly declines from recent glory. We give the folks at Milwaukee's Miller Park and Colorado's Coors Field a lot of credit for not following the St. Louis Cardinals' example at Busch Stadium and making beer disproportionately pricey for a building with a brewing family's name on it. We're sure either team would have taken the Cardinal's trip to the World Series last year, but $6.75 for 12 ounces of Anheuser-Busch InBev product is a steep price to pay for it.

6. San Diego Padres and Houston Astros
Price of a small draft beer: $5 for 14 ounces
Price per ounce: 36 cents
Early last season, the Padres were under new ownership and looking like contenders. That didn't last very long. While they had their rival San Francisco Giants to keep them company at the bottom of the division, they still haven't won a playoff series since 1998, haven't made the playoffs since 2006, haven't had a winning season since 2010 and haven't been able to hold onto star players.
At least the average $16 price for tickets is the cheapest in the league, fish tacos are excellent and the beer in San Diego is among the best in the country -- even if that's not the beer you're getting for your $5.
Oh, and the Padres definitely aren't the Houston Astros. That team set a Major League Baseball record for revenue in 2013 by slashing salaries to the bone during their first year in the American League and taking in more than $100 million. What did fans get out of the deal? A team that put up 51 wins and 111 losses and trailed the next-worst team -- the Miami Marlins -- by 11 games. Drink up, folks: It's not getting better any time soon.

5. Pittsburgh Pirates and Los Angeles Dodgers
Price of a small draft beer: $6.75 for 20 ounces (Los Angeles), $5.50 for 16 ounces (Pittsburgh)
Price per ounce: 34 cents
It was tough to put these teams in the same sentence for many years, but they're mentioned in the same breath for all the right reasons now.
The Dodgers, with their coffers brimming with TV broadcast money, have a loaded lineup and stormed their way back into the playoffs and the National League Championship Series for the first time since 2009. The Pirates, meanwhile, capped their first winning season since 1992 with a win over their division rival Cincinnati Reds in the NL Wild Card game and a division series against the Cardinals that went the full five games. PNC Park now has something to see besides its gorgeous view of the city and something to occupy fans' time other than Primanti Brothers sandwiches and pierogi races.
While the Dodgers are a bit more familiar with what it's like to be a contender, the Pirates are still getting accustomed to the role. It's kind of them not to let that success get to their beer prices.

4. Cleveland Indians
Price of a small draft beer: $4 for 12 ounces
Price per ounce: 33 cents
Yes, his old team won the World Series last year, but you get the sense that Indians manager Terry Francona is having a pretty good time in Cleveland.
His Indians turned a scrappy bunch of rote players into an American League Wild Card team and helped it to the postseason for the first time since C.C. Sabathia, Cliff Lee and a plague of flies decimated the New York Yankees back in 2007. Not only does Cleveland have one of the lowest average ticket prices in the league at $21 and one of its cheapest beers, but fans at Progressive Field are getting one of the best values in baseball.

3. Texas Rangers
Price of a small draft beer: $5 for 16 ounces
Price per ounce: 31 cents
The trips to the World Series ended and stars such as Josh Hamilton are gone, but the Rangers are still way too good to have one of the lowest beer prices in the league.
This team put together 91 wins last year, got a ridiculously effective season out of pitcher Yu Darvish and saw huge production from sluggers Adrian Beltre, Elvis Andrus and Nelson Cruz. They also saw Cruz and pitchers Matt Garza and Joe Nathan -- among others -- walk out the door, but brought in heavy hitter Prince Fielder in the offseason.
The Rangers have been a contender since 2009, have made the postseason in three out of the past five years and weren't eliminated until a tie-breaking 163rd game last year. Their small beer price is one of the least remarkable aspects of this team, but it's a huge value given all of the above.

2. Arizona Diamondbacks
Price of a small draft beer: $4 for 14 ounces
Price per ounce: 29 cents
OK, so maybe it's been a bit of a bumpy ride since that World Series win in 2001. Playoff disappointments in 2002, 2007 and 2011, two .500 seasons in the past two years, the Dodgers celebrating their National League West title last year by taking a dip in Chase Field's pool.
But so what? The average price of a Diamondbacks ticket is $18, and even that's 6.4% higher than it was last year. You can get a ticket, a hot dog and a beer for $20 and see a team that makes a decent run at the NL West title every few years or so. It's one of the best deals in baseball and nothing to be sad about.

1. Los Angeles Angels of Anaheim
Price of a small draft beer: $4.50 for 16 ounces
Price per ounce: 28 cents
We'll admit we were dubious about this one. Sure, it's Anaheim, but isn't at least part of the purpose of trying to shoehorn "Los Angeles" into the name to draw L.A. fans, charge L.A. prices and bring in L.A. money?
Apparently not. The Angels' $27 ticket price is right around the league average, but the cost to a family of four for parking, drinks, food and souvenirs is a below-average $196. More importantly, it's $22 less than the $218 cost of attending a Dodgers game. While that didn't stop the Angels from finishing the season below .500 last year or help big hitters such as Josh Hamilton, Albert Pujols and Mike Trout cover huge holes in the Angels' pitching rotation, it does give Orange Country fans some modest bragging rights. It isn't Chavez Ravine, and the Angels haven't been a playoff team in a while, but at least the Anaheim faithful can claim the cheapest beer in the country -- if they can find it.
-- Written by Jason Notte in Portland, Ore.
>To contact the writer of this article, click here: Jason Notte.
>To follow the writer on Twitter, go to http://twitter.com/notteham.
>To submit a news tip, send an email to: tips@thestreet.com.
RELATED STORIES:
>>5 Must-Have Baseball Apps For Opening Day
>>Budweiser's Opening Day Baseball Holiday Plan Is Brilliant
>>Hop Cider Succeeds Where Beer Bros Fail
Jason Notte is a reporter for TheStreet. His writing has appeared in The New York Times, The Huffington Post, Esquire.com, Time Out New York, the Boston Herald, the Boston Phoenix, the Metro newspaper and the Colorado Springs Independent. He previously served as the political and global affairs editor for Metro U.S., layout editor for Boston Now, assistant news editor for the Herald News of West Paterson, N.J., editor of Go Out! Magazine in Hoboken, N.J., and copy editor and lifestyle editor at the Jersey Journal in Jersey City, N.J.