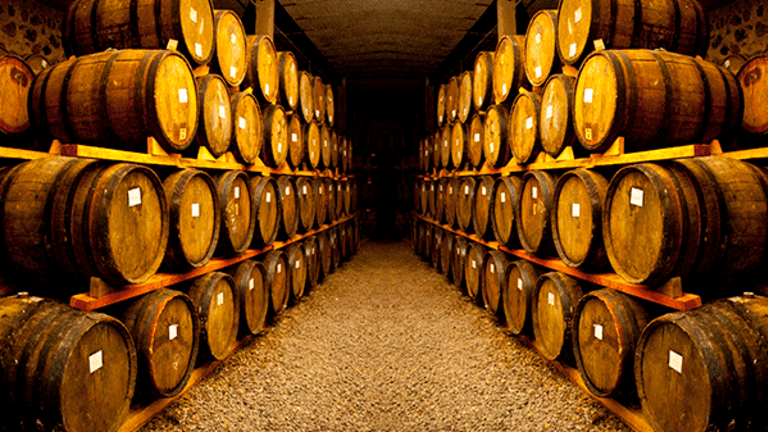 Sophisticated Italian Whites for Summer from Del Posto Somm Matthew Orawski
Matthew Orawski of Del Posto in Manhattan recommends three complex Italian whites to get you through the hot months.
Pinot Grigio is the archetypal Italian white wine for many American drinkers: light, fresh, citrusy, easy-drinking. But Italy offers an extraordinary range of whites, three of which Matthew Orawski, the sommelier at Del Posto in Manhattan, suggests for summer drinking. His recommendations also serve as an introduction to the category. 
Before importer Anthony Terlato started bringing Santa Margarita Pinot Grigio into the U.S. in the late 1970s, the role of light, simple Italian white on the American table was played by Soave, a dry wine made in the Veneto, the area around Verona. But the vineyards in in the hills surrounding the towns of Soave and Monteforte d'Alpone, a subzone called Soave Classico, are capable of more. Orawski likes Pieropan's La Rocca, a single vineyard wine made from Garganega grapes that are picked very ripe, as late as the end of October, and aged for about a year in wood barrels of between 500 and 2,000 liters. The wine has the lemon notes characteristic of the region but also an aroma of smoky hay. 
Chardonnay is popular all over the world, though uncommon in Italy. But Carlo de Fermo loved French wine, and in the 1930s he bought barrels and plant material in France and took them back home to Loreto Aprutino, a small town in Abruzzo. The family still has Chardonnay vines on its land that date to the 1960s, and from those grapes Stefano Papetti, the husband of Carlo's grandniece Nicoletta de Fermo, makes the Launegild, a classic, restrained Burgundian white.
Del Posto has the same producer's Pecorino and Montepulciano d'Abruzzo on its list. Pecorino is a white grape that may have gotten its name, because sheep (pecora in Italian) liked to eat it as they were grazing in vineyards, and de Fermo's interpretation takes its name, Don Carlino, from Nicoletta's great uncle. Like all of the producer's wines, Orawski says, it "has this sort of earthy funk," especially on the nose, where he perceives dried flowers and straw. On the palate, he gets ripe orchard fruit. The Montelpulciano is the first wine Stefano made; he ferments it in concrete and ages it in large oak barrels for 18 months; Orawski says it tastes of cooked plums and balsamic vinegar.
Part of the stereotype of the simple Italian white is its inability to age. That may be true for simple Pinot Grigios and Soaves, but it doesn't hold universally. Greco and Fiano, two grapes that may have been brought to Campania by the ancient Greeks, can both age for as long as a decade in good years. In serious decline after World War II because they have low yields, they have been revived by several of Campania's better producers. Orawski pours the 2015 Pietracupa Fiano di Avellino by the glass; it has notes of lemon oil and smoke and a richness on the palate that make it an entrancing wine. He also has a mini-vertical of the Pietracupa Fiano di Avellino on his list, with bottles from every year between 2008 and 2012 as well as 2006's from Ciro Picariello, Mastroberardino and Romano Clelia.
Pietracupa is Orawski's favorite producer of Fiano, a grape that's "either super-smoky or extremely citrusy and light," he says. "Pietracupa balances that perfectly. The wines are mineral-driven and soil-driven, usually bright lemon curd and young white flowers with a perfect light peat smoke finish that you find with an Irish whisky." The Fianos vary widely by vintage. "The 2015 is so fresh and clean due to the warm, even weather," he says. "The older the wines get, the more the earth and smoke shows through and the lemon curd takes a back seat, but gets more rich. The 2006 is awesome!"