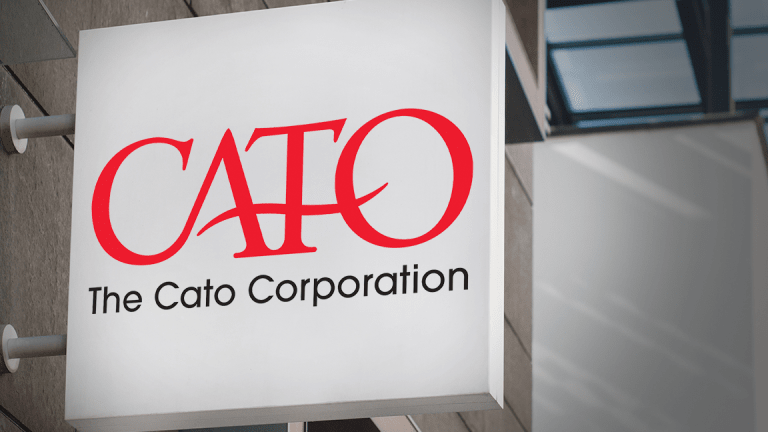 Shoppers Turn Away From Cato Corp. as Sales Slump
Same-store sales suffer significant drop in February amid weaker demand for offerings from the the discount womens' fashion retailer.
Shoppers turned the other cheek when it came to discount fashion retailer Cato Corp.'s  (CATO) - Get Cato Corporation (The) Class A Report offerings last month, with the company reporting a sharp drop in same-store sales.
The "Cato," "Versona," and "It's Fashion" discount womens' retail chain operator on Thursday reported sales for the four weeks ended March 2, of $59.1 million, a 12% drop from sales of $67.2 million for the comparable four-week period a year earlier. Same-store sales for the month decreased 10% from the prior year.
"February same-store sales were well below our expectations," CEO John Cato said in a statement.
As of March 2, Cato operated 1,308 stores in 31 states, compared to 1,351 stores in 33 states as of March 3, 2018. The company shuttered three of its stores in February.
The company joins a growing list of retailers seeing declines in both same-store sales and general foot traffic - partly due to a slowing economy and also due to shifting shopping habits among consumers.
Online retailer Amazon.com this week said it will close all 87 of its U.S. pop-up stores as the company continues to retool its bricks-and-mortar strategy to best accommodate consumers' shopping demands.
Cato's board on March 1 approved a regular quarterly dividend of 33 cents a share, payable on March 26, to shareholders of record on March 11.
Shares of Cato were little changed in premarket trading on the New York Stock Exchange.