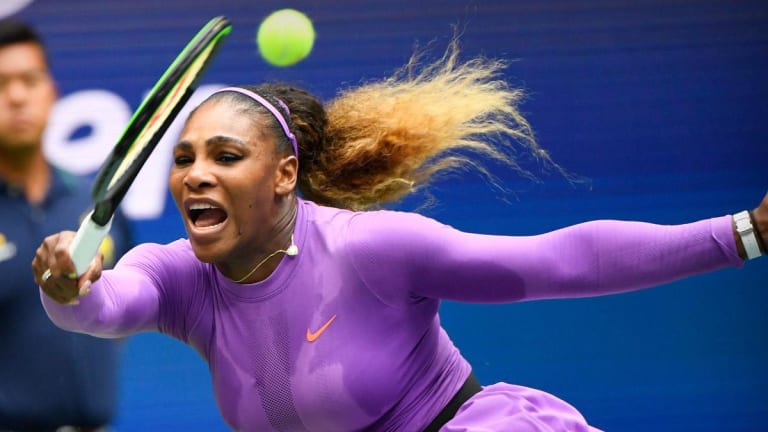 What Is Serena Williams' Net Worth?
Serena Williams is estimated to be worth around $180 million. How has the tennis superstar acquired her wealth, and how does she invest it?
Serena Williams became a star early on in her career thanks to her meteoric rise to the top. But it was her ability to come back and play at such a high level later in her career that has made her a legend.
Williams is a titan in the tennis world, and her 23 Grand Slam singles championships are a record in the modern era. She holds the title of oldest player to be ranked No. 1 in the world by the Women's Tennis Association, or WTA. Her rivalries, from match-ups against her sister Venus to her domination against Maria Sharapova, are must-watch events. She's an all-time great, and she has made quite a fortune for herself as a result. Currently, she's the highest-paid female athlete in the world by a substantial margin.
Having made the final at both Wimbledon and the US Open in 2019, it's clear that Serena Williams has plenty of gas left in the tank at age 37, able to compete with some of the sport's best young stars. As she prepares for her latest Grand Slam tournament, how much is Serena Williams currently worth?
What Is Serena Williams' Net Worth?
Serena Williams is estimated by Celebrity Net Worth to be worth about $180 million. This is in the same neighborhood as another all-time great at their sport, Tom Brady, though short of other worldwide greats like soccer stars Cristiano Ronaldo and Lionel Messi. Her 23-year tennis career is the largest percentage of this, but Williams is also a major media presence and savvy investor. There's no shortage of income streams for the tennis great.
Serena Williams' Tennis Career
Williams' first professional match came in October 1995 at just 14 years of age. Two years later, she broke into the top 100 of the WTA rankings, and by 1999 she brought home her first ever championship, catapulting her into the top 10.
For a few years, Williams' star just continued to rise. In 2003, she was the reigning champion of each Grand Slam tournament (defeating her sister Venus in each final) and found herself ranked #1 by the WTA after her first Wimbledon championship. But soon injuries, which she had dealt with even in her prime, began to mount. Knee surgeries and ankle injuries impacted her ability in the mid-2000s - and even then, she won the 2005 Australian Open. That was her only tournament victory for the year, though, and she went winless in 2006.
2007 saw improvement; it was a career renaissance, returning her to the No. 1 slot in 2009. She would go on to finish 2013, 2014 and 2015 as the top-ranked woman as well. In 2017, Williams announced she was pregnant with her first child, whom she gave birth to in September of the same year. Williams was open about the complications and postpartum depression that followed.
Williams returned to the court after the birth of her daughter, but 2018 would turn out to be her title-less year since that disastrous 2006. This was despite making the Finals in two Grand Slam tournaments: Wimbledon and a particularly controversial U.S. Open. While she also has yet to win in 2019, she has been slowly making her way back up the rankings and has climbed back into the top 10; currently, she is ranked 8th in the world.
This momentum includes making another Wimbledon final in 2019 after a breezy semifinal round against Barbora Strýcová. In that final, however, Williams was handled just as easily by Simona Halep, who cruised to victory for her second ever Grand Slam title. All eyes were on Serena after at the US Open, a tournament in which she breezed to the final after defeating Elina Svitolina (who had taken down Venus Williams earlier in the tournament) in the semifinal. But she once again could not capitalize and fell in the final, this time to 15th-ranked Canadian player Bianca Andreescu in two sets.
According to the WTA, Williams has won about $90.64 million in prize money during her decades-long career.
Serena Williams' Grand Slams
Much of Williams' legacy comes from her performance at the Grand Slam tournaments - the Australian Open, French Open, Wimbledon and the U.S. Open. After her victory at the 2017 Australian Open, she had 23 Grand Slam singles titles, becoming the all-time leader in tennis' Open Era. It was her 7th ever Australian Open title, tied with Wimbledon for her most titles in a Grand Slam tournament; she has won 3 French Opens and 4 U.S. Opens.
In addition to her singles victories, Serena has made it to 14 Grand Slam doubles finals with Venus Williams. All 14 times the duo has been victorious, most recently in 2016 at Wimbledon. Combine all of these victories with the 2 mixed doubles championships she won in 1998 (with partner Max Mirnyi), and that's an astonishing 29 Grand Slam tournament championships in 20 years, cementing her status as a legend of sport.
Serena Williams' Investments
Much of Williams' fortune may have been made in tennis, but there's more to her than that. For example, she has used some of her vast wealth to dip her toe into the world of investing.
Not that every investment has been a success, however. In 2012 she was announced as an investor in Mobli, a social media site that never managed to catch its main competitor, Instagram.
She is one of several investors in Mayvenn, where stylists can sell wigs and weaves to their clients, and Daily Harvest, an organic frozen food delivery company. She was not alone, as Gwyneth Paltrow became a Daily Harvest investor around the same time.
Williams is also one of several notable female celebrities who has invested in LOLA, a subscription service that delivers feminine hygiene products like tampons to its subscribers. Other celeb investors in LOLA include Girls co-stars Lena Dunham and Allison Williams.
Serena Williams' Endorsements
Serena Williams has transcended the sport of tennis. She's a household name, and that name brings a great deal of clout to it. So it's no wonder that Williams has several endorsement deals with notable brands. The biggest of these is, unsurprisingly for an athlete of her stature, Nike. Williams has an entire line of tennis apparel, including an exclusive line of Air Force 1 shoes for NikePlus members. She's the biggest tennis star with a Nike endorsement deal, especially after Roger Federer's recent decision to leave them for Uniqlo.
Serena has also appeared in Gatorade and Chase commercials, in addition to her deals with Beats Electronics and Intel, among others.
Serena Williams' Husband
Serena Williams is a self-made millionaire with her own fortune. Her husband is no slouch in that department either.
Williams married Alexis Ohanian in 2017, less than a year after they announced their engagement. Ohanian is known as one of the co-founders of the link-aggregating social media site Reddit. Celebrity Net Worth estimates that Ohanian's net worth is a fraction of hers, but at $9 million it's highly unlikely that he's complaining.
Williams gave birth to her and Ohanian's daughter, Alexis Olympia Ohanian Jr., in September 2017, just a couple of months before their wedding.