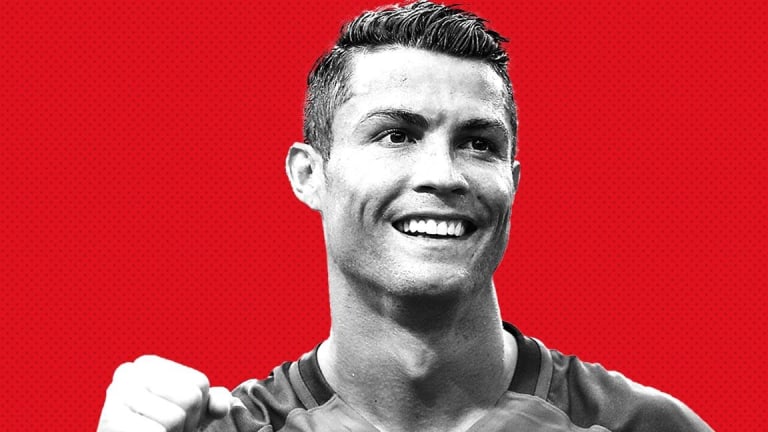 Ronaldo to Transfer to Juventus in €100 Million Deal
Real Madrid confirms international soccer star Cristiano Ronaldo's transfer to Juventus in €100 million deal.
Real Madrid is losing their star player to Italian club Juventus, reports say.
Real Madrid broke the news Tuesday that soccer player Cristiano Ronaldo will be transferring to Juventus following a nine-year stay at the Spanish club. Ronaldo's signing deal is reportedly to the tune of €100 million (around $117 million), although Juventus has not confirmed the financial details of the arrangement.
"Real Madrid would like to communicate that we have listened to the wish and request expressed by player Cristiano Ronaldo and have agreed to his transfer to Juventus FC," Real Madrid said in a statement.
The 33-year-old athlete reportedly met with Juventus president Andrea Agnelli in Greece on Tuesday following his elimination from the 2018 World Cup, according to the Associated Press.
Madrid's new coach Julen Lopetegui appears to be willing to let the superstar athlete go in order to open up more spots on the team, as reports claim that the Italian club offered 10% of Ronaldo's €1 billion (around $1.2 billion) release clause. The total transfer cost to Juventus will reportedly reach upwards of almost $400 million when all is said and done, according to The Guardian.
With a signing of over €100 million, Ronaldo will become Juventus' most expensive signing, topping Gonzalo Higuaín's near €75.3 million (over $88 million) deal.
Despite leaving a comfortable situation in Spain, Ronaldo is set to earn around $35 million a year over his new four-year contract with Juventus.
The Portuguese player has been making a hefty salary for years, with an estimated net worth of around $400 million.
After transferring from English club Manchester United in 2009, Ronaldo was Real Madrid's top scoring player of all-time, with 451 goals in 438 matches.
Despite requesting the transfer, the athlete expressed his love for the Spanish club.
"These years at Real Madrid and in this city of Real Madrid have quite possibly be the happiest years of my life," Ronaldo wrote in a statement through Real Madrid. "I only have feelings of great gratitude to this club, to the fans and to the city. I can only give thanks to all of them for the love and affection that I have received."
But, the athlete has reportedly long been considering the transfer. 
"I feel that the time has come to begin a new stage of my life and that is why I have asked the club to accept my transfer," Ronaldo claimed in his statement. 
The five-time Ballon d'Or winner has led the Spanish team to four Champions League titles, despite earning a smaller salary than fellow superstars Lionel Messi and Neymar.
In addition to Ronaldo's endorsement deals with the likes of Nike (NKE) - Get Nike Inc. Report , the Portuguese athlete reportedly made over $93 million last year.
Juventus has yet to comment on the transfer.