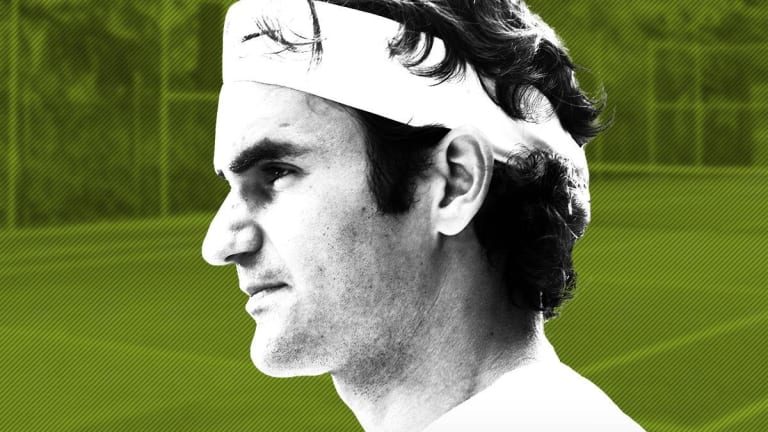 What Is Roger Federer's Net Worth?
The international tennis star is worth an estimated $450 million as of 2019. But how does Federer spend his millions, and from where do they come?
The famous Swiss tennis player has more than a few trophies to his name. And after an unbelievable runner-up finish in a 2019 Wimbledon tournament that began with the superstar seeded second in the tournament, all eyes are sure to be on Roger Federer.
And, with the spotlight once more shining on the seasoned pro, the No. 3 player in the world (according to the Association of Tennis Professionals, or ATP) certainly has an impressive resume. But what is Federer's net worth? And what does the tennis superstar do with his extra cash?
What Is Roger Federer's Net Worth?
According to Celebrity Net Worth, Federer's net sits at around $450 million, with reported ATP career earnings totaling around $124.8 million as of June 2019 (not including endorsements). The Swiss athlete's earnings remain impressive compared to other famous athletes like Tiger Woods or Cristiano Ronaldo, who rake in hundreds of millions each.
Roger Federer Salary
The tennis star at one point earned a reported $70 million a year. Federer also earned a reported $71.5 million from 2016 to 2017, an impressive $65 million of which came from endorsements. And, as of this past year, the athlete earned a hefty $93.4 million altogether. Not too shabby at all, and good enough for 5th on the 2019 list of the world's highest-paid athletes.
Roger Federer Career
The Swiss-born tennis star began his career at a young age, picking up the sport at only 8 years old. The player made his debut in 1998 in Gstaad on the ATP tour. By 1999, Federer was the youngest player to finish in the Top 100 in his first ATP semi-final in Vienna at only 18 years old.
Still, Federer told NBC that he famously had a hot temper in his younger years on the court. 
"You know like, have the fire and desire to win but the ice coolness to absorb losses and absorb bad mistakes," Federer admitted. 
Since cooling his temper, Federer has broken some major records. The tennis star is the first ATP player to spend 700 weeks among the top four male players in the world, according to Business Insider. But the athlete boasts many more achievements over his career. 
According to the ATP, Federer has since won a record 36 ATP World Tour Awards, a spot as the top global athlete brand in 2016 and 2017 for Forbes Fab 40, 8 Wimbledon titles, and dozens of tournament wins.
Over the course of his career, Federer has won 20 majors, helping him become commonly known as the world's greatest tennis player. And, according to Forbes, the athlete peaked at No. 1 world ranking, becoming the oldest player to be named to the ATP top ranking spot. The 36-year-old tennis player owns 97 titles, only a few shy of Jimmy Connors' 109. And, if that wasn't enough, Federer holds the record for Grand Slam titles (20) as well as an 87.6% hard court match win percentage (the highest), according to Business Insider.
To top it all off, Federer boasts the title of two-time Olympic medalist, earning gold in doubles at 2008 Beijing with Stan Wawrinka and walking away with a silver in singles during the 2012 London Olympics, according to ATP.
Federer advanced to the quarter finals in the 2018 Wimbledon, but fell in 5 sets to Kevin Anderson, who would end up losing in the finals to Novak Djokovic. After disappointing finishes in the 2018 US Open and the 2019 Australian Open, he made a comeback by making the semifinals in the 2019 French Open. In that round, though, he would fall to eventual champion Rafael Nadal.
Nadal wouldn't be able to contain Federer during the 2019 Wimbledon tournament, however, when they faced off in the semifinals. Federer defeated Nadal in four sets to advance and face top-seeded Novak Djokovic in the finals. What was already hyped as a finals matchup between two of the all-time greats became a match for the ages. Federer and Djokovic ended up playing the longest singles final in the long history of Wimbledon, nearly five hours long. After all that time, Federer ultimately fell to Djokovic, depriving him of Wimbledon championship number nine.
Injuries
Federer succumbed to back injuries in 2017, forcing him to withdraw from the 2017 Cincinnati Masters, the Telegraph reported. And, in 2013, persisting back problems caused the athlete's winning average to drop almost 10% to 73% (from the mid '80's).
Roger Federer Endorsements
Over the years, the famous athlete has had endorsement deals with some of the biggest brands in the world, including Mercedes-Benz (DDAIF) , Lindt, Barilla, Wilson, Credit Suisse (CS) - Get Credit Suisse Group American Depositary Shares Report , Rolex, NetJets, Gillette (PG) - Get Procter & Gamble Company (The) Report  and more.
However, most notably, the mega-athlete recently parted ways with a long-time sponsor in favor of an underdog endorsement. As of March, Federer did not renew his evergreen deal with Nike (NKE) - Get Nike Inc. Report , reportedly opting for a contract with Asian brand Uniqlo (owned by Fast Retailing Co. undefined ). According to Business of Fashion, the Tokyo-based company made a $300 million bet for a 10-year contract on the athlete in early July of 2018. The contract is supposedly the world's most valuable sports deal, reports The Sun.
Despite Uniqlo's modest collection of athlete sponsors, including Japan-native tennis player Kei Nishikori, wheelchair tennis players Shingo Kunieda and Gordon Reid, and golfer Adam Scott (and formerly Novak Djokovic prefacing his move to Lacoste), the clothing store has become increasingly competitive. The Japanese brand has recently dominated U.S. and overseas markets, with net annual profits soaring over $1 billion last year. 
"Mr. Federer is one of the greatest champions in history; my respect for him goes beyond sport," Uniqlo founder and CEO Tadashi Yanai declared in a statement. "Our partnership will be about innovation on and off court.
Still, consumers won't be able to buy a Federer-Uniqlo item until sometime in the next year or so. 
"All this has just gotten underway," Federer told The New York Times in 2018. "We're hopeful the beginning of next year people can also start buying my stuff. For the moment, as fast at retailing as they are, as great as they are, it just needs a bit of time."
In just last year alone, Federer managed to cash in $65 million worth of endorsements.
Roger Federer House
The athlete has a stunning mansion on the shores of Lake Zurich. Additionally, Federer boasts two other houses, one a holiday house in the Swiss Alps (supposedly in the upper $17 million mark, according to The Sun) and the other, a penthouse in Le Reve tower in Dubai. For the multiple-hundred-millionaire, owning several houses must be no sweat.
How Does Roger Federer Spend His Money?
In 2003, the tennis player founded the Roger Federer Foundation, which has "invested over $28.5 million in educational programs in Africa and Switzerland," (and also in Zambia, Namibia, Zimbabwe, Malawi, and Botswana), "reaching out to 650,000 children," according to Federer's site.
However, when he's not donating to good causes, Federer has spoken about his love for fashion. The 36-year-old tennis star even told CityA.M. that he occasionally indulges in a fashion splurge or two.
"I spend a lot of money on clothes - I see them as an investment," Federer claimed. "I don't want to be photographed in the same blue jumper all the time so I change it up a bit."
In addition to the clothes, Federer reportedly owns a Rolex Sky Dweller watch to the tune of around $40,000, and six Mercedes (plus a private jet to boot), according to The Sun.