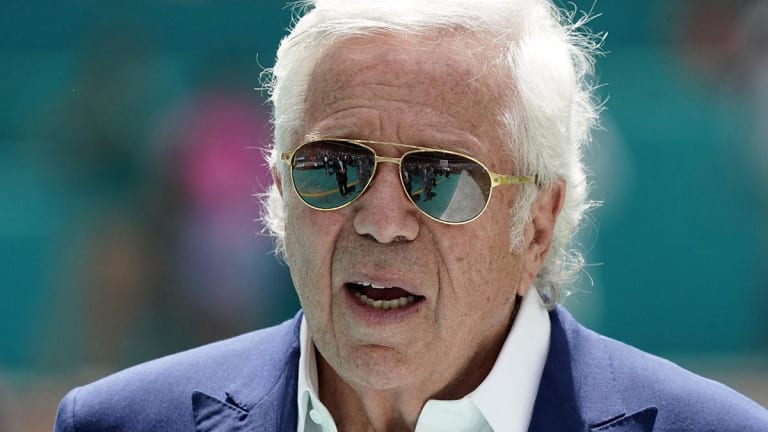 What Is Robert Kraft's Net Worth?
One of the richest people in America, and the force behind the New England Patriots. He's Robert Kraft, and this is what he's worth.
America mints more billionaires than any other country. By the end of 2018, the U.S. economy boasted 607 people with three commas to their name. Of Forbes Magazine's 10 wealthiest people in the world, seven come from the U.S. They range from technologists such as Jeff Bezos to retailers, such as Walmart's (WMT) - Get Walmart Inc. Report Rob Walton, and Instagram celebrity Kylie Jenner.
Together, America's 600 billionaires own roughly one eighth of the entire U.S. economy by GDP. This is a group of people that could fit comfortably in five mid-sized subway cars claiming one out of every eight dollars created in the country. This, in turn, raised troubling questions from economists concerned about the ability of a consumer driven-economy to absorb that degree of wealth concentration.
While billionaires tend to invest their money, at the end of the day they are still individual consumers. They only need so much food, can only read so many books. They have the same number of hours in the day for hobbies and entertainment. Even accounting for lavish tastes, once a billionaire household has met its needs, those individuals will stop spending. The result leads to investment at best and wealth stagnation at worst, money that no one will spend…money removed from the economy more effectively than any tax could ever manage.
The advocates of America's growing billionaire class argue that it shows a dynamic economy capable of creating more wealth and incentivizing a greater degree of creativity than any other in the world. Critics argue that it actually demonstrates an economy that has become extremely efficient at letting wealthy individuals charge rents, wealth-capture tactics that make someone rich without actually creating new value.
In the context of that debate we can consider the net worth of Robert Kraft, number 244 on the list of world's wealthiest individuals.
What Is Robert Kraft Worth?
At time of writing, Robert Kraft was worth between $6.35 billion and $6.9 billion. Much of this wealth comes from his ownership of the New England Patriots football team, a franchise worth $4.1 billion.
Robert Kraft's Early Life and Career
Kraft lives in Brookline, Mass. This is a part of the Greater Boston Area, a collection of suburbs that function as part of the city of Boston despite their formal political subdivision.
As a young man, Kraft attended the Brookline public high school and matriculated to Columbia University. Afterward he attended Harvard, where he received his MBA (masters of business administration). While an undergraduate he met his later wife Myra Hiatt in Boston.
Kraft got his start in business by going to work for his father-in-law, Jacob Hiatt. At the time Hiatt ran a company that manufactured paper packaging called Rand-Whitney. In 1968, three years after graduating from business school, Kraft purchased his father-in-law's share of Rand-Whitney, giving him a controlling stake in the company. By 1972 Kraft had bought out the remaining owners and assumed full control.
Rand-Whitney was the beginning of Kraft's fortune and how he made the money that he would later use to expand into other industries. After assuming full control of Rand-Whitney, Kraft formed a company called International Forest Products. This firm trades in paper, pulp and other physical paper commodities. Kraft grew the two companies, Rand-Whitney and IFP, into the largest combined source of paper/cardboard packaging and packaging materials in the world.
Kraft's Expansion and Sports Teams
Early in his career Kraft expanded beyond the packaging industry that made his initial fortune. In 1975, as part of a partnership, he bought an interest in a tennis team called the Boston Lobsters. He acquired control of the television station WNAC-TV in 1982 and founded a soccer team called the New England Revolution in 1996.
In 1998 he formed the Kraft Group as a holding company for his numerous subsidiary firms, including offshoots of Rand-Whitney. While this company's holdings are still heavily weighted towards paper-product firms, it also includes Kraft's athletic teams, real estate holdings and his recent interest in e-sport franchises. (The last, called the Boston Uprising, is the first Overwatch League team in the city of Boston.)
Robert Kraft and the New England Patriots
While Kraft's money historically comes from producing cardboard boxes, arguably his greatest fame comes from owning the New England Patriots.
In 1985 Kraft began taking an active financial interest in the team (although he had been a season ticket holder for well over a decade). He first acquired large sections of land around the team's stadium, then called Sullivan Stadium. He did this most notably by getting a lease on the neighboring Foxboro Raceway with an option to buy. Three years later he bought the stadium outright when the Sullivan family, then its owners, declared bankruptcy.
Buying the stadium gave Kraft an edge on purchasing the New England Patriots. Sullivan Stadium, which Kraft renamed Foxboro Stadium, came with a contract requiring the team to play there. Although the team's owners tried several times to relocate the Patriots out of Massachusetts, Kraft was able to use this lease to keep the team local. This ensured that Kraft could buy the Patriots when owner James Orthwein put it up for sale, completing the transaction in 1994 for $172 million.
This was the most that anyone had paid for an NFL team at the time. Kraft later considered moving the team out of state to Hartford, Conn.
Over the years he has owned the team, the New England Patriots have developed into one of the most consistently dominant teams in the NFL. This likely has something to do with the team's practice of recruiting from the very best college football teams. However, it is more commonly attributed to Kraft's investment in the team's leadership and coaching staff.
Kraft quickly combined his real estate and athletic interests. In 2002 Kraft built a new stadium for the team, Gillette Stadium located next door to the existing Foxboro Stadium. The Patriot's played their last game at Foxboro in January, 2002, after which it was torn down. Today it has become a Kraft real estate venture called Patriot Place, an outdoor shopping and dining plaza that leverages its location next to the Patriot's home field.
Kraft's Philanthropy
Outside of his business ventures, Kraft is most well known for spending his money on charitable causes. His most notable investments involve health care initiatives and giving related to Jewish organizations.
Most of Kraft's giving goes through his personal philanthropy organization, the Kraft Family Foundation, as well as associated groups such as the Kraft Center for Community Health Leadership and the Kraft Family Blood Lab. He has also made substantial donations to Partners Health Care and the Dana-Farber Cancer Institute.
Kraft has funded or endowed numerous programs related to Jewish faith-related studies at universities including Brandeis, Holy Cross and Columbia. In 2019 he pledged $20 million to oppose the growing boycott, divestment and sanctions movement, which encourages U.S. institutions to withdraw their investments from Israel in protest over the treatment of Palestinians.
Kraft's Home
Robert Kraft lives primarily in his hometown of Brookline, Mass., a town perhaps best known for its overnight parking ban. He also keeps residences in nearby Cape Cod and Palm Beach, Florida.