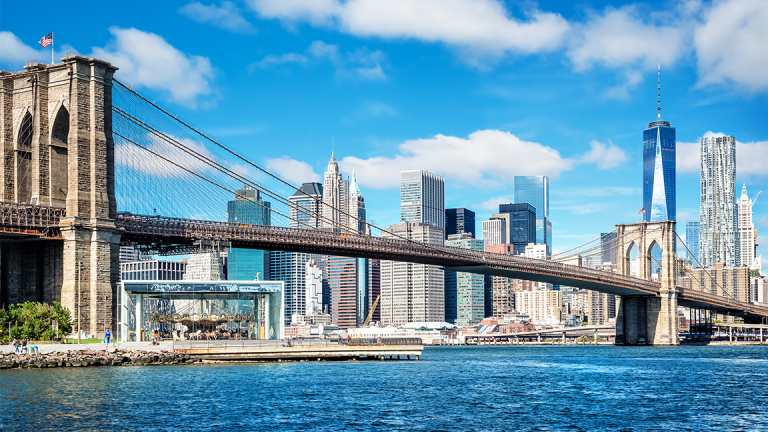 Daylight Savings, March Madness, Cramer's Trading Strategies
It's time to Rewind! In this week's video newsletter, we take a look back at the biggest news of the week -- from Jim Cramer's Trading Strategies to talk of trade wars to a possible new Netflix show created by Barack Obama.
Good Morning Rewind Friends!
You're no doubt feeling a little more exhausted than usual this morning.  That's because we're all springing forward with daylight savings time. Did you know that the biannual tradition celebrates 100 years, this year?  
Daylight Savings Time, What You Need to Know
Established in the U.S. in 1918
Established to save energy, but time-skeptics say that is no longer the case
Arizona and Hawaii refuse to change their DST clocks 
Florida is fighting to become exempt from the time-warp
The Federal Government controls DST as well as time zones
Spring Forward, Now Rewind
I don't know about you, but I have a love-hate relationship with DST.  Spring, when I lose my sleep, is the start of my hate-affair. If you're like me, you need to mentally regroup this morning. So get that Italian Roast brewing, grab your warmest blanket and settle in for a little weekend mentaltainment with Rewind -- TheStreet's weekly video newsletter. 
So, Let's Review
Saturday March 10,2018: There was a terrific read by TheStreet's Kinsey Grant. SPECIAL REPORT: Should You Pay $1 for 60 Cents Worth of Bitcoin? An analysis by TheStreet finds that the popular Grayscale Bitcoin Investment Trust (GBTC) trades at a hefty premium to the value of its actual cryptocurrency holdings.
Friday March 9, 2018: The U.S. economy added 313,000 jobs in February, well above estimates of 200,000, according to FactSet. The unemployment rate held at a 17-year low of 4.1%. Wage growth, however, fell short of economists' forecasts. For more, catch Michael D. Brown's ICYMI: Stocks Pop on Jobs Report; Shkreli Sentenced to Seven Years in Prison
TheStreet's Staff took a look back at March 9, 2009. That's the day when all three stock indices fell to the bottom as a result of the financial crisis. From their cumulative peak on October 9, 2007, the Nasdaq was down 54.9%, S&P 500 plummeted 56.8% and Dow dropped 54.1%.       
President Barack Obama and his wife Michelle are collaborating on a new show for Netflix  (NFLX) - Get Netflix Inc. Report . Yes, you read right. TheStreet's Francesca Fontana discusses that and more in this week's Technically Speaking with editor Nelson Wang and Eric Jhonsa.
Thursday March 8, 2018: It was International Women's Day and TheStreet's Tracy Byrnes shined the spotlight on Ayah Bdeir, founder and CEO of littleBits. She is an entrepreneur, inventor, and interactive artist. Her company, littleBits, makes electronic building blocks that encourage kids to invent things. She has partnered with Disney (DIS) - Get The Walt Disney Company Report and created a Star Wars-inspired Droid Inventor Kit that won Toy of the Year.
It also was the anniversary of the installation of #FearlessGirl. So a year later, we think you should get to know her better because we would like her to stick around for a long, long time! 
And as we continue our month-long TheStreet Special Report: The State of Women on Wall Street, I want to introduce you to Muriel Siebert (1928-2013). Known as "Mickey" and the First Woman of Finance, she was the first woman to own a seat on the NYSE.
Wednesday March 7, 2018: It was time forMarch Trading Strategies: How to Keep Your Portfolio Lucky This Month. Our panel of experts tackled everything from the threat of a global trade war to the news that Gary Cohn was out the door and gave exclusive insight on how you can navigate a month full of market madness. 
          This month's panel includes:
Jim Cramer TheStreet's founder and ActionAlertsPlus.com manager served as host.
          Jeff Marks Senior portfolio analyst for ActionAlertsPlus.com.
Stephen Guilfoyle Former NYSE trader and founder and president of Sarge986 LLC.
Tony Dwyer Senior Managing Director and Chief Market Strategist for Canaccord Genuity                                      Brian Levitt Senior Investment Strategist for OppenheimerFunds.
Tuesday March 6, 2018: Investors suspecting Ripple's XRP would be added to the Coinbase exchange were proven wrong. After rallying as much as 20% in early trading on Monday, March 5, Ripple's XRP token slumped back to levels under $1 on Tuesday, March 6. It has been quite the ride for cryptocurrency ripple. TheStreet's Executive Editor Brian Sozzi talks with ripple executive Danny Aranda about how a strong economy is helping the crypto.
Monday March 5, 2018: It was all about the Italian election and tariff wars. In TheStreet's podcast London Bureau Chief Martin Baccardax gave us an inside view on how it will all affect your money.  Be sure to follow @mdbaccardax for the latest news out of Europe.
Ok, so maybe this spring forward thing finally is getting to me.  So, I guess everything can't be a look back this week! A few things ahead of us: 
Taxes 2018: Everything You Need to Know
March Madness officially gets underway today on Selection Sunday! The NCAA Selection committee reveals the teams playing in the NCAA tournament.  C'mon admit it.  You're ready to fill out those brackets. If you win, fair warning, you'll have to pay Uncle Sam some of your winnings.
Check out this video by Tracy Byrnes to learn exactly what all that means. But here's a quick hint: If you won $5,000 during the year but lost $8,000, you can only report $5,000 in losses on your tax return this year. The remaining $3,000 can be carried forward to next year.
Well, that wraps things up for this week.
Don't forget, you can sign up forTheStreet Rewindvideo newsletter, as well as our other free newsletters including In Case You Missed It,Booyah! and more.
And hey, I'd love to hear from you. Tell me what type of videos you'd like to see from TheStreet and be sure to share your story ideas! Just email me at Julie.Iannuzzi@TheStreet.com or follow me @ JulesVideo on Twitter.
Until next weekend!
Julie Bennett Iannuzzi