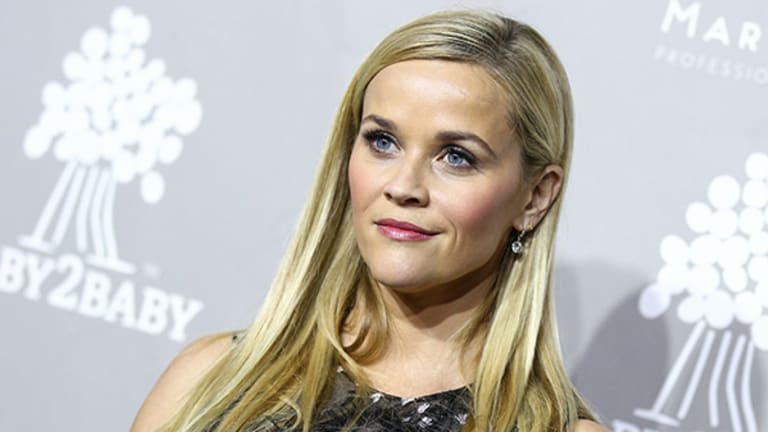 Reese Witherspoon Backs Women Who Outearn Men, Which Is the Future
The 'Legally Blonde' actress supports running from deadbeat men and closing the gender wage gap.
Reese Witherspoon gave advice to women earning more than men, but it isn't a pep talk.
It's a look into the not-so-distant future.
In Glamour magazine's October cover story, Witherspoon says women shouldn't have to settle for partners who don't support their careers or their goals. Five years ago, Witherspoon stared her own film production company, Pacific Standard, and just this year folded it into the multimedia company Hello Sunshine. The company has produced Witherspoon vehicles including "Wild," "Hot Pursuit" and Big Little Lies, but it also backed writer Gillian Flynn's "Gone Girl" in 2014 and has more than 20 films in various stages of development.
While presenting at the 2002 Academy Awards, Witherspoon was told jokingly by then-husband Ryan Phillipe to open an envelope, because "you make more than I do, go ahead." Now, with an Academy Award of her own, a thriving business and a net worth of more than $120 million, Witherspoon offers this advice to women who don't want to be a punch line when making more money than their partners.
"Run away from a man who can't handle your ambition," she told
Glamour
. "Run. So many men think ambition is awesome and sexy!"
Employment site Hired discovered last year that women in their 20s with two years of job experience or less tend to ask for 2% more in salary than their male counterparts. As a result, their final job offers come in with a salary 7% higher than that of men.
Hired's analysis of more than 100,000 job offers to 15,000 job seekers finds that younger workers are fighting a stubborn wage gap. The average female job candidate on Hired expects to earn $14,000 less per year than men. Companies have done little to dispel that notion, with men receiving heftier paychecks than women with the same title at the same company 69% of the time.
However, despite pay inequality and just 38% of women making more money than their male partners, there's still a preponderance of anxiety surrounding work and traditional gender roles. We're told that men who aren't breadwinners are less likely to have sex, more likely to cheat on their partners and feel uncomfortable not fulfilling their "duty to provide."
Witherspoon rightly points out that those male insecurities shouldn't serve as obstacles to women's success. If a partner is knocking you for your ambition and the wage disparity that's created within your relationship, perhaps you'd be better suited with someone of similar ambition who lacks the hangups about pay grade.
"That's my advice: Just do what you do well," Witherspoon tells Glamour. "If you're a producer, you've got to produce. If you're a writer, you've got to write. If you're in corporate America, keep working hard to bust through the glass ceiling."
That ceiling smashing is also a full-time job.
As the Pew Research Center's found when it combed through Bureau of Labor Statistics data from the 1980s to 2012, the pay gap between women and men widens in favor of males by the time both hit their mid-30s. Even if they had started out ahead, women still end up behind on the pay scale after that point. While Pew cites motherhood and unpaid housework as reasons for the divide, the Hired survey notes that women with four years or more of experience tend to ask for salaries that are 5% lower than those of men in the same position. Witherspoon, a mother of three, believes confidence -- both self confidence and that of a supportive partner -- can help close the gap and fuel ambition.
"If you're one of those people who has that little voice in the back of her mind saying, 'Maybe I could do [fill in the blank],' don't tell it to be quiet," Witherspoon told Glamour. "Give it a little room to grow, and try to find an environment it can grow in."
More of What's Trending on TheStreet:
Working Mothers Shouldn't Feel a Twinge of Guilt
Stick with TheStreet for updated storm coverage as Hurricane Irma moves the market:
Hurricane Irma: What Kind of Insurance Should You Have?
Hurricane Irma Will Make Orange Juice Unaffordable and Destroy Your Grocery Bill
Hurricane Irma: How Floridians Are Using Tech, Apps to Prepare for the Big Storm
Editors' pick: Originally published Sept. 6.