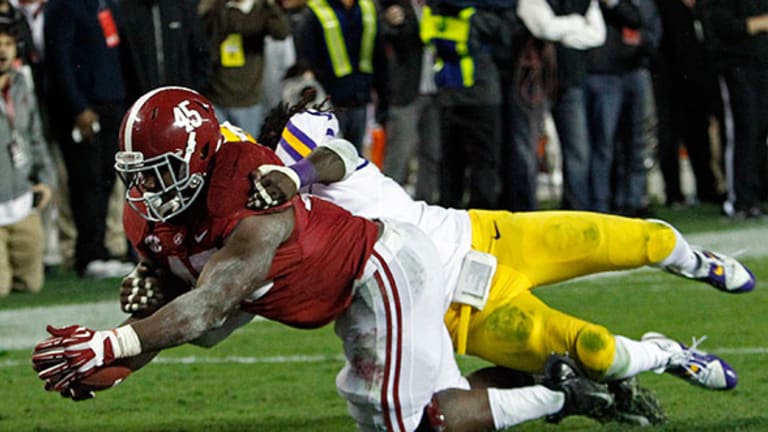 Publish date:
Peach Bowl Is Priciest College Football Semifinal Game Yet
Top-ranked and undefeated Alabama faces fourth-ranked Washington at the Georgia Dome.
Top-ranked and undefeated Alabama faces fourth-ranked Washington at the Georgia Dome.
Editor's pick: Originally published Dec. 20.
The 2016-17 College Football Playoff is less than two weeks away. It pits the nation's top four schools against one another with the winners to play in the National Championship game on Jan. 9. 
Top-ranked and undefeated Alabama headlines the New Year's Eve semifinals action. The team's Peach Bowl matchup with No. 4 Washington is setting record price points on the resale market. Washington has lost only once. 
On TicketIQ, an online event ticket search engine that pulls tickets and data from more thand 90% of the resale market, Peach Bowl tickets at the Georgia Dome are the most expensive for a semifinal since the new CFP format was instituted in 2014. The average resale price for tickets to the New Year's Eve game is now $403 with a get-in price of $170. That surpasses the 2015 Rose Bowl semifinal between Oregon and Florida State, which previously owned the highest resale prices at a $341 average and $157 get-in price.
Resale tickets are those purchased from a primary source, such as a team or stadium and resold. The price of resale tickets can vary widely depending on demand.
While the Peach Bowl is setting new highs for a semifinal, it is worth noting that Peach Bowl prices have dropped considerably since selection day on Dec. 4, when the average resale price was $521. That marks a 23% dip. 
It will be cheaper to watch the No. 2 and 3 seeds, Clemson and Ohio State, battle in the other semifinal, the Fiesta Bowl in Phoenix. Tickets at Phoenix Stadium currently have a $274 average and $70 get-in price. That the location is more than 2,000 miles away from both schools may account for the lower pricing. Fans of both teams are less likely to make the trek than they would be if the game were closer to them. 
Clemson and Ohio State have just one loss apiece. 
Resale prices for the National Championship game at Raymond James Stadium in Tampa have already spiked to record highs. Tickets for the game are averaging $2,023 on TicketIQ, easily making it the highest-priced National Championship game of the last three years. The first National Championship game in 2015 between Ohio State and Oregon previously owned the highest average price at $858.
The cheapest prices to this year's game are $578 each.
There are ways for fans to still get their hands on primary tickets to the title game, namely a reservation system for fans who bank on their team gaining a berth. Each of the four teams sets a reservation fee. Fans pay that select price to reserve their chance at purchasing National Championship game tickets at face value. Should their team make it to the game, they'll have immediate access to purchase tickets through TeamTix.
With prices reaching record price points on the resale market, taking this gamble may be worth it.
This article is commentary by an independent contributor.