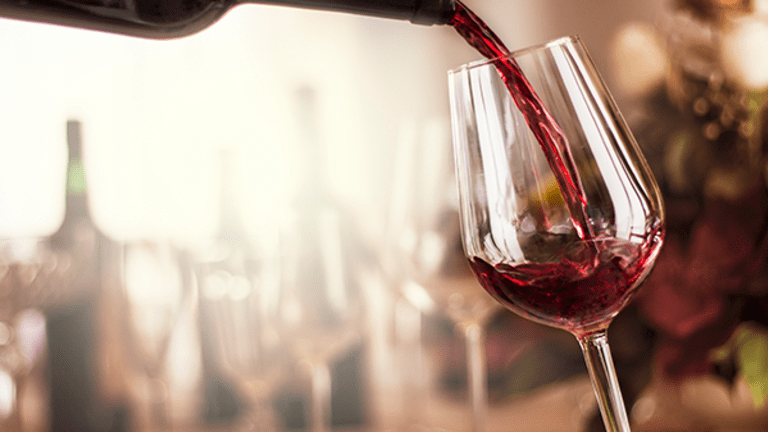 Pascaline Lepeltier of Rouge Tomate Talks Holiday Gifts
Superstar somm Pascaline Lepeltier recommends teas, Champagnes, French wines and robust reds for the holiday season.
The holiday gift to a friend, co-worker or client is a chance to deepen a relationship with a thoughtful, unexpected selection - a chance that's often lost in the December frenzy of parties and shopping. For help, we turned to Pascaline Lepeltier, the beverage director and a partner at Rouge Tomate, which recently opened in New York's Chelsea neighborhood. Lepeltier has a particular love for natural and biodynamic wines, but as a master sommelier she has an encyclopedic knowledge of the world of wine. We asked her for suggestions about what to give four kinds of people: the teetotaler, the Francophile, the Champagne lover and the fan of big red wines.
Rouge Tomate features a number of herbal infusions sourced from South Korea and sold by Brooklyn-based Tea Dealers. For winter, she likes the barley sprout, which she describes as "on the earthy, salty and umami side" and pairs well with root vegetable dishes. The wild persimmon, she says, is "floral and sweet," with notes of pear, apricot and peach. Her favorite, she says, is the mistletoe, which is perfectly dried out and has a "soft, vegetal, briny quality," she says.
Lepeltier grew up in Angers, a city in France's Loire Valley, and her favorite grape is Chenin Blanc, which achieves its highest expression in the Loire. She cites as an excellent example the Clef de Sol made from 70-year-old vines grown on limestone in Montlouis-sur-Loire by the young producer Damien Delecheneau. The wine is vinified "very precisely," she says, with a minerality on a par with good Burgundy, and its notes of quince and camomile means it will pair well with fall and holiday dishes. Lepeltier says the wine will also age very well. 
Cabernet Franc is the predominant red grape in the Loire, and here Lepeltier suggests the La Porte Saint-Jean, Les Carmiers by Sylvain Dittiere, another talented young producer who is making wine that has "the silkiness of Pinot Noir" and the depth of wine made from grapes grown on limestone, Lepeltier says. She says the wine drinks well now and will continue to age for another 15 or 20 years.
For many drinkers, Burgundy is the apex of French wine, and Lepeltier recommends Claire Naudin's Le Clou 34. Naudin makes the wine from Aligote grapes grown on vines planted in 1934 rather than Chardonnay, the source of Burgundy's most famous whites. Lepeltier compares the Le Clou 34 favorably to Chablis and says it will pair well this year with oysters, sushi and caviar but will also improve with time in the cellar.
Champagne is a classic holiday gift, and Lepeltier recommends wines from three small producers. She says that Emmanuel Brochet stands out among the younger generation of Champagne makers because of his mastery of blending to produce wines in a traditional style reminiscent of Pol Roger or Philippe Reynard. Brochet's Le Mont Benoit N.V. is a blend of Pinot Meunier, Chardonnay and Pinot Noir that combines richness and elegance.
Franck Pascal focuses on Pinot Meunier in the ten acres of vines he tends. Lepeltier says that his wines have "a floral, softer, almond-like quality," and older vintages are often available for comparatively modest prices; she suggests looking on www.wine-searcher.com, which turned up bottles for sale from the 1996, 2004 and 2005 vintages. Pascal also makes an excellent still wine from Pinot Meunier, the Coteaux Champenoise Rouge.
Like many sommeliers, Lepeltier loves Champagne, because its effervescence and acidity make it an excellent wine to pair with food. She pours Mouzon Leroux's Rose Grande Reserve by the glass at Rouge Tomate. "For me, it's a world-class rose," she says, with its refreshing raspberry acidity and slight creaminess from three years of aging on the lees.
Robust red wines are a staple of many Americans' cellars, and Lepeltier is a big fan of the wines from Ridge Vineyards in California. "They never disappoint," Lepeltier says, and Ridge makes wines at a range of prices. The Lytton Springs field blend is a ZInfandel-based wine with ripe, soft fruit at under $40 a bottle, while the Monte Bello is one of California's greatest Cabernet Sauvignons, Lepeltier says.
Priorat, a region in Spain about two hours south of Barcelona, is famous for is powerful reds, and Lepeltier likes those from Terroir al Limit, which specializes in wines made from Grenache and Carignan grown at high elevation. The Grenache provides the power, while the Carignan adds freshness, Lepeltier says, and the wines wines have "an extraordinary definition of tannin." The producer's entry level wines are about $30 a bottle, while the single-vineyard Manyes makes a luxurious gift at around $200.
For serious collectors, Lepeltier suggests the Grange de Peres from the Languedoc in southern France. A blend of Syrah, Mourvedre, Cabernet and Counoise grown at high elevation, Lepeltier says it's "slightly stewed dark fruit, tea, roasted aromas, and thyme" and is "masterfully aged in barrel." She recommends decanting younger examples and adds, "Their wines from the 1990s and early 2000s are fantastic."