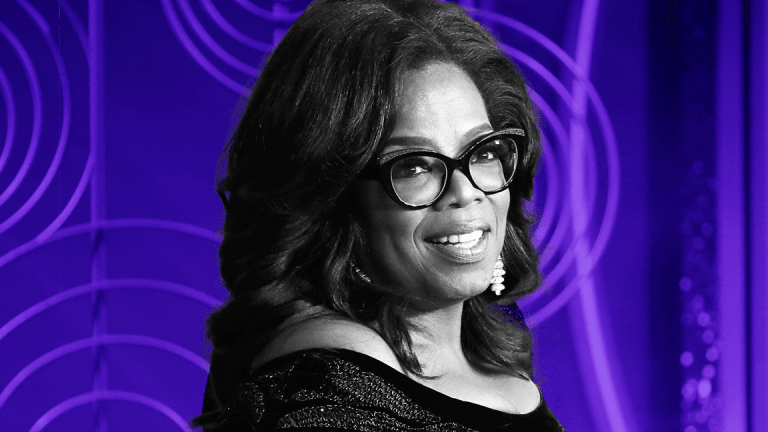 What Is Oprah Winfrey's Net Worth?
Oprah is worth a cool $2.5 billion thanks to possibly the most successful television career of all time.
Who is the closest to being even a vaguely accurate example of a "self-made billionaire"? 
So many billionaires come from inherited wealth, or were able to make their billion-dollar venture, thanks to a sizable loan from their family.
Oprah Winfrey, though, did not. Coming from a poor family and enduring a tumultuous childhood, Winfrey became perhaps the biggest media mogul of her time. Oprah became a force both on and off-camera, a daytime talk show host turned empire. From her TV show to her acting career, magazine to cable television network, Winfrey cultivated a rabid fanbase and an influence on the world never before seen by a television personality.
And though the road has been bumpy and seen its fair share of controversies, Winfrey has been a billionaire since 2003, and has not relinquished that title since.
How much is she worth?
Oprah Winfrey's Net Worth
As of this writing, Oprah Winfrey is estimated to be worth $2.5 billion, according to Forbes. A combination of her massive salary from her talk show days, and her various business ventures and investments that paid off quite handsomely, have kept Winfrey in the billionaire club for 16 years now.
In addition, Forbes' 2018 list of what they deemed America's richest self-made women placed Winfrey sixth - the highest placement for an African-American woman. She was the first black female billionaire and remains one of the richest African-Americans in the world, only recently overtaken for the top spot by investor Robert F. Smith.
Oprah Winfrey's Career
Where does one even begin when it comes to describing Oprah Winfrey's career? Should it begin with her acting career, when her film debut in 1985's "The Color Purple" landed her an Academy Award nomination? Her still-running O: The Oprah Magazine, which continues to have a sizable following? If you know of Oprah, you most likely know her from her storied television career.
"The Oprah Winfrey Show"
Oprah's career in broadcast television started so early that she dropped out of Tennessee State University in the mid-1970s to continue working as an on-air reporter in Nashville. From there she relocated to Baltimore, which saw her first run at a talk show, "People are Talking." This was not a successful venture, however, and she was fired less than a year in.
Her big break came in Chicago, when she took over as host of the fledgling "AM Chicago." With Winfrey as the new face of the program, the ratings went from dismal to outstanding, topping its time slot locally in mere months. A talk with fellow Chicagoan Roger Ebert convinced her to sign a syndication deal similar to the one he and Gene Siskel's "At the Movies" had.
Oprah, the face of a ratings juggernaut and a rising star thanks to her Oscar nomination, in 1986 her show was syndicated nationwide with a new name: "The Oprah Winfrey Show."
Much like when it was local, the show became a smash hit in syndication. Her likability and unique interviewing style drew viewers in and turned many into fans for decades. Winfrey's program ranged from celebrity interviews to human interest stories to discussions of contemporary issues.
"The Oprah Winfrey Show" also became known for various segments and gimmicks, such as her book club or her audience giveaways (most famously gifting everyone in her audience a Pontiac G6 in one episode).
But it also had its fair share of controversies. Winfrey drew much ire for allowing anti-vaccine activist Jenny McCarthy a platform on her show. And her book club selected the infamous James Frey novel, "A Million Little Pieces," which later was revealed to have a number of fabricated stories, despite being advertised as autobiographical.
Still, the show was always a ratings bonanza, and Oprah didn't just make money from it as the host: In 1988, her production company, Harpo Productions, took over ownership of the program. Oprah hosted, produced and had the rights to the biggest daytime TV show for well over 20 years. At its peak, the show easily drew in tens of millions of viewers a day, and continued to lead daytime TV decades later, when ratings were just over 6 million.
In 2009, Winfrey announced  2011 would be the final year of "The Oprah Winfrey Show," finishing 25 years as a national ratings smash.
Her final episode, in May of 2011, drew the program its highest ratings in 17 years, going out on a high note.
Oprah Winfrey Network
The same year her show ended, Winfrey launched a new cable channel: Oprah Winfrey Network, better known as OWN. Discovery Communications (DISCA) - Get Discovery, Inc. Class A Report CEO David Zaslav spoke with Winfrey in 2007, and by 2008 it was announced the Discovery Health channel was to rebrand as OWN.
Delays pushed out OWN's official launch to 2011, and ratings struggled early on. Marketing toward an African-American audience (and African American woman in particular), OWN spent the next several years signing filmmakers like Tyler Perry and Ava DuVernay, and ratings steadily improved. As of 2015, OWN was in approximately 80.8 million households.
In 2017, Discovery bought 24.5% of the OWN stake they didn't already have from Oprah for $70 million.
Oprah Winfrey's House
Unsurprisingly, Winfrey with her billions has several impressive houses to show for it.
She bought perhaps her most impressive mansion in 2001 for $50 million in Montecito, Calif. A staggering 23,000 square feet, it features a lavish floral guest house that may be more expensively decorated than most people's actual residences.
Her other homes include:
A 23-acre horse farm in Santa Barbara, Calif., with an avocado grove that she purchased at an auction;
A 7,300 square-foot estate on Orcas Island in Washington with 8 bedrooms, 6+ bathrooms, a pizza oven and its own private shoreline;
And a 8,700-square-foot mansion in Telluride, Colo., that connects to a nearby ski trail (Telluride is best known for its ski resorts)
Oprah Winfrey's Investments
Oprah's most public and notable investment has been with Weight Watchers (WW) - Get WW International, Inc. Report . In 2015, it was announced Winfrey would buy a 10% stake in the company, at the time a $43.2 million investment.
The price skyrocketed in the wake of the announcement, and at one point Oprah's $43 million investment turned into over $400 million - though the company's 2019 plummet has surely put a sizable dent in that figure.
Introducing TheStreet Courses:Financial titans Jim Cramer and Robert Powell are bringing their market savvy and investing strategies to you. Learn how to create tax-efficient income, avoid mistakes, reduce risk and more. With our courses, you will have the tools and knowledge needed to achieve your financial goals. Learn more about TheStreet Courses on investing and personal finance here.