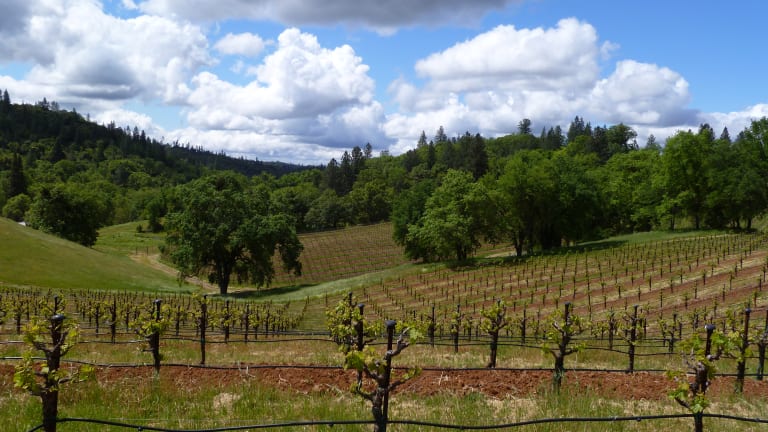 One California Vineyard, Two Spanish Grapes, Four Distinct Wines
Ann Kraemer tailors her Shake RIdge Tempranillo and Graciano vines to the styles of the four winemakers who work with the grapes.
When Jessica Tarpey Shaheen and her now-husband Andrew worked at the Wine House in Los Angeles, the Tempranillo-based reds from Lopez de Heredia in La Rioja helped hook them on wine. Now the winemaker at Gather Wines, she particularly remembers the producer's 1976 Bosconia, which they could both afford and savor.
John Lockwood of Enfield Wines says of the classic La Rioja producers that he "loved how those wines could be savory and spicy and dark and light and perfumed at the same time. When I was in my 20s, I could afford them and leave them open for three or four days," because the tannins in the wines protected them from turning bad.
Ken Bernards of Ancien Wines visited La Rioja in the early 1990s and sampled a wide range of Tempranillos. "I thought it was a really promising variety - extremely versatile, as you look at what it does in Spain," he says, "from wines that are elegant, light, almost like Pinot Noir, to bold, rich, opulent versions."
All three of those winemakers along with Evan Frazier of Ferdinand Wines now make Tempranillos from grapes grown by Ann Kraemer at Shake Ridge in the Sierra Foothills of Amador County, California. Each of the four interprets the grape in a distinct way, and Kraemer provides each with the grapes that will best allow the winemaker to do that.
When Kraemer was planting the vineyard in 2001, she says, she initially didn't even consider Tempranillo, the most widely planted red grape in Spain but one with a small presence in California. But several winemakers including Bernards suggested she do so. Her vineyards were at 1700 to 1800 feet, high enough that temperatures dropped from the the mid-90s during the day to the 50s at night because because of the nearby Sierra Nevada Mountains. The climate and site reminded her of Toro, Spain, which produces robust, ageworthy Tempranillo. She planted clones of vines that Markus Bokisch had selected in Ribera del Duero, along with La Rioja and Toro one of the three great regions for Tempranillo in Spain.
"Markus provided us with a beautiful, small berry, lower production, high quality Tempranillo," she says. The vines' productivity has an important relationship with the tannins that are very prominent in Tempranillo. Many winemakers associate lower yields with higher quality, but with Tempranillo, Kraemer says, "If you undercrop, you get too much sugar and alcohol before the tannins resolve, and the tannins are really aggressive." Her goal, she says, is "lots of tannins, but really soft tannins." The quality of those tannins at picking and how much to soften them are key aspects of making wine from Tempranillo.
Kraemer keeps some of the grapes for a wine that Bernards has made since 2005 under the Yorba label. He prefers a robust style and harvests his grapes with that in mind. He looks for "a hedonistic dark chocolate quality" in the berries, he says. "It's definitely a maturity-related characteristic. The grapes turn a corner in my mind when they hit ripeness and go from more herbal, lighter flavors and all of a sudden you get this yummy, delicious, dark chocolate."
Bernards says that in working with the grape he has learned that the tannins "do resolve very beautifully. They're not the kind of dry, edgy tannin that you get from a warm climate Cabernet Sauvignon" but become smoother and more resolved with time in the bottle. He softens the tannins by using oak barrels with relatively thin staves, which give the wine a little more exposure to oxygen, and by adding between 3% and 7% of Graciano, a red grape also grown by Kraemer that's commonly blended with Tempranillo in La Rioja.
"It provides a acidity and brightness to the wine," Bernards says. "The goal is to layer in another fruit element that gives a little bit of a lift."
Shaheen prefers an even lusher style than Bernards - and very different from the Lopez de Heredia wines that she and her husband drank in Los Angeles. "I love tannins," she says. "You won't ever find me saying a wine is too tannic. What I see in tannin is ability to age." When Shaheen was at Favia Erickson Winegrowers, she worked with Viognier, Syrah, Mourvedre and Grenache from Kraemer, who encouraged her to make a Tempranillo. Like Lockwood and Frazier, Shaheen did so for the first time in 2011, which she describes as "a challenging vintage in the vineyard, and subsequently in the winery, but we were ultimately very pleased with the elegance of the inaugural release."
Like Bernards, Shaheen adds a little Graciano to her Tempranillo, though she leaves the wine in barrel for two years before bottling, while he bottles after a year in barrel. The resulting wine, she says, "hearkens more Ribero del Duero than La Rioja, as a reflection of what the site has to offer."
Lockwood has a more delicate interpretation of Shake Ridge. The starts with different grapes. While Bernards, Shaheen and Frazier all use grapes grown from the Bokisch clones, while Lockwood gets his from Entav 770 clones that are head trained rather than trained on wires, which means the the fruit sees a little less sun. Lockwood's block of vines faces north-north west, Kraemer says, and so is cooler during the ripening month. Lockwood also gets some Tempranillo from the Rorick Heritage Vineyard in Calaveras County, which he says is similar to Shake Ridge in elevation and climate.
While Shaheen and Bernard like to pick their grapes late, Lockwood prefers to harvest early, when the berries have less sugar and more acidity. He's adjusted his winemaking style as he's come to realize that making Tempranillo requires time for its tannins to soften. "I do love the tannins in Tempranillo," he says. "They're just about my favorite in any grape. They're not big and chunky like Syrah or Cabernet, but there's less stuffing in the wine to hide them. What fascinates and excites me about Tempranillo in California is that I almost look at it as a warmer climate Pinot Noir. It has dark fruit, lots of spice and a warm glowing texture without a cloying sweetness and while still maintaining its lightness of being in the glass."
Frazier spent time as a young winemaker in Roussillon in southern France, where he worked with Grenache and Carignan, grapes also popular in Spain. That led him to Tempranillo. "I couldn't afford the great Bordeaux and Burgundies," he says. "To me, La Rioja was one of the last world-class wine regions where great wines were affordable."
When he started Ferdinand, he decided to work with Spanish varieties, and Tegan Passalacqua, the winemaker at Turley Vineyards, introduced him to Kraemer. She gives him Tempranillo from a block of vines "in a cool location in a bit of a draw with a cold 'sink' at the lower end," she says, which allows him to make a lighter style of Tempranillo. While the 2011 vintage was a challenging one for Shaheen, Frazier calls it "easy," since his grapes "came in before the rain and with more acidity because it was cool."
Frazier destems his grapes, ferments them in stainless steel and use a modest amount of French oak. "I feel that a little new wood can help the wine breathe," he says, "but bringing in new wood brings in more tannins, so I use no more than 20% new," compared to the 40% new oak that Bernards uses.
"I'm looking to preserve the freshness and fruit and acidity" in the grapes, Frazier says, noting that he likes the "savory side" of Tempranillo. "There's so much tannin in the skin that you can chew it and feel the acidity plummeting. It takes a few times making the wine to have some correlation between what the grapes taste like in the field and what the wine tastes like."