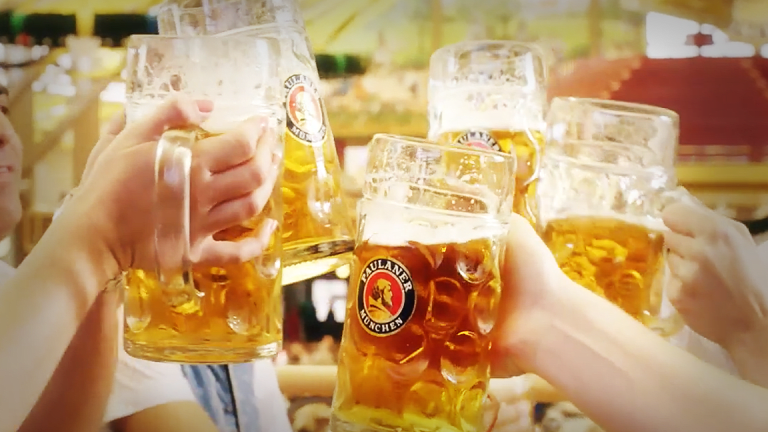 Here Are the 10 Most Popular Oktoberfest Beers in the U.S.
Oktoberfest beer is only supposed to be made in Munich, but that doesn't stop U.S. and other German viewers from trying it.
Oktoberfest is Germany's reminder that the less than half a century of American "craft" beer brewing is cute at best.
Oktoberfest 2017 began in Munich on September 16 and doesn't wrap up until October 3. During that span, many of the 46 million Americans of German descent will take part in Oktoberfest celebrations in Cincinnati; Denver; New Ulm, Minn., LaCrosse, Wisc.; Mount Angel, Ore.; Levenworth, Wash.; Torrance, Calif.; Hermann, Mo.; and elsewhere.
The 16-day celebration in Munich, however, dates back to 1810 and the wedding of King Ludwig and Princess Therese of Saxe-Hildburghausen. On the same Theresienwiese fields that hosted those celebrations, Munich welcomes millions of visitors to its giant gala event. Meanwhile, an event on the south end of the grounds has a museum-like atmosphere more akin Oktoberfest's earliest days.
At the core of the event is a vast sea of beer produced by six Munich brewers: Spaten, Löwenbräu, Augustiner-Bräu, Hofbräu-München, Paulaner and Hacker-Pschorr. Their "Munich beer" was once an amber-bodied, sweet Märzen -- brewed in March and lagered until the festival's kickoff. That's the beer that U.S. craft brewers emulate with their "Oktoberfest" and "Festbier" offerings, but it hasn't been the Oktoberfest's official beer in decades.
Instead, the more recent of Märzen is lighter in color and slightly more bitter. The balanced lager, commonly referred to as Wiesn (also the name for the Oktoberfest grounds), is still brewed according to the Reinheitsgebot beer purity law. Written 500 years ago to regulate the use of barley, the Reinheitsgebot limits the ingredients a brewery can use in beer to hops, malted barley, water and yeast. Yeast was a late addition and both rye and wheat managed to sneak in as well.
Though the law has reined in German beer styles for generations, it forces brewers to do more with less. If brewers want a coffee or chocolate beer, they roast malt and produce those flavors during the boiling stage of brewing. If brewers want fruit flavors, they have to find hops that yield citrus or tropical fruit characteristics. Though brewers have pushed back and forth on revisions to the purity law, both drinkers and brewers have voiced support for both the tradition it maintains and the perceived quality it provides.
That hasn't stopped brewers in the U.S. from adopting the "Oktoberfest" name to their versions of the beer not governed by German beer law. Munich brewers, in particular, aren't happy about it, with Spaten and Paulaner pointing out that "Oktoberfest Beer" and "Munich Beer" are registered trademarks of the Club of Munich Brewers and fall under the protection of the European Union.
Despite this, and the fact that Adolphus Busch, Joseph Schlitz, Frederick Pabst and Frederick Miller, August Schell, David Jüngling (eventually Yuengling) all made beer in the U.S. what it is today, German beer styles don't always get the respect they deserve in the United States. Beer snobs will fight for Belgian Lambic beer styles, but go quiet when you point out that Kölsch from Cologne or Dortmunder from Dortmund are entitled to the exact same protections. The animosity that Germans faced in the U.S. during the 19th century -- and that helped bring about Prohibition -- still survives in a more passive-aggressive form among craft beer drinkers today.
Think we're overreacting? Well, don't believe us. Beverage industry consulting firm Bump Williams Consulting notes that craft brewers produced 234,471 barrels of their take on Oktoberfest beers back in 2011. Despite their fluctuating reverence for the style, sales of it actually plummeted to 206,504 barrels by the end of 2016. Beer snobs will claim to love this beer while looking down their nose at pumpkin beers around this time of year, but the fact is they're still more likely to pick up an India Pale Ale than either of them.
With Oktoberfest upon us and more than 5,300 U.S. brewers producing hundreds of takes on the Märzen style, we took at look at beer industry site BeerAdvocate's rankings of various Oktoberfest beers and came up with the 10 that were most popular (if not the most highly rated) among its drinkers. While some of the Munich brewers make the cut, it's interesting to see who they're keeping company with.
More of What's Trending on TheStreet:
Editors' pick: Originally published Oct. 2.