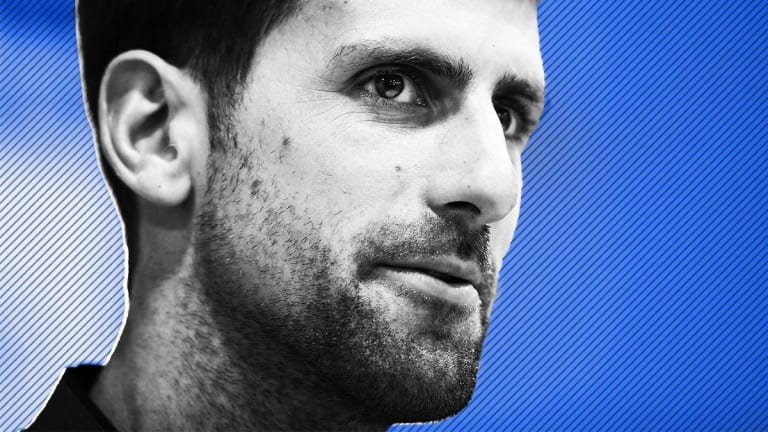 What Is Novak Djokovic's Net Worth?
The current top-ranked tennis player in the world has been estimated to be worth $200 million. What winnings and endorsements got him to that figure?
The list of top-ranked tennis players in the world has some of the bright young phenoms near the top (22-year-old Alexander Zverev is ranked third) and some of the best to ever play the game (Rafael Nadal is second, Roger Federer is third). But it's 31-year-old Novak Djokovic who is ranked No. 1 by the Association of Tennis Professionals (ATP.)
Djokovic finished 2018 first in ATP rankings, the fifth year of his career he finished first and the first time he had since 2015. And he seems fully prepared to retain that spot, having already racked up 2 Grand Slam titles this year. They were was the 15th and 16th Grand Slam titles of his career, respectively, and includes a Wimbledon championship for the ages.
The Serbian-born phenom has already written his way into the history books of his sport, and to top it off he has made a lot of money doing so. How much is Novak Djokovic worth?
Novak Djokovic's Net Worth
Novak Djokovic is estimated to be worth an astounding $200 million, according to Celebrity Net Worth. It's quite a lot of money, but does make sense when you look at his storied career. ATP claims that Djokovic received over $7.4 million in 2018 from Grand Slam tournaments. And that's just four of the many tournaments he plays in per year.
That is, of course, should the net worth estimation be true. Despite reportedly being worth more than Rafael Nadal, he is considerably lower on the list of highest-paid athletes, via winnings and endorsements, than Nadal.
Novak Djokovic's Career
Djokovic's tennis prowess was clear from a young age, and he was discovered early. Born in 1987, by 2001 he was playing in the Junior Davis Cup for the then-Yugoslav national team. By 2003, he had turned pro and joined the ATP circuit.
It wasn't until 2005, though, that Djokovic first played in a Grand Slam. He would play in all four tournaments that year, steadily improving; he lost his first-round match in his Grand Slam debut in the Australian Open, advanced to the second round in the French Open, and the third round in both Wimbledon and the US Open. By the end of the year he broke into the top 100 of ATP's rankings at 78.
2006 saw a big milestone for Djokovic: his first ATP tournament win, as the last man standing at the Dutch Open in July. Prior to that, Djokovic made waves at the French Open by making the quarterfinals for the first time. This included upsetting ninth-seed Fernando González and 23rd seed Tommy Haas before eventually falling in the quarterfinals to eventual champion Rafael Nadal.
Djokovic had run into Nadal at the Grand Slam he's most famous for, but it was just the beginning of their rivalry. Djokovic currently has the upper hand in the rivalry, with a 28-25 record. Still, at that time it was a story that this young phenom made it to the quarterfinals at all; he ended that year ranked 16th.
2007 saw Djokovic take yet another step forward. He made it to the fourth round of the Australian Open for the first time, and advanced to the semifinals in both the French Open and Wimbledon. Each semifinal was won instead by Nadal, though the Wimbledon match was due to Djokovic retiring due to injury. At the US Open, he made it past David Ferrer in the semifinals to face Roger Federer in the finals. Despite a good effort by Djokovic, Federer won. Djokovic reached a new high in the ATP rankings by the end of 2007 in third place, and he went on to have the upper hand against Federer for the rest of his career; currently, he is 25-22 in matches against Federer.
Djokovic won his first Grand Slam event the next year, defeating Federer in the semifinals and then Jo-Wilfried Tsonga in the finals of the Australian Open. He reached the semifinals of the French Open and US Open that year, and finished 2008 ranked third once again. He ended 2009 and 2010 third as well. Djokovic made at least the quarterfinals of nearly every Grand Slam in 2009 and 2010, the '09 French Open being the lone exception. This included his second appearance in the final round of the US Open in 2010, where he lost to Nadal.
2011 was the year that saw Djokovic make the leap necessary to become the best player in the game. He won 10 titles for ATP, three of which were Grand Slams. Defeating Federer in the semifinals and Andy Murray in the finals, he won his second Australian Open, and took home the title at Wimbledon and the US Open later that year, both times against Nadal. Djokovic's dominance was undeniable, and he finished the year as the top-ranked player in the ATP.
Djokovic had a strong start to his 2012 with another title at the Australian Open, his fifth Grand Slam title. In doing so he beat Nadal again, though Nadal had the upper hand against him later that year in the French Open finals, while Andy Murray defeated him in the US Open finals. Still, his overall year was strong enough to retain the No. 1 ranking when it was over.
2013 wasn't much of a slump for Djokovic, though he did slip to No. 2 in the ATP rankings. Still, he won his third consecutive Australian Open and made the finals in Wimbledon and the US Open. And by 2014 he was already back to No. 1, the highlight of his season being a victory against Federer to win Wimbledon.
Djokovic retained his crown easily in 2015, winning the Australian Open, Wimbledon and the US Open, the second time he won all three in one year in his career. Doing so handily against old rivals Andy Murray (Australian Open) and Roger Federer (Wimbledon and US Open), Djokovic was unquestionably the best tennis player in the world, playing in his prime. Overall, he won 11 ATP titles that year in what is considered one of the best seasons in the history of the Open Era.
2016 was another great year, as he won his sixth Australian Open and first French Open, taking down Andy Murray each time. 2017, though, was a bit of a lost year for Djokovic thanks to injuries. He failed to win a Grand Slam for the first time since 2010, and failed to even make a Grand Slam final for the first time since 2009. His 2018 was a rebound year, though, and after seeing his ranking fall to 12 in 2017, he ended it back at the top. This was thanks to a strong finish to the season, beating Kevin Anderson to win Wimbledon and Juan Martin del Potro to win the US Open.
He started 2019 where he left off in 2018, handily defeating Rafael Nadal to win his seventh career Australian Open. Djokovic then suffered an upset at the 2019 French Open, falling in the semifinals to Dominic Thiem. But at Wimbledon, he easily handled Roberto Bautista Agut in the semifinals to set up a match against Federer. This was heavily hyped up even before the match, and then became a legendary Wimbledon moment. Djokovic and Federer played for nearly five hours, the longest final in the history of Wimbledon. And at the end of it, Djokovic was the last man standing and secured his 5th Wimbledon championship.
Novak Djokovic's Salary
Forbes estimates that last year, winnings and endorsements for Djokovic combined for a salary of $23.5 million. And according to the ATP Tour, he has won over $129 million in prize winnings from their tournaments.
Novak Djokovic's Endorsements
Forbes has estimated that Djokovic makes $22 million a year from endorsements alone. His big apparel deal is with Lacoste, where he has a line of tennis athletic wear. Prior to this deal, he had one with Uniqlo.
In addition, Djokovic has endorsement deals with Head (tennis racquet manufacturers) and Seiko (wristwatch manufacturer).
Novak Djokovic's House
Djokovic has a house in his home country of Serbia for himself, his wife and two children. But it's far from the only property the family can reside in. The family also has a 3-bedroom, 3.5-bathroom place in Miami's Eighty Seven Park, a giant building on the shore. The property has a suntanning deck, a bar and two gardens.
Djokovic also has two condos in New York City, each in the same building in Soho and combining to cost over $10 million.
How Does Djokovic Spend His Money?
Novak Djokovic has put some of his money into the restaurant world. Novak Cafe & Restaurant has four locations in Serbia and includes an extensive vegan menu and gluten-free options.
Djokovic has also put his money into the Novak Djokovic Foundation, whose projects focus on early childhood development and education. This includes initiatives like refurbishing and building schools and providing tools to support teachers.
It's never too late - or too early - to plan and invest for the retirement you deserve. Get more information and a free trial subscription toTheStreet's Retirement Dailyto learn more about saving for and living in retirement. Got questions about money, retirement and/or investments? We've got answers.