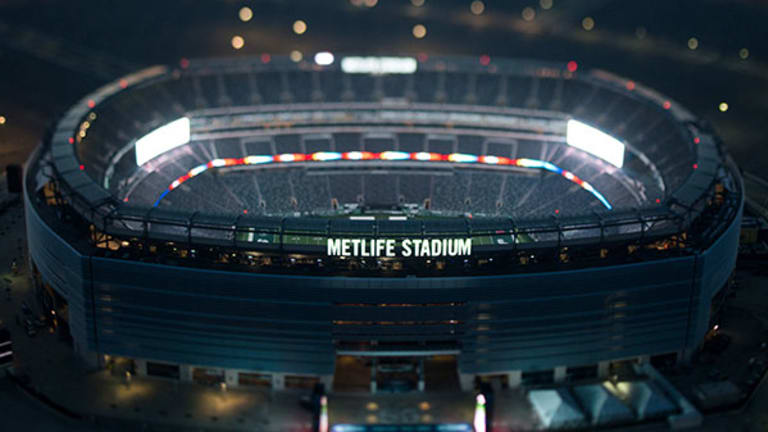 10 of the Most Expensive NFL Stadiums Your Precious Tax Dollars Paid For
Football stadium naming-rights fees mean big bucks for team owners, if no one else.
Stadium naming rights deals can help pay for sports facilities, but almost never repay taxpayers for their share of the bill.
Now President Trump would like to use the IRS to attack his perceived enemies in the NFL.
This morning he tweeted, "Why is the NFL getting massive tax breaks while at the same time disrespecting our Anthem, Flag and Country? Change tax law!" This statement comes in the context of Trump's ongoing feud with NFL players who kneel during the national anthem as a silent protest against police violence toward black citizens. He also recently staged a political stunt with Vice President Michael Pence, during which the Vice President attended an Indianapolis Colts game for the purpose of walking out after the National Anthem.
Though the origins of stadium naming rights deals are up for debate, chewing gum millionaire and former Chicago Cubs owner William Wrigley is credited with starting the trend by dubbing his stadium Wrigley Field. Packs of gum and Skittles still bear his name to this day. August Busch Jr. renamed Sportsmen's Park -- the home of the St. Louis Cardinals -- Busch Stadium in 1953, but only because baseball commissioner Ford Frick wouldn't allow "Budweiser Stadium."
Now, fans regularly have to put up with nonsense like the Guaranteed Rate Field, which only manages to further humiliate Chicago White Sox fans who already have to put up with smug Cubs fans and their newly won World Series title. Lambeau Field in Green Bay, Fenway Park in Boston and Madison Square Garden in New York are now exceptions to the naming-rights rule, but even Boston's hallowed baseball ground might be tied to an early 20th Century realty company (for all the good it does that company now).
More of What's Trending on TheStreet:
Stick with TheStreet for updated storm coverage as Hurricane Irma moves the market:
Editors' pick: Originally published Sept. 7.
Los Angeles Rams owner Stan Kroenke pried his NFL franchise away from St. Louis over roughly $750 million in stadium tax dollars but is looking for a $600 million naming rights deal for his team's new Inglewood, Calif., stadium. Mark Davis, who owns the Oakland Raiders and just fleeced Nevada's Clark County for $750 million in hotel taxes for a new stadium in Las Vegas, could have a $360 million naming-right deal in place by the time he moves his team in 2020.
Within the last year, we've seen JP Morgan Chase (JPM) - Get JPMorgan Chase & Co. (JPM) Report throw nearly $400 million at the Golden State Warriors' future home in San Francisco, Mercedes-Benz slap its brand onto a second NFL facility and Golden 1 Credit Union shell out $120 million to put its name on an arena in Sacramento. It's been a naming-rights renaissance since the end of the recession, but do those rights have value for anyone beyond team owners?
Well, no. Otherwise the Houston Astros would still be playing in Enron Field, U.S. cyclists would still race in U.S. Postal Service gear as Lance Armstrong did and the Denver Broncos wouldn't still be looking for a company to take over the naming rights for Mile High Stadium that bankrupted sports retailer Sports Authority. However, because companies are run by humans driven by both ego and impulse, most companies won't even bother calculating the return on investment before making a terrible naming-rights deal.
In fact, many companies that make deals akin to Sports Authority's naming rights pact with the Broncos end up just like Sports Authority: Bankrupt. Eva Marikova Leeds of Moravian College reported earlier this year in a study published by The Journal of Sports Economics that such deals "do not have a lasting impact on the profitability of the firms that buy them."
In Oakland, for example, the Oakland-Alameda Coliseum has its traditional name back only after cycling through Network Associates Coliseum from 1997-2004, McAfee Coliseum from 2004-2008 then Overstock/O.co Coliseum from 2011 until the online retailer opted out of the final year of its contract. The Miami Dolphins have played in the same building since 1987, but have seen it go by Joe Robbie Stadium (1987-1995), Pro Player Stadium (1996-2005, even though Pro Player disintegrated in 2001), Dolphin/Dolphins Stadium (2005-2009), Land Shark Stadium (2009-2010), SunLife Stadium (2010-2016) and, now, Hard Rock Stadium. Since making their last Super Bowl appearance in 2000, the Tennessee Titans have played in Adelphia Coliseum, The Coliseum, LP Field and Nissan Stadium all without leaving their current address in Nashville.
Much like personal seat licenses that offer season-ticket buyers the privilege of paying for the right to pay for tickets, naming-rights deals can offset the public cost of a stadium if handled correctly. They can also simply line an owner's pocket and be of absolutely no benefit to fans or taxpayers if handled poorly.
With that in mind, we take a look at the 10 most lucrative stadium naming rights deals in NFL history and see who made out and who got stuck with the tab.
More of What's Trending on TheStreet:
10. New England Patriots and Carolina Panthers (tie)
Stadium: Gillette Stadium and Bank of America
Sponsor: Procter & Gamble and Bank of America
Current deal terms: Undisclosed for Patriots, but Gillette's original deal worth $105 million over 15 years. Carolina's deal is 20 years for $140 million.
Signed: September 2010 for the Patriots, January 2004 for the Panthers.
Ends: 2031 for the Patriots, 2024 for the Panthers.
Gee, who got the better deal out of this one? Is it the company that put its name on a building that hosts a team with five championships in the last 15 years, or the one that had to weather a recession and watch as the team owner bilked the surrounding city for more money and couldn't promise to stay for more than a decade? Yeah, the folks at Gillette definitely get more for their $7 million a year.
9. Atlanta Falcons
Stadium: Mercedes-Benz Stadium
Sponsor: Mercedes-Benz
Current deal terms: 27 years, $200 million
Signed: August 2015
Ends: 2042
Mercedes put its name on this giant robot sphincter of a building, but it pays about $2 million less per year for the rights to the Superdome in New Orleans ($5.5 million) than it will for this building ($7.4 million). Considering that Drew Brees didn't have the world melt down around him in the second half of his Super Bowl appearance and didn't just hand a ring to Peyton Manning the way the Falcons handed a fifth ring to Tom Brady, New Orleans has a strong head start when it comes to return on investment.
8. Washington Redskins
Stadium: FedEx Field
Sponsor: Federal Express
Current deal terms: 27 years, $205 million
Signed: 1998
Ends: 2025
In what world is giving owner Daniel Snyder $7.6 million a year a sound investment? Snyder signed this deal as one of his first acts with the team, wiping former owner Jack Kent Cooke's name off of the building and tethering FedEx to a foundering franchise. The team has made the playoffs just five times since the naming rights deal. It has put up a winning record just six times. The stadium's capacity has fallen from 91,700 at its peak in 2010 to 82,000 currently, while the team's average attendance was 78,000 per game last season. Now Snyder is sniffing around Virginia for a new stadium site while fans look at crumbling RFK Stadium in D.C. proper and sigh wistfully. Oh, and FedEx's name is attached to a racist mascot that is racist now and will still be racist in 2025.
7. Arizona Cardinals
Stadium: University of Phoenix Stadium
Sponsor: University of Phoenix
Current deal terms: 20 years, $154.5 million.
Signed: September 2006
Ends: 2026
Maybe Glendale, Ariz., could tap the University of Phoenix on the shoulder and see if city officials are eligible for free finance courses. More than a decade ago, the Arizona Sports and Tourism Authority and the City of Glendale contributed a combined $308 million (or 68% of the total costs) of University of Phoenix Stadium. In 2015, Glendale lost between $579,000 and $1.25 million hosting the Super Bowl thanks to public safety and transportation costs. That was the second time the city hosted the Super Bowl, and it lost more than $1 million the first time in 2008. The city has thrown public money at Spring Training facilities for the Chicago White Sox and Los Angeles Dodgers and an arena for the National Hockey League's Arizona Coyotes, only to lose cash on each deal during the recession and have the Coyotes threaten to leave. Their home county, Maricopa County, is currently dealing with a disgruntled Arizona Diamondbacks franchise that wants more public money for ballpark upgrades and the National Basketball Association's Phoenix Suns, who've been seeking a new arena. The $7.7 million paid for the naming rights to University of Phoenix Stadium each year is just a small fraction of the debt this corner of the country pays to play in the big leagues.
6. Minnesota Vikings
Stadium: U.S. Bank Stadium
Sponsor: U.S. Bank
Current deal terms: 25 years, $220 million.
Signed: June 2015
Ends: 2040
This is the home of the 2018 Super Bowl, but the city and state that paid for this building won't see much return from it.
The new home of the Minnesota Vikings and Minnesota's first Super Bowl since 1992 was only built because Vikings owner and New Jersey real estate mogul/accused racketeer Zygi Wilf hinted he might consider moving the team to Los Angeles. Los Angeles. Since then, Minneapolis and Minnesota have watched a "charitable gambling" scheme that was supposed to pay for the stadium sputter along. They've also seen members of the stadium's governing body, the Minnesota Sports Facilities Authority, resign after admitting that suites at the stadium were used as political perks, kickbacks and gifts for authority members' friends and family.
But that isn't the bad part. The failure of "charitable gambling" led to a cigarette tax that will have to pay off a whopping $678 million over 30 years once interest, operations and construction costs are factored in. The Super Bowl won't help, as the NFL awarded it with a 150-page list of demands that limit the revenue received by the city and state. This is yet another case where $8.8 million in naming-rights fees might really come in handy for tamping down public debt, but taxpayers won't see a dime of it.
5. Houston Texans
Stadium: NRG Stadium
Sponsor: NRG Energy
Current deal terms: 32 years, $300 million
Signed: 2000
Ends: 2032
Houston and NRG Stadium hosted a super bowl in 2004 before hosting another this year. In the International Journal of Sports and Finance in 2006, University of Maryland professor Dennis Coates found that the Super Bowl increased tax revenues in Houston by roughly $5 million. Given a tax rate of 5%, that's a $100 million boost in taxable sales. However, that's only after spending $289 million in tax dollars to pay for 61% of the Stadium's construction in 2002. It's also far less than the $330 million that Houston's Super Bowl bid committee predicted the city would make.
Now 15-year-old NRG Stadium may not be able to host another Super Bowl without significant upgrades. Houston is already home to one giant vacant stadium in the Astrodome -- which Moodys Investment Service uses as an illustration of the credit risk behind stadium financing -- and poured cash into NRG Stadium for renovations in advance of this year's Super Bowl. Suddenly, that $9.4 million that NRG pays each year for naming rights seems like a steal.
4. San Francisco 49ers
Stadium: Levi's Stadium
Sponsor: Levi's
Current deal terms: 20 years, $220 million.
Signed: May 2013
Ends: 2033
Super Bowl 50 was played in the San Francisco 49ers' new home in 2015. On paper, the facility was built with just $114 million in public funding -- far less than that $11 million in annual naming-rights fees. However, the Santa Clara Stadium Authority -- the public entity charged with paying off stadium costs through stadium revenue -- is on the hook for $933 million. Technically, that isn't "public funding," because it doesn't require taxpayer money... yet. However, it's a big gamble on the stadium's ability to pay its own debts, especially with the team's on-field fortunes taking a turn for the worse and stadium revenue poised to take a hit if the 49ers go into an extended slump.
3. Miami Dolphins
Stadium: Hard Rock Stadium
Sponsor: Hard Rock International
Current deal terms: 18 years, $250 million, according to Forbes.
Signed: August 2016
Ends: 2034
No, Miami doesn't get the $13.9 million a year from this naming-rights deal, but it also didn't have to pay for a new stadium, either. After getting fleeced for $2.6 billion by soon-to-be-former Miami Marlins owner Jeffrey Loria and his pals in government, voters cleaned house and cut off public funding for sports facilities. Miami Dolphins owner Stephen Ross got the message and found $450 million in private funds to upgrade the National Football League franchise's Hard Rock Stadium. He added a giant canopy to shade 92% of attendees from brutal early season Miami sun, he installed video boards, moved the sideline seats and built "living room"-style boxes with televisions and plush furniture.
While Ross also had to reduce capacity by more than 10,000 seats in 2015, the Dolphins have managed more than 100% attendance each year since. Not only did Hard Rock Stadium get right-sized without any taxpayer contributions, but it also landed a Super Bowl in 2020.
2. New York Jets/Giants
Stadium: MetLife Stadium
Sponsor: MetLife
Current deal terms: 25 years, $400 million.
Signed: August 2011
Ends: 2036
The New York Giants and Jets take in all $16 million a year from this deal, covered all of MetLife Stadium's $1.6 billion cost. Granted, officials at New Jersey's sports authority say they also absconded with nearby real estate and parking revenue, but the sports authority has been such a money pit that it's still paying off debt from Giants Stadium, which opened in 1976 and has been demolished for nearly a decade. Among that sports authority's assets are a vacant arena (basketball's Nets left for Brooklyn and hockey's Devils went to Newark), a ghost mall that was slated to open a decade ago but has never hosted a single retailer or customer and a horse track that struggles so mightily that the entire state of New Jersey is lobbying for sports gambling rights just to prop it up. If MetLife stadium did anything, it showed just how wretchedly incompetent that sports authority was and what a nonentity it should be moving forward.
1. Dallas Cowboys
Stadium: AT&T Stadium
Sponsor: AT&T
Current deal terms: $17-19 million per year. Duration undisclosed.
Signed: July 2013
This is one of the few places where parting with nearly $20 million a year actually paid off.
Arlington, Texas, voters approved a 0.5% increase of the city's sales tax, a 2% hike in the hotel occupancy tax and a 5% boost in car rental tax to cover its bonds. AT&T Stadium was supposed to take 30 years to pay off after it was approved in 2005, but refinancing and additional payments from rising city revenue have shortened the payoff date to 2021 -- a full 14 years early. After voters gave the city their permission that year, Arlington will extend those taxes to cover the cost of a new ballpark for Major League Baseball's Texas Rangers and a surrounding entertainment complex.
Ideally, no public money would go into projects like these. But if you're going to borrow millions from the public, it helps to prove that you can pay them back.