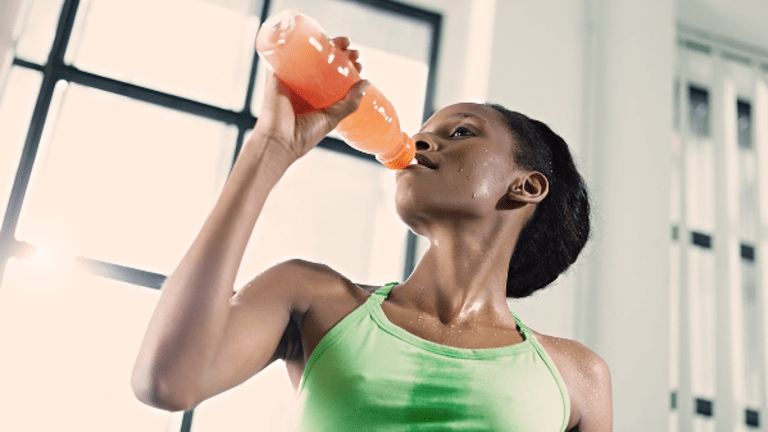 Natural Alternatives to Sports Drinks - Buying Guide
Because Gatorade, Powerade and the like don't actually taste that great.
When it comes to sports drinks, people imbibe Pepsico's (PEP) - Get Free Report Gatorade, the Coca-Cola company's (KO) - Get Free Report Powerade and Vitamin Water and all their generic knockoffs for a number of reasons. Sports, for one. Hangovers, for another. Also just for the heck of it, because water can get boring.
While some of the trendier all natural beverages that promise electrolytes and nutrients are definitely an acquired taste, how long have you been choking down sports drinks just because of their benefits? It's worth taking a gander at some of the new kids on the block, if only to switch it up at the gym or while writhing in self-loathing on your couch. 
Vita Coco Coconut Water - $10.39 for a pack of 12
With more potassium than a banana and packed with electrolytes, coconut water is the most well known (and profitable) sports drink alternative. 
Drink Maple - $33.25 for a pack of 12

Drink Maple's sap collected from Vermont maple trees in the spring promises scant calories and more manganese than one cup of kale. 
WTRMELN WTR - $56.99 for a pack of 6 
Pressed watermelon juice claims to have more cramp-preventing potassium than your favorite fitness/sports drink or coconut water made from the freshest, ripest and juiciest family farmed local & sustainable watermelons

Caliwater Cactus Water - $28.49 for a pack of 12

Prickly Pear Cactus Extract in each bottle contains 5 naturally-occurring electrolytes--potassium, magnesium, calcium, sodium and phosphorous. Assumedly easier than tearing open a prickly pear cactus for it. 
Sapp Birch Water - $18.05 for a pack of 6

This sap from birch trees contains minerals and electrolytes including > 100% DV of Manganese.
More of What's Trending on TheStreet:
Editors' pick: Originally published Sept. 13.
Disclosure: TheStreet has advertisers and partnerships; we may get a share of the revenue from your purchase.