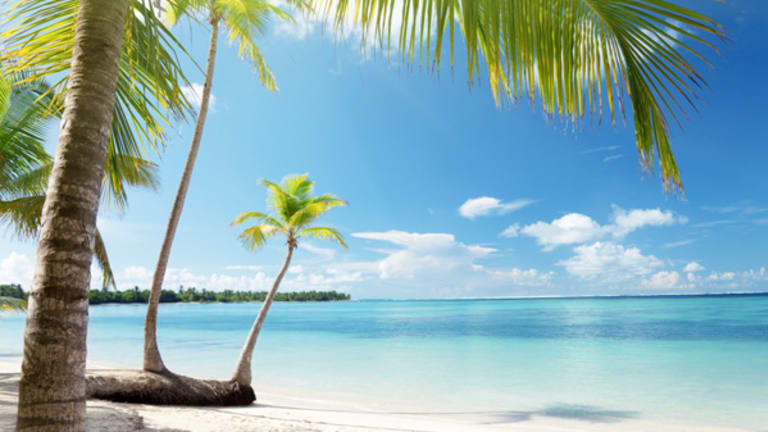 Must-Have Trends for Men's Summer Fashion
Summer style arrives in a burst of color and return of a few iconic accessories.
BEVERLY HILLS, Calif. (
) -- The arrival of June marks the official male wardrobe shift from spring to full-on summer fashion. And after a season defined by monochromatic brown and black silhouettes coupled with the occasional bold strip or checkered pattern, summer style envelops the eyes in a burst of color and return of a few iconic accessories.
Thank
Mad Men
's Don Draper for revolt against the male skirt and skinny jeans designers were forcing on gents just a fashion minute ago, but masculinity with a polished Italian flair defines much of the summer season. The season's it suit defines blue anew, with bold variations on the color that include Tomas Maier's truly electric blue suit for
with its tailored jackets and generous inseam. For those looking for less of a financial commitment for what could be just a one-season trend,
debuts an off-the-rack shimmering blue Oxford blazer and Oxford trouser sold as separates that feature an aristocratic two-button jacket with hemstitch lapel and remarkable price tag: less than $150 for the entire look.
Summer style arrives in a burst of color and return of a few iconic accessories.
For blazers, channel your inner Italian with a selection of well-tailored separates versatile enough for a casual Friday in the office or weekend in the Hamptons. Those still in the beginning stages of a well-rounded wardrobe will want to start with something simple and timeless, namely a somewhat structured jacket such as
's Black Label Anthony linen sport coat in optional black or white with trim Italian tailoring and a notched lapel. For more of a statement, visually and financially,
wows with its line of showstopper pieces such as its frosted Prince of Wales jacket that mixes the iconic pattern on linen with a more controlled wool and soft silk fabric that won't give you that too-wrinkled look -- and couples better with dressier khakis or a washed-out pair of jeans.
Beneath the season's hottest jackets lays a line of shirts in signature solids, washed chambray, nautical stripes, gingham or plaid patterns, preferably with tailored fits.
does its shirtsleeve Military Selvage Shirt with signature red-web detail, while
does a more affordable option as well as a soft-wash, slim-fit two-tone plaid shirt or madras button-down -- in an antique blue or unique deep carrot color perfect for a Sunday afternoon at the beach or first-time camping trip. More casual looks can be complemented with an expressive T-shirt or maybe even an age-appropriate surfer graphic such as those offered at online retailers including
.
As for the lower half of summer menswear, pants maintain their more tailored inseams but now aren't so tight they look like pantyhose. Bright, brilliant colors seem to be a prevailing trend in pants, from high-end designers
DSquared2
and
Versace
to national retailers from
H&M
to
Brooks Brothers
. U.S. retailer
recommends guys go for colored trousers and their selection of Stanton pants with their "urban slim" cut and miscellany of colors, from apple green and lagoon blue to pale sun and burnished khaki.
The bold-color trend extends to shorts, with more structured styles being favored for the season (alas, this also means a goodbye to anything with a bold cargo pocket).
does a Jefferson check and stripe short that falls just above knee length with cuffed leg and back pocket detailing that shows off the brand's truly meticulous tailoring, even in something as simple as a summer short. Marc Jacobs' high-end signature line also offers a two-tone long short swimsuit in red with cinched drawstring waist or shorter midthigh length in light blue with button-waist closure. Those opting for other swim brands should heed the seasonal nod toward shorter and more-tailored cuts for trunks and board shorts in breathable fabrics, bold patterns or bright colors.
The summer foot steps out for the warmer weather with a diverse offering of casual and more formal styles that will definitely require a change of shoes between work and play. Dressy, tasseled loafers from
are made of calfskin leather and polish off a summer work suit with a loungey edge that can extend into the evening. Wingtips can be played down when worn in distressed suede or given that
Mad Men
polish with shinier black leather, such as with
Classic Long Wingtip Brogues coupled with some opinionated socks. In lieu of flip-flops or predictable
Converse
, go for a more finished look from handmade espadrilles to white topsiders that can dress down a suit or spice up a casual beach look with maximum comfort that's key for summer 2012.
Michael Martin is the managing editor of JetSetReport.com, a luxury travel and lifestyle guide based in Los Angeles and London. His work has appeared in InStyle, Blackbook, Elle, U.K.'s Red magazine and on ITV and the BBC.