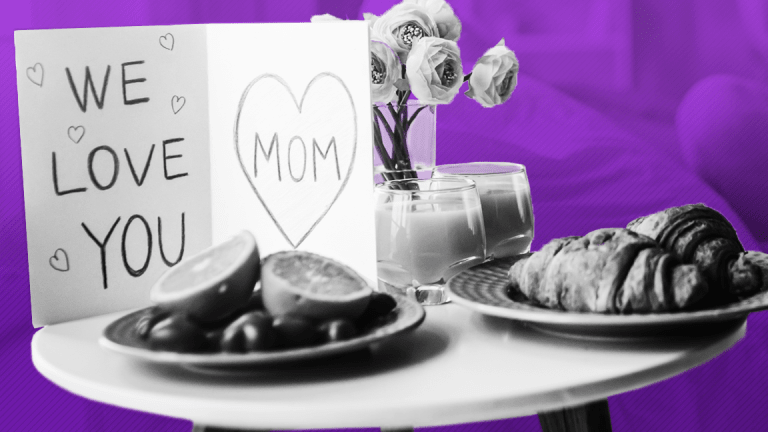 30 Mother's Day Gift Ideas for 2020
When it comes to Mother's Day, getting the perfect gift can be a challenge. So if your creativity is needing some help, check out 30 mother's day ideas that are sure to impress.
Mother's Day is just around the corner - May 10 - and for most families, this means a frantic scramble to find the perfect gift.
While there are plenty of great DIY ideas or nice items to grab for mom this year, the sheer number of options and choices can be overwhelming.
So in order to ensure you get or make the perfect gift this Mother's Day, TheStreet has compiled a list of 30 Mother's Day gift ideas to help jumpstart your creativity. 
30 Mother's Day Gift Ideas 
Whether you're on a DIY budget or can afford to spend a little more cash, here are 30 gift ideas that are sure to be mom-approved. 
1. Handmade Painted Picture
Perfect for younger kids (or even older ones), you can never go wrong with a handmade painted picture to hang on the wall for Mother's Day. All you need is a nice canvas, some finger paint and plenty of creativity to give a memorable and DIY gift.
2. Personalized Necklace
Want an elegant, personalized gift to give this Mother's Day? Opt for a personalized necklace with your mother's name on it. 
3. Face Masks
Perfect for a relaxing Mother's Day, face masks are a great gift to help bring the spa to your home. Plus, they won't break the budget. 
4. Journal
If your mother loves to write, a decorative journal may be the perfect gift. Whether it be for personal thoughts or for family recipes, a journal is a thoughtful and useful Mother's Day gift that she's sure to love. 
5. Bouquet of Flowers
You can't go wrong with a good old-fashioned bouquet of flowers for Mother's Day. 
Pick from a wide range of options like those from ProFlowers, or simply arrange one yourself for a personalized touch. 
6. Amazon Cleaning Service
What better way to thank the mom in your life for all her hard work than giving her the gift of taking it easy? Amazon (AMZN) - Get Report Home Services offers a deep cleaning service that covers a variety of rooms or home sizes and can be customized for your cleaning wants. 
Give the gift of a no-stress clean home this Mother's Day and you're sure to have a relaxing day. And, the best part is that Amazon brings all their own products - no prep necessary. 
7. Custom Photo Prints 
Have recent photos to show off? Custom photo prints from services like Framebridge are a perfect personal Mother's Day gift. 
Apart from being an elegant wall decoration, personal photos are always sure to be a heartwarming gift for your loved ones. 
8. "Game of Thrones" Mug
Is your mom caught up in the "Game of Thrones" craze? 
Make sure she knows she's the Mother of Dragons in your house with a customized "Game of Thrones"-themed mug. 
9. Sneakers
Running sneakers are a great gift for the active mom in your life. Grab a pair of Nike (NKE) - Get Report sneakers for Mother's Day to make sure she's equipped to hit the gym. 
10. Apple Watch
Great for helping to stay on top of everything from text messages to health and fitness, going all out and gifting an Apple (AAPL) - Get Report watch this Mother's Day is sure to impress. 
11. Wine Chiller
Every wine mom needs a wine chiller. Help keep her wine cold for those summer afternoons (or anytime) by gifting a wine chiller on Mother's Day. 
12. Ninja Blender and Food Processor
Complete with a touchscreen display and powerful blender, the Ninja blender and food processor combo is the perfect package to complete your kitchen for Mother's Day this year. 
13. Self-Rolling Yoga Mat
Got a yoga enthusiast to give a gift to? Let the mat do the work after a good sweat session by gifting a self-rolling yoga mat for Mother's Day. 
14. Creme de la Mer Moisturizing Cream
Need a luxurious, decadent gift idea? The mother in your life is sure to enjoy the rejuvenating properties of Creme de la Mer moisturizing cream. 
15. Wireless Headphones
Want to splurge and get something extra nice? Pick up a pair of Bose wireless headphones and help her elevate her music experience - not to mention convenience. 
16. Planner
Everyone's life can get a little busy. Pick up a colorful planner to help mom stay organized in style. 
17. Yoga Pants
Does the mom in your life need a workout wardrobe update? Pick her up a yoga pant set (like one from Outdoor Voices) for Mother's Day to make sure she feels comfortable and stylish while getting that workout in. 
18. Backyard Jenga Game
Perfect for a backyard party or a casual family summer evening outside, a backyard Jenga game set is sure to give your mom and family a lot of fun for years to come. 
Pick up a pre-made set or try your hand at making one yourself with woodblocks. 
19. Eye Mask 
Giving the gift of "me time" doesn't get easier than a cleansing eye mask. Plus, this Mother's Day gift is budget-friendly. 
20. Gardening Tool Set
Help your mom head into the summer gardening months with a brand new gardening tool set - just be sure to volunteer to use them once in a while. Pick up one from Target (TGT) - Get Report for only $20.
21. Slippers
No nighttime ensemble is complete without a good pair of slippers. 
22. Aromatherapy Diffuser
Perfect for creating a calm atmosphere, an aromatherapy diffuser is a great relaxing Mother's Day gift to give this year that will keep her home smelling fresh. 
23. Glossier Makeup Kit
Want to spoil the mom in your life for Mother's Day? Help her stay on-trend with a Glossier makeup kit. Complete with mascara, cheek color, and brow pomade, she'll be set for a minimalist makeover. 
24. Sips n Strokes Class
Try getting out of the house and do an activity this Mother's Day this year. Gift your mom a Sips n Strokes class and let her creativity (and the wine) flow. 
25. Candle Set
For an extra thoughtful gift, opt for a candle set and let the mom in your life pick her favorite scents. 
26. iPhone Case
Grabbing an iPhone case for Mother's Day is a practical and thoughtful option that doesn't have to be boring. And, you can snag a colorful OtterBox for only $21 at Walmart (WMT) - Get Report . 
27. Temperature Control Mug
Give the gift of perpetually warm coffee or tea with a temperature control mug for Mother's Day. 
28. Breakfast in Bed Tray
Want your Mother's Day to start off on the right foot? Bring your mom breakfast in bed with a breakfast-in-bed tray, like one from Bed, Bath & Beyond (BBBY) - Get Report . The only thing you'll have to worry about her not liking is your omelet. 
29. Pajama Set
Give your mom a day off by gifting a pajama set for Mother's Day. Plus, they're perfect for lounging around the house. Snatch one up at Kohl's (KSS) - Get Report for only $25. 
30. Utensil Set 
You can't go wrong with a good utensil set for Mother's Day. Help complete the kitchen and grab a plastic utensil set from Williams Sonoma  (WSM) - Get Report . 
Whatever your budget, make sure to get creative this year with your Mother's Day gift ideas.