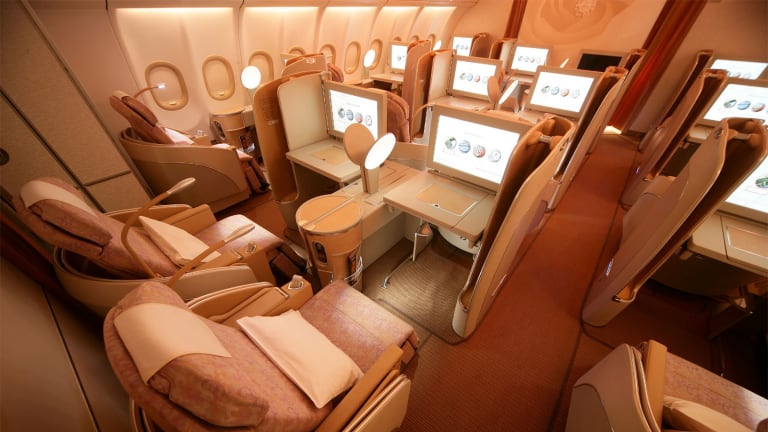 Here Are the Most Extravagant Items You Can Waste Your Money On
Costly collectibles are often little more than gilded garbage. We take a look at some luxurious items that will blow your mind.
Luxury items get that name for being frivolous, but some luxury goods are far less defensible than others.
Though a luxury item typically involves some level of comfort or appointment that a standard version does not, there are corners of the luxury industry that exist solely because they can. The median household income in the U.S. is still $55,775, which means just about anything above that price is is still a hardship for the average consumer, but someone who spends seven figures on a bejeweled knick-knack lives in a somewhat different universe.
The U.S. is also home to 565 billionaires -- more than 11 per state (although California has 124 and Idaho, New Mexico, the Dakotas, Mississippi and Alabama have none). That's also little more than a quarter of the 2,043 billionaires Forbes counted this year, up from 1,810 last year.
Credit Suisse, meanwhile put the number of global millionaires at 35 million last year, but says that group will expand to 53 million by 2019. Among those 35 million millionaires, there are 140,900 with $50 million or more, 50,800 with more than $100 million and 5,200 with more than $500 million.
There are ways to turn that into a lasting legacy of wealth. However, when someone comes into that kind of money after generations of living without it, there are often more lavish uses for it. Diamonds, gold leaf and helicopter rides can be thrown in as perks to make any simple item or service far more appealing to those with newly deep pockets and powerless accountants.
We clicked through the higher end of the luxury listings and found 15 items that exist largely to absorb money. Bemoan the redistribution of wealth all you'd like, but if you're paying this much for any of these luxury items, you'd best have plenty of wealth to redistribute:
More about collectibles onTheStreet:
Gold-and-diamond domino set
Price: $175,253
You could either look at this as a commodity investment or as some kid's tabletop domino rally that will cost more than some folks pay for a starter home. Created by Lieb Manufaktur in Baden-Wurttemberg, Germany, this set of 28, five-pound, 18-karat "solid gold" dominoes is encrusted with 168 diamonds totaling 15 carats. We're just going to come right out and say that, at the current price of more than $1,300 an ounce, we have serious doubts about the "solid gold" portion of this sale. However, if you want a bunch of folks to believe that you have a stash of what are essentially gold-bar dominoes kicking around your house, go right ahead. Just don't come crying to us when one of your fellow Bond villains thinks your dominoes feel a bit light.
Karlbox
Price: $3,260
We'll admit that Faber-Castell art supplies are not cheap. Some of you may remember them as the ever-present pencils, chalks and watercolors of your youth, but even folks dipping into gift sets will see prices range from about $50 for a mixed-media gift set to $640 for a set of 120 pencils. However, designer Karl Lagerfeld has a soft spot in his heart for the German art supply company and put together a limited-edition kit of 350 pencils and other art supplies in a wooden box. The set includes 120 watercolor pencils, 60 colored pencils, 60 pastels, 76 pens, 22 miscellaneous pens, four graphite crayons, two sharpeners, two erasers, a sharpening knife, a sandpaper block and a water cup. That still puts the price at around $10 per item, but it's that Karl Lagerfeld stamp -- and the fact that you have to schlep to specific retailers to get it -- that does the selling.
MontBlanc augmented paper
Price: $680
Let's say you're a maker of high-end pens, but handwriting is going the way of the landline phone. The writing is on the wall, but you still want your wealthy customers to keep writing on the page. In a digital age, where any old stylus works as a pen, how to you get new generations to keep writing without a keyboard or tablet? Well, you give them paper whose contents can be saved to a device. Creating what it sees as an ideal middleman, MontBlanc is trying to keep the ink flowing by creating both pages and a pen that allow writing to be digitized and tucked away in cloud storage before accessing them in digital text on your device of choice. That $680 price tag doesn't include the $490 to $880 StarWriter pen or its $155 refills, but such is the price of preserving antiquated techniques with stopgap technology.
Montegrappa Ultimate Centennial Dragon Pen
Price: $1 million
Speaking of pens, we've mentioned this one before, but it bears repeating just because it's a $1 million pen. It performs the same basic function as any other ink-emitting "writing instrument," but Montegrappa has already learned how to wring more dollars than ink out of pens branded with Ernest Hemingway, Frank Sinatra, Salvador Dali, Quincy Jones and Sophia Loren's names.
For Montegrappa's 100th anniversary, it made 100 Centennial Dragon pens. Of those, 33 are rose gold, 33 are yellow gold and 33 are white gold. Those go for $225,000 a pop. Then there's this one: A cluster of pearls, diamonds, rubies with a golden dragon wrapping itself around it. The 18-karat gold pen is inspired by the Nine Dragon Wall at the Forbidden City in Beijing. Sure, it's an Italian company making a Chinese pen, but did you miss the part where we said China now has 319 billionaires? You give the buying public what it wants.
Acqua de Cristallo's "Tributo a Modigliani"
Price: $60,000
Bottled water is already a lunkheaded, wasteful means of consuming a good that comes into just about every home in the U.S. Through filtration and reuse of bottles, glasses and other vessels, you too can enjoy water for cents per glass. The minute you pick up a pallet of plastic-clad water at the local club store without a water-main rupturing, a natural disaster striking or decades of ineffective city government failing to maintain the water system, you take a step closer to becoming the exact kind of rube that would pay for this kind of thing. A bottle of Acqua di Cristallo "Tributo a Modigliani" -- and we aren't so sure Modigliani would dig this particular tribute -- contains a mix of spring water from Fiji and France, glacier water from Iceland and 5 milligrams of 23-karat gold dust. Yes, you're just drinking a bunch of water contaminated with precious metals, but why not? If you're dumb enough to pay for water beyond what's piped into your home, you're dumb enough for just about anything.
Kalfin Black Diamond Pacifier
Price: $50,000
Back in 2013, when English royals Prince William and Princess Kate welcomed their first child, Prince George, into the world, just about every former crown holding went a bit overboard while marking the occasion. This Australian jeweler decided that a black diamond pacifier would be a great way to mark the occasion and make a bit of a name for itself. Granted, there was a sterling silver line that went for $180 a pop, while white and yellow gold cost $450 per pacifier, but this was the big draw. Granted, you could simply tuck that $50,000 away, let compounding interest work its magic and give your newborn a full college fund instead, but why not give them some tacky bauble that lost much of its value as soon as it left the shop?
Gold toilet paper
Price: $1.6 million
When the next global depression hits, feel free to point at this particular product as one of the first harbingers of doom. Created by Australian firm (always the Aussies) Toilet Paper Man, this is a decent roll of embossed, three-ply toilet paper with 24-karat gold flakes throughout the roll. Toiler paper man points out that "As you use the toilet paper 24-karat gold flakes will fall onto the floor and your behind taking you to another level of sophistication." The roll comes gift wrapped and is hand-delivered with a bottle of champagne, which we're guessing is a thinly veiled excuse by the manufacturer to see who would order such at thing. The company notes that only one has ever been produced and that they're still waiting on a buyer. Don't worry: We're sure there's someone in Dubai who's waiting for a heavy news day to snatch up the first roll without calling too much attention to themselves.
Suommo bassinet
Price: $47,928.45
We're pretty sure Suommo exists to answer one question: What would a soon-to-be-deposed family of monarchs/oligarchs put their newly born scions in while living out their last heady days before exile? This bulbous bassinet that looks as if it was found on planet Krypton shortly before the son of Jor-El was ripped from it and launched into deep space is coated in 18-karat gold plating and lined with Champagne silk bedding. A child will use it for mere months, but a museum in that child's former country will use it as a shiny example of the depths of corruption and unchecked opulence that led to the downfall of its family.
Stuart Hughes iPhone 5 Black Diamond
Price: $13 million
We'll give the U.K.'s Stuart Hughes this: he doesn't just bedazzle a product for the fun of it. With the announcement of Apple's iPhone 8, the iPhone 5 is about to go "vintage" in the United States and flat-out obsolete in the rest of the world. However, that didn't stop a Chinese businessman from commissioning this one for the price listed above and it doesn't stop folks from buying gold and platinum versions of the iPod 7 for roughly $3,500 to $4,000 apiece. However, with even a basic iPhone 8 reportedly going for upwards of $1,000 apiece, Hughes' gold-dipped $3,600 pre-order suddenly doesn't look so ridiculously opulent.
Louis XIII pizza
Price: $9,895
In South Beach by way of Italy, chef Renato Viola has done what he can to assure folks that he's a very big deal in pizza circles. The master pizza chef and member of the Italian Acrobatic Pizza Team knows his way around various forms of pizza that much of the U.S. just won't see from Domino's or Papa John's. Given that his brand of pizza is typically only accessible in large cities or along coastlines, it's already a given that he's aiming for something a bit higher than your neighborhood hole-in-the-wall with its Tuesday pizza-and-wings special. This particular pie, however, is a small two-person pizza that contains Australian pink salt, three forms of champagne-marinated black caviar, organic buffalo mozzarella cheese, Norwegian lobster soaked in cognac, Mediterranean prawns, and Cilento mantises (yes, bugs).The crust is prepared 72 hours in advance and the whole thing is served with a bottle of Remy Martin Louis XIII cognac. It's a statement piece for both the cook and the customer, but it's a whole lot of hassle for someone who's down in Miami and could just skip this dough-wrapped money pit for a decent Cubano.
Frrrozen haute chocolate sundae
Price: $25,000
Known simply as Serendipity to most visitors, Serendipity 3 is a small, basement-level corner of comfort on 60th Street in Manhattan. It's had satellite locations in Dubai and Las Vegas, but it's kind of tough to capture that space tucked between Bloomingdale's and the Queensboro Bridge. The frozen hot chocolate remains a favorite and has fans lined up seemingly from the day the tree arrives in Rockefeller Center to the moment the last of the confetti is swept out of Times Square. But a celebrity-walled place like this still needs a gimmick from time to time, which led to the creation of this thing in pre-recession 2017. In addition to various cocoas, frozen milk and whipped cream, five grams of 24-carat gold are mixed in and La Madeline au Truffe (a truffle flown in from France) is used as garnish. Throw in a gold spoon and a goblet surrounded by a gold and diamond crown, and you have yourself one of the fanciest souvenirs you'll find this far off of Fifth Avenue.
Sidecar Royale
Price: $450
New York's Baccarat Hotel is already owned by the more than 250-year-old French crystal company of the same name. As a result, moderation and restraint aren't its strong points. That lavish branding spills over into the hotel bar, The Bar, where the "Royal Sidecar" blends Remy Martin Louis XIII (hello again) and Grand Marnier Quintessence. That is then poured into a Baccarat 24-karat-gold-painted Harcourt glass and garnished with a gold leaf. You'll be sipping it under crystal chandeliers worth upwards of $1 million apiece, so why not lean into it and drop $500 on one drink?
Crystal Ergoripado
Price: $18,993
What's the point of being this wealthy if you still have to vacuum? We don't care how lightweight it is or what kind of brush-roll technology it's using. It's encrusted with more than 3,000 Swarovski crystals and should never come close to old shag carpet or spilled cereal. If you're a former maid or janitor who's suddenly become extraordinarily wealthy and wants to buy this as a nod to your humble roots, we get it. But if you're just buying a crystal-encrusted vacuum for the laughs, you're better off tucking away this money and having someone come in to vacuum every few weeks or so.
This article is commentary by an independent contributor. At the time of publication, the author held no positions in the stocks mentioned.